The current generation Ford Explorer is one of our all-time-favorite SUVs. It's more than just a car, it is in fact an American icon. Ford continues to position it as something more than just another SUV and frankly it works well. They have an excellent vehicle that may just be our favorite choice for a road trip. We've had the chance to enjoy the the 5th generation Explorer on multiple occasions and we were in Detroit to welcome in the latest iteration. Let's take a look at what's new!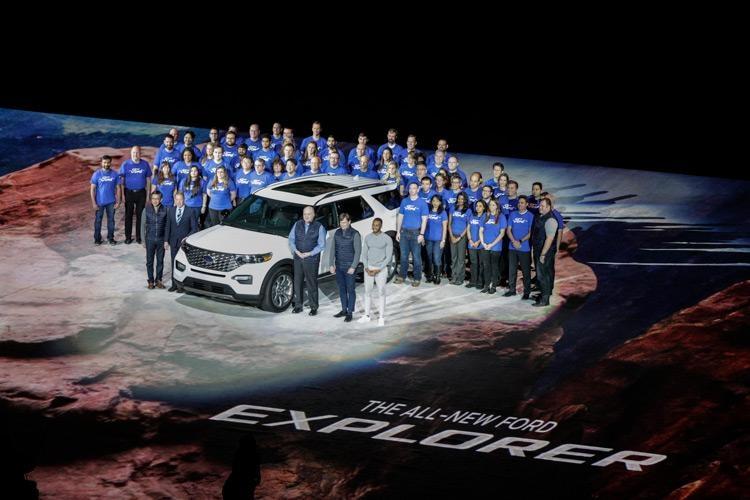 The Detroit Auto Show starts today, but we were invited to join Ford for a pre-party last week and given a chance to learn more about it. During the presentation, two things were very clear ...
1) This is more than just a car to Ford. William Ford started the evening off talking about the deep rooted passion for road tripping and how his great grandfather - Henry Ford - loved being able to explore America by car. That passion for exploring America is something that continues today in this and other vehicles that Ford makes.
2) There's a deep sense of heritage and expertise not just with Ford's leadership but also with the development team. Unlike some other projects where team members come and go - many of those shaping the 2020 Explorer were also working on previous generations going back 10, 20, and even more years. At one point an engineer's fondness for the 1992 Ford Explorer Eddie Bauer was mentioned and I must admit that I remember that vehicle well too.
At the time, the Ford Explorer was a revolutionary vehicle ... not simply a rough and tumble truck without a bed but it was starting to be something new and exciting. A vehicle that could take you where you needed to go and get you there in comfort and style.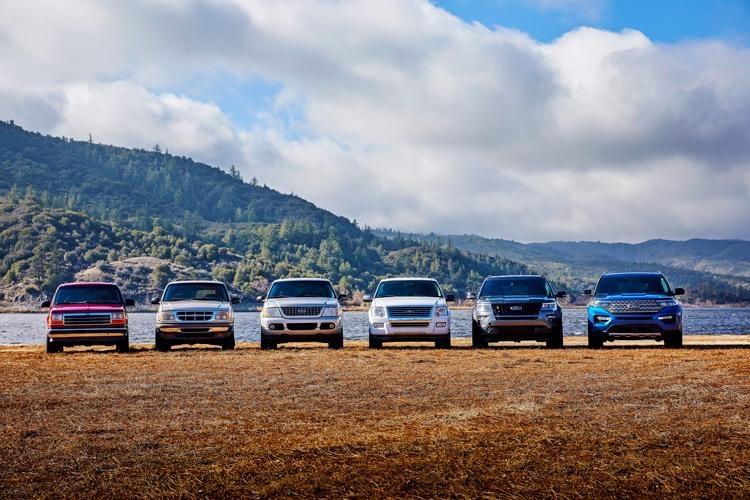 The Ford Explorer has evolved dramatically since it was introduced in 1991 as you can see in this lineup of all six generations.
However, what I find interesting is that while the differences between the previous generation and this one seem minor ... it's actually a fairly major transition. Despite this, it appears that Ford understands why we love the Explorer and is focused on fixing it's weaknesses while working to make the good stuff even better.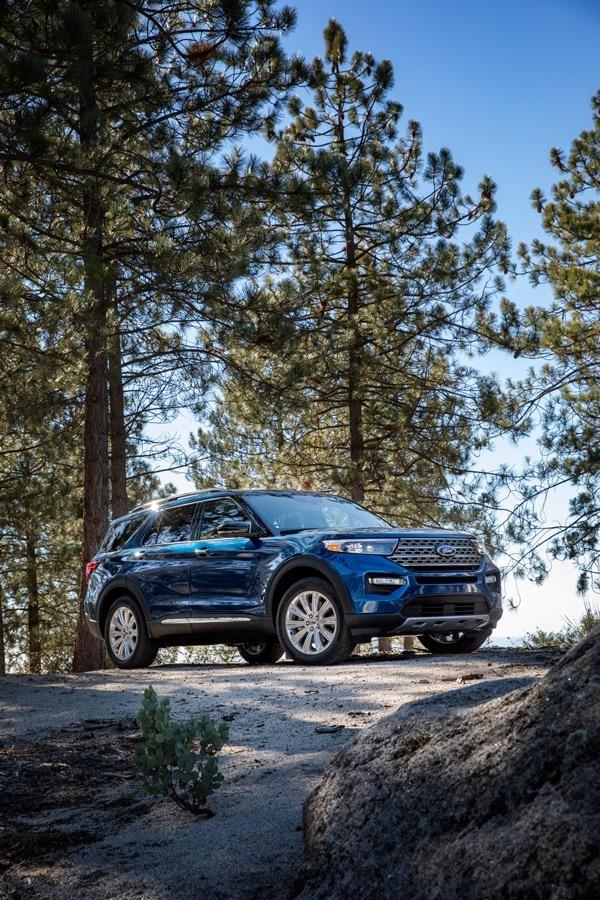 While it's too early to know fuel economy numbers, we do know that the Explorer will cost only $400 more than the outgoing models despite the addition of now standard features. Additionally, while no official release date has been presented I'm told that we'll be looking at a "Late Summer / Fall" 2019 release date.
The biggest change that we'll see to the powertrain here is that it shifts from a FWD / AWD to a RWD / AWD configuration with a longitudinally oriented engine. Along with an all-new Terrain Management System with seven drive modes and a 3.0-litre EcoBoost V6 with 365 hp and 380 lb-ft of torque this will make it the most powerful and sporty Explorer Platinum to date.
In addition to simply making it more sporty, the new Explorer will be able to two up to 5,600 (12% increase).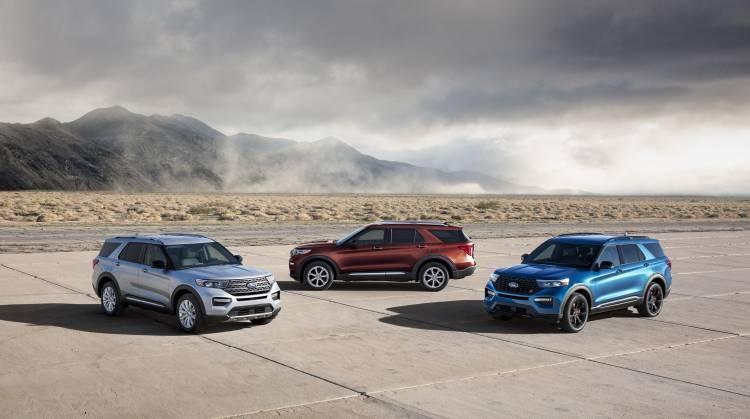 For those seeking fuel economy they also unveiled a 318 hp (combined) 3.3-litre hybrid version and a 400 hp ST version with 415 lb-ft of torque.
Ford made a special point to to highlight both the Terrain Management System and the fact that they have optimized the Explorer for approach (20.1), departure (21.0 - ST up to 22.3 - Platinum), and breakover angles (17.7). Unfortunately, as a car still optimized for the road, clearance is only 7.9" for standard and hybrid models, 8.2" - Platinum, and 8.3" ST. This is a significant improvement vs 15.6, 20.9, 16.9, and 7.8" - 8.3" for the previous model.
While I don't expect that this will be a challenger for serious overlanding, I'm excited that it might be something for those that want to do more exploring beyond where the pavement ends.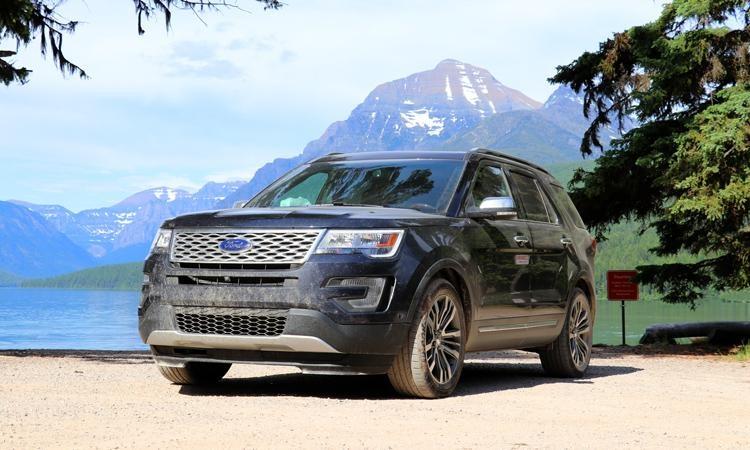 2017 Ford Explorer at Glacier National Park
For me, that's just part of a road trip since I can't resist the siren call of a destination unexplored. Whether that is a hidden lake in Montana's Glacier National Park that can be only accessed via a side entrance and has no paved roads connecting it or a sandy path to a secret beach in Oregon - these are the moments that make a road trip memorable.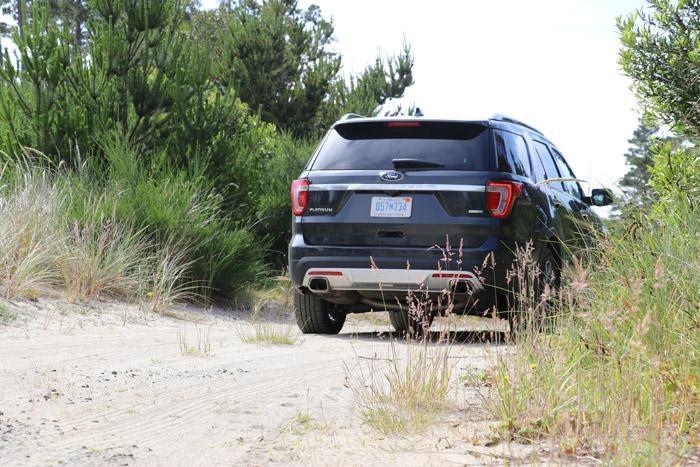 2017 Ford Explorer on Oregon Beach
After all, it not just the photos of iconic landmarks ... it's the experience of getting there and coming back again.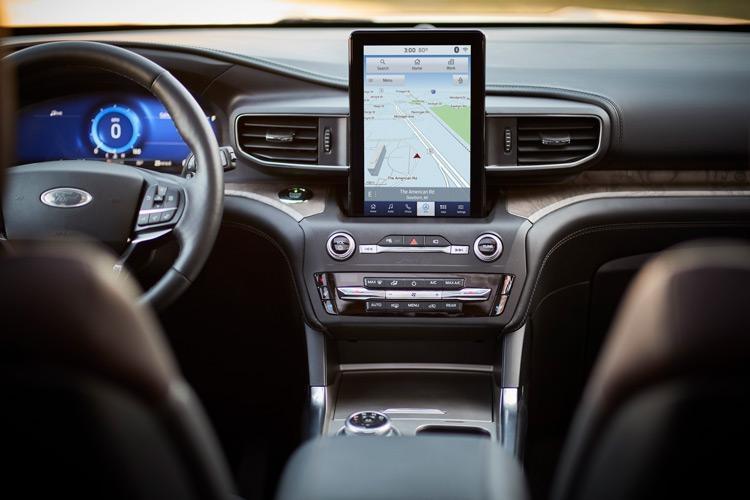 Inside the cabin, Ford is promising some major improvements as well. While we were told that the interior is still not finalized yet, the major additions here include the optional 10.1" infotainment system display, 12.3" digital instrument cluster and a full suite of safety and driver-assist systems.
Among these new systems are a Reverse Brake Assist and Active Park Assist 2.0 which will handle all steering, shifting, break, and accelerator controls during a parking maneuver with just a touch of a button.
Additionally, other innovations are being explored to decrease road noise and make it even more quiet. This includes Active Noise Canceling technology like you might have experienced in your headphones ... but applied to the entire vehicle!
We can't wait to share more of the new 2020 Explorer later this year!