Cadillac hit it out of the ballpark with the all-new 2021 Escalade. Truthfully, the entire new family from GM has been an absolutely exceptional experience to drive over the past few weeks. While each share a lot of similarities dimensionally, the new Escalade took that package and created a unique experience that makes me even more confident that Cadillac is back. Simply put, while other vehicles that I've driven from the brand this year have been enjoyable ... the Escalade 100% represents the brand promise that I have been craving.
Years ago, Cadillac was known as a brand with giant cars covered in chrome and packed with every feature, gadget, and gizmo that you could think of. It was unique but somewhat tacky. Somewhere along the way it simply became blinged-out versions of other cars from the GM portfolio but across my experiences this year it is clear that is changing. Today Cadillac represents a brand focused on innovative technology and confident design that doesn't need copious amounts of chrome and excess badging for people to know you are driving something special.
Watching this evolution of design language and brand identity is one of the most interesting things about the car industry. In the case of Cadillac, you start to see a return to luxury and precision with the XT5, XT6 and CT5-V and while each of those had features and a design language that was identifiably "Cadillac" ... I wouldn't call any of them the "Cadillac of three-row crossovers" or the "Cadillac of luxury sports cars". I enjoyed each of the immensely but they ultimately fell short of what I envisioned as being a Cadillac.
The all-new 2021 Escalade however does not. It hits EXACTLY that brand promise and I would be comfortable referring to it as the Cadillac of full-sized SUVs.
On this experience - like with its cousins the Tahoe and Yukon, I only had a short one-day period of time to test it out. I look forward to doing more in the near future though since this was perhaps the most exciting SUV that I've driven this year.
I suppose at a sticker price of $109,000 it should be, but price ultimately isn't the only thing that makes me love a vehicle. In fact, my number two favorite SUV this year is the 2020 Hyundai Palisade and that comes in at less than half the price.
What makes the Escalade so exciting is that it is new and fresh with features I wasn't expecting that ultimately make the driving experience better for both drivers and passengers. Plus, in this situation, there's a sense of heritage that I am so excited to discover isn't lost in the wilderness.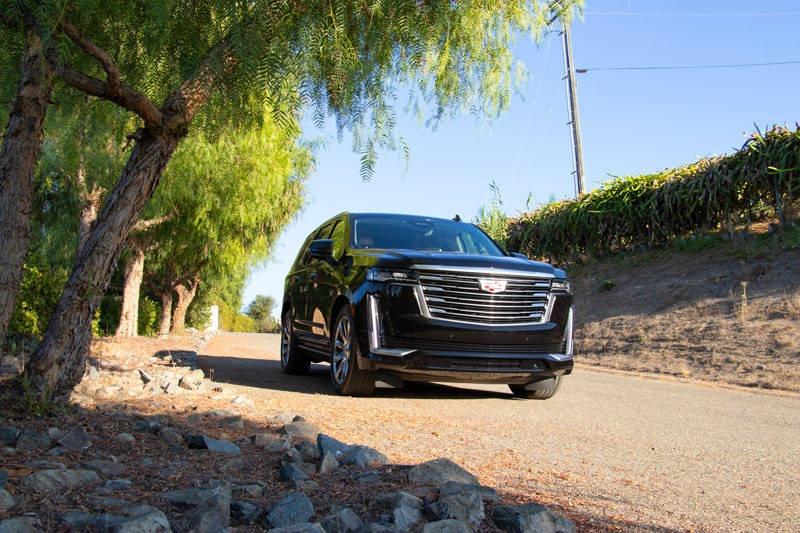 Driving Experience
There's no denying that this is a big vehicle at 5,635 pounds (2WD) and 5,822 (4WD). When connected to the 6.2L V8 it provides 420 hp and 460 lb-ft of torque. While this is hardly going to allow you to launch off the starting line, it had plenty of power to pass vehicles on the road and enter the highway in a manner that matched the confidence that the rest of the vehicle exudes.
While rolling around town, the ride was extremely comfortable even on mildly rough roads with bumps due to lack of maintenance. On the highway, it was one of the nicest driving experiences that I have had in a full-sized SUV. Possibly better than it's cousins though that might be more a factor of extra noise isolation that created a quieter environment.
Despite it being such a large vehicle though, it performed admirably on country roads as well. The Escalade features an independent rear suspension, featuring Cadillac's signature Magnetic Ride Control that is billed as "the world's fastest reacting suspension technology" and this leads to a shockingly smooth ride even when taking corners tighter than you probably should for a vehicle this large. Additionally, the Escalade features Air Ride Adaptive Suspension that delivers automatic load-leveling and ride-height adjustment that will actually lower the vehicle 2" to make passenger entry and egress even easier.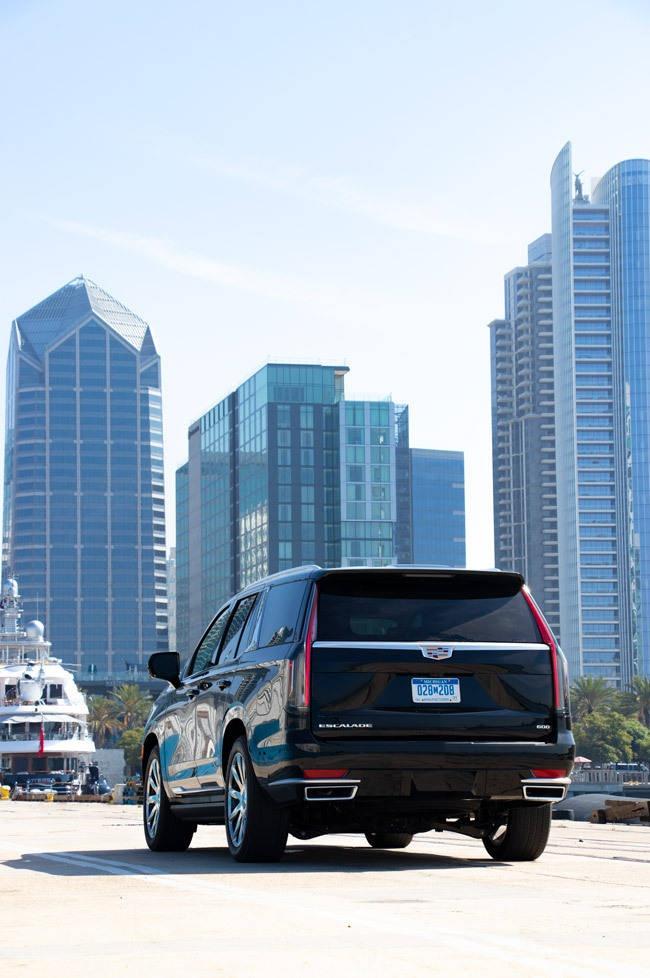 Interior and Exterior Design
Visually the new Escalade is immediately recognizable with the giant chrome grille with bold Cadillac insignia front and center. From here and throughout virtually every part of the vehicle both inside and out, the design language is dominated by a collection of angular accents that somehow bring everything together in a perfect balance.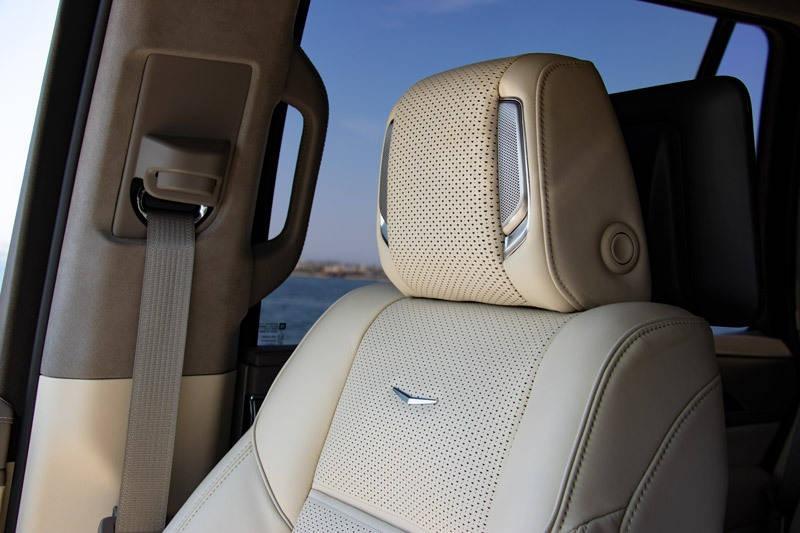 When you begin to look deeper though, the level of attention to detail is remarkable. While other automakers sometimes hide "easter eggs", here it feels like something more. For instance, the headlight assembly has far more complexity than anyone would ever expect or even notice if it wasn't for someone telling them where to look. Inside, on the seats where it could have simply been a basic quilted pattern, in the one we had, it was actually almost like little hearts. Throughout the vehicle, you see these big and little details that make you realize that this vehicle is something more than merely the Yukon's rich older brother.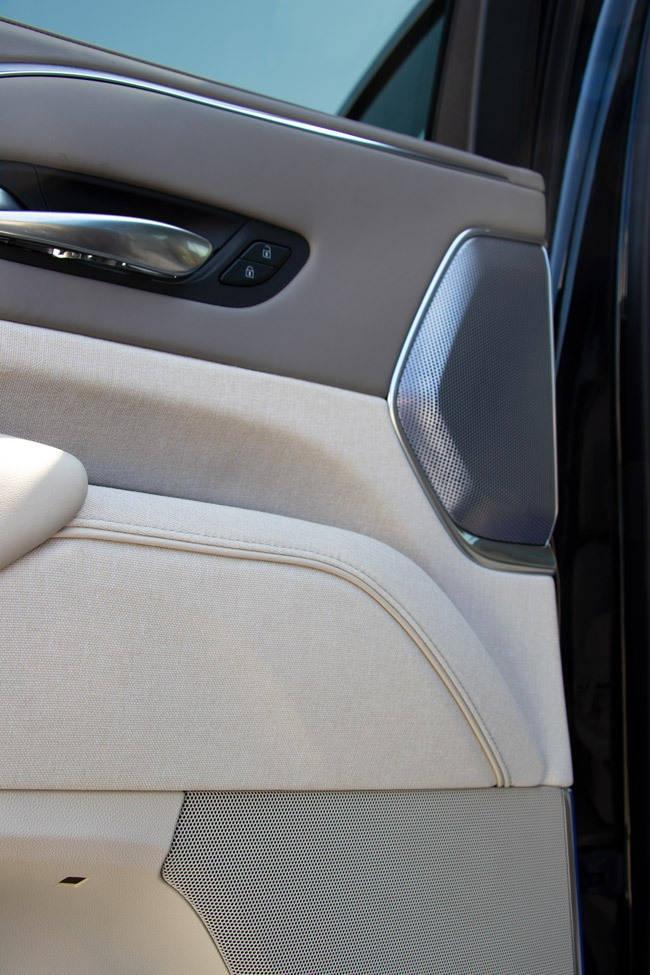 While the interior is by far the best GM interior that I have ever experienced both from a design perspective as well as quality and use of materials, I do have concerns about the one we tested. Specifically, while it looks absolutely STUNNING with white - including white floor mats - I have concerns about how it will look after a few weeks of use. This is especially true for the linen accents on the door where your legs rest. While most people driving the Escalade will likely be wearing pants and not be sweating, all I could think about was a sweaty guy in shorts getting in and causing sweat and dirt stains on such a beautiful material. Similarly, even just after a day of driving around exploring some different wineries here in San Diego, I managed to deposit a fair amount of dirt and dust and so this is something to be aware of should you be looking to buy the 2021 Escalade.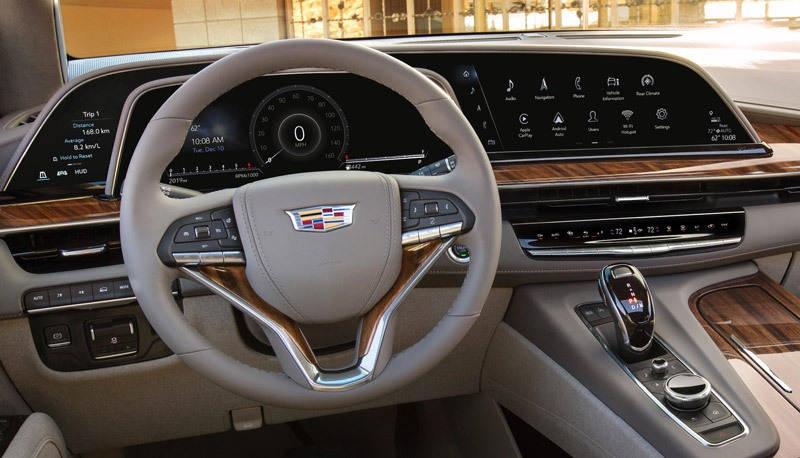 Interior Layout
Fundamentally the entire vehicle behind the front seats is extremely similar to both the Yukon and Tahoe that we drove earlier. Once again you have a huge space with significantly more room than in the previous generation. Most excitingly this means a third row that is big enough and comfortable enough for a full-sized man to sit comfortably along with enough cargo space for a full-sized cooler to sit behind him. Additionally, these third-row seats are also adjustable so that you can add extra cargo space or extra legroom.
Upfront is where things get more interesting.
The cockpit area is completely unique compared to the cousins. Not only is the pushbutton transmission gone and replaced by the standard Cadillac shifter but the way the center console is structured is completely conventional compared to the radical and welcome innovation of the sliding box found in the Tahoe and Yukon. In some ways, I'm glad that this didn't feel simply like the third time I drove the vehicle but I'm also disappointed that such a cool feature that offers plenty of extra space for my camera gear or my wife's purse is no longer there.
Despite this though, I was pleasantly surprised that the cupholders were able to hold my big water bottle and the Escalade version that I was driving had the optional chill box installed. I discovered it was a chill box and not simply a holding box when I reached in and discovered that my mask had frozen completely solid. That was an interesting but exciting experience that I'm now planning to add to my daily routine while it continues to be hot here in Southern California!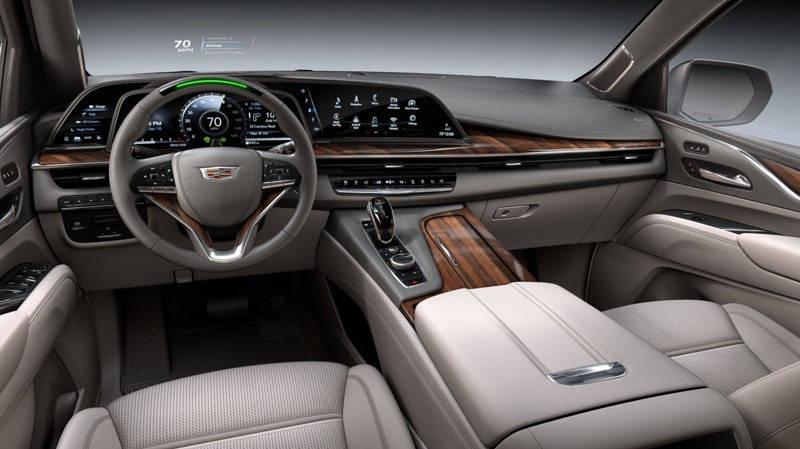 Technology Innovation
When you look at the dashboard you suddenly realize that the Escalade is something special. This starts with the 38" curved OLED display that helps to improve ergonomics for the driver while providing a host of gee-whiz "this is what a Cadillac is" features. Truthfully, you can find many of these on other vehicles including some that are available individually on other Cadillac vehicles - such as the Night Vision camera but it is an awesome feeling to have EVERYTHING all in one beautiful package like this.
While our vehicle did not have it, Cadillac will be updating Super Cruise in the Escalade in a few months. This new Super Cruise will have the ability to automatically make turns by signaling and then making the lane transition once the computer determines it is safe. While conservative compared to Tesla's autopilot it is exciting to watch the evolution of this driving system. I look forward to testing it out on a long road trip later this year.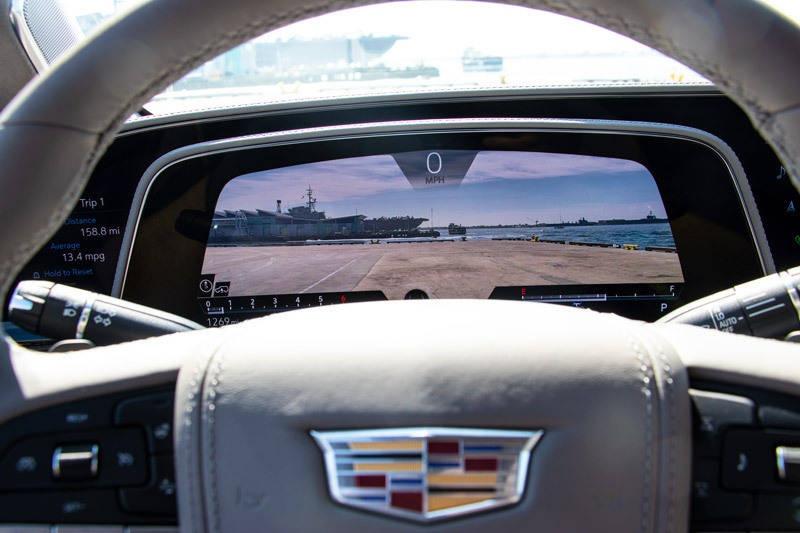 One of the innovations I found especially awesome was the Augmented Reality camera which will actually show you navigation prompts that get closer as you approach a specific turn in your itinerary. Not only does this show visually in your dashboard but also the sound appears in a three-dimensional way (when you have the optional 36-speaker AKG sound system). For instance, imagine how frustrating it is to know your destination is coming up but not knowing which of two roads just a few feet in front of you is the right one. Now the prompt will actually show you as an overlay instead of simply "turn left in 500 feet".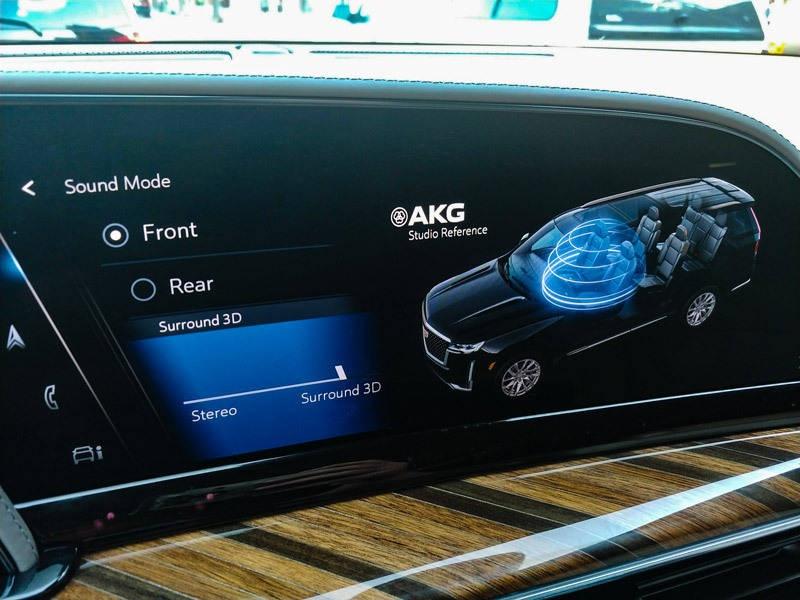 While the 36-speaker AKG sound system seemed like overkill - and it probably is. This sound system was one of the most impressive parts of the vehicle. Not only does it enable sophisticated practical features such as enabling more precision with navigation but also allows you to tune the speakers so that if you as the driver want to listen to music more loudly you can while your partner is sleeping in the seat next to you. It also allows for conversation assistance to talk with the kids in the back for instance.
While that's practical ... what I enjoyed was just how freaking awesome it sounded. I've enjoyed a lot of car audio sound systems over the years and while many of them are simply LOUD or just have great bass, this one was exceptional across the spectrum. To test it out I chose a collection of musical styles from EDM to 90's gangsta rap and turned the volume all the way up. Even at levels of sound that were frankly uncomfortable to the ears, it remained clear and precise without causing that bass rattle that sometimes you find in-car audio. Even more remarkable was that the same noise isolation that makes the cabin experience nice and quiet on the road actually insulates the audio from inside from spilling out to the environment as you drive through the city.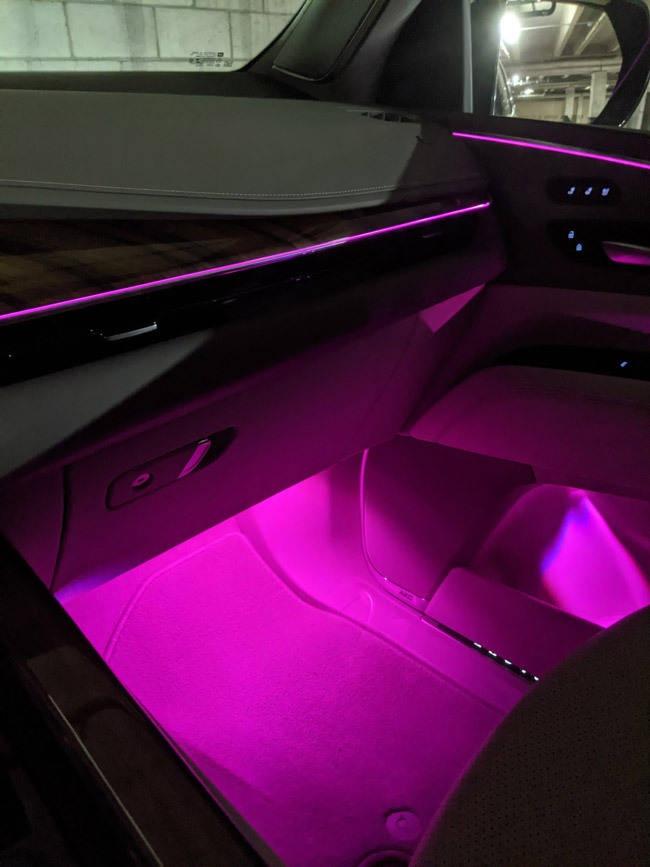 Finally, I would be remiss if I didn't also mention the ambient lighting system. Again, this isn't new but I really enjoyed it on the Escalade as just another example of how this car represents what I used to love about Cadillac. It adds that extra level of coolness that is somewhat unexpected.
Cadillac Is Back! The 2021 Escalade Is Everything I Had Hoped For
Cadillac as a brand has always represented to me the promise of American luxury. I respect and enjoy the feeling of driving German and Italian luxury vehicles but frankly, the Italians are a bit too obsessed with flash over quality and the Germans are more focused on minimalism and refinement. As an American, I like my big comfortable luxury experiences with the most technology possible. I want to see something cutting edge that makes my driving experience better as well as some features and design elements that exist simply to make me smile knowing that I have something others don't. On top of this though, I need to have a vehicle that looks great, projects confidence, and reflects a level of quality and precision that I strive to deliver in my daily life.
The 2021 Cadillac Escalade delivers on this in a way that I frankly didn't expect.
I look forward to driving it more on a longer road trip experience in a few weeks to share more thoughts about how it feels after the initial excitement wears off.