I recently got a chance to do a quick one-day preview of the all-new 2021 GMC Yukon Denali and it is everything I loved about the all-new Tahoe, but better. That's sorta what GMC is as an extension of the Chevy brand though. It's everything you love but just taken to the next level and with an understandably higher price tag too. Simply put, the new Yukon drives great, is comfortable, looks amazing, and has more room in the places that the previous generation needed it.
When GMC invited me to take part in the 2021 Yukon Denali preview I was somewhat torn between the rugged and super capable AT4 version or the more luxury-focused Denali. With any luck, I'll be able to spend more time with both of them in the near future but I chose the Denali because I was curious how the bigger 6.2L V8 engine would perform vs the 5.8L that I tested in the Tahoe Z71. While I firmly believe that the 6.2L deserves to be on the sportier and offroad designed versions of both vehicles, I was honestly surprised at how little difference it actually made in everyday driving. The understandable reality here is that the GMC Yukon is a BIG VEHICLE. With a curb weight of 5,827 pounds vs 4694 pounds for the Sierra Denali the bigger engine just doesn't make as much difference as I was expecting and it feels more tuned for comfort rather than yeehaw truck acceleration.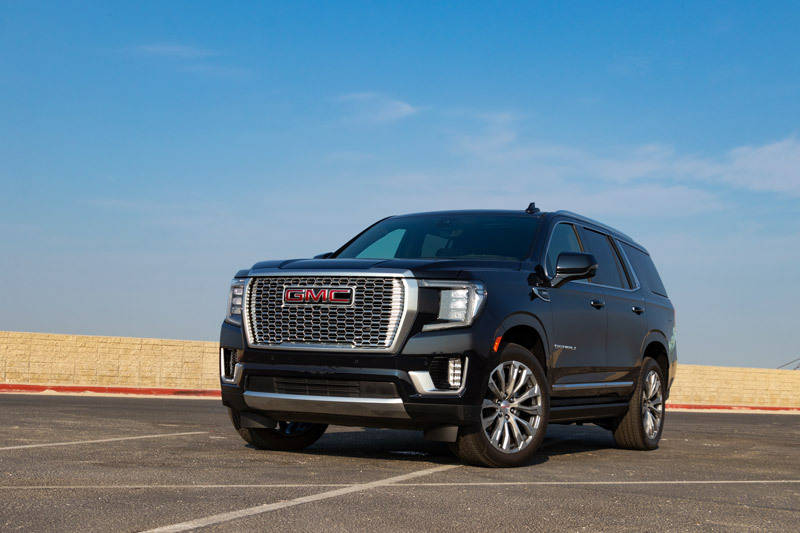 Despite always wanting "more power" at no point did I feel like the vehicle was lacking with the 6.2L whereas at times I felt disappointed in its cousin Tahoe Z71 over on the Chevy side of the family. I would expect that the same would be true for the AT4 as well. Additionally, with the 6.2L V8 delivering 420hp and 460 lb-ft of torque via the 10-speed transmission, the 4WD is able to tow up to 8,000 pounds with the Max Trailering Package. While this is a slight decline over previous generations, the standard Yukon actually sees a considerable increase vs the outgoing model.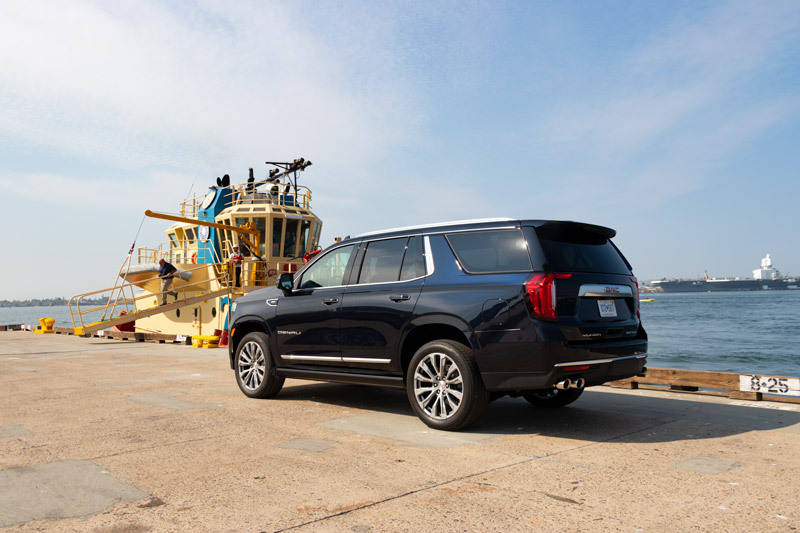 When it comes to the initial impression, the 2021 Yukon Denali is simply stunning. It is the exact right balance of strength and refinement. Driving around town I felt as though I should be going to pick up an executive or celebrity and take them to an event somewhere. Very few vehicles have this feel of looks and feel that delivers confidence. To be clear, as beautiful as she is, the GMC Yukon Denali is not flashy like some of it's competitors including ultimately the 2021 Cadillac Escalade that has also just been released.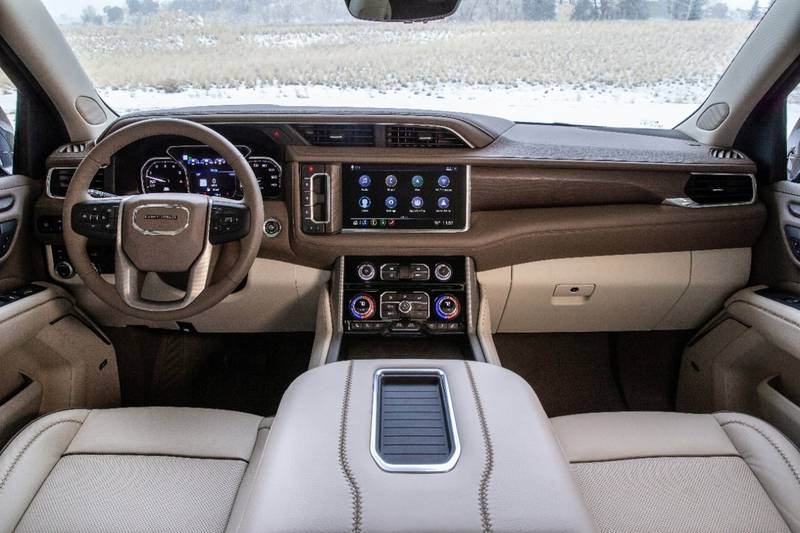 Inside, you'll find the near-identical layout as found on the new Tahoe including the push/pull button transmission and sliding center console. However, they have added a 15" multi-color Heads-Up Display (same as on the Sierra) and premium materials including premium leather, fractal stitching, and authentic wood.
When you look up, you'll also notice a huge panoramic sunroof that helps to provide an added sense of how massive this vehicle is inside, even if it doesn't feel bulky when driving. I'm not entirely sure why it is but, despite the size of both Yukon and Sierra, they are surprisingly easy to immediately know where the corners, front, and back of the vehicle are and when you need a bit of help, the cameras do an excellent job of providing precise positioning detail.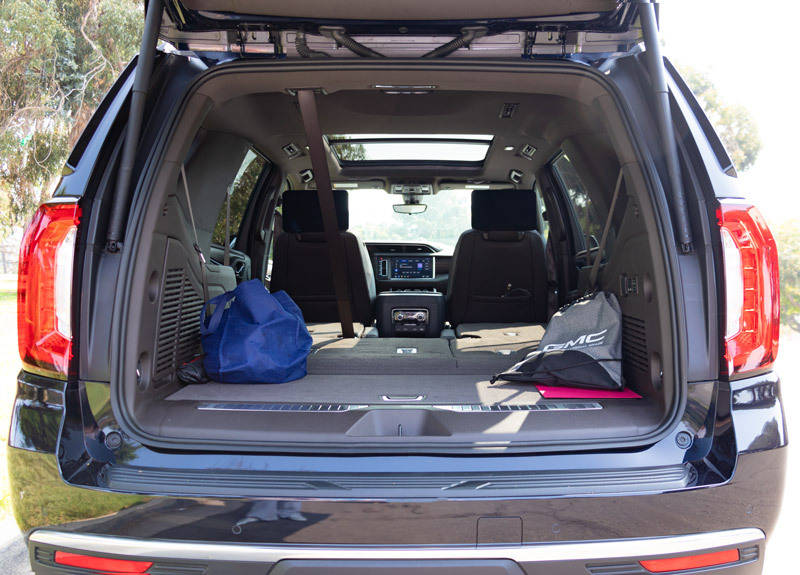 One of the things I absolutely detest is that most three-row SUVs - even full-sized ones, sacrifice head and legroom as well as cargo room to the point where the effectiveness of that third row is virtually a marketing bullet point only. In the new Tahoe though, the entire vehicle has a 3% longer wheelbase and that gives us 66% more cargo space behind the third row and 40% more third-row legroom as well. Not only is their more legroom but the seating position is natural and the headroom is comfortable for a big guy like myself to sit there if needed. Of course, if you need more ... there's always the Yukon XL.
With both sets of seats folded flat you'll have 122.9 cubic feet of cargo area, virtually enough that my wife and I are thinking about using this for a camping trip this fall and sleep inside the Yukon instead of having to bring a tent with us.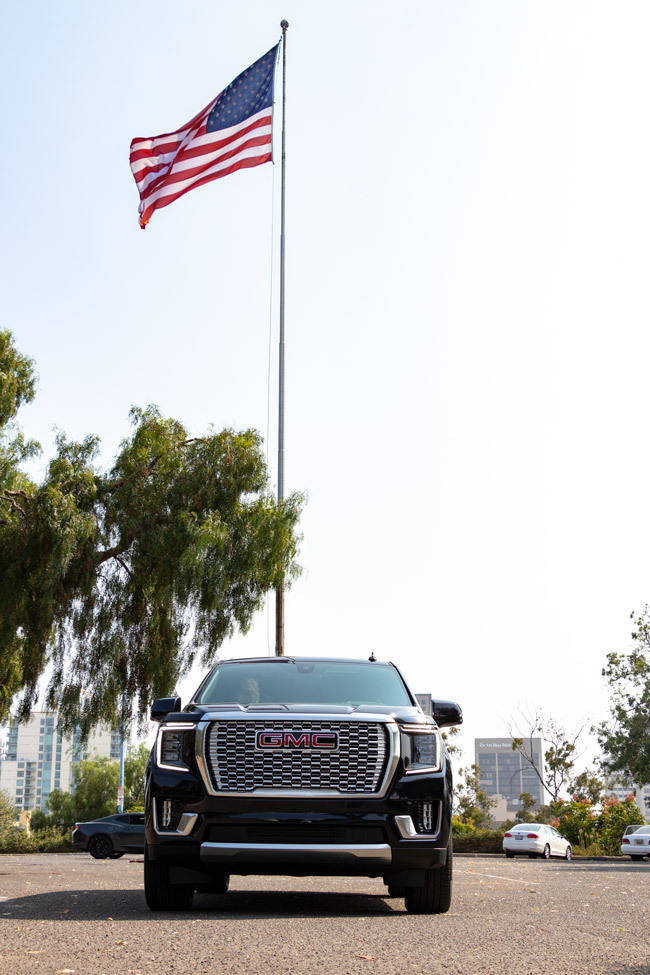 Like it's cousins, the 2021 Yukon Denali is manufactured in the GM plant in Arlington, Texas. Pricing on the vehicle that we had started at $71,400 with a total vehicle price of $83,720 and it is available now at GMC dealers nationwide.