Last month, we told you guys all about the all-new 2022 Toyota Tundra full-size pickup truck, and while it looked to check off all the right boxes on paper, we were excited to get behind the wheel of this bad boy to see how it stacks up against the competition. After spending a full day in San Antonio, TX putting the Tundra through its paces, both on and off-road, I can tell you that it's everything that we had hoped for, and then some.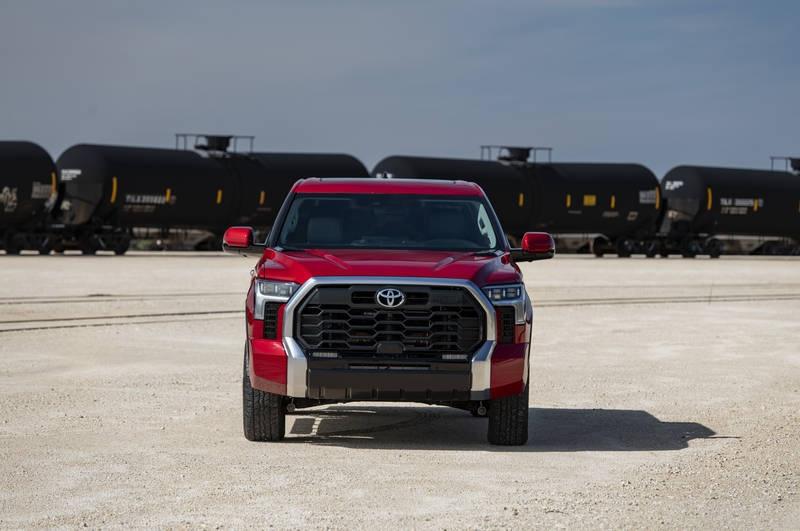 It's hard to believe it, but the outgoing Tundra was introduced way back in 2007 (and refreshed in 2014), which is an absolute lifetime in the world of automotive. As you can imagine, Toyota diehards have been chomping at the bit for an all-new Tundra to compete against the likes of Ford, Chevy, GMC, Ram and others, who have all rolled out completely new trucks in the past few years. Now it's Toyota's time to shine.
While Toyota is a little late to the game with the new Tundra, it's clear that they've done their homework, delivering a truck that is sure to please, with bold styling, impressive performance (especially with the hybrid), a modern interior with loads of technology, serious off-roading prowess courtesy of its new platform and suspension, and ample towing and hauling capacity.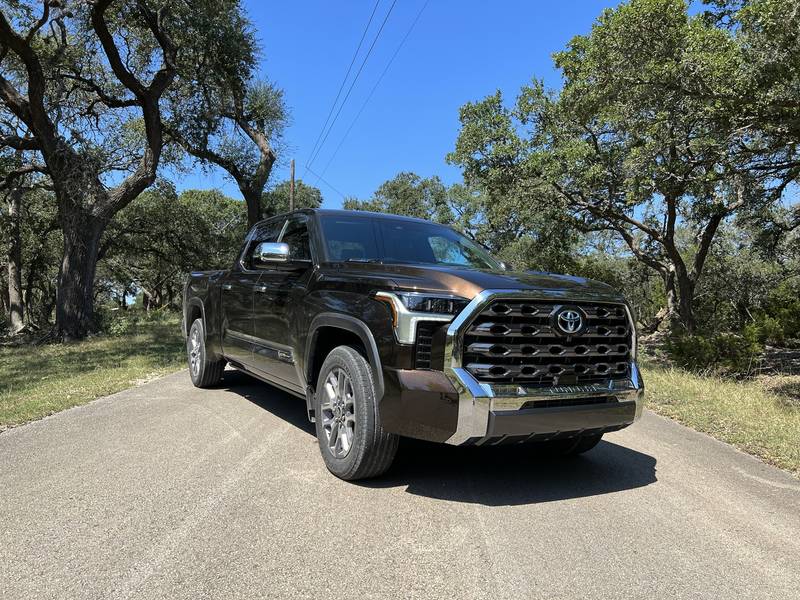 So much has already been said online about the styling of the Tundra that I'm not going to go down that rabbit hole. That said, Toyota designers aimed to "create a muscular, chiseled and athletic design", and I think they nailed it. Driving down the highway, our Tundra definitely stood out from the rest of the trucks on the road (and there are plenty of trucks in Texas), with it's bold grille and aggressive body work. While the TRD Pro's looks are a bit much even for me, the different trim levels are all unique and offer something for everyone.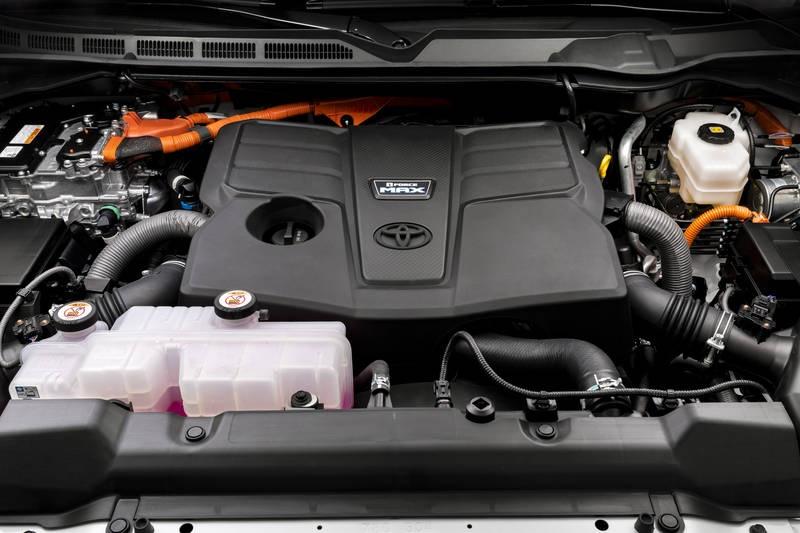 The Tundra is offered in two different powerplant configurations. The standard engine is a 3.5-liter twin-turbo V6 that churns out 389 horsepower and 479 lb-ft of torque (348 hp and 405 lb-ft of torque on base SR model). While this setup is down two cylinders from the outgoing 5.7-liter V8 engine, it delivers an additional 8 horsepower and 78 lb-ft of torque. Paired with a 10-speed automatic, there's always plenty of power on tap, while returning a respectable 18 mpg city, 23 mpg highway and 20 mpg combined (4x4 models are 17/22/19).
We spent the better part of the morning driving a Tundra Platinum with this engine, and we were impressed with the truck's effortless power delivery and smooth ride quality, the latter which is dramatically better than the previous generation Tundra - Not quite "car like", but you can rack up highway miles effortlessly and come out feeling nice and refreshed.
But the real star of the show is Toyota's new 3.5-liter twin-turbo V6 i-FORCE MAX V-6 hybrid engine, which puts out a whopping 437 horsepower and 583 lb-ft of torque! While some may hear the word hybrid and recoil in disgust, Toyota's application (which adds an electric motor located between the flywheel and the torque converter) transforms the Tundra from mild to wild. Lay your foot into the accelerator, and it pulls like a freight train, pushing you back into your seat. What's more, this engine sounded even smoother on the road.
Toyota has remained tight lipped about the hybrid's fuel economy for now, but I wouldn't be surprised to see it come in at around 24-25 mpg combined. Assuming that the price premium for the hybrid model isn't too great, it should more than pay for itself over time at the pump. Add in the extra oomph when towing, linear power delivery on the highway and peak torque when off-roading, and it's a no-brainer. Needless to say, if I were in the market for a Tundra, I'd get a 1794 Edition equipped with i-FORCE MAX engine in a heartbeat.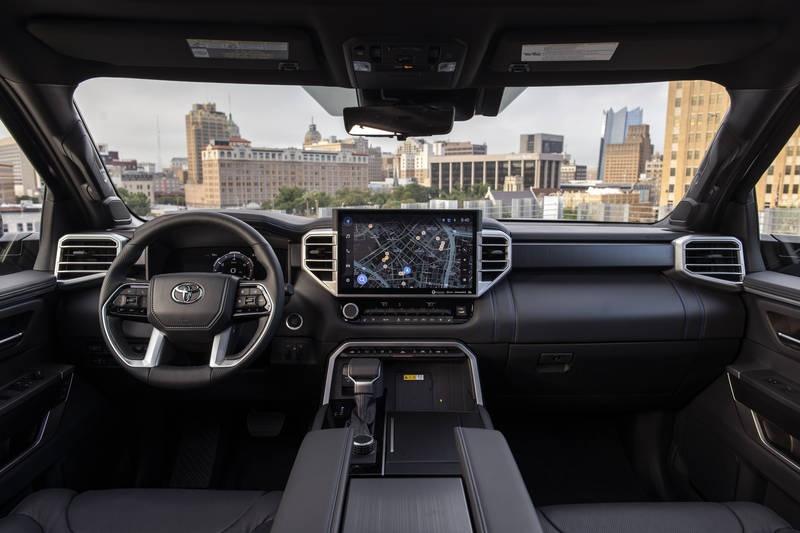 Step inside, and you'll find a new interior that's quite the upgrade from the outgoing model, with a host of creature comforts for driver and passenger alike, along with technology galore. The interior is very well thought out, with an emphasis of functionality over flashiness, and everything well within reach. The cabin is fairly quiet going down the highway, allowing you to jam out to that great sounding 12-speaker JBL premium audio system.
Your eyes are immediately drawn to the optional 14-inch infotainment screen that's front and center, which runs their all-new multimedia platform. Besides the obvious benefits of a bigger screen, it also features a virtual Intelligent Assistant that recognize natural speech commands (eg. Go home by saying "Hey Toyota, take me home"), a cloud-based native navigation system if you don't want to use wireless Apple CarPlay or Android Auto, OTA updates, and more.
A 4.2-inch multi-information display (MID) gauge cluster is standard, while Limited (Hybrid), Platinum, 1794 and TRD Pro models have an available 12.3-inch MID TFT that is just out of this world, a fully-digital cluster with customizable displays to suit your needs. The MID also has a neat little feature, showing a selection of American national parks scenes on start-up, with the Tundra logo emblazoned on top of it.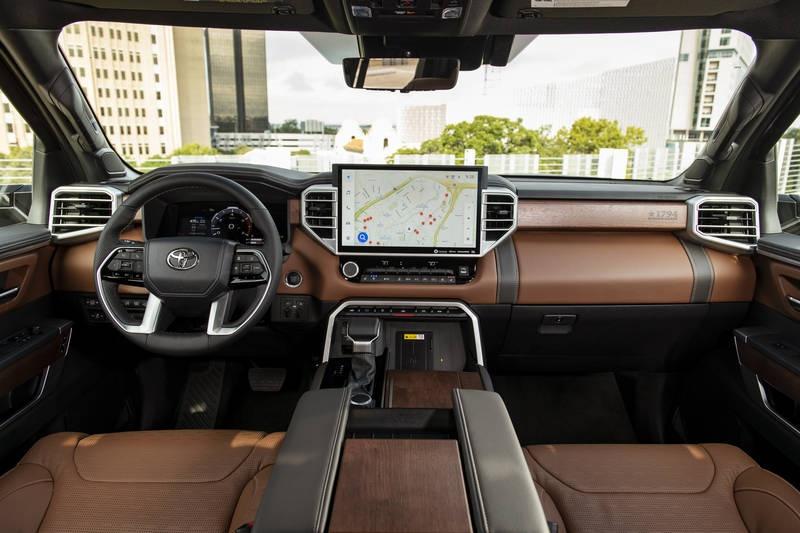 Premium trim levels are downright plush with supple leather and wood, along with luxury features like heated/ventilated front seats, an available panoramic roof, rear sunshade, heated steering wheel and more. Meanwhile, the TRD Pro model opts for a bit of brashness, complete with red SofTex-trimmed seats with camo pattern inserts, and red highlights throughout.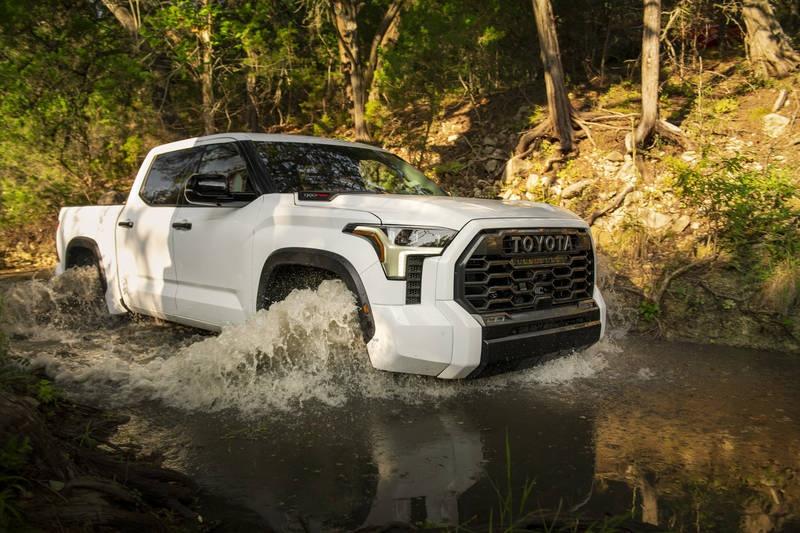 Toyota knows that its customers use their trucks for recreational pursuits, which often means going off the beaten path. No problem with the Tundra, as it's well equipped to go off-roading in TRD Pro form, with 2.5-inch diameter FOX internal bypass shocks with rear piggyback reservoirs live at each corner. The front FOX shocks provide the truck with a 1.1-inch front lift. Other TRD goodies include unique all-terrain Falken tires, an upgraded front stabilizer bar, aluminum skid plates, a rear locking differential, and Multi-Terrain Monitor that gives the driver a front-, rear- and side-camera views of the truck's immediate surroundings.
Our Tundra TRD Pro tester made short work of a technical off-road course they had set up for us, with a steep, rocky incline hardly posing a challenge to the low-range gearing, locking diff and underbody plates. That said, I ran the same off-road course in a regular Tundra with the TRD Off-Road Package and got through it without incident, so depending on your needs, you may not need to go with a full-blown TRD Pro.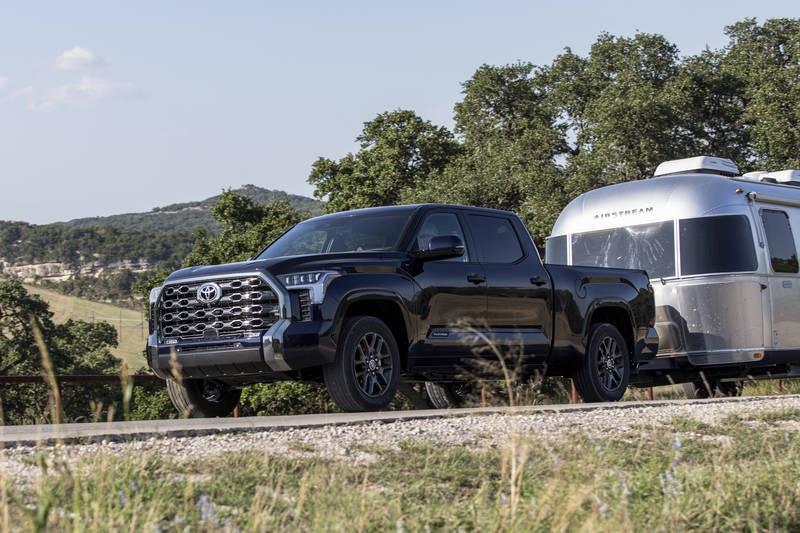 With a max tow rating of 12,000 pounds and a max payload capacity of 1,940 pounds, the new Tundra is equipped to tow or haul pretty much whatever you need. What's more, Toyota has a number of innovative features to make trailering less daunting. First off, two new Tow/Haul modes are available on Tundra. The standard Tow/Haul mode increases throttle response and is ideal for lighter to moderate needs, such as small box trailers, utility trailers or small boats. Meanwhile, Tow/Haul+ mode delivers more aggressive throttle response for situations when towing larger trailers such as RVs, larger box trailers or larger boats.
Another cool feature is Straight Path Assist, which backs your trailer straight back (like when you're trying to launch your boat into the water), without any steering input from the driver. Think self-driving in reverse. We naturally had to test out this feature, and it worked perfectly, making the necessary steering adjustments to keep the trailer straight on path, my hands off the wheel completely. Other towing features include additional cameras and exterior angle views, power extending and folding tow mirrors, and Trailer Back Guidance.
Overall, there is a lot to like about the all-new 2022 Toyota Tundra, and enthusiasts who have been patiently (or impatiently) waiting for Toyota to introduce the new truck have reason to be excited, as it's just a better truck than the one it replaces in every way, delivering on all fronts.
The only question that remains - How much will the new Tundra cost (and how much extra is the hybrid engine)? While Toyota hasn't announced pricing just yet, we should know more by the end of the month, so stay tuned!