Like most of you, I'm on a mission to improve my quality of life - that means paying attention to self care and personal health but the environment around you is just as important. Enter the Airthings View Plus. This air quality monitor tracks radon, PM 2.5, CO2, temperature, and VOCs. It's easy to install and syncs with your smart home system and the Airthings app can keep tabs on trends and get tips for healthier indoor air. What I like about it most is that it is by far the most "complete" indoor air quality monitor that we've tested this year.
Our journey to becoming air-quality experts began earlier this year as we worked to make my father-in-law's house save for him to return home from this hospital - thankfully he's breathing better, and we've done a great job of making his home a healthy place to live.
Now, it's time for Heather and I to do the same for our new studio space in Michigan that we're setting up to showcase and highlight healthy home tech (among other things). From the ground up, we've made an effort to focus on things like high-quality windows that can be easily opened during warmer days to get fresh lake breezes but will also protect us on icy cold winter days from those same winds.
What was missing was an excellent air-quality monitoring system that can help guide our smart thermostat as well as alert us remotely should things such as temperature or humidity spike (or other items such as particulate matter etc.) Airthings View Plus appears to be able to do all of this but we'll come back to some of the more integrated features in a few months once our new furnace is installed.
For example, what I'd love to be able to do is to run a cycle of the fan if Airthings detects an increase in VOC in the air until that is resolved. It should allow us to do similar to help maintain a specific humidity level. Both of these are potentially doable by connecting Airthings and a system like IFTTT with our Google Nest thermostat that will be installed shortly.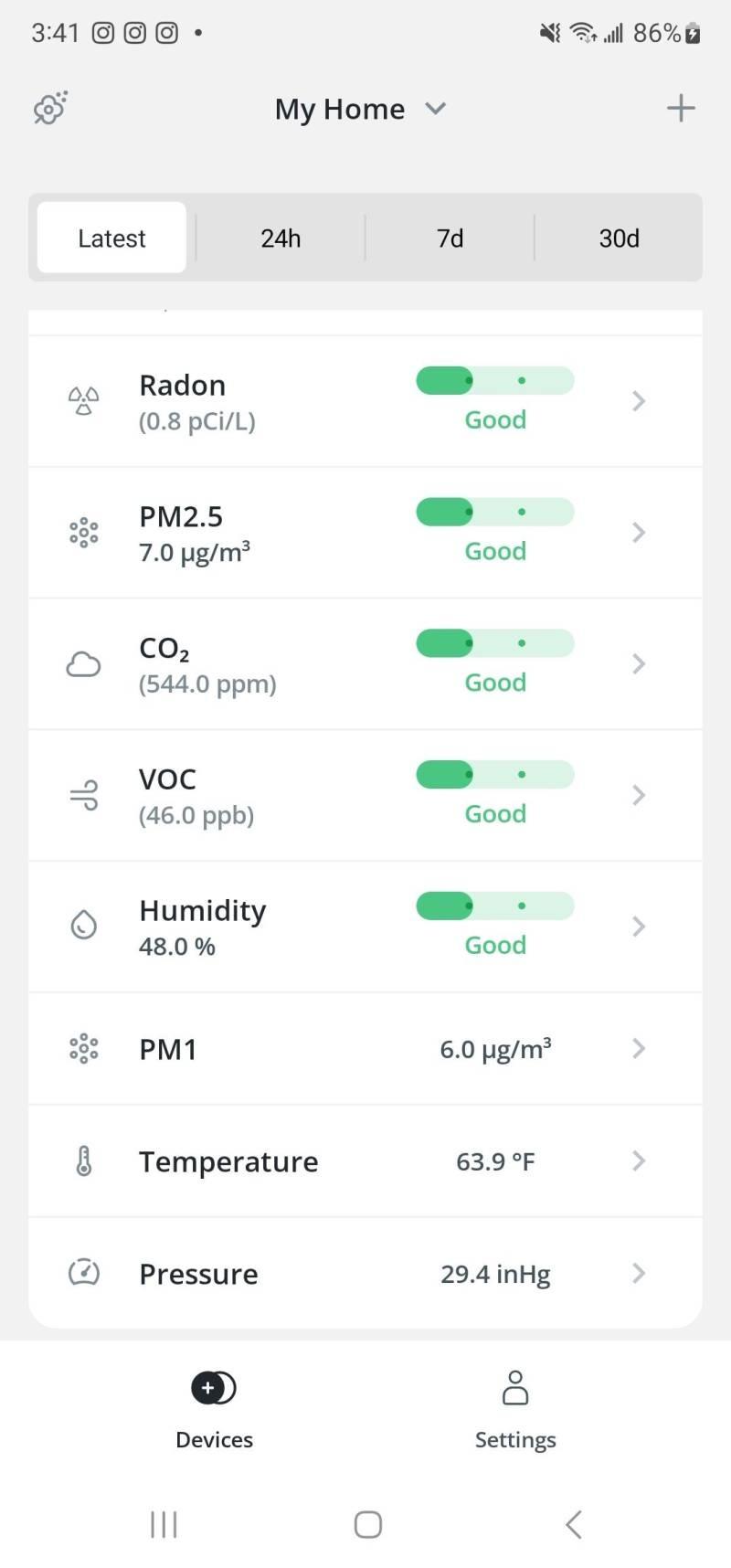 Product Overview
You'll find that the Airthings View Plus stands out among air quality monitors for its comprehensive approach to monitoring all air quality elements and its versatile power options. Unlike rival products from InkBird and Sensibo that we've tested previously, this device measures a more broad array of air quality elements including radon, CO2, pressure, humidity, and temperature. We also appreciate its dual power functionality, allowing you to use either a USB-C cable or batteries. This versatility not only offers convenience but also promotes environmental sustainability by reducing toxic battery waste.
Product Specs:
Measures radon, PM2.5 and PM1,CO2, VOC, pressure, humidity, temperature
USB-C or battery power options
Can function as a hub connected to air quality sensors in other rooms of the house
Pros:
Comprehensive air quality monitoring
Display uses an eInk that is very easy to view
Promotes environmental sustainability
Cons:
May be more complex than simpler monitors
More expensive than less comprehensive options
Larger size is not really "shelf friendly" in terms of design and is better mounted on a wall, though this can be complicated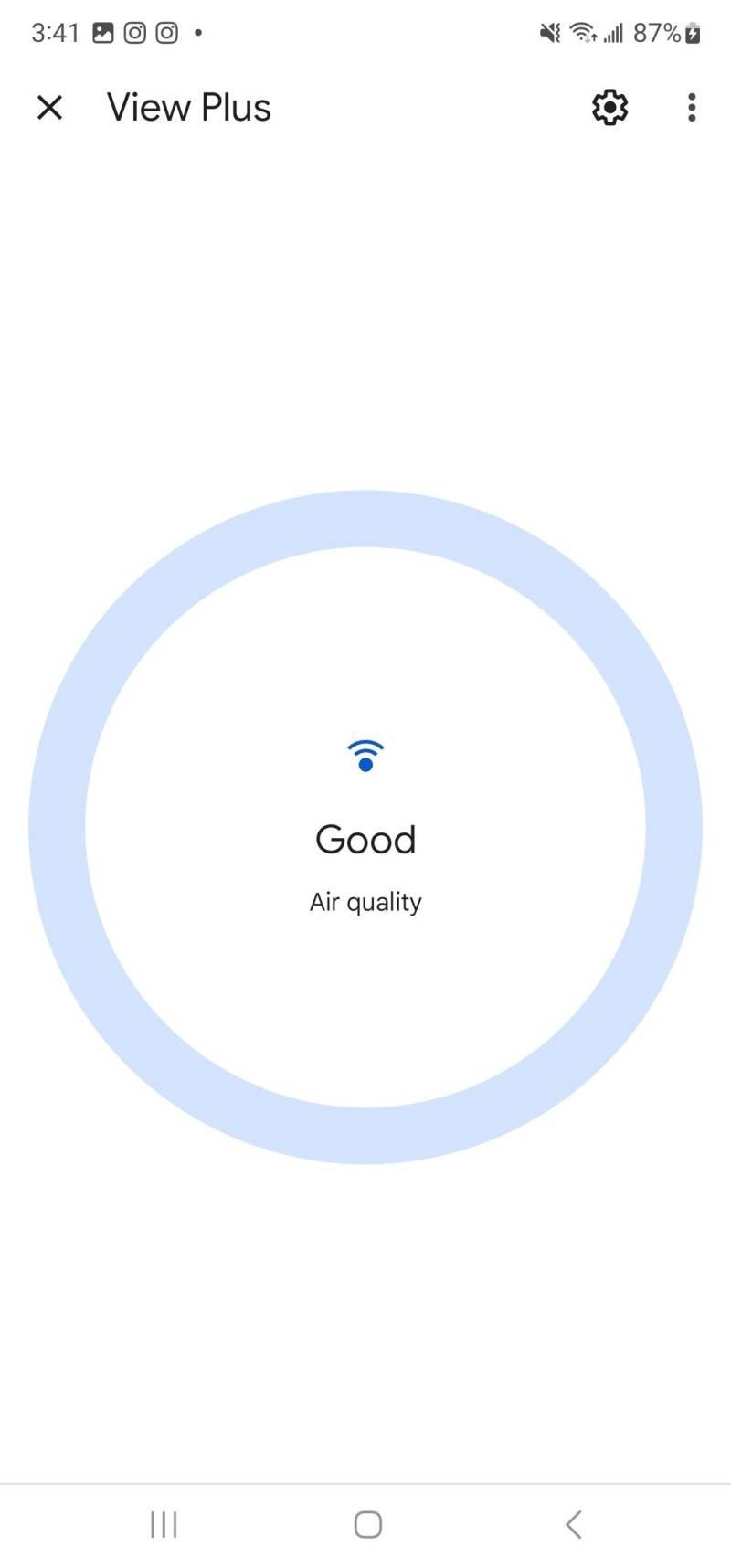 Conclusion - Airthings View Comes Close To Being Perfect
The only element of Airthings View that frustrates me is that the integration with Google Home isn't as seamless or informative as I feel like it should be. This is somewhat of a nit about the Google Home platform as a whole since it seems to be changing how things work on a regular basis. However, here though, there are some weird quirks like for instance - if I ask google for specific details, that's transmitted to me by voice and on screen display. On the other hand, if I just discretely want to check out how things are going at home - showing a circle that merely says "good" or "fair" is frustrating.
I can use the other app sure ... but the dream is that at some point we will have a seamless network of things that all just works together. That unfortunately is not today.
In conclusion, the Airthings View Plus is a game-changer for your health and wellbeing. Its comprehensive tracking of air quality factors, easy installation, and smart home integration make it a top choice for anyone seeking to improve their environment. Paired with the insightful Airthings app, you're equipped to make informed decisions about your air quality. So why wait? Take a deep breath and make the smart choice with the Airthings View Plus.