Indoor air quality isn't something we usually think about but this year I've been living in my father-in-law's house and working to get it healthier for his ultimate return from spending several months in the hospital due to pneumonia and associated breathing issues from COPD. Unfortunately his house is older and windows have been painted shut over the years. While we can install air filters to remove particulate matter, one challenge we had was simply understanding the actual air quality in his house - and specifically CO₂, that we were facing. With the INKBIRD IAM-T1 Smart Indoor Air Quality Monitor, we've been able to discover some surprising things about the house that we didn't expect.
When it comes to improving indoor air quality, the first step is gaining a better understanding for what needs to be fixed. For instance, we knew that humidity made it difficult for Jim to breathe - but we didn't know how humid his house really was. The same goes for things like temperature and even CO₂ levels.
Now, with this INKBIRD air quality monitor, we've been able to monitor that better, we not only are able to add a dehumidifier - but see exactly how that device has made an impact. The same can be said for discovering that CO₂ levels in the house may be higher than they should be - something we are now working to mitigate. While he is on oxygen, these higher levels of CO₂ may have made his situation worse over the years and is something that is potentially leading to headaches, fatigue, and irritability with my wife and I since we obviously don't have access to the breathing machines that he does.
Let's take a more detailed look ...
What We Love About The INKBIRD IAM-T1
What I love about the IAM-T1 is that it is simple and easy to use. While others require you to use your mobile app to get details or have a tiny display that is difficult to read, INKBIRD gave this unit a beautiful Electronic Ink display that is easy to read regardless of lighting conditions.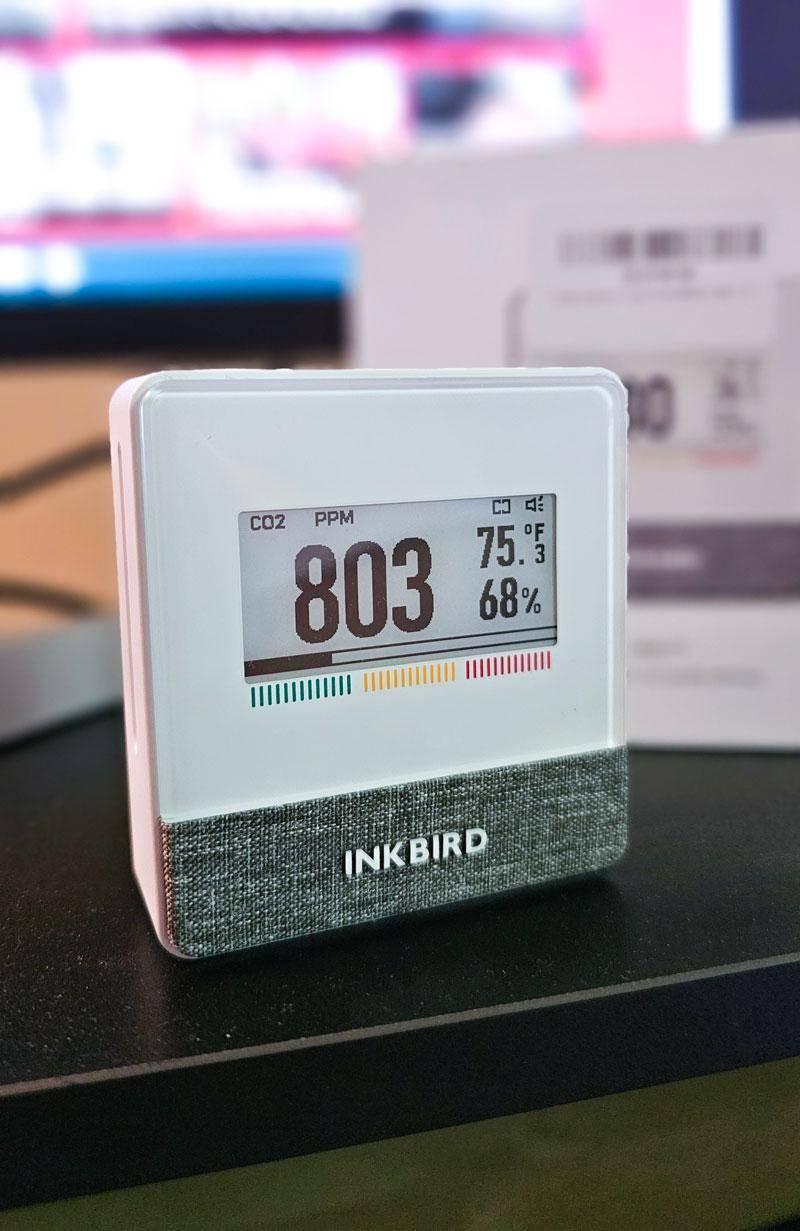 What Air Quality Elements Are Being Monitored
INKBIRD's IAM-T1 monitors CO₂ concentration, temperature, relative humidity and air pressure. In addition to the raw numbers being easy to ready, it also has a bar across the bottom with a spectrum from Green to Yellow to Red that help you make sense out of the numbers.
Otherwise, it could be challenging for typical home owners to understand if their CO₂ PPM concentration being 1300 is higher than it should be. Unfortunately for me … I discovered that over the course of a day working in my office space here this number elevated from around 700 to nearly 1,300.
As a result, I'm able to identify that the room I'm working in - Jim's old bedroom - has significant ventilation issues that may have led to making his condition worse over the years since the windows in this room don't open.
While the unit can be used stand-alone, it also has a solid mobile app that allows you to track changes over time and other details.
Ironically this MSRP $169.99 device (you can buy it on Amazon where at the time of writing there is a time limited 40% off coupon to celebrate the launch!) is now leading us to spend far more money to replace windows in each room so that we can get fresh air circulating throughout the house. Without the air quality monitor though, we would never have known how bad the problem was.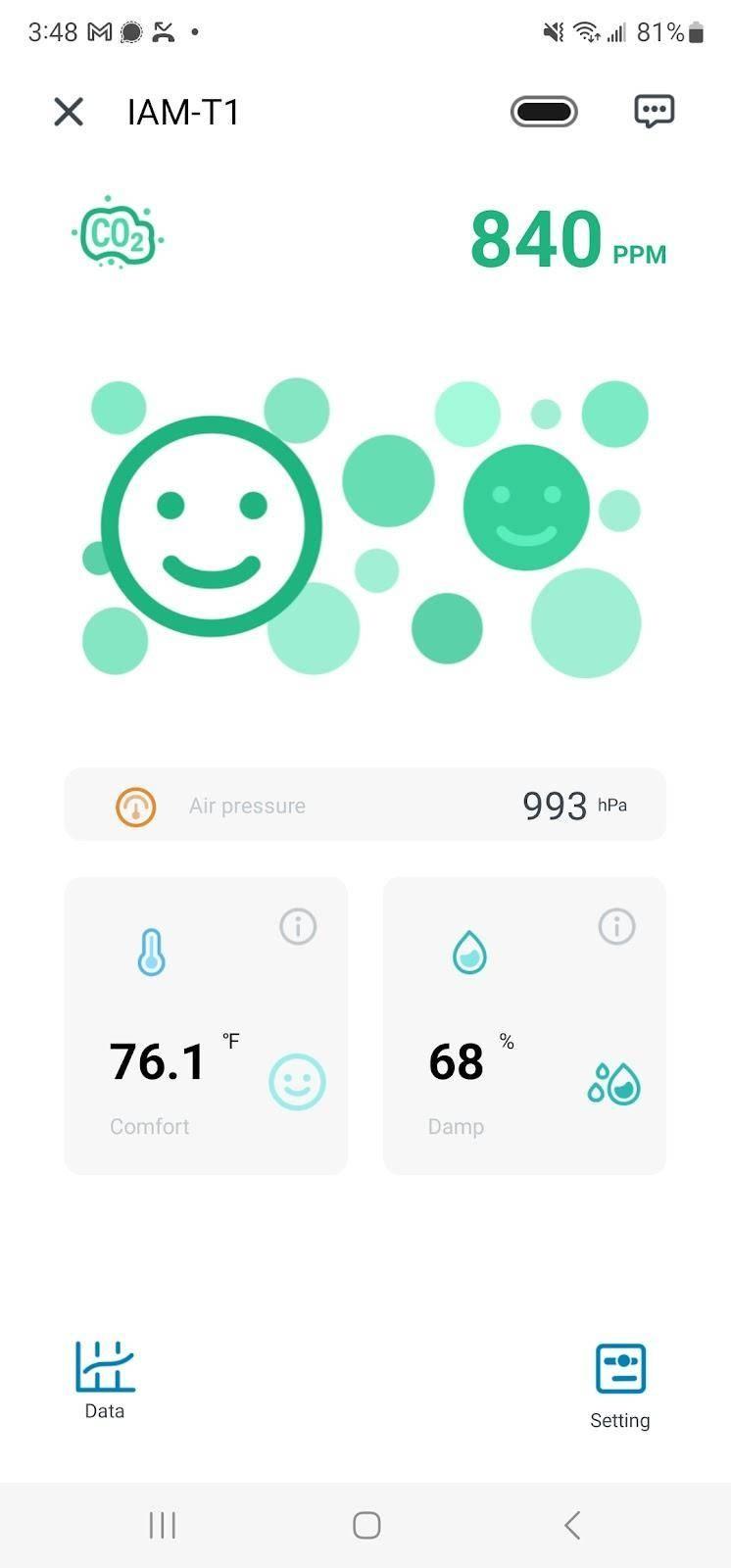 Important Product Specs:
Sweden Premium NDIR Sensor with Senseair sensor offing a 30ppm+3% accuracy
Low-power electronic ink display
Bluetooth 5.0 connectivity
Long battery life of 4 years with AA batteries
Viewable alarms and customizable color thresholds to alert you of dangerous CO₂ levels
For a device like this, I'm a firm believer in focusing on the high level impact but details are important too.
While the INKBIRD IAM-T1 smart indoor air quality monitor does a fabulous job of what it is designed for, I do wish that it had additional sensors to monitor for things like particulate matter in the air and maybe CO (Carbon Monoxide) too. While this would certainly push the price higher, I would like to have a better understanding of the impact that our filters and ventilation efforts are making - beyond just monitoring CO₂ levels.
Regardless though, INKBIRD continues to impress. Just like the previous device we featured - the IBT-26S 5GHz WIFI Meat Thermometer - this unit has earned a place in our home.
While the meat thermometer simply helps me not overcook steaks and roasts, this indoor air quality monitor is actually playing a much more significant role … it's helping keep Jim, Heather and I safe and Healthy.