I can summarize this review of Cadillac's CT5V Blackwing very quickly - if you love power, luxury, and American style then you shouldn't miss out on what is certainly the the last of its kind. The era of big V8 engines pumping out ridiculous amounts of horsepower is closing quickly. Anything approaching this price point (~$100k) and certainly it's level of refinement will almost certainly have some level of electrification. While I can't wait to see what designers and engineers can do with electric motors in the future ... it just isn't the same excitement as crushing the pedal on a big V8 and hearing it roar to life in a way that will turn heads ... even a couple blocks away.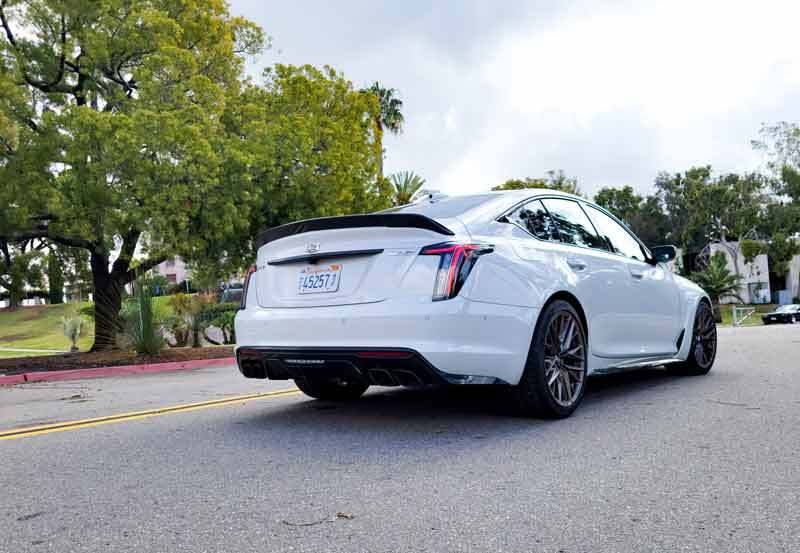 What's truly incredible about the CT5-V Blackwing is that unlike the muscle cars that we've enjoyed before, it offers this experience with refinement that you'd expect from Cadillac. Even though this is a completely trackable car that you could put up against all of the usual suspects on a Saturday afternoon, it is also extremely comfortable and spacious.
For instance, while it has "racing seats" ... it isn't the hardcore ones that you might find on the Corvette for instance. While they will hold you in the corners, it is also comfortable to sit in for more than an hour on the highway as you head up into the mountains to visit your favorite driving roads. The back seat is also fully spacious enough to accommodate two men comfortably.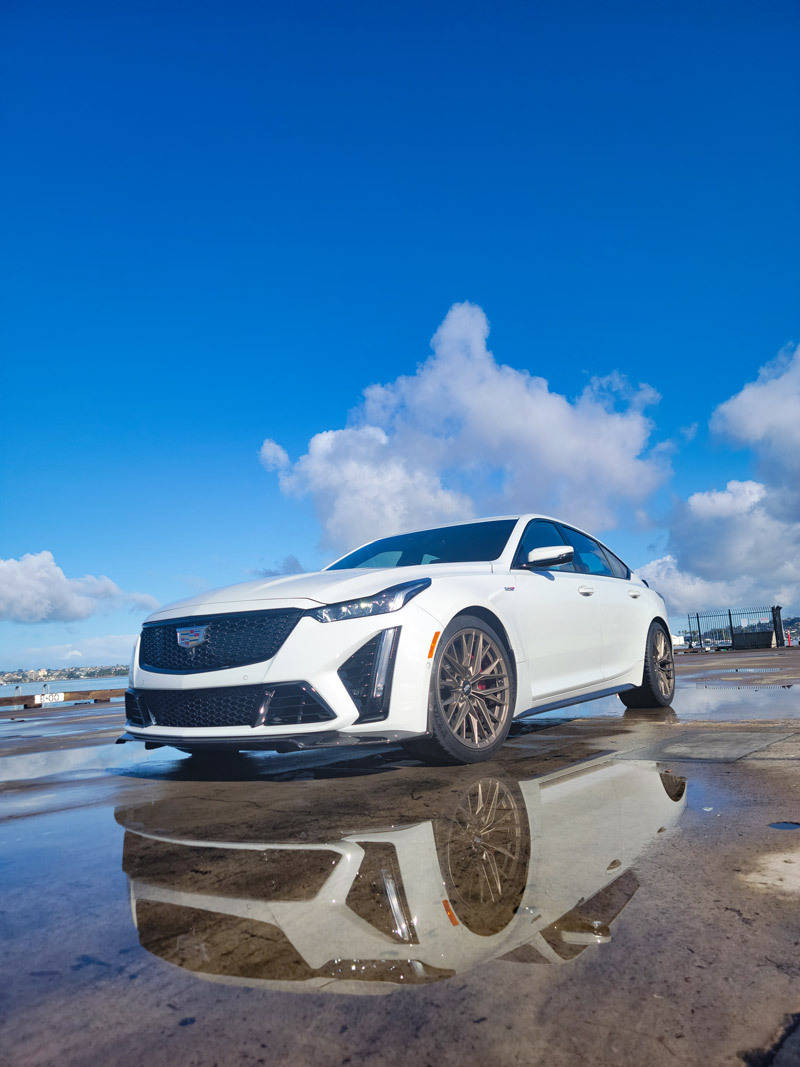 In terms of specs, the CT5-V Blackwing is the most powerful and fastest Cadillac ever built. It features a massive 6.2L supercharged V8 that is rated at 668 HP and 659 lb ft of torque. You have the option of choosing a 6-speed manual or 10-speed automatic and it features Magnetic Ride Control 4.0 for smooth handling on a variety of road styles. Fuel economy is rated at 13 city - 22 highway but I think the person from the EPA who decided on those numbers must have already gotten the "F' Yeah!" out of his system because I was averaging far far less. That's probably because I was giggling like a school girl every time I had the chance to pass someone or slam on the accelerator when the light turned green.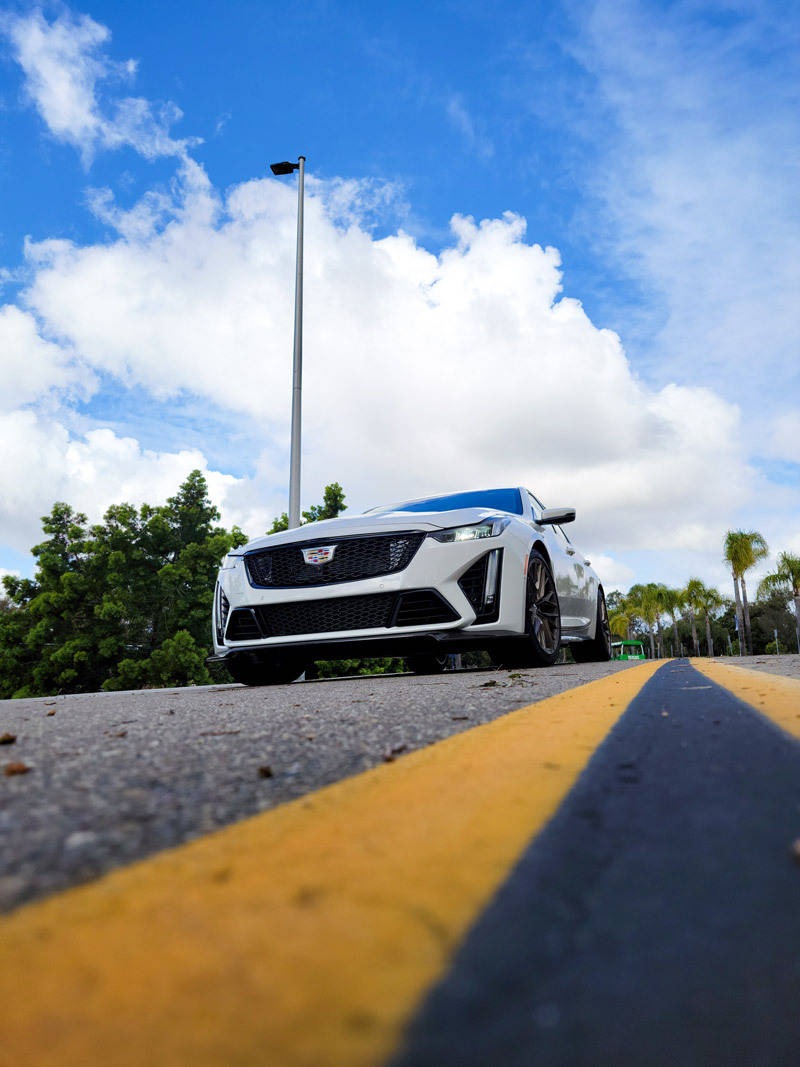 Similar to my experience with the Grand Cherokee Track Hawk, this car has an unexpected level of power compared to how it looks. As a result, pulling up next to a Charger or Mustang and showing them who's boss was particular exhilarating.
Cadillac estimates 0-60 performance at 3.4 seconds for the automatic, with a top speed of simply "200+ mph". Sadly the roads weren't cooperating and I didn't have the chance to spend time at the track to test either of these claims but I can tell you that there was never a moment of hesitation at any point when I needed power.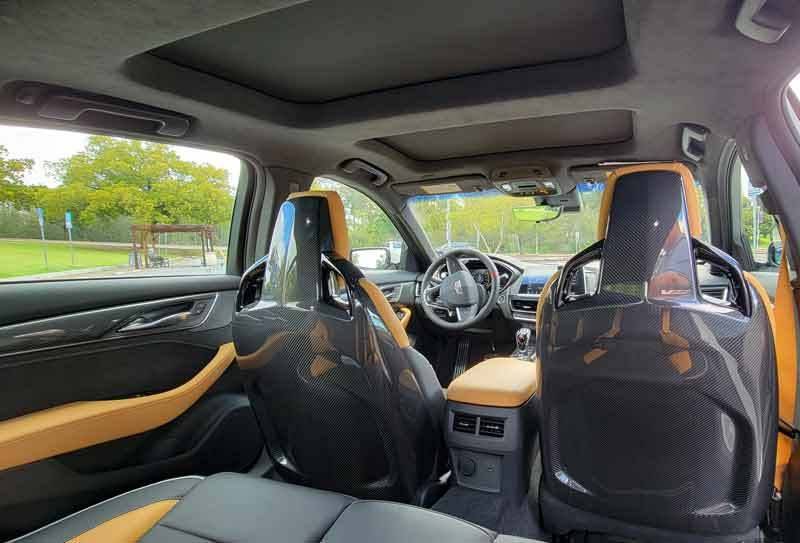 It is easy to forget to mention the interior when there's so much excitement under the hood, but here too it is clear that the designers wanted a fitting "end of an era". Throughout the design you'll find hidden Vs or the Cadillac shield. While I felt like there were spots that I was disappointed in the materials, other times I was blown away. For instance, the designers went a bit crazy with carbon fiber throughout the interior, including nearly the entire back of the seats. That part I found a bit odd because the only person who would be admiring it would be the rear passengers.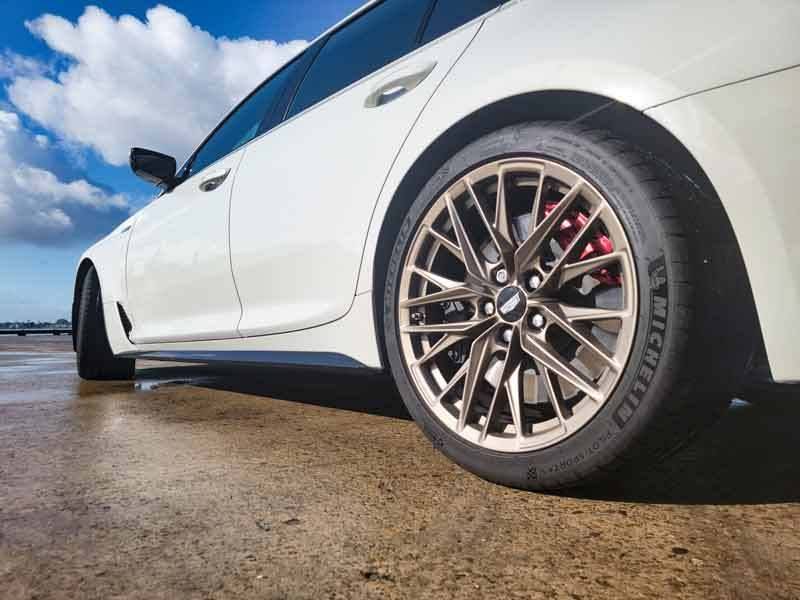 Regardless though, the 2022 Cadillac CT5-V Blackwing is one of the most remarkable vehicles that I have ever had a chance to drive. I would welcome ANY opportunity to spend more time with it in drier conditions and especially on a track where I could let it run a bit more than I could on public roads.
With a price tag of $84,900-$125,580, this vehicle honestly isn't outrageously priced. However, it is more shocking that it isn't just a race car. You simply aren't taking a group of guys out for tacos in a Mustang GT and it would be far less comfortable in a Charger too.