Miles Per Gallon is probably one of the biggest selling points for cars today. Even though fuel prices are lower now that they were just a few years ago, we all know it won't stay that way forever. To solve that problem, American manufacturers have focused primarily on EV and hybrid platforms but there's a third option that Chevy presented to me - diesel. When they first challenged me to test out the Cruze Hatch Diesel I nearly declined their offer. After all, my experience with diesel engines was good in terms of hauling loads ... but at the sacrifice of peppy performance, especially the ability to accelerate quickly and pass people on the highway. Then they asked if I'd like to do a road trip from San Diego to Scottsdale for some Spring Training Baseball and I simply wasn't able to pass up that invitation.
While I was intrigued by the crazy non-hybrid mpg's Chevrolet promised, truthfully, I hadn't been less excited for a review in a long while. This was compounded that since I had to swap keys from the AMAZING Colorado ZR2 (review coming soon) for the Cruze Hatch Diesel - a car I assumed would be boring and cramped for the six-hour drive to Scottsdale. Luckily, my feelings changed very quickly.
I'm a tall guy ... and I'm also a big guy. Trucks and SUVs are generally more comfortable for me. So, the first thing I did was slide the driver seat aaaaaaalll the way back. Then I realized that it went back WAY farther than I expected. I got into the car and sat down and had to move it back forward. Hightower from Police Academy could have driven this car! Headroom and legroom are both exceptional for such a small car.
Next, I stepped on the accelerator and peeled out a bit since the Cruze delivered WAY more power than I expected based on it being diesel. After driving it around downtown San Diego a bit, I realized that this wasn't the diesel experience I'd become familiar with in trucks. It was something fun and unique.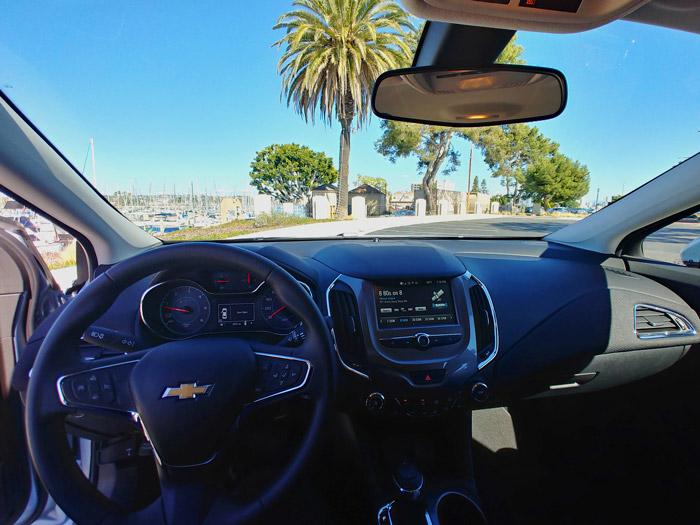 The Chevy Cruze Hatch Diesel we drove featured a 1.6-liter turbo charged four cylinder engine with a nine-speed automatic transmission providing 137 horses and 240 pound-feet of torque. The promise here was 30/35/45 mpg, an awesome number for a non-hybrid vehicle.
The interior also felt much better than what I'd have expected from an car that is gunning for high mpg's. It was high quality and seats remained comfortable even after sitting in them for six hours. Similarly, the leather wrapped steering wheel continued to feel nice in my hands after such a long drive.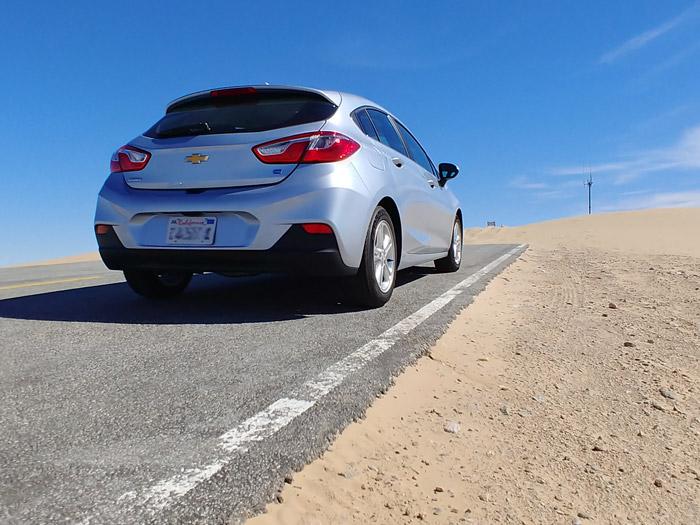 My original plan was to take the Cruze on the highway and just get to Scottsdale as quickly as possible. However, after driving a bit I decided to take the long way. Instead of spending 6 hours on cruise control at 70 mpg, I wanted to have some fun and explore terrain that I hadn't seen before. So, we left Interstate 8 at El Centro and headed north through lettuce farms and Glamis dunes, followed by some twisty roads with a ton of dips to keep things interesting. Unfortunately, along the way the wind that we'd had a few days before had closed some roads due to sand blowing over them ... but we found new roads :)
Not surprisingly, the Cruze Hatch Diesel also includes a full suite of safety features including Parking Assist, Rear View Camera, Forward Collision Alert, Lane Keep Assist with Lane Departure Warning, and Lane Change Alert with Side Blind Zone Alert as well as Rear Cros Traffic Alert. The one feature missing was adaptive cruise control ... in my opinion, a MUST HAVE feature for any new car.
Along the way, we enjoyed the ample "comforts" such as the 9-speaker Bose sound system, and Android Auto (Apple Carplay is also available). I also turned on the heated seats to keep myself warm since Heather was enjoying blasting us with ice cold air. At nearly $27,000 the car isn't luxurious but it has everything you need to enjoy the drive.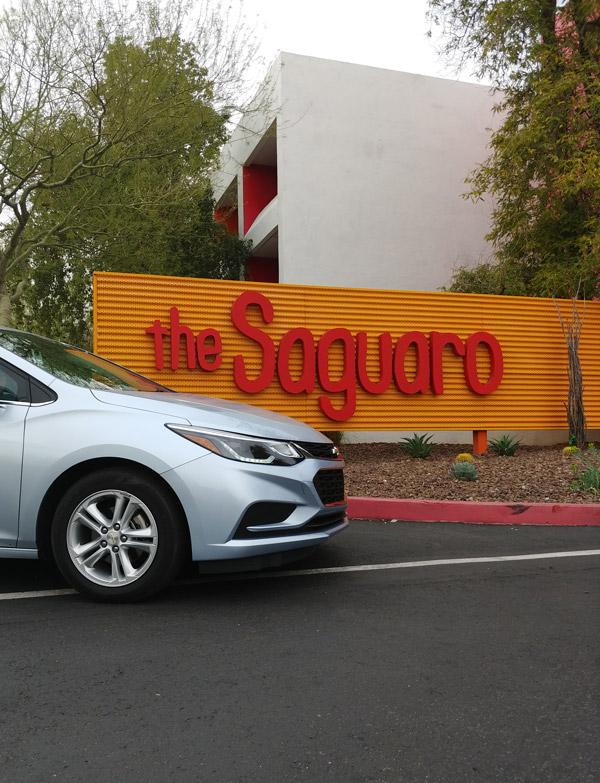 Our gas mileage from San Diego to Scottsdale was exactly on target - 45.3 mpg, perhaps even better than the posted numbers!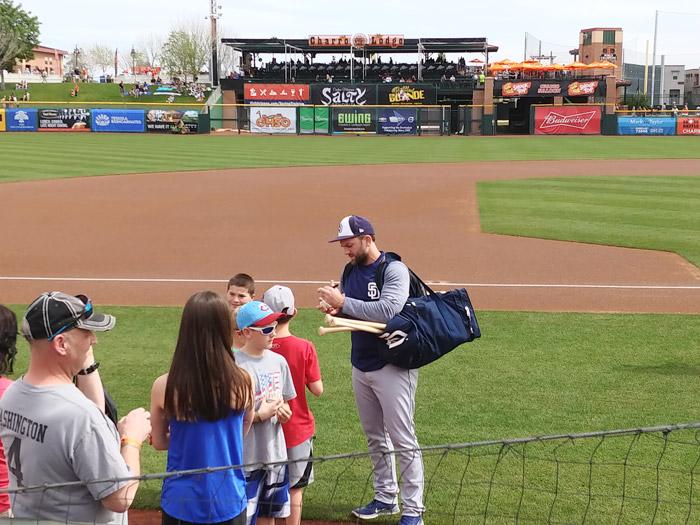 Having arived in Scotsdale, our mission the next day was to hit two baseball games in the same day at two different stadiums. Unlike the Grapefruit League teams in Florida that are spread out all over the state, all 15 Catcus League teams are in the greater Phoenix area. In years past, we had do games on different days but this year we were going to a Padres vs Giants day game, then zoom across the city from Scottsdale to Goodyear for a Cubs vs Indians game.
While many car brands have associations with Major League Baseball, Chevrolet's is especially important.
Since 2006, Chevrolet and its dealer network has supported baseball and softball at the youth level in communities through Chevy Youth Baseball and is once again in 2018 a sponsor of MLB's PLAY BALL initiative to encourage participation in all forms of baseball and softball.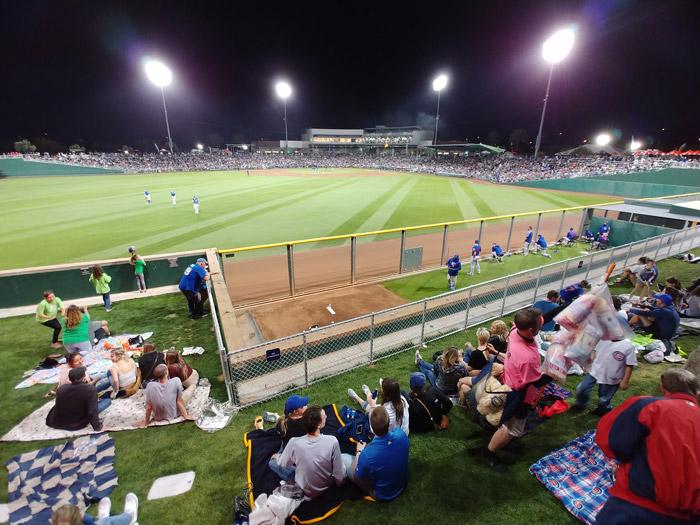 In the past 12 years, Chevy Youth Baseball has donated more than 135,000 equipment kits, renovated 9,400 parks and impacted more than 6.7 million boys and girls across the United States. Additionally, the program helps provide sponsorship checks for leagues and helps organize instructional clinics in cooperation with Minor and Major League Baseball teams.
As someone who loves the fact that baseball is America is still a family sport where virtually anyone can play the game in neighborhood teams and afford to attend games, support from brands like Chevy means a lot.
In fact, this spirit of youth and the next generation of baseball stars is why I love Spring Training games. It's a few weeks each year where new players get their shot at "the show". For players that show up ready to play, this time can mean the difference between taking the bus to work and ramen for dinner or driving around town in an Escalade and eating caviar.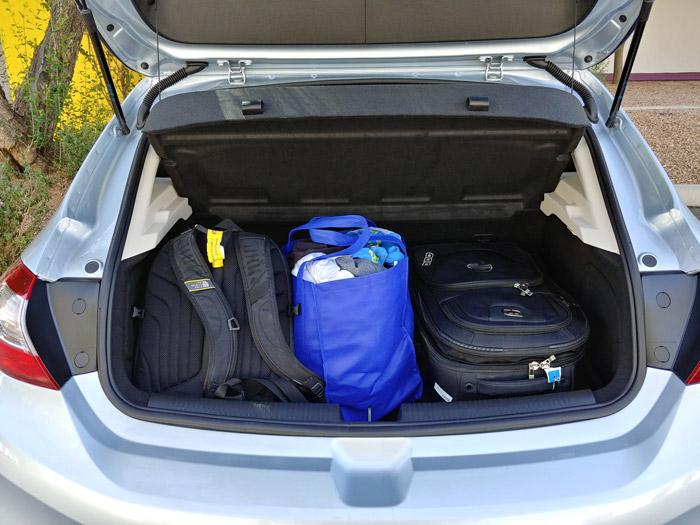 With our absolutely exhausting day of cheering for our favorite teams, it was time to head home. The trunk space was a perfect fit for a weekend getaway at 22.80 cu ft with seats up and 47.20 cu ft with the seats down if you needed to fit extra supplies such as tents or golf bags.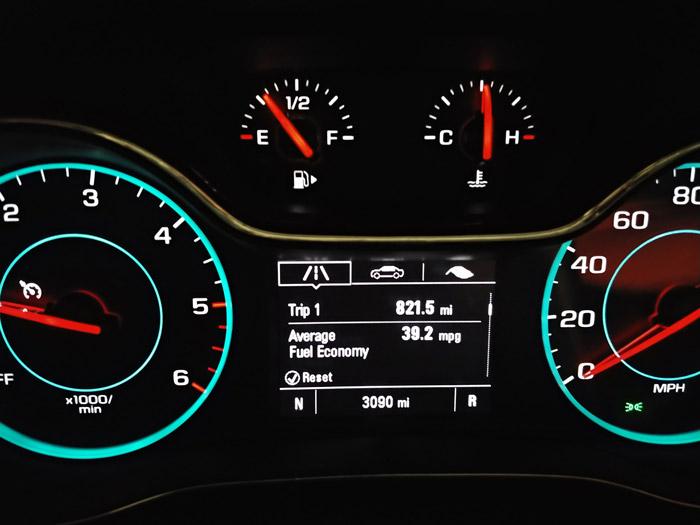 Final Thoughts About the 2018 Cruze Hatch Diesel
So, ... what can I say. I'm impressed. The 2018 Cruze Hatch Diesel is actually a very good car. It's comfortable, spacious (for a small car), and well equipped. It also looks great. It is FAR better than I ever expected!
The diesel engine was relatively quiet (comparable to gasoline engines) and yet offered power wherever we needed it. That isn't to say that it's a sports car by any means. However, the low-end torque around town was fun and at highway speeds it had enough power to make lane switching and passing easy to do.
Ultimately, when it comes to cars - I'm still a fan of anything that reduces our dependence on fossil fuels and reduces overall emissions. That points only towards using less carbon-based fuels and more electric. Chevy's investment into making diesel an option in cars and crossovers is laudable and appreciated as an intermediate solution. Unfortunately, diesel is MUCH more expensive in states like California and you often have to search for a gas station that carries it.
However, the facts speak for themselves when it comes to the Cruze's fuel efficency. I averaged 39.2 mpg across 821.5 miles of driving that included a mixture of stop-and-go city traffic and high-speed highway travel through flat ground as well as climbing mountains.
Diesel is absolutely an option for anyone seeking a compact car that gets hybrid fuel economy in the city ... and even better on the highway.