I'm a sucker for foodie gadgets and so I have a few different air fryers laying around the house but what I'd resisted until now was a smokeless grill. To be honestly I didn't think the could actually work well nor could they match the promise of being "smokeless" - truthfully - neither was this one but it was good enough to earn a permanent spot our collection of food gadgets and I've already bought one for a friend.
Gourmia makes a wide variety of small kitchen appliances of all types, so it is pretty likely that you've already had one of their products in your kitchen at some point - coffee makers, sous vide, vacuum sealer, pressure cookers, indoor grills and pretty much any category of food preparation that involves electricity and food coming together to make tasty treats.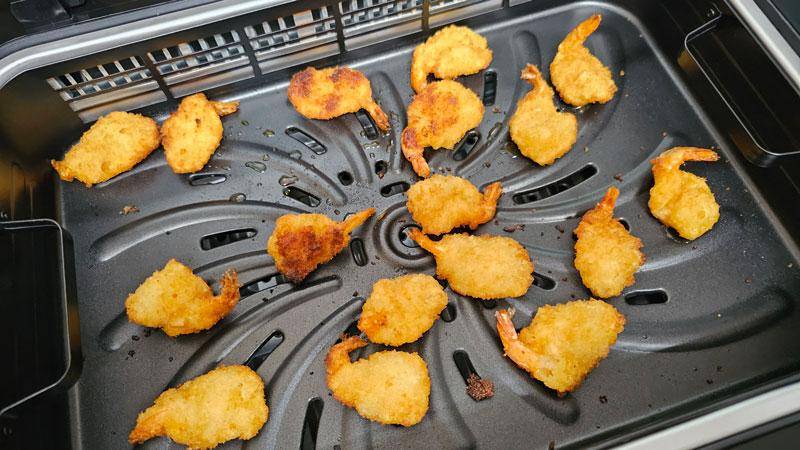 Simply put - Gourmia gets it. They know what men are looking for and where our pain points are and they try their darndest to deliver a quality experience at an affordable price point no matter what. Here with the Gourmia Food Station they have combined six different cooking functions into one device:
Grill
Griddle
Air Fry
Bake
Roast
Dehydrate
Before we get too far into this review of the Gourmia FoodStation that they sent us - it's important to note that there are several variations with slight differences available at different retailers. For instance, the model we're featuring here is the GGA2180 that is a Costco exclusive - however, there are several other variations on the market under slightly different numbers - some only offer 5 functions and others may have other minor details different.
However, right now, probably the biggest difference is that you can get this 6-in-1 version for only $59.99 after a mail-in rebate (expires 11/19). At that price, this is an absolute steal that you want to make sure not to miss since it is a fabulous gift for any guys on your list (and is even at $89.99 too for that matter!)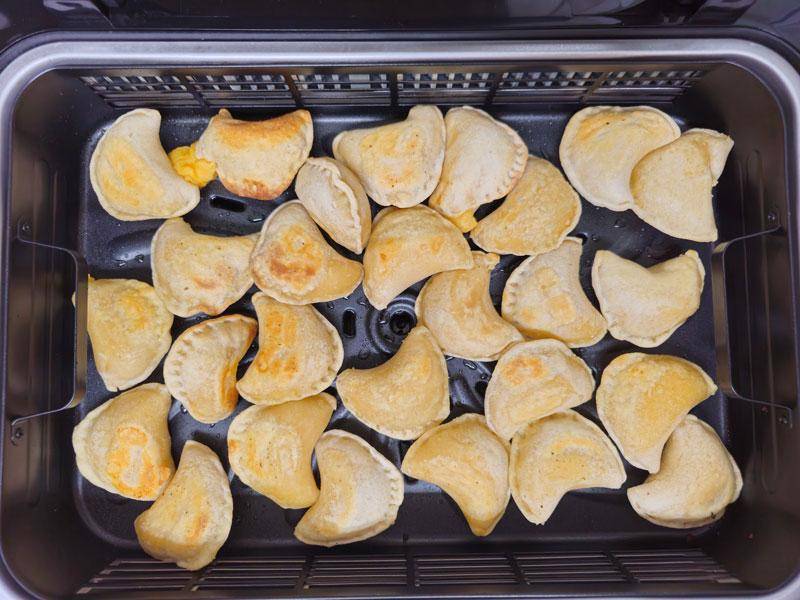 What We Loved About The Gourmia FoodStation
All too often, multi-function devices fall flat but we were very impressed with this one - so much so that I actually forgot to take photos of the delicious pork chop that I created with the grill.
Smokeless grilling: The Gourmia FoodStation uses advanced technology to minimize smoke and odors while grilling, allowing for indoor cooking without the hassle.
Versatile cooking options: This grill can be used for a variety of purposes including searing, grilling, baking, roasting, and air frying.
Easy to clean: With a nonstick coating and dishwasher-safe parts, cleaning up after cooking is a breeze.
Convenient touch control: Adjust settings with just a touch of your finger for precise cooking temperatures and times.
Large capacity: The 4.9-liter capacity allows you to cook larger quantities of food at once, perfect for entertaining or feeding a family.
Stylish design: The sleek black color and modern design make this grill an attractive addition to any kitchen.
What We Didn't Love
It's hard to criticize a device that I enjoyed using so much that I decided to buy one for a friend. However, the biggest was that I kept wanting to use it for something bigger than it was intended. For instance - on "bachelor nights" it was absolutely perfect with minimal cleanup to grill a pork chop complete with scorch marks. Then I wanted to show it off and make dinner for Jim and Heather and making three pork chops (vs 1 or two) just pushed it past the limit and delayed dinner to the point where it was clear that this was not the way.
However, as something that originally grabbed my attention as a device to help Jim ultimately regain his independence by using it to quickly cook some healthy meals with minimal cleanup ... well ... it hits high marks for exactly that!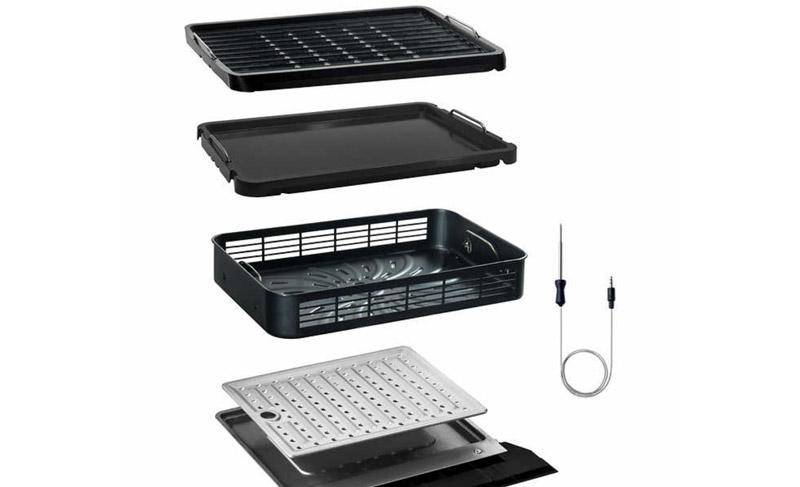 Accessories Included:
14'' x 9'' in. grill grate
14'' x 9'' in. griddle
5.2-quart air fry basket
Removable drip tray cover
Removable drip tray
48-page full color recipe book

Product Features:
6 One-Touch Cooking Functions include: Grill, Griddle, Air Fry, Bake, Roast, and Dehydrate.
Smoke Extraction Technology allows for indoor grilling with virtually no smoke.
Direct 510° F bottom heated cast iron grill grate cooks like a traditional grill
Griddle precisely distributes temperature and heat for even cooking with no hot or cold spots.
FryForce 360° Technology fries with air instead oil for up to 80% less fat.
Integrated Temperature Probe monitors internal temperature of food and automatically shuts the FoodStation™ off when desired doneness is reached.
An optional Preheat and Turn Food Reminder ensures food is cooked quickly and evenly.
Guided Cooking Prompts offer helpful display messages and alerts that will walk you through the cooking process.
Easy-View Glass Lid lets you monitor the progress of your food at-a-glance.
Grill grate, griddle, air fry basket, drip tray and drip tray cover are dishwasher safe for easy cleanup.

Dimensions & More:
Materials: plastic, metal, glass, electrics
17.52" L x 16.34" W x 7.44" H; Weight 19.84 lbs
1650-Watts, 120 Volts