Have you ever wanted to make your lawn look like a pro ballpark? It's easier than you think! With the right grass, mowing techniques, and a striping mower like the Toro 60V Max Stripe, creating beautiful stripes that will turn heads is possible. I'm here to show you how easy it is to add a professional and eye-catching look to your yard with just some basic tools. Keep reading for tips on creating the perfect striped lawn that will be the envy of your neighborhood!
Enter The Summer Of Stripes Giveaway!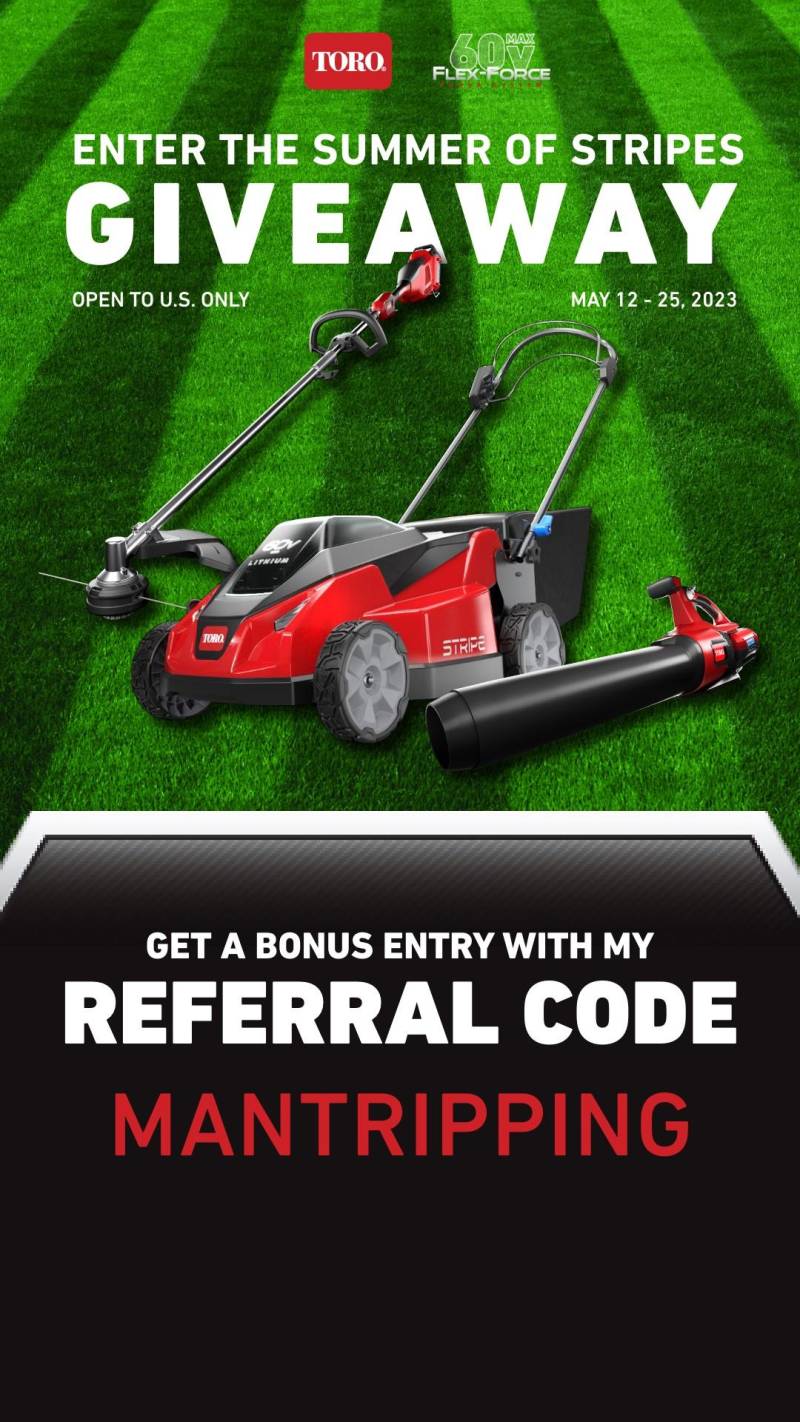 To visit their contest and learn more, click on the image above. Or to get more details on what's included in this giveaway, click here to see a complete list of contents that we're giving away.
Thank you to Toro for Sponsoring this content and providing some of their new gear to check out!
Why Take The Extra Time To Stripe Your Lawn?
Taking the extra time to create lawn stripes can transform an ordinary yard into a picturesque landscape, rivaling even the most aesthetically pleasing Major League Baseball fields. Striping your lawn not only adds style and beauty, but can also save you time and effort in the long run. It reduces the amount of work needed for regular lawn care by allowing for more efficient water management and cutting down on mowing time. The distinctive lines that form when bending grass in different directions give your property a unique look and helps draw attention to any focal points or special areas within your garden. Plus, it's easier to keep all of the grass at the same height during growing season when you stripe your lawn regularly. With just a little bit of effort, you can upgrade your yard from basic to extraordinary!
Grass Types
To get the best striped effect, opt for a cool season grass like fescue, rye or bluegrass. These types of grass all have two sides, one lighter and one darker that creates stripes when bent in different directions. When it comes to lawn care, choosing the right type of grass is essential for creating a professional looking striped lawn. Cool season grasses are also easier to manage and maintain than warm weather varieties such as Bermuda and zoysia, which may require a yard roller to achieve visible stripes.
It's important to note that thicker grass is healthier and can enhance the striping effect by providing better contrast between the different shades of green. To ensure your lawn stays healthy and vibrant throughout the growing season, keep weeds out and mow at the recommended height of 2 ¾ in fall/spring and 3 ½ in summertime. Additionally, switching up your mowing patterns every two weeks prevents ruts from forming while encouraging even growth over time.
Best Grass Length For Lawn Stripes
Achieving the perfect striped lawn requires keeping the grass at an ideal length - not too short and not too tall - for optimal contrast between the light and dark sides of each blade. The height should be around 2 1/2 to 4 inches, depending on the type of grass you have chosen. Here are some tips to achieve a great looking striped lawn:
Keep your mower blade sharp for a neat cut and maximum contrast when creating stripes.
Use cool season grass seeds or sod to create a good foundation for striping.
Don't remove more than 1/3 of the height of your grass when mowing.
Mow at different heights to accentuate the contrast between light and dark sides of each blade.
Alternate mowing patterns frequently to avoid bending blades in same direction repeatedly, which can cause ruts or uneven spots over time.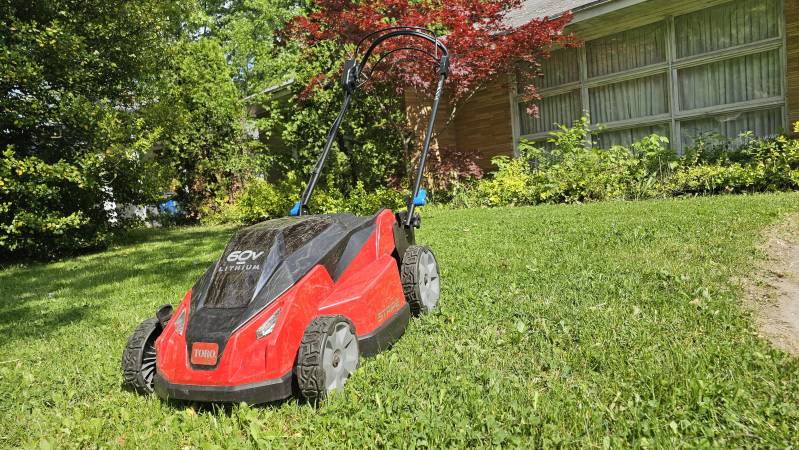 Introducing The Toro 60V Flex-Force Striping Mower
Experience a professional-quality lawn striping look in your own backyard with Toro's 60V Flex-Force Stripe Mower - transforming it into an MLB-style ballpark! The self-propelled mower comes complete with a 21-inch cutting deck and is powered by a 60V MAX* battery.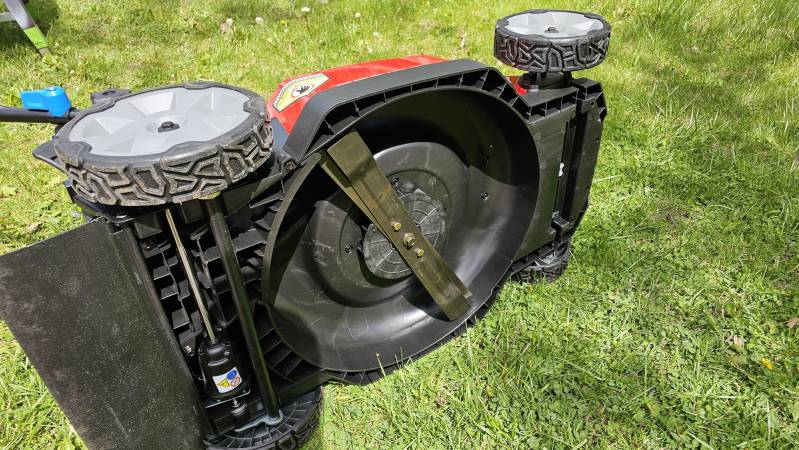 This makes it easy to get the job done quickly and efficiently. With its adjustable height settings, you can customize the cut of your grass for the perfect striped effect.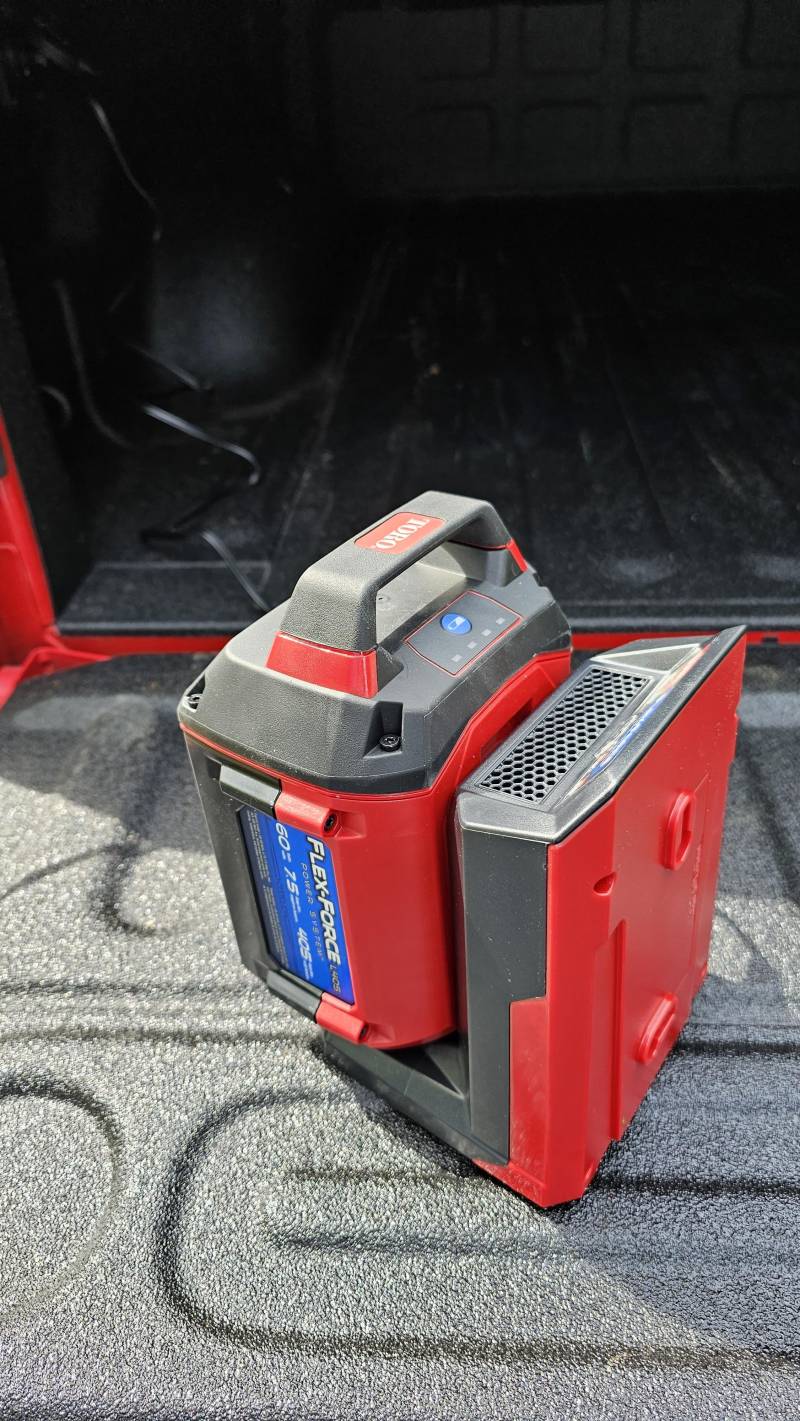 Key Features Of This Striping Mower:
Up to 65 minutes of runtime on a single charge.
Up to 25% lighter than other battery powered mowers. Patent-pending engineering results in the best grass lay down.
Dual blades and the 60V Max Rapid Charger
This 60V Max Battery Flex-Force Power System® runs an entire universe of Toro tools. 75+ and counting, so you don't need to worry about a mess of different chargers in your shed.
Customize your mowing speed with an easily adjustable speed control knob and you can activate max power mode with the push of a button to get that extra burst of power to cut through that grass even more cleanly.
LED headlights
Plus, there is a 2-year limited mower warranty and 3-year limited battery warranty too!
The Toro 60V Max Stripe Self-Propelled Mower offers many features that make it an ideal choice for achieving an ball-park style lawn.

Mowing Around Obstacles To Maintain That Perfect Stripe
Maintaining that perfect stripe while mowing around obstacles can be tricky, but your yard can look like a professional stadium with the right equipment and creative maneuvering! Striping patterns are created by bending different types of grass in different directions. A cool season grass like fescue, rye or bluegrass is best for creating a striped lawn. When mowing, use a sharp blade and lower the mower deck 1/4 inch to get a premium look. Lawn striping kits or tow-behind or push lawn mowers rollers can also be used to create stripes on the lawn.
When navigating obstacles, it's important to make tight turns with your mower and raise the deck when you come to the end of a stripe. Mow over any unwanted turn marks when turning around to cut in the opposite direction and make sure to overlap slightly so there aren't any uncut strips. The thicker and healthier your grass is, the more enhanced and beautiful your striping will be!
Advanced Tips To Make Those Lawn Stripes Look Great
With the right technique, you can transform your yard into a stunning work of art that will have everyone in the neighborhood green with envy! Lawn striping takes patience and practice, but it's worth it for a lush lawn that looks like an MLB ballpark. Here are some tips to make those stripes look great:
Weeding & Re-Seeding:
Make sure to regularly weed and reseed your lawn so that the grass is thick enough to create a noticeable contrast between light and dark stripes. If you notice any areas where the grass is dying or thinning out, take steps to address this issue quickly as it could lead to uneven striping.
Mowing Patterns For Perfect Lawn Stripes:
To avoid grainy patterns in the grass and maintain even turf quality, alternate mowing directions every two weeks.
Keeping your lines straight when mowing around obstacles can be difficult - if you make a mistake, go back two lines before starting over. Additionally, switching up the mowing pattern often helps reduce wear from tire marks while creating an interesting design. Lastly, keep your blades sharp to ensure a clean cut on each pass.

Fertilizing Tips For Striped Lawns
Impress your neighbors with a vibrant, striped lawn that's the envy of the block - fertilizing is key! When it comes to achieving beautiful stripes on your lawn, proper fertilization is key. Fertilizers come in different types and can provide essential nutrients for soil nutrition, weed control, and improved turf growth. It's important to research each brand of fertilizer before you buy and spread it as recommended amounts can vary. Too much fertilizer can lead to salt buildup resulting in dry patches or yellowing of your grass. You should also look into using a Broadcast Spreader for even distribution or a Drop Spreader for more accuracy when applying fertilizer to avoid any unwanted striping patterns.
Divide the recommended amount of fertilizer up before spreading and set some aside for the perimeter of your lawn. Use half of the total amount for an up-and-down pass then use the remaining half for a crisscrossing sideways pass, circling around the perimeter to make sure no area gets missed out! With these tips, you'll be able to achieve stunning stripes that will be sure to impress all visitors!
How To Keep Your Lawn Stripes Straight
Now that you've got the lawn care basics down so you have a perfect pallette and the right gear too work with, I'm now ready to share some advice on how to keep your lawn stripes straight and beautiful!
Mowing carefully is the key to creating straight and even stripes in your lawn. To achieve this, you'll want to make sure you have the right tools for the job. Lawnmower blades should be sharpened regularly, and it's best to use either a rotary or power reel mower for longer grass types.
Three tips to help you mow stripes more accurately:
Determine the vantage point from where people are most likely to view your lawn and set up a string along that line as a guide when cutting.
Keep one wheel or side of the blade housing in contact with the string while mowing along it.
Remove any objects lying on your lawn before cutting so they don't interfere with keeping your lines straight, even when turning around or going around obstacles.
By following these tips, you can ensure that every pass of your mower creates neat, uniform stripes for an attractive-looking lawn that will be the envy of all!

You Can Win Your Own Toro Prize Pack!
But First ... don't forget that you can get $20 off select Toro 60V handheld tools through 5/31.
Plus, you can enter Toro's Summer Of Stripes sweepstakes for a chance to win a suite of Toro 60V tools. If you use my referral code MANTRIPPING when entering, it doubles your chances! (Sweepstakes will be live through 5/25 after which a winner will be chosen.)
Toro prize pack will include:
Toro 60V Portable Portable package and a 60V Max Stripe Mower :

21623 - 60V Max Stripe Mower
51822 - Leaf Blower
51836 - Attachment Capable String Trimmer
88710 - Attachment Stick edger
88715 - Attachment Cultivator
88714 - Attachment Pole Saw
51850T - Chainsaw51840T - Hedge Trimmer

1 Toro branded Babbleboxx with all contents
A Striped Lawn Isn't Easy: Having The Right Tools Helps!
Creating a striped lawn takes a lot of hard work and dedication, but the end result is worth it. When you take the extra time to stripe your lawn, you can transform an ordinary yard into something special – like a baseball diamond.
You'll be the envy of all your neighbors as your lawn looks like something out of a movie set. It's like taking a brush to canvas and turning it into an artistic masterpiece. So don't be afraid to put in the extra effort and create something beautiful - with just some grass, mowing techniques, and a little bit of love – you can have that perfect striped lawn in no time!