This is not a sponsored post, so I can say honestly that the Hyundai Tucson is currently one of my favorite cars to drive. It's small enough to be nimble but big enough to be comfortable and while it is missing some critical electronics (smart cruise control!) it comes as close to a perfect vehicle as I've had a chance to try out in a long time. As you guys know, last summer I had a chance to drive it in Minnesota but now I've had a chance to get some time in it driving to Las Vegas and exploring the city with my good friends from ConsumerQueen.com, Daniel and Melissa.
The 2016 Tucson is sporty and bold, this is a fun car to drive and a great car to be seen in too. No, it's not a luxury car but it doesn't need to be. Though that being said, the Limited trim that we had during our trip does include front and rear heated seats, dual automatic temperature control and "CleanAir ionizer" to keep things fresh.
While the Tucson does have some great safety features including Lane Departure Warning, Rearview Camera, Emergency Braking, Blind Spot Detection, Lane Change Assist, and Rear Cross-Traffic Alert, for some reason they weren't able to add in smart cruise control. This is a must-have for me and it is the only thing that prevents me from wanting to trade my current car for a Tucson.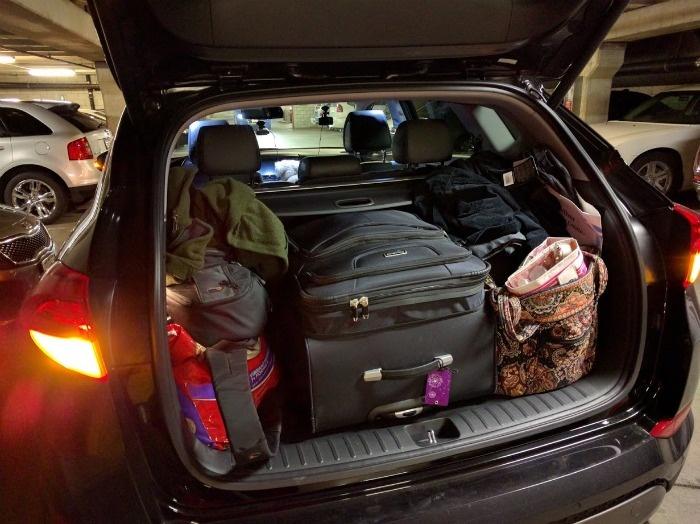 One thing that always confuses me is when brands quote "cubic footage" of cargo volume. The 2016 Tucson is quoted as 31 cu ft. with the rear seats up / 61.9 with the rear seats down. What that translates to is one large suit case and about 4 smaller bags, with plenty of room above that so nothing is obstructing the rear view. There's also a privacy screen to help ward off any snooping eyes.
The smart lift gate makes it easy to load / unload too since it recognizes the fob and will open automatically after a couple seconds.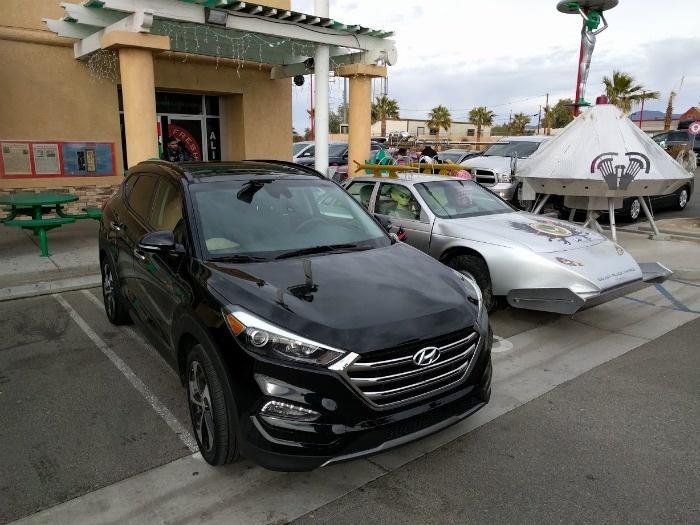 With the car loaded up, we headed north and east to Las Vegas from San Diego. However, on our way through the desert we met up with some friends who were literally "out of this world". They were part of the galactic peace patrol and asked us where we got the Tucson, so we chatted for a few minutes while enjoying some amazing Alien Fresh Jerky and craft soda.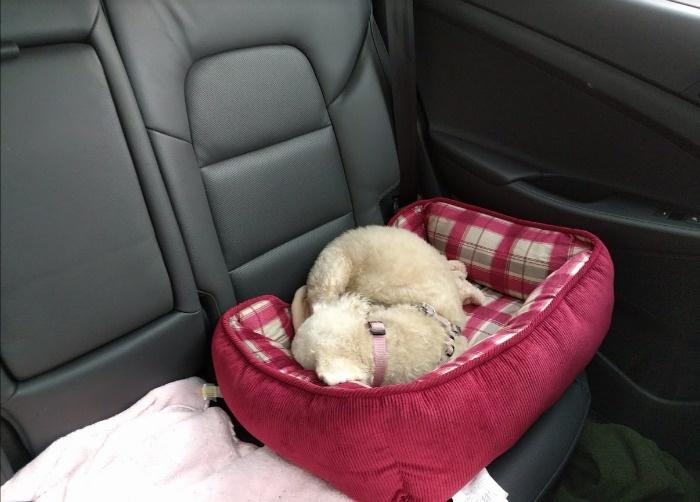 One thing that continues to be evident with each Hyundai car I drive is that they are quiet. Niki approves of the Tucson ... giving it four paws up! Well, she would have. She was so comfortable in the back seat that she slept all the way to Vegas.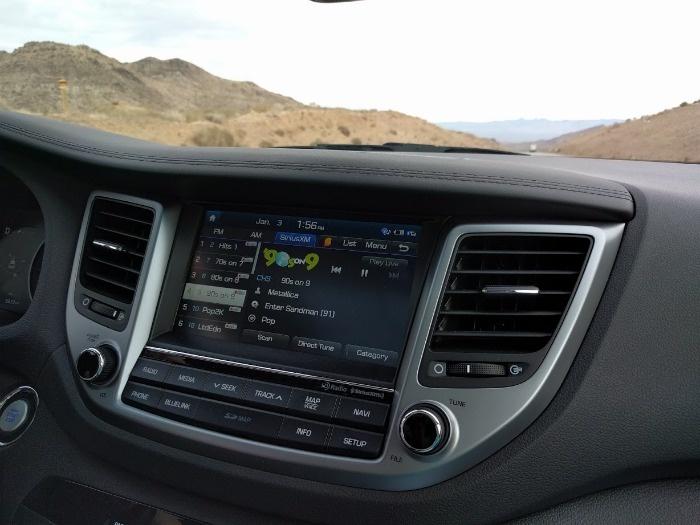 Except when I turned up the stereo and blasted through the desert to meet up with Daniel and Melissa!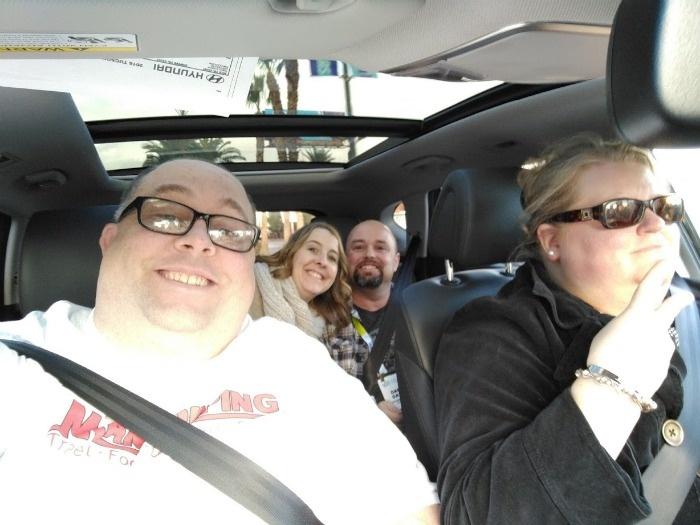 With the car all loaded up, we decided to begin our Vegas adventure!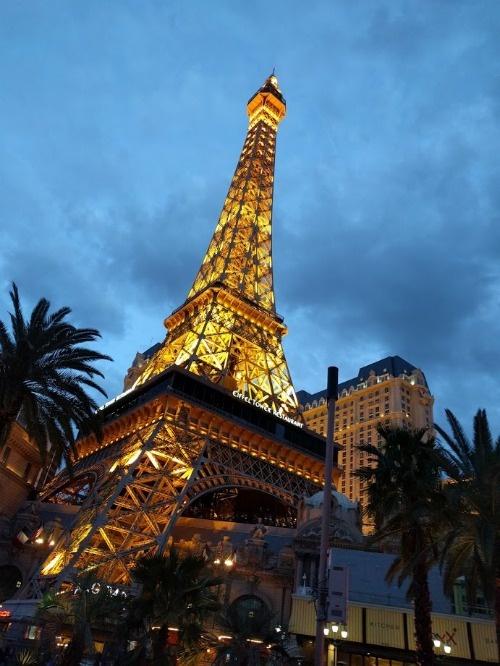 The panoramic sun roof is a great feature. It was fantastic for stargazing at night as well as allowing us to look up at the attractions as we rolled down the strip.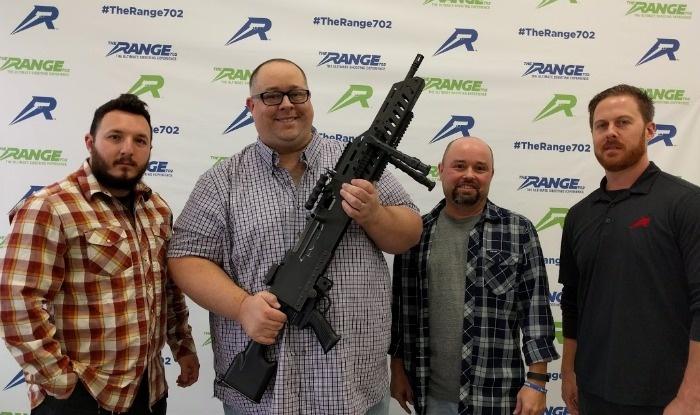 Our adventure included stops at The Range 720 ...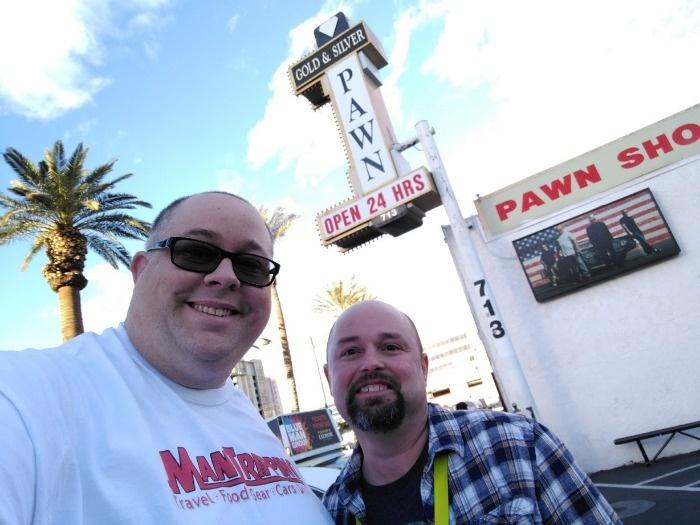 And a visit to the famous "Pawn Stars" Gold and Silver Pawn.
After a week of driving around, I think we all agree that the Tuscon is a fantastic vehicle and one that the four of us have now enjoyed driving together ... even outside the US (older model).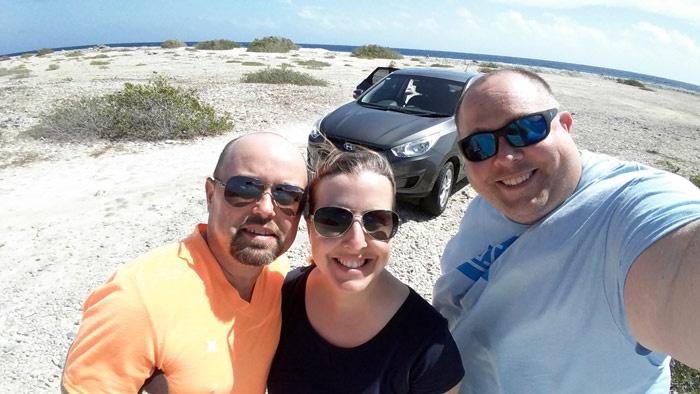 While Las Vegas isn't as beautiful as the tropical island of Bonaire, one thing is consistent - the Tucson is a great car for exploring new things.
Starting at $22,700 for SE trim and going up to $34,050 for the AWD "Limited Ultimate" trim that is packed with features, the 2016 Hyundai Tucson is a great car that is affordable and fun - as well as practical.
I can't wait to drive one again soon ...