Halo - the company you might know better for it's Halo Board and other products has now entered the drone market as well and we think it looks really cool. They claim it is the "Best Drone" out there right now and we're looking forward to following up with an actual review shortly. However, we're pretty excited just based on the specs! With advanced features that make it user friendly for guys who travel such as seven different follow modes, an interchangeable 4K action camera, and the ability to fold up for easy transport, this drone one to consider for your holiday gift lists.
Seven Follow Modes, Makes it Easy To Get Great Shots:
A great drone is only as good as its ability to do what you want it to. One of the cool things about the Halo Drone is that it has a wrist-based tracking module so you can use it while skiing, hiking, or potentially even off-roading as well.
Simple Follow - set the target and the drone will follow based on the same altitude.
Hover and Aim - the drone hovers at the current altitude but the camera follows the target.
Follow-Shadow - the drone will follow its target based on a set altitude, distance and angle.
Follow-Track - the drone will follow its target based on the set altitude, distance, and angle while tracking the speed, angle, and direction of its target.
Follow-Line - the drone will fly a pre-marked route while focusing the camera on its target.
Orbit Mode - the drone will orbit a pre-set target.
Selfie Mode - the drone will shoot traditional footage designed to be ideal for panning shots or zoom in/out shots.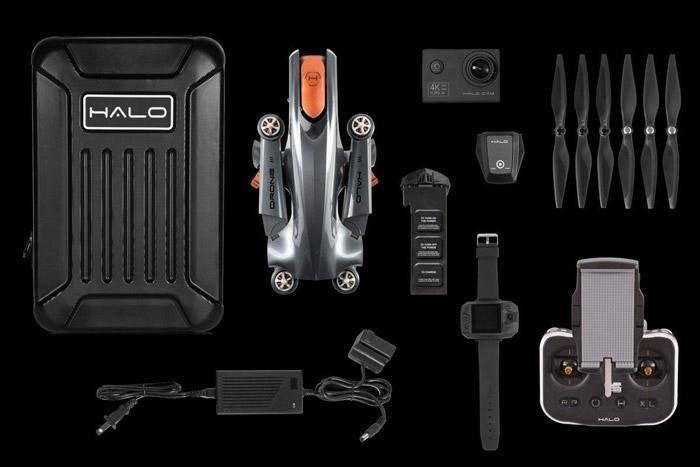 Compact Drone and Feature Complete Pro-Series Pack:
One of the things that drives me crazy is that when you see a drone price it isn't exactly complete. You've got to buy a bunch of other stuff to go along with it including a case and sometimes even the camera itself too. Halo Drone Pro-Series Pack includes everything you see above including the 4K Action Camera, high-performance battery (6,000 mAh for up to 22 minutes of flight), "follow me" module and control pad. Simply attach you phone to plan the route and video the footage. Halo Drone is capable of transmitting images up to 800 meters without interference.

Halo Drone makes a great gift for guys looking for a cool new drone that's designed to work great for active lifestyles. Halo Drone Pro is available on their website for $1,497 but at the time of writing is discounted to $997.