We've taken a look at the original MeatStick previously and were quite impressed. The brand is locked in a head to head battle with Meater but MeatStick appears to focus more on innovation while it's competitor is more focused on simply doing one thing and doing it well. The right choice ultimately depends on your needs and what type of grilling you're doing. However, the fact that MeatStick managed to put four different temperature zones in one wiress meat probe is a pretty freaking cool accomplishment!
Why You Need A Meat Thermometer With Four Zones
I've been using the MeatStick 4X this summer across a variety of different proteins - along with a few other wireless meat thermometers from other manufactures. What I've found is that only once did I feel like I got a major benefit from having more than just the standard two (ambient and internal) zone probe.
That scenario was when I was grilling a large roast and wanted to sear the outside to be nice and crispy but I didn't want that "well done" part of the meat to go too deep. In that situation, it was nice to be able to see that the inside remained nice and medium rare while the crust got nice and crispy.
Depending on if you already have a wireless meat thermometer or not, that might be an advantage. However, if all you do is cook burgers and one-inch chops, then the standard MeatStick will be plenty good. The price difference is only about $30 though so if it were me, I'd probably just get the 4X and be ready to use the benefits when I need them since this will work just fine on steaks, chops, burgers, and sausages.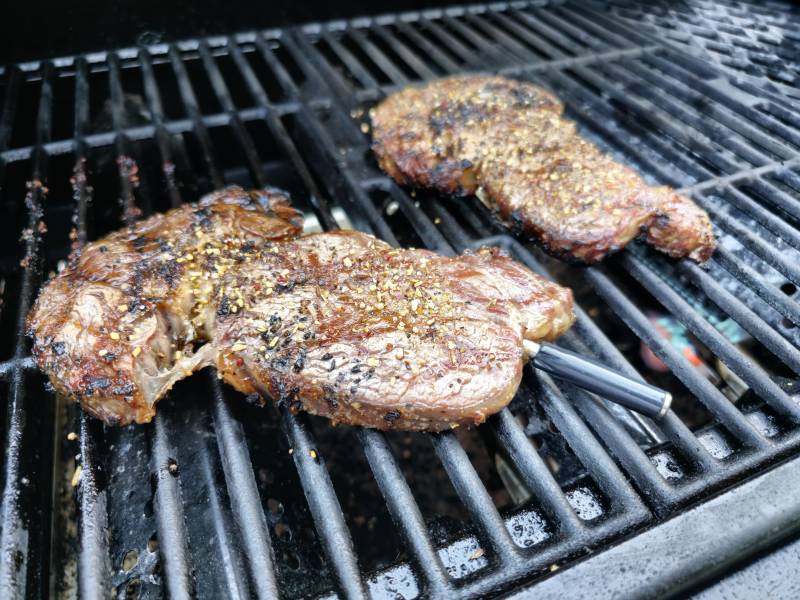 MeatStick 4X Review
Let's dive into the features and specs for this high-tech BBQ gadget now ... the MeatStick 4X (and the MeatStick 4 - Bluetooth only) is a pretty impressive piece of technology. The concept itself is pretty easy - it's a fully wireless temperature probe that connects to a base station and your phone via Bluetooth of Wifi so that you can monitor the grill without having to hover over it or keep opening the lid and letting out the hot air.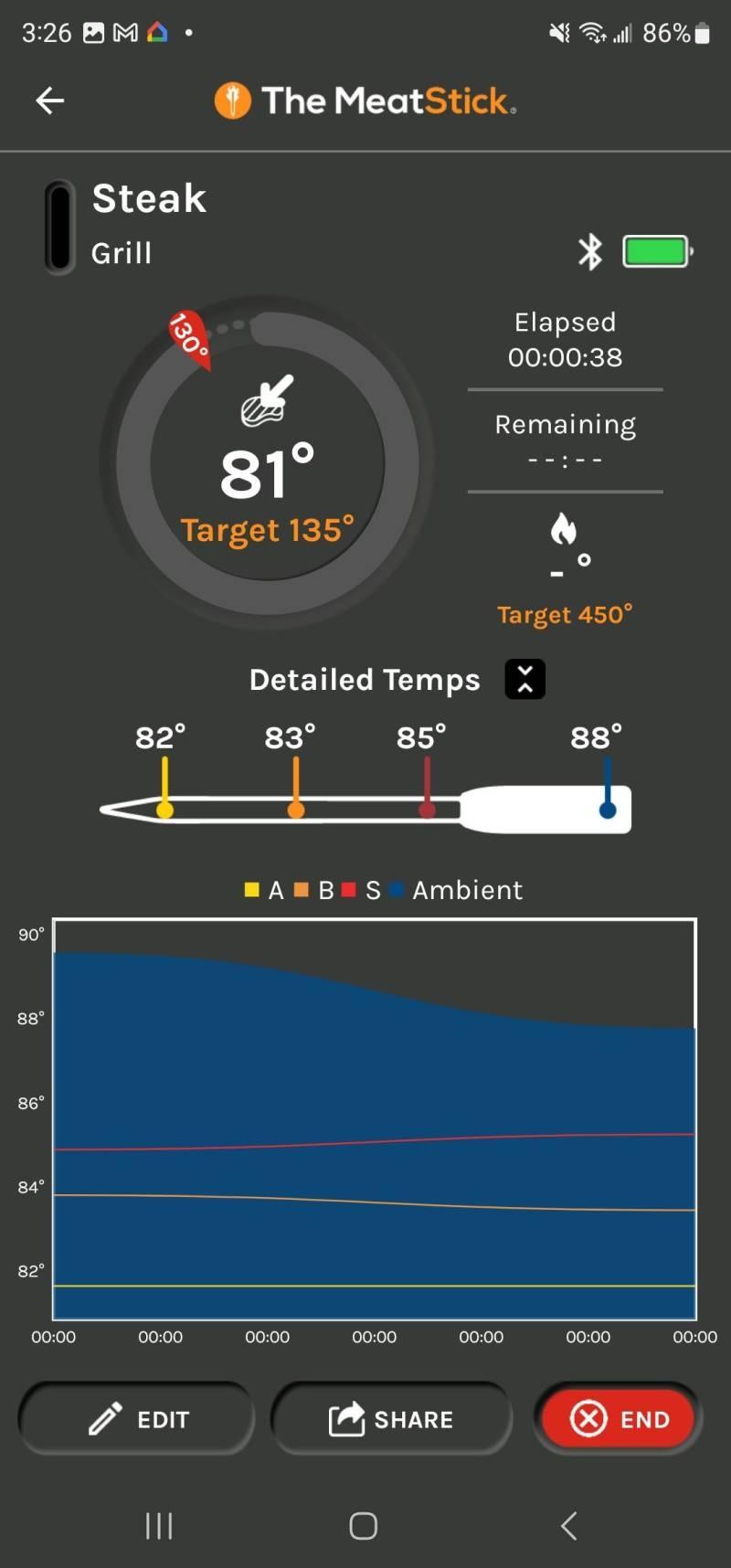 The mobile app provides real-time temperature monitoring, keeping you in the loop without having to hover over the grill. This app is fundamentally the same as with the regular MeatStick and has a variety of pre-sets for different proteins and can predict how much longer the meat should remain on the grill be seeing how fast temperature increases.
The difference here is that it can monitor the progress all the way into the meat, giving you a more precise measurement. As stated above, that isn't always beneficial but when it is ... it is!
Specs:
Designed for high-temperature resistance.
Dishwasher-safe and deep-fryer proof.
Perfect for sous-vide cooking.
Impressive 70+ hours of battery life.
Ideal for extended, low-temp cooking.
Equipped with 3 internal sensors: up to 212ºF/100ºC.
1 external sensor: up to 572°F/300°C.
Completely wireless design for a clutter-free experience.
MeatStick App acts as a digital sous-chef:
Monitors real-time temperatures.
Customizable cook alerts.
Notifications when meat is ready.
Guided list of various meats for diverse cooking.
Compatible with all iOS/Android devices, including smartphones and tablets.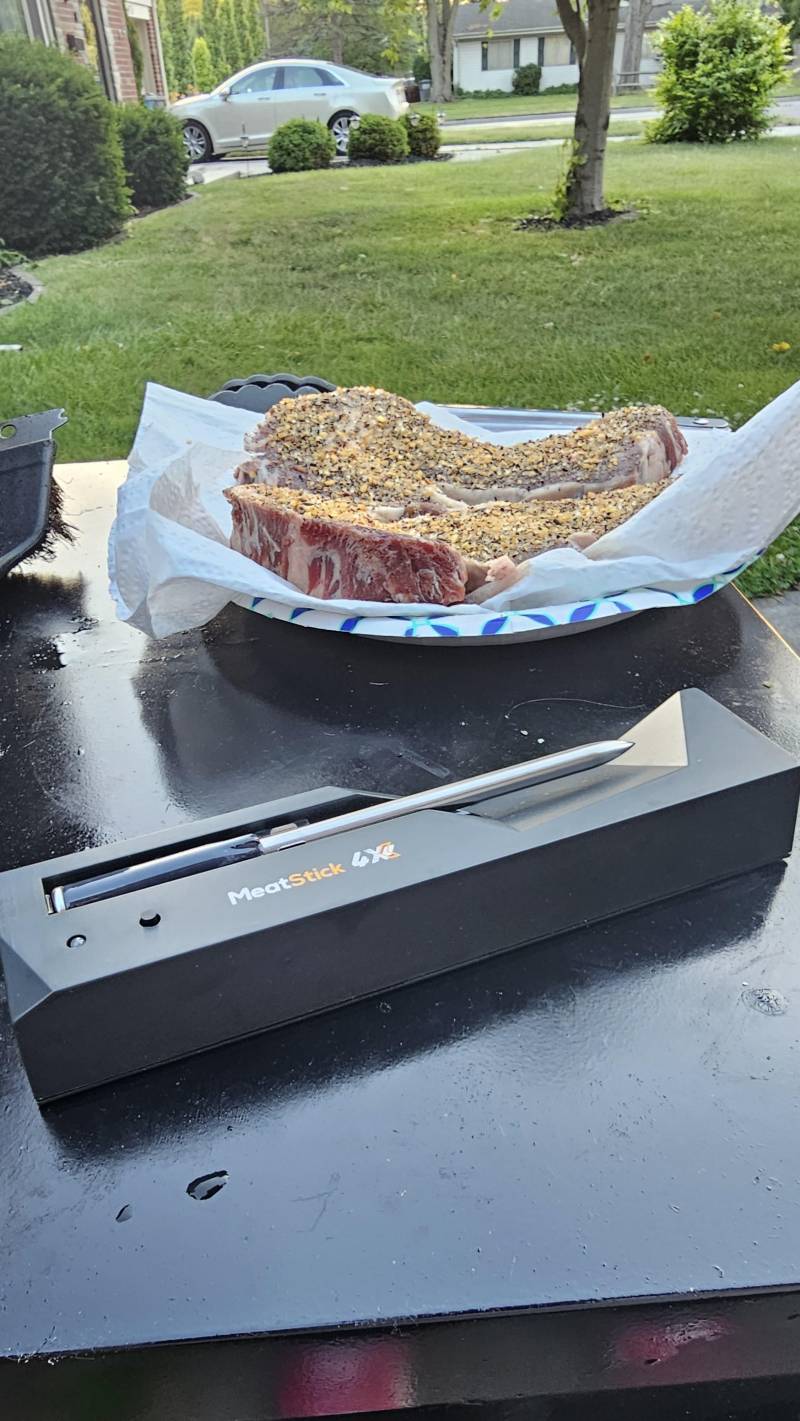 MeatStick 4 (Bluetooth Only) vs MeatStick 4X
In comparing the MeatStick 4 (Bluetooth Only) to the MeatStick 4X, it's important to consider your specific grilling needs and preferences.
If you value freedom to move around while cooking, you'll appreciate the MeatStick 4X's performance and its impressive range. Unlike the limited Bluetooth connectivity of the MeatStick 4, the 4X offers a remarkable 650ft range.
The standard MeatStick 4 on the other hand, only offers 164 feet.
Both can be connected to the Wifi Bridge for unlimited range. This makes a great option if you are doing a long smoking session and want to be able to check on the progress while playing a round of golf or going fishing. (With that being said, we recommend that you always attend to your BBQ when it's fired up since something can happen that you will want to be able to react to quickly.)
Conclusion
While I like the MeatStick 4X and I think the technology opens up some unique possibilities that other products on the market simply don't offer, I did have some issues getting it connected to my phone and maintaining that connection while moving around the house (still well with range). I've had similar concerns with Meater as well though stability is better when fully connected to wifi instead of bluetooth.
At the end of the day, if you are a guy who likes to grill roasts, thick chops, or doesn't already have a MeatStick, this is absolutely something you should consider picking up.
However, if you already have a good wireless meat thermometer that you like working with and primarily grill standard thickness steaks etc. I'm not sure it provides a significant advantage to warrant the upgrade ... though MeatStick does support up to 8 devices at a time so if you have two that means you and your partner can have two different probes and you'll know the status of both, rather than guessing at the one not being monitored!
For more information, please visit their website or purchase MeatStick 4X on Amazon.