There's a lot of bad stuff that we as Americans are working through right now, but fast, powerful, affordable sports cars are not one of them. The Ford Mustang is truly and icon of everything that is right about America and so it was the perfect car to borrow for a celebration of the Fourth of July.
Honestly, when you think about it, there are few cars out there that are more iconic than the Mustang. Over the years its design has represented economical and emotional trends and while there have been generations that we might want to forget - I'm looking at you, Third Generation 1979-1993! Despite some bad years, Mustang has survived to be the longest produced Ford car brand. Almost no other vehicle has enjoyed fame and prestige the same way from posters on teenagers' bedroom walls to movie and TV screens around the world.
Today's 2020 Ford Mustang GT is almost at the end of its generational sequence. This sixth-generation platform was launched in 2015 and has spawned some of the best Mustangs to date including the Mustang GT 350, GT 500, Bullit and countless limited-edition trims as well. A seventh-generation platform is said to be in development for 2022 or possibly 2023 and of course, we know the Mustang Mach-E is coming out later this year or early 2021.
While sometimes a car this far into its lifecycle can feel dated - Ford has done an excellent job at keeping the vehicle fresh in terms of both technology, comfort, and power. Not only that, but it actually feels more refined instead of simply adding flourishes to justify someone buying a new model year instead of the previous one.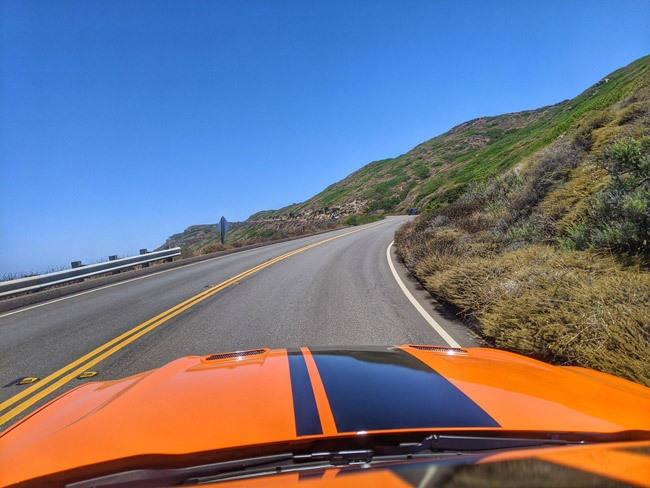 While a hard-top Mustang is always a thrill. To experience what it means to drive a Mustang, there is no other choice than to strap into a GT Convertible.
That's just what we did. Not only is the feeling nearly spiritual from the moment you turn on the ignition and the big 5.0L V8 with 460 hp roars to life with a sound that echoed throughout our garage but that's just the beginning. As you fly down the road with the top down and the wind blowing through your hair there's a sense of freedom that you simply don't find in other vehicles ... even other convertibles. While you can always get more power, there's a sense of comradery, excitement, and dare I say envy when you roll up in a mustang. While speed comes naturally, even just cruising around town shouting lyrics to your favorite songs is an experience that fits this car.
When you pause at a traffic light and a fellow Mustang owner flashes you a smile and a thumbs-up, you realize that not only is this a car - but something else too. That feeling extends as you receive curious requests to "take a look" when you park at a friend's house or even in the parking lot at the beach. These things come naturally and few other cars elicit this sort of emotional reaction. Ultimately, when you buy a Mustang it is more than just a car ... it's the membership pass to a very special club.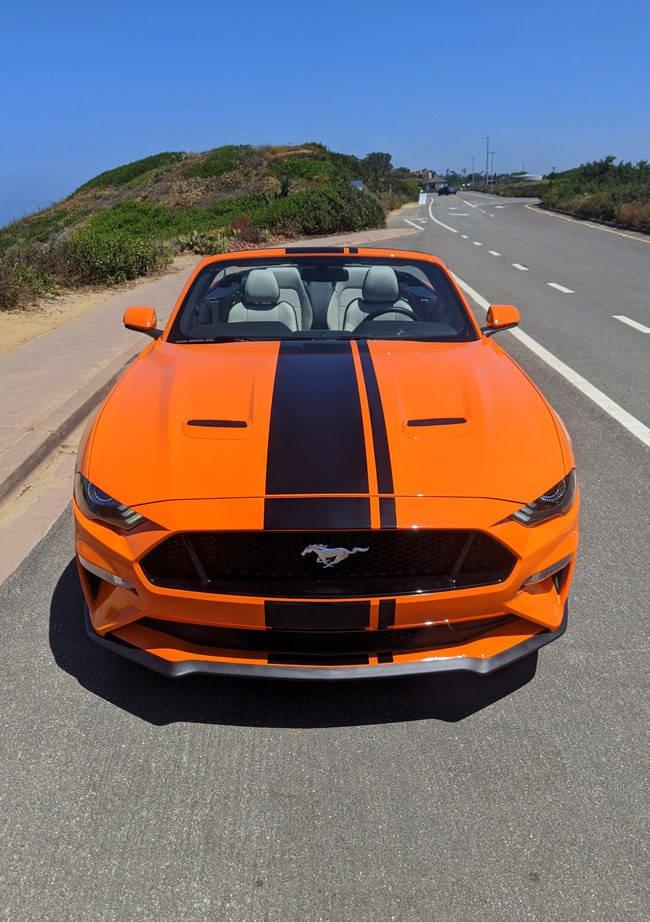 Clearly the Mustang GT is fast and power - the 460 hp and 420 lb-ft of torque is more powerful than you will ever need short of racing on a track. However, with the 10-speed SelectShift, optional 380 mm 6-piston Brembo brakes and MagneRide Damping System, it also handles great. While there really isn't any need for this much power delivered this quickly to the wheels, that's not the point. Being able to blast off from a stoplight, roar down an entrance ramp, or simply to pass a guy on the highway is a surge of adrenaline that not only surges through your veins but certainly those of the guy you just left in your dust is a privilege that few others will be able to experience the same way.
I've driven a few other iterations of the Mustang GT including the Fastback and GT 500. While the later is a technological marvel with a massive 760 hp and 625 lb-ft of torque, having a convertible allows you to be closer to everything. That open-air feeling is a thrill that frankly transcends raw power since even a quick burst of power is felt in the air that rushes by your head and felt in your core since there is no roof to insulate you from the roar of the engine.
Honestly, I could go on and list out all the specs and features of this car, but that's really not the point. What is important is the feeling that you get from driving it.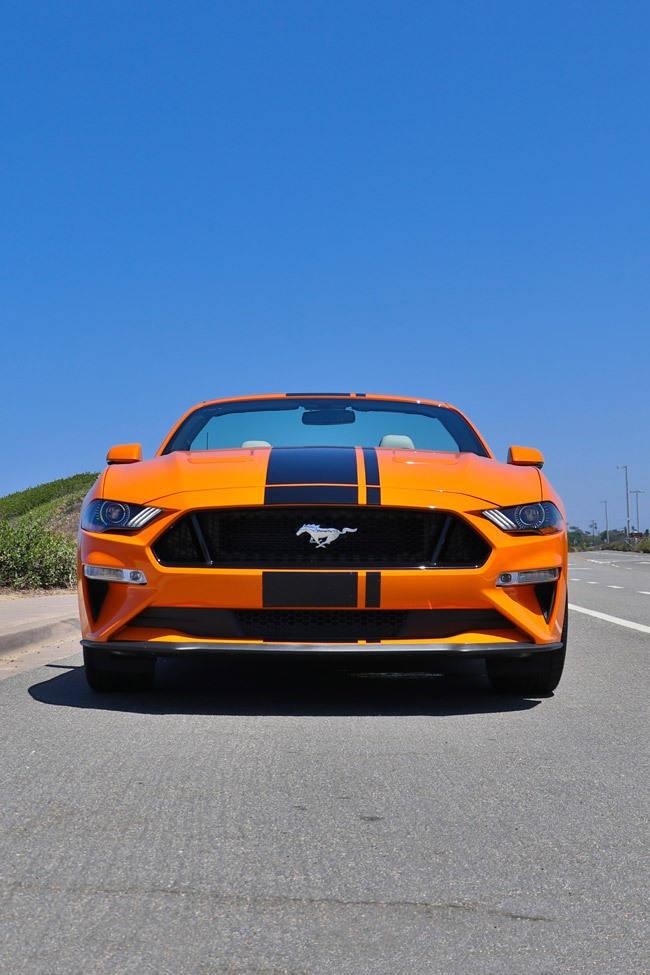 The Mustang GT Convertible is simply everything that is right about America!
It is proudly American made and has been for more than fifty years. It is a rebel car that has attracted competitors both foreign and domestic seeking to challenge it. Those desiring to do better have tried for decades to create something better, faster, cheaper, and more exciting. Throughout this time, Mustang has remained true. For generations, it has represented American ingenuity and innovation as well as factory-direct engineering prowess while also serving as a platform for other engineers to take it to new levels of achievement. With garish colors like "Twister Orange", "Velocity Blue", "Grabber Lime" and "Race Red" it is also unapologetic.
This is a vehicle designed for fun and thrills that beckons you to explore new places and try new things. Those who look at it simply as a "race car" are missing the point ... the same way those beyond our borders think Americans are just reckless jackasses without understanding the secret that ties things together.
Beyond all those features, Mustang is incredibly practical and affordable too. It isn't elitist but rather something that every American can aspire to own if they save and work hard. From a truck space with plenty of room for bags for a weekend getaway and even an ice chest and beach chairs, to a price point that is surprisingly affordable. The entire Mustang lineup has a practical side that makes this more than just a one-trick pony.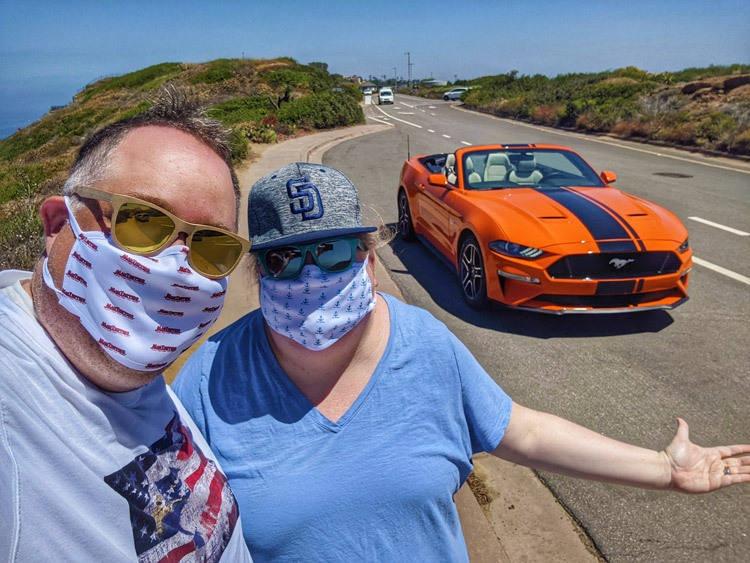 While you can get a Mustang Fastback starting at only $26,670, a Mustang GT Premium Convertible fully loaded tops out at only about $56,000.
For a car that will turn heads, create smiles on faces around you, and brighten your day simply by buckling your seatbelt this is pretty incredible. When you consider that it might also be a practical family car with all the safety and technology features you'd need to keep your family safe ... this is truly remarkable and something you won't find produced by carmakers in any other country. There are few cars that are loved equally by both men as well as women and Mustang is one of them. When you have both sexes dreaming of seeing one in their garage then you know it is something special.
Some people might not "get it" and might look down at my waving the flag around ... but I don't care. Once you drive one, you'll know what I'm talking about!