The weather is getting cooler and for most of us that means it's time to celebrate the return of the "boys of fall". That's right, it's football season folks! The folks at BabbleBoxx sent us a couple awesome brands that are perfect for anyone looking for a tailgate party, so that's what we did ...

Jersey Mike's Catering Box
I live in San Diego now, but Jersey Mike's takes me back to my days in college back east in Pennsylvania. It might seem silly but as much as I love mayo ... vinegar and oil on a pile of meat and cheese packed between a soft Italian roll just taste so good. It's a flavor that doesn't really exist outside of the North Eastern United States in terms of normal sandwich shops but luckily there are hundreds of Jersey Mikes locations around the country and they can crank these out fast. While I don't have a truck, with my handy Tailgate Table I can through a tailgate party even with my Soul!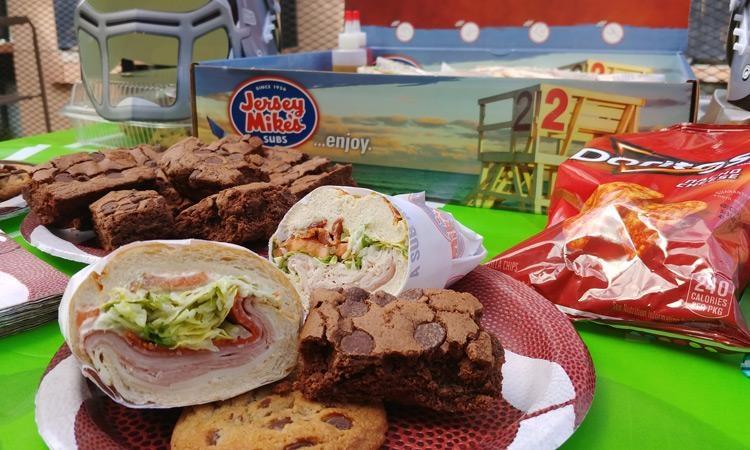 This is the perfect partner for game day catering since for under $100 I was able to get a HUGE box with 4 giant subs cut into hand size portions, 3 dozen cookies, a box of brownies, and chips. In this case, I got a selection of my favorites including: #13 The Original Italian, #8 Club Sub, #12 Cancro Special, and #4 "The Number Four". All of these subs were awesome and incredibly fresh. While there are other sub shops out there, I LOVE the fact that Jersey Mike's even slices the meat right there in front of you the way it would be at a deli.
Plus, I love how easy it is to order online so you can just walk right in and pick it up on the way to the game.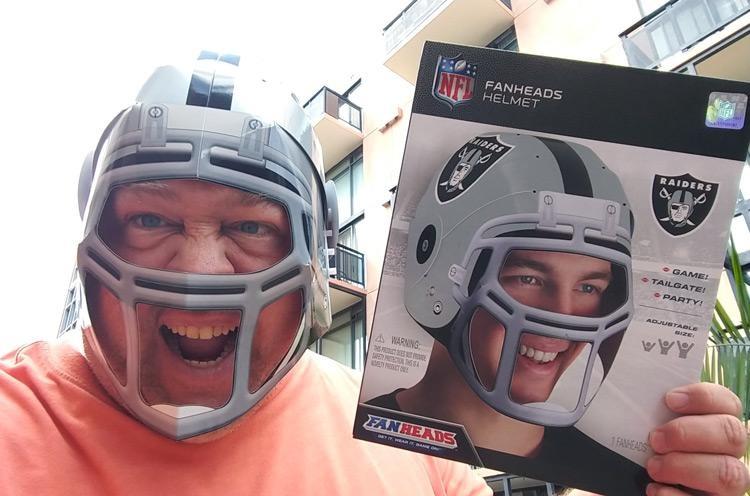 FanHeads Football Helmets
While a wearing a custom helmet sporting your favorite team's colors might be the ideal tailgate party prop - these FanHeads Football Helmets are the next best thing. Featuring super strong laminated paper, these are surprisingly durable and even fit a huge head like mine (I generally wear a 3X racing helmet). It comes in four sizes - Small, Medium, Large, and Extra Large so there's a size for everyone.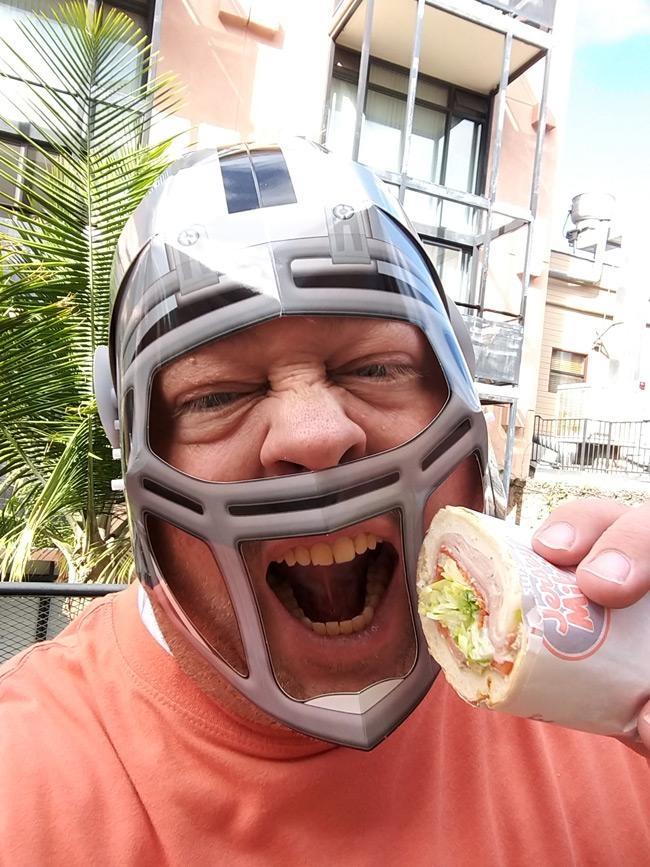 You can even eat and drink with the helmet on, so don't worry about having to take it off to grab a monster bite of that tasty sub!
I'm sporting my love of Raiders Nation but you can select from a wide range of NFL and NCAA teams including Clemson Tigers and Alabama Crimson Tide as well as smaller teams including the ECU Pirates and Cincinnati Bearcats.
Despite it seeming complicated - I was envisioning the football helmet equivalent of folding an origami swan - assembly was extremely easy.