One of the things I love about Vegas is all the amazing restaurants. It seems there is a never ending supply of creativity that is both pushing the culinary as well as architectural arts. What I didn't expect was to find an astonishingly awesome dinner at the top of Delano on the far south end of the strip. That's where Rivea sits and offers diners an unparalleled view of the entire strip. They say retail is location, location, location and this is absolutely true for Rivea. Luckily for us, the service and food was equally fantastic - making for one of the best dinners I've experienced in a long while.
Rivea is adjacent to the Skyfall Lounge which shares the amazing view and you actually walk through there to get to the restaurant after riding a private elevator directly to the top of the hotel.
When you arrive at Rivea, one of the first things (aside from the view) that you will notice is the amazing decor consisting of hundreds of hand-blown glass bubbles suspended from the ceiling. This was left over from the previous restaurant but fits in here perfectly still.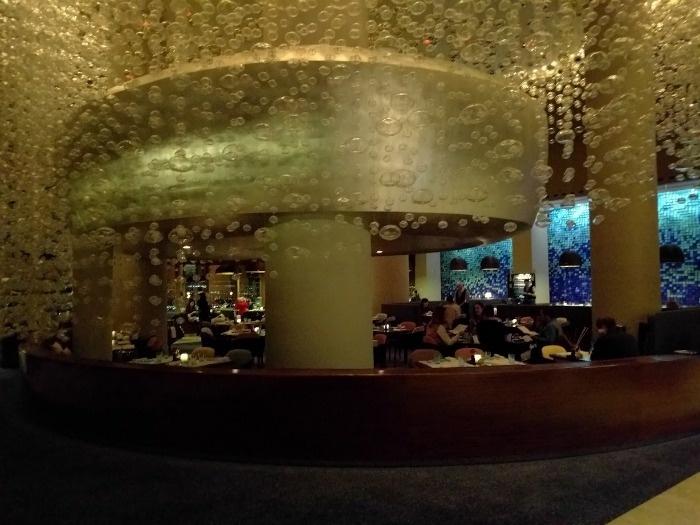 Rivea is an Alain Ducasse restaurant with a menu inspired by French and Italian cuisine.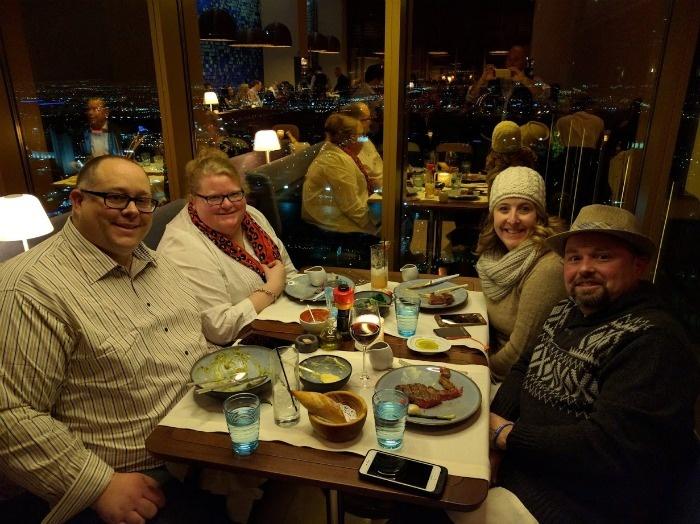 For us, this was the perfect way to end our week of treking through booth after never ending booth at CES. It was a great way to step outside of the traditional hustle and bustle of Las Vegas and relax for a bit in an atmosphere that was light and enjoyable. While you should expect to dress nicely here, it isn't stuffy or pretentious.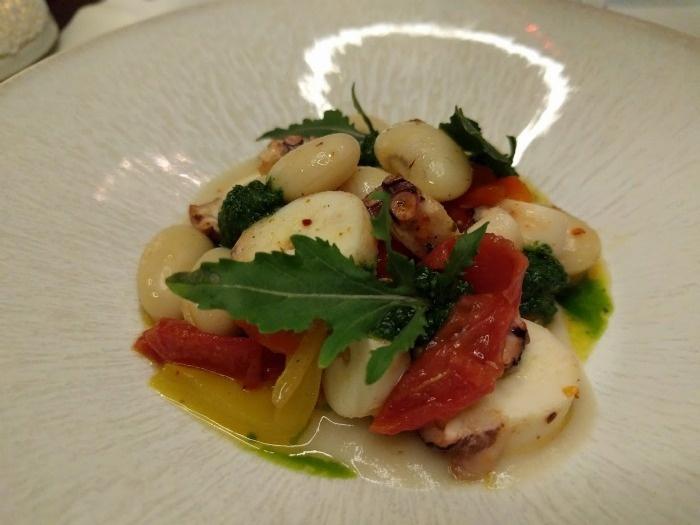 While we tried several small plates shown in the video above, for me the octopus salad with coco beans, and a confit of sweet bell peppers was a highlight.
This was delicious and perfectly prepared. Octopus can be tough and rubbery but this was soft and delicious.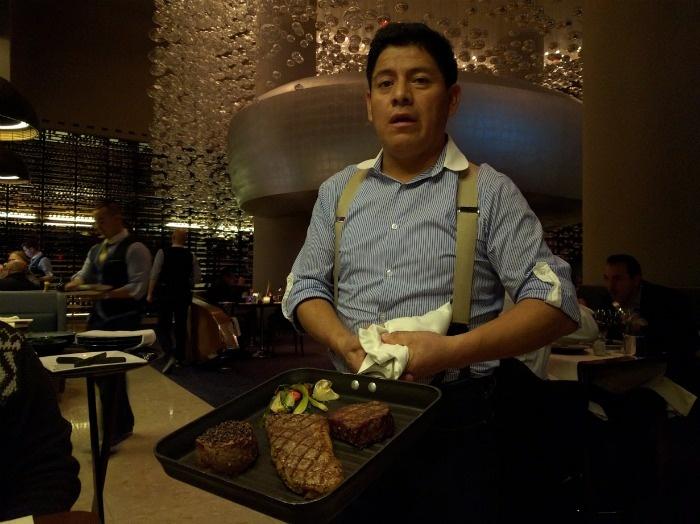 While I opted for fish, the rest of the gang chose chops and they were presented to us on a skillet prior to plating. While I appreciate the style of presenting the chops this way, the downside is that plating doesn't really rise to the level that I'd expect from a similar restaurant.
Honestly, it's a tradeoff since each of the steaks had the same platting style and it was done quickly while we waited for our meals - rather than carefully in the kitchen with perfect lighting.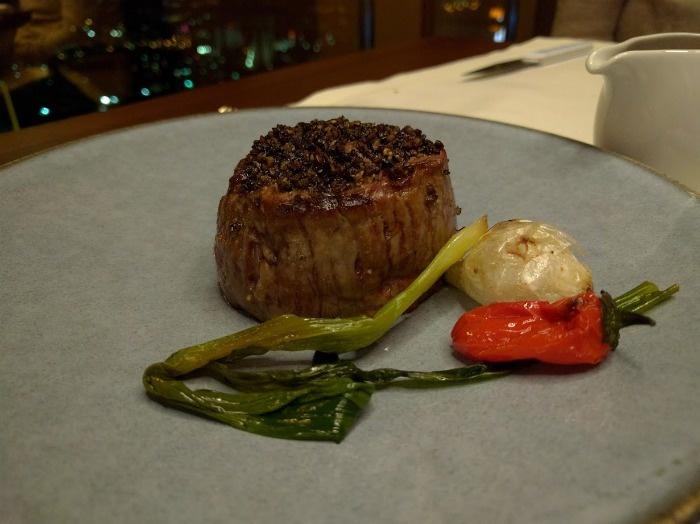 That being said, the plating wasn't "bad" it was just that compared to everything else it wasn't at the same level.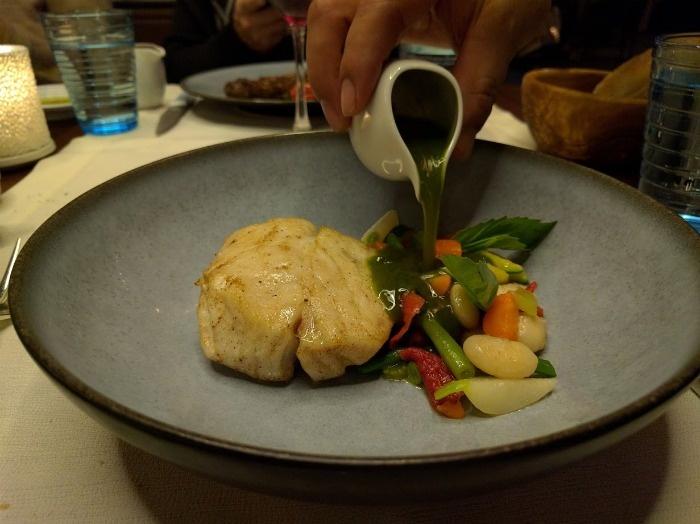 In comparison, my line-caught striped bass was prepared and presented beautifully. Again, cooked perfectly though maybe a bit under-cooked which I am OK with on a high-quality piece of fish.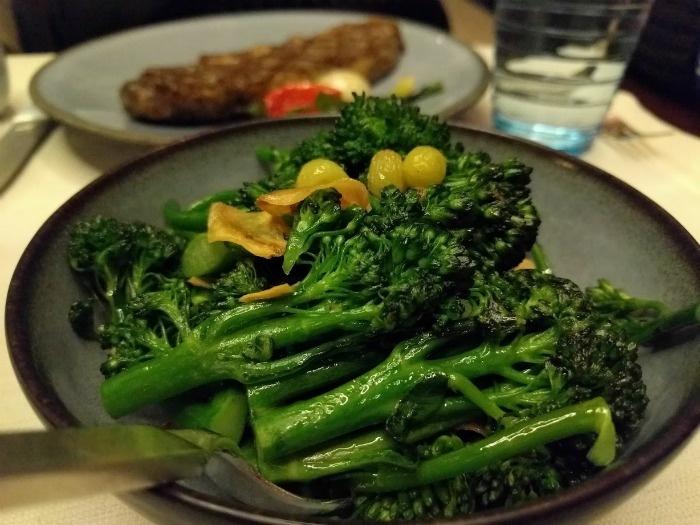 Sides though were delicious and nobody was hungry!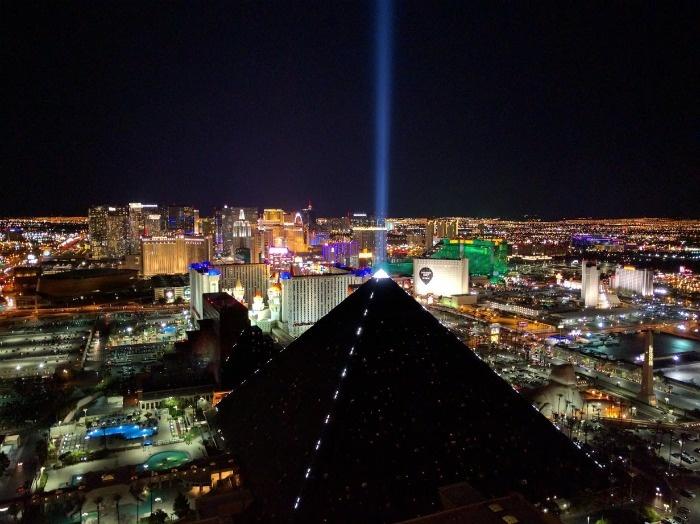 At the end of the day though, you simply can't ignore the view and that's honestly enough of a reason why you should visit here.
While our dinner was well over $125 pp, Rivea was totally worth it (including several small plates, entrees, drinks, and desert). However - if you are looking to experience the view at a much lower price then simply visit Skyfall and grab a cocktail, relax, and enjoy the view!