Last week we were invited to check out the launch of Samsung's new Chef Collection Appliances in San Diego at the Pacific Coast Builders Conference and we were impressed by what we saw. Samsung continues to take it's dominance in the mass-consumer space and is now extending it into the high-end market as well with appliances that are as beautiful to look at as they are functional.

Introducing the New Samsung Chef Collection Line
The Samsung Chef Collection is a full suite of kitchen appliances that includes wall ovens, cooktops, professional ranges, dishwashers, and refrigerators. All of the models are Wi-Fi-enabled and include some "smart" features to enable to them to not just function better but enhance the space. For instance, have you ever left the house and couldn't recall if your stove or oven was still on? Now, you can simply check the app and turn if off if you forgot. Additionally, because it is constantly connected you are able to monitor performance and potentially even identify problems before they become issues requiring extended downtime. This makes it easier for maintenance and installation too!
This new line of built-in line of appliances is extremely modern and chic and looks absolutely beautiful. Styles include a choice of Samsung's exclusive black stainless steel - a soft brushed metal finish, or classic stainless steel.
Refrigeration
The new Chef Collection refrigerators come in two models - a 42" which is absolutely huge - perfect for large families and those who love to entertain, as well as a 36" model best suited for smaller kitchens.
An industry first, the fully integrated 42" Samsung Chef Collection Built-in 4-Door Flex Refrigerator with FlexZone™ compartment that easily transitions from fridge to freezer at the touch of a button. Think of it this way - imagine if you are planning a party and need more space to hold extra ice, you could temporarily make one of the refrigerator sections a freezer instead!
The 36" Samsung Chef Collection Built-In includes Metal Cooling stainless steel interior and TwinCooling™ to keep food fresher and longer.
The Wi-Fi-enabled built-in models feature Samsung's View Inside cameras so consumers can see its contents from anywhere on their smartphones. This means that you could open up an app while shopping and determine if you are out of ketchup or how much milk is left in the bottle so you can get more, without having to wonder if you just bought extra.
Frame LED lighting that illuminates what's within, and hidden electronic controls to give a truly seamless look.
A Chef Pantry compartment in each model that can be set to three different temperature options to handle various food preservation needs.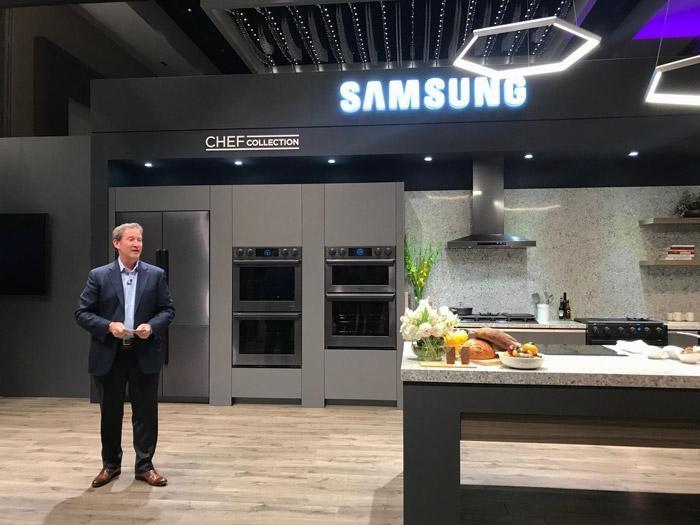 Cooking
The new 30" Samsung Chef Collection Wall Ovens, available in single, double, and the industry's largest capacity microwave combination configurations, feature Steam Cook technology and Flex Duo™ design in which a removable Smart Divider splits the bottom oven cavity into two to create three independent ovens.
Both 30" and 36" Samsung Chef Collection Cooktops, available in gas and induction, offer power, precision and seamless design. A powerful 22K BTU Dual Power brass burner on the gas cooktop goes from high and hot to a true simmer. Virtual Flame Technology™ on the induction cooktop gives the real feel and visual glow of a flame. It also features a large FlexZone™ cooking surface for maximum efficiency.
Bluetooth-enabled 30" and 36" Samsung Chef Collection Range Hoods automatically turn on with the Pro Range or Cooktop, and change fan speed with the Heat Sensing feature, which automatically adjusts based on the heat being generated from below.
The 30" Samsung Chef Collection Pro Range offers 5.8 cu ft. capacity with 22K Dual Power brass burner and dual convection oven, and bold LED-illuminated knob design.
Dishwasher
The Samsung Chef Collection Dishwasher with Samsung's exclusive WaterWall™ technology delivers a powerful, streaming wall of water for corner to corner cleaning and a Chef Mode that provides concentrated cleaning power on heavily-soiled pots and pans. The AutoRelease™ Door opens automatically to circulate air and improve overall drying by as much as 35%
Thank you Samsung for inviting us to the event and giving us an opportunity to see the future of smart appliances!