One of the things that's frustrating about traveling is not being able to stay in touch with my favorite TV shows. You can never count on your hotel TV to have a specific channel and even if it does, chances are you won't be in the room at the right time, so what's a guy to do? That's where Sling TV comes in and it's a perfect option for cord-cutters as well as those who simply want another way to enjoy TV without being tied to your living room.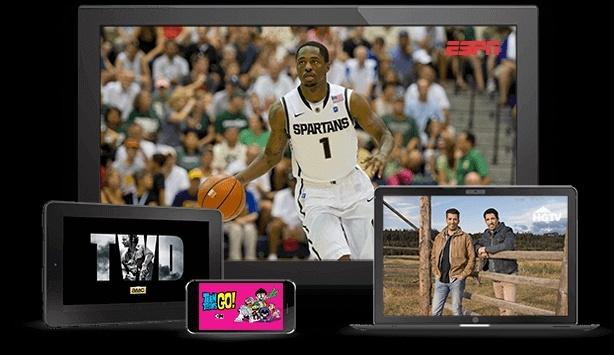 I first experienced Sling TV about a year ago and it's great that they have continued to get even better. For instance, it's now available on Apple TV along with a ton of other hardware such as mobile devices, Chromecast, Xbox One, and PC / Mac computers. I actually got Sling TV originally since when I pre-paid for 3 months of service I got a free Roku 2. Now, you can also get a Apple TV for only $89 when you do that same offer!

One of the unexpected benefits of Sling TV is that it actually works great while traveling. For instance, earlier this year I was in Canada on a cruise and I was still able to access my favorite American shows streamed right to my phone while we were in port. One day hopefully internet connections at sea will be fast enough for streaming but right now, it works great over WiFi and my mobile connection, so no streaming at sea unfortunately.

Back home what I love about Sling TV is that I can watch shows on a second monitor attracted to my PC and also on my TV by my bed that I use to mostly watch other streamable programming on my Chromecast. My cable provider wants to charge me a monthly service fee for a cable box as well as an installation fee to add extra outlets, but starting at $20 / month I'm able to enjoy Sling TV. Their basic package includes most of my favorite channels including: Comedy Central, ESPN, AMC, CNN, History Channel, Travel Channel and Heather loves that it also includes HGTV and Lifetime. You can add other packages from there if you are a sports fan, movie lover, or want extensive Spanish-language programming.
There are a lot of choices these days when it comes to streaming TV and I've tried a lot of them. Sling TV is a great option with a huge difference compared to others: It doesn't require existing service! While others still require you to have cable or signup for satellite TV to be able to stream, this allows you to cut the cord and have total freedom on when, where and how to watch your favorite shows.
If you travel as much as I do or even if you just simply don't lead a living-room-centric life then this is a great option to consider.