A couple years ago the founder of Standard Luggage reached out to me with a great product they had just launched. As a fan of travel backpacks I agreed to give it a review, but now they've come back with an incredible updated version that is honestly my "go to" bag for short 2-3 day trips. Since I started testing it last fall, this bag has been with me to on more than a dozen excursions ranging from overnight road trips to quick flights across country. It is quite frankly the perfect bag for any busy guy that loves to travel.
Initially when I began this review of the Standard Luggage Travel Backpack, I was going to do a comparison of what's new but the simple answer is everything that I liked before was improved this time around and they added a water bottle pocket too!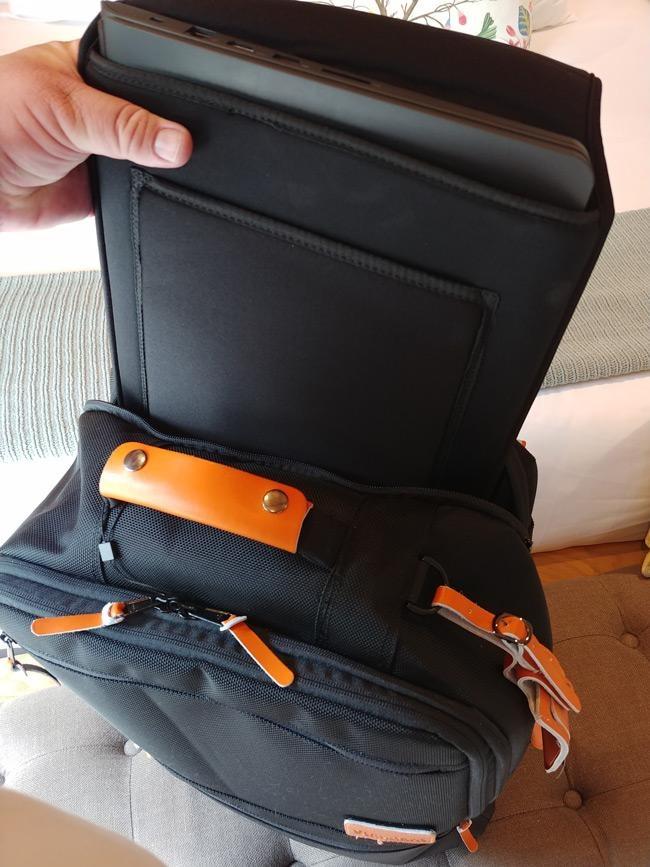 Aside from comfort, the biggest feature that I love on the new version of the Standard Luggage Travel Backpack is that the laptop section now has a padded sleeve and seems bigger than before. This padded sleeve that is connected to the bag allows you to rapidly pull your laptop out for security scanning while not having to worry about packing / unpacking it in the security line. It can literally just be slid back in and away you go.
While it is rated for up to a 15" laptop, my Lenovo Legion Y530 gaming laptop with a 15.6" screen fits snug but easily in the sleeve. So does my older laptop.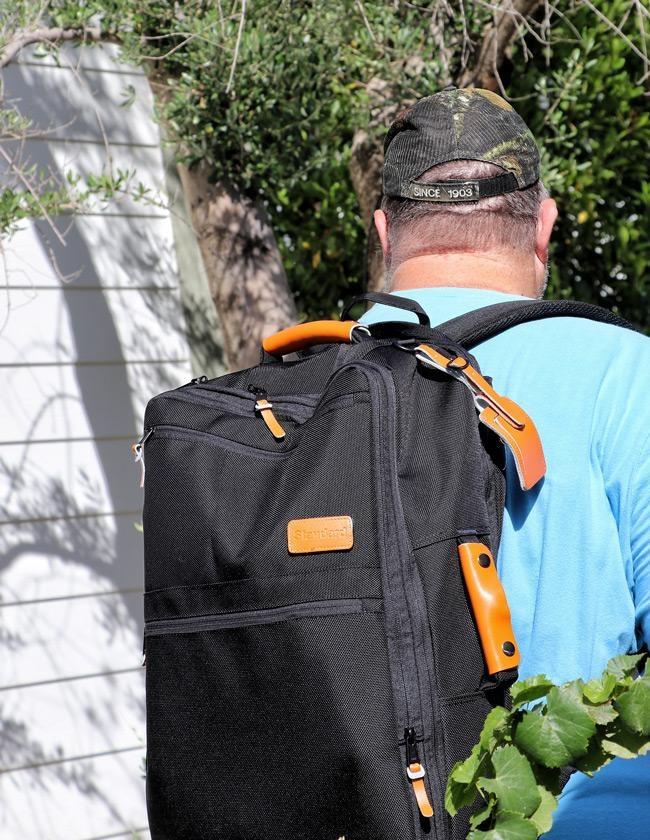 In addition to wearing it as a backpack, you can also carry it like a shoulder bag or suitcase. The conversion is very easy too. Simply unpack the shoulder strap and tuck in the backpack straps. If you want to change color, Standard Luggage includes two options - orange as well as teal so you can have a his and hers set and know which is which.
From a comfort perspective, I'm impressed with how comfortable the straps are as well as supplemental padding on the back of the bag as well. This padding also does a good job at allowing for air circulation so that unlike other backpacks, I don't end up with a giant sweat stain when I board the aircraft.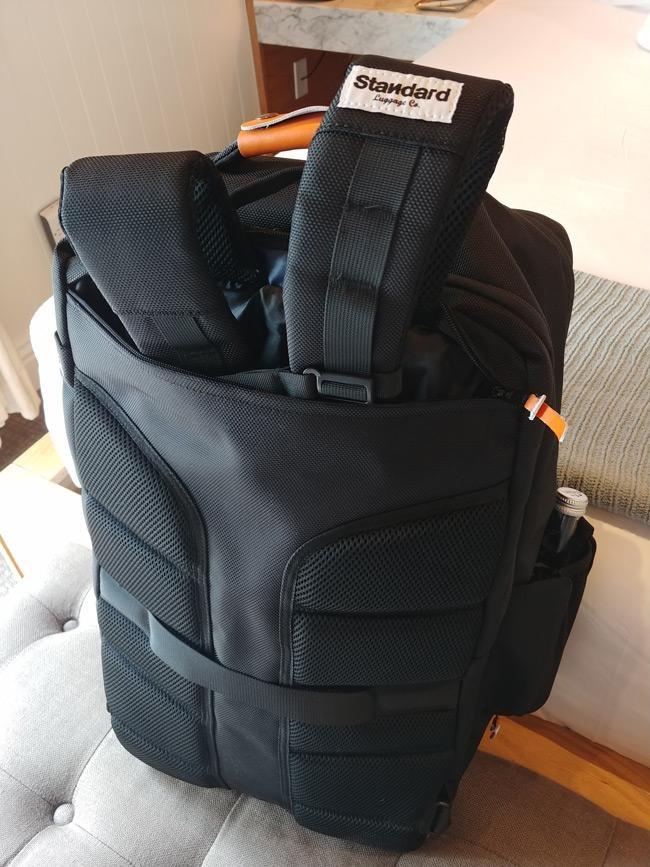 While it's difficult to quantify "comfort" I can say that I've had it fully loaded on my back as I ran between terminals at DFW without problems. The only time I was concerned was while turning around in the tram trying to avoid people. At no point did I feel compelled to remove it and set it on the ground the way I would have with typical hand luggage.
Once on the aircraft, I've been able to force it under the seat if not fully packaged but it fits easily in the overhead bin laying on it's back. On some aircraft I've been able to slide it in sideways to make extra room for people as well.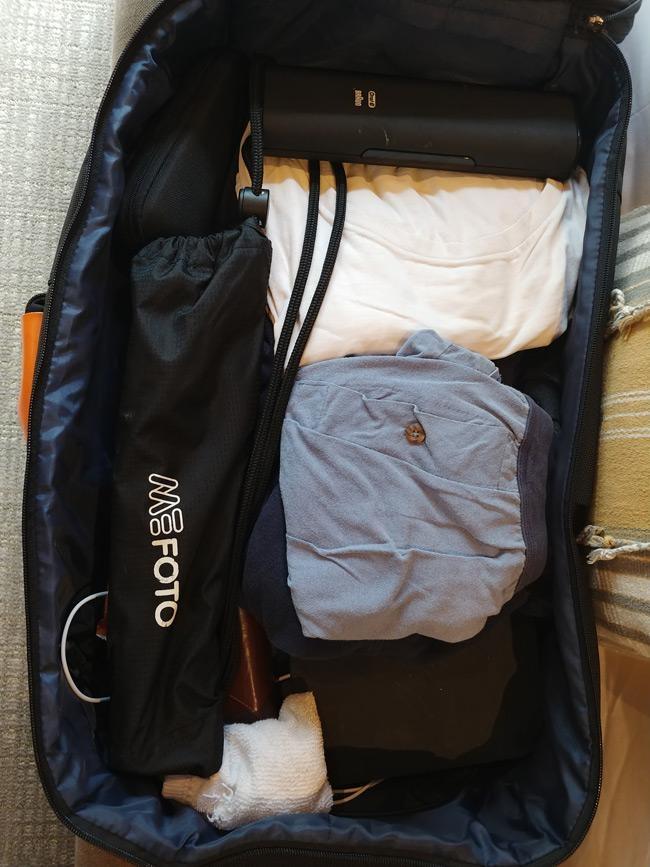 Inside the bag is an expandable storage of 35-45L with interior compression straps to keep shirts from getting wrinkled.
The storage space is otherwise one big open space for you to fill. Initially it was a big of a challenge but you quickly learn how to stack things so that bulkier stuff like toiletries goes on bottle and I put a change of socks, camera, and charging cords at the top so it's easy to reach in and grab.
Additionally, there are two pockets on the front. I use the top one to store snacks as well as my business cards and other small items I need to grab easily. The lower one however is perfect for storing documents that you want to keep flat.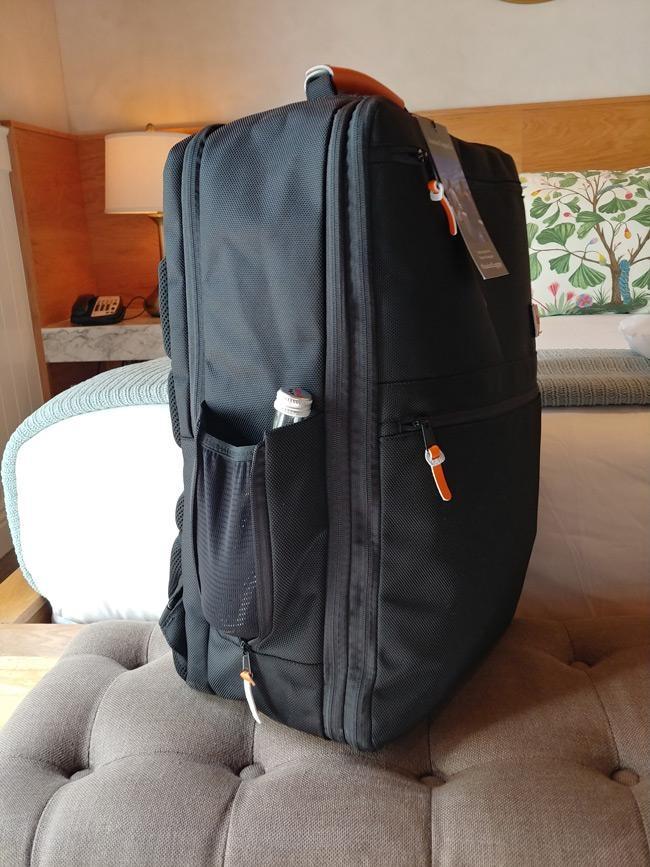 While it should be obvious at this point how much I love this pack, it's not perfect. Two things I'd like to see upgraded would be better quality zipper pulls (multiple have broken off during my travels). Also, while the water bottle pocket is a welcome addition, compared to other backpacks I use, it has trouble holding the bottle in the pocket. This is because it is designed to be zipped shut while not being used and may work better with a bottle of water vs a large refillable water bottle.
Regardless of that though, this remains an essential part of my travel gear and I highly recommend it to anyone who hates carrying a by through a busy airport. Since your hands are freed, it also gives you an opportunity to carry a briefcase too.
The Standard Luggage Carry-on Backpack / Travel Backpack is available on their website for $199.00