A few months ago, we bought a condo in St Joseph, MI and there have been lots of projects that had to be done before we moved in. One thing was for certain though, some good music would go a long way and we wanted to share this with our contractor as well so that he could connect his phone to the speakers and have it loud enough to enjoy even if he wasn't in the same room. The folks over at Sway Premium Audio offered to send us a couple of their latest products for this effort, including Splash Extreme, and Flame Hydro Go. Our goals were simple - rugged enough that they wouldn't fail if some water (or dust, paint, etc.) and affordable enough that if something did happen, we wouldn't care about replacing them. These two speakers did that with very good audio quality and were designed well enough that even after dropping them a couple of times, they still work fine.
I have a mixed relationship with wireless speakers. It seems like they are either designed so well that the price is prohibitively expensive to do anything aside from having it sit on your shelf or they are cheap pieces of junk that are affordable but produce less than fabulous audio. These two from Sway Premium Audio tough sits somewhere in the middle. For our purposes, this was perfect ... and once our project is done will be something I look forward to taking with me to the park, tailgates, or even just having next to Heather and I as we sip some Michigan wine while watching the sun go down over the lake.
You're ready to make a splash this summer, but you don't want to be stuck in the Stone Age when it comes to your music. Look no further than Sway Premium Audio for two of the best Bluetooth speakers on the market. The Flame Hydro Go and Splash Extreme offer everything you need to bring your summer gatherings up to date with superior sound quality and design that will have everyone talking. Let's take a closer look ...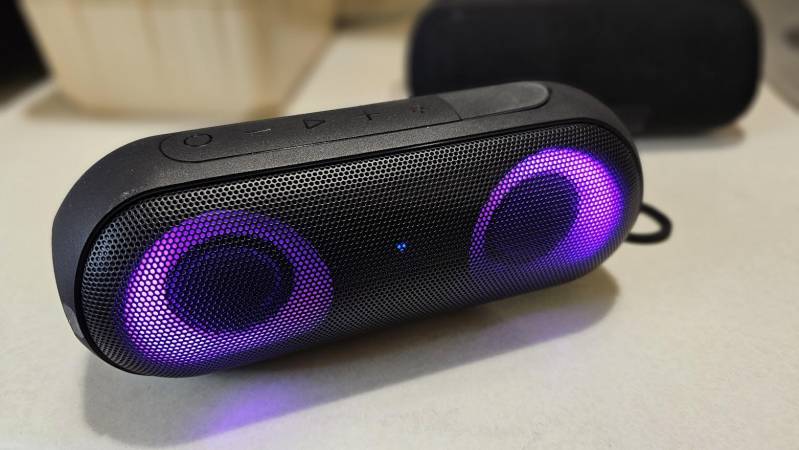 Flame Hydro Go
Boasting a waterproof design, 20-watt speaker and LED lights, the Flame Hydro Go is perfect for any backyard adventure or entertaining on a boat where you want to have a bit of flash while jamming out to your favorite tunes.
The Fire Flame Hydro Go Bluetooth speaker from Sway Premium Audio has all the features you'll need to make your next outdoor excursion enjoyable. It comes with full motion LED lights that can be turned on or off, long battery life and can be charged via USB, built-in microphone for hands-free calling, Bluetooth connectivity and can connect to multiple devices, range of up to 33 feet for wireless connectivity, compact and portable design that makes it ideal for camping, hiking and picnics.
Product Specs:
• Waterproof design
• 20-watt speaker
• Full-motion LED lights
• Long battery life
• Can be charged via USB-C
• Built-in microphone for hands-free calling
• Bluetooth connectivity
• Connects to multiple devices
• Range of up to 33 feet
• Compact and portable design with carrying strap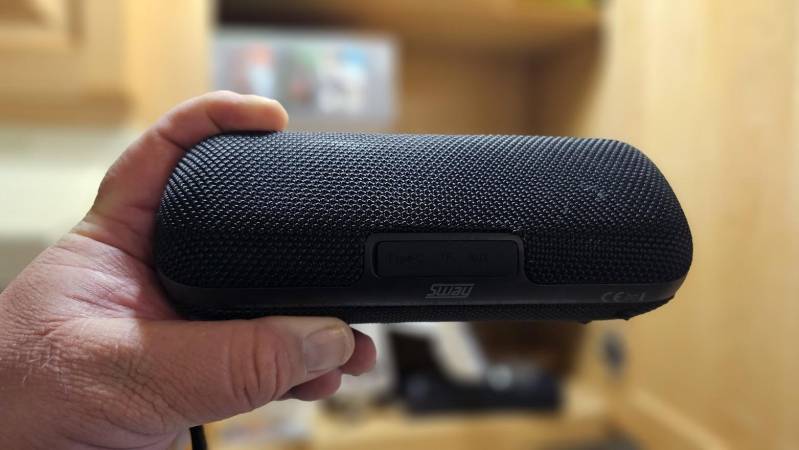 Splash Extreme
Take your music to the extreme with Splash Extreme, a waterproof speaker that packs a powerful punch of sound that will rock your world. It features IPX7 waterproof technology, extended battery life, and DropSWAY premium audio for unbeatable sound quality.
With Bluetooth connectivity it lets you control the music from anywhere in range. It also has hands-free calling and a built-in microphone so you can take calls without having to reach for your phone. The sleek and modern design is made of high-quality materials and comes in black, blue or red. Compact size makes it easy to use and set up wherever you want it. And with its wireless range of up to 33 feet, you'll be able to enjoy your favorite tunes even when you're far away from your device. The rechargeable battery lasts up to 10 hours on one charge so you don't have to worry about running out of power during long outdoor adventures or beach days. Plus, it comes with a charging cable and user manual for simple setup and usage instructions – all at an affordable price point that offers great value for money! With Splash Extreme's top notch features and one-year warranty included, this is the perfect speaker for music lovers who love living life outdoors!
Product Specs:
IPX7 waterproof
16-watt speaker
Extended battery life
Can be charged via USB-C
DropSWAY premium audio
Bluetooth connectivity
Hands free calling
Built in microphone
Wireless range of up to 33 feet
Rechargeable battery lasts up to 10 hours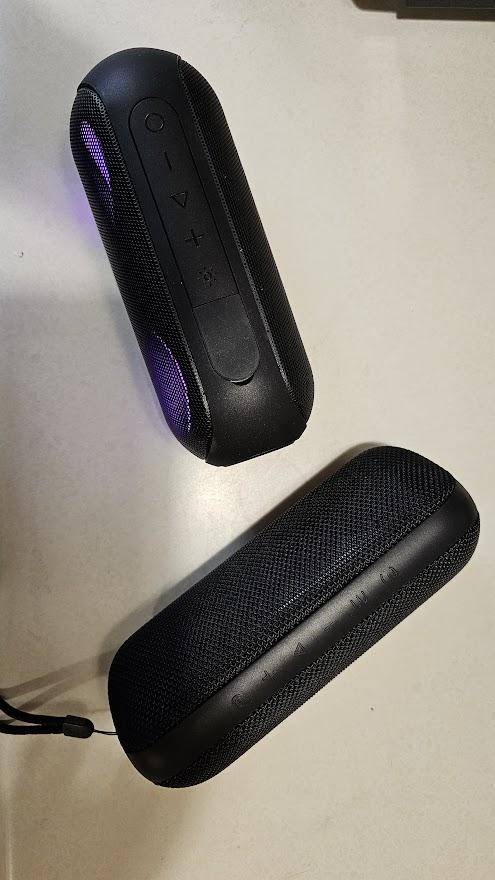 Perfect For Summer Entertaining Too!
With our condo renovations wrapping up and summer almost here, it is time to shift gears. I'm looking forward to starting the party with both speakers for summer BBQs and boat trips! Whether you're hosting outdoors or just in your backyard, either of these is your ideal companion (though we're partial to the Flame's LED lights for that extra flare!). However, both Bluetooth speakers provide good sound quality to enjoy your favorite tunes all day. Its long battery life ensures that your music will keep playing as long as you need it to, and its stylish design stands out from the crowd. Here are three reasons why this is the perfect speaker for summer entertaining:
Enjoy superior sound quality with crystal clear audio and deep bass tones.
The built-in rechargeable batteries provide up to 10 hours of continuous playtime on a full charge.
The rugged and durable construction makes it great for outdoor parties and poolside events without worrying about water damage.
The biggest difference here is that while the Flame is a big bigger, flashier, and has slightly better sound quality ... the Splash Extreme has earned a place in our car as a portable speaker that is just that much more mobile due to the hand-loop and slightly smaller size so it will be perfect for taking with us on trails and picnics this summer.
Conclusion
The Flame Hydro Go and Splash Extreme Bluetooth speakers from Sway Premium Audio are perfect for summer entertaining. From the powerful bass to the crisp, clear sound, these speakers provide a great listening experience. With their long-lasting battery life and water-resistant design, you can enjoy your favorite music all day without worrying about any damage or interruptions. Plus, they look cool while doing it! So if you're looking for a way to add extra fun and excitement to your outdoor get-togethers this summer, consider investing in one of these amazing little devices. You won't regret it!
Overall, Sway Premium Audio Bluetooth Speakers provided an exceptional audio experience during our home renovation project but now I'm looking forward to being able to relax and enjoy the music without sawdust and hammering in the background :)
But the real question is: why not try these great speakers yourself? You won't regret it!