Anyone that's ever done the drive home from Las Vegas to Southern California after a weekend getaway can tell you how terrible the traffic is. This normally 4-5 hour trip can instead become 8-9+ hours of bumper to bumper rush hour traffic where you are forced to be at 100% attention on roads that would normally compel you to look around and enjoy the drive. So, instead of fighting that fight a few weeks ago, I decided to take the long way home and discovered a fantastic road trip that was a lot of fun to drive in the 2017 Flex that Ford gave to us for the trip.
For those that have never seen the Ford Flex before, it's an interesting vehicle that can be described as a low-rider F-150 with extra rows of seats instead of a cargo bed. It's one of my favorite cars and one of the most unique SUV's in Ford's lineup, so I was sad to hear that this would be it's last year.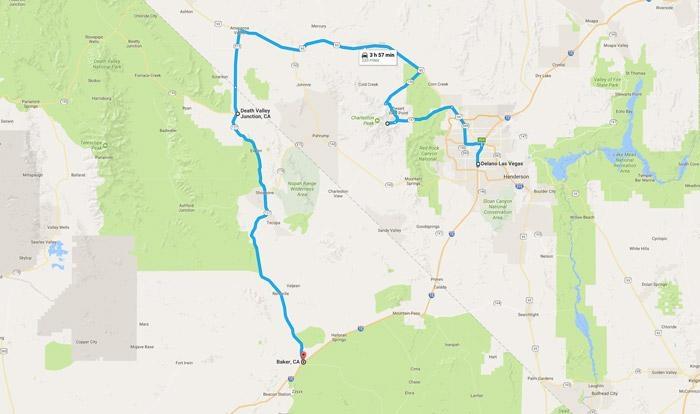 At a trip length of four hours for this detour, it's not going to save you any time. However, I personally would rather take the long road rather than sit in traffic stewing about the guy in front of me who can't drive. There are two other versions of this trip that you can take that are a bit less direct. The first would be to go through Pahrump - best known for the fact that brothels are legal there and so you can see some colorfully named businesses such as the Chicken Ranch. The second would be to actually spend some time exploring Death Valley rather than just skirting the eastern edge of the park.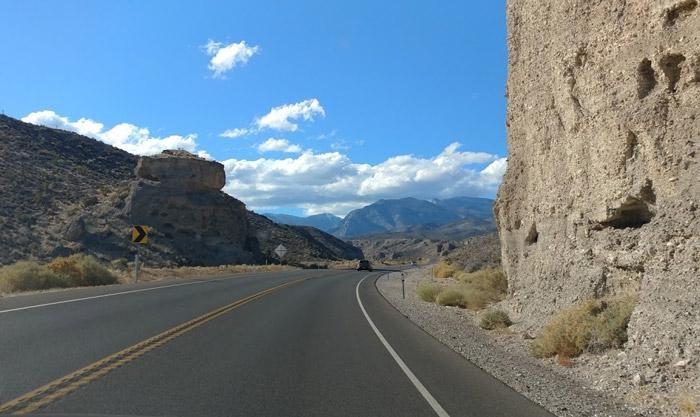 For those of you who have only flown into Las Vegas (and never looked out the window), you might be surprised to discover that there are some beautiful mountains just outside the city waiting to be explored. We've visited Red Rock Canyon in the past, but just past there is Charleston Peak and the road getting there is some of the most beautiful desert mountain terrain in Nevada.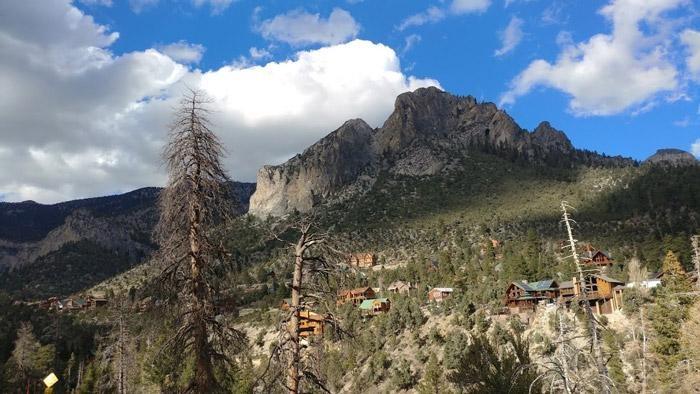 As you climb the mountain, you'll quickly notice that scrub brush gives way to evergreens and the landscape changes dramatically. At 7,500 feet, the village is 5,000 feet higher than Las Vegas itself and much cooler, so much so that there is actually a ski area up here for a few months during the winter! So if you've ever dreamed of sledding during a visit to Las Vegas, this is your chance! Lee Canyon ski resort is less than an hour from the strip.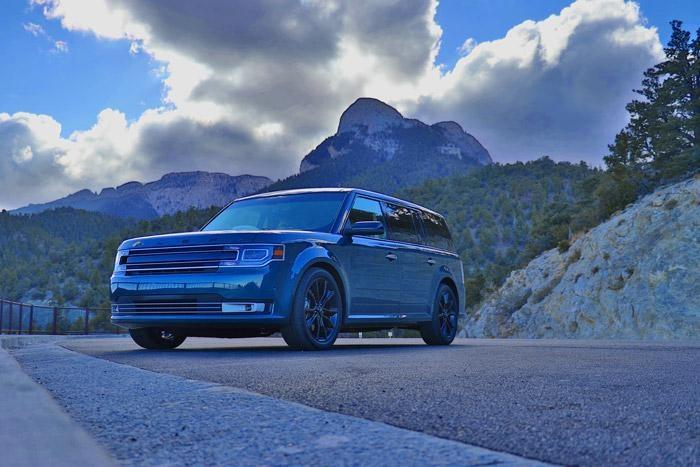 As we continue up the road, we stopped at Desert View Overlook where you get an incredible view of the terrain. Despite being a large vehicle, we continue to be impressed with how well the Flex handles both high-speed highways as well as tight mountain roads. At 8,208 feet this spot was extremely cold and windy on the day we visited. Thankfully, we were kept nice and cozy in the front with some fantasticly comfortable seats providing great visability so we didn't miss a moment of the drive.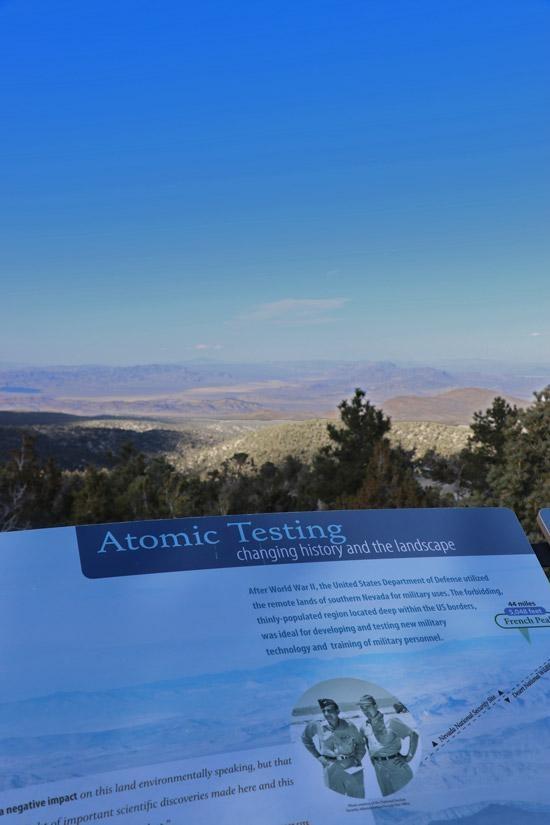 Not only are we looking out over the Mojave desert and the expansive great basin, but you'll also be able to see parts of the Nevada Test Site. This is where we once tested nuclear bombs and currently test experimental aircraft such as stealth fighters and drones out of Creech Air Force Base in Indian Springs, just over the ridge once you head down the mountain.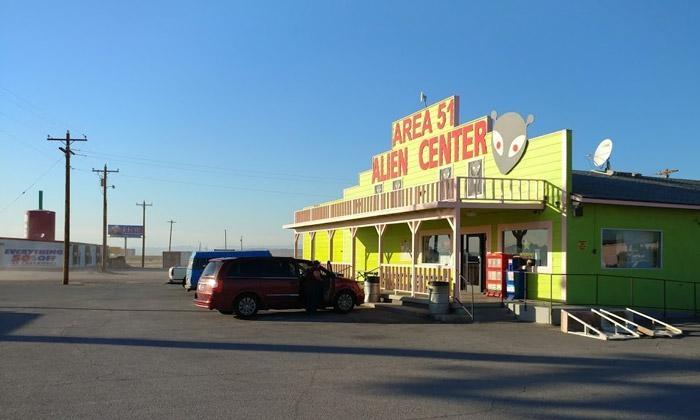 Our next stop was to get gas at the Area 51 Alien Center (also the Alien Cathouse Brothel if that's your thing). After all, how can you not stop at a place like this ... or it's neighbor Alamo Fireworks which purports to have the World's Largest Firecracker standing next to the building.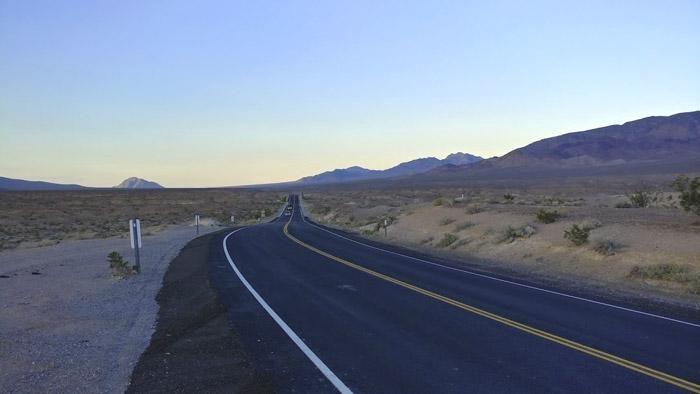 With the sun beginning to set, we knew it was time to roll and luckily the open highway was waiting in front of us, though the road leading to Death Valley had significant instances of drifting sand because of the wind that day. Despite only being FWD, the Flex's 3.5L EcoBoost V6 handled the sand-covered roads easily.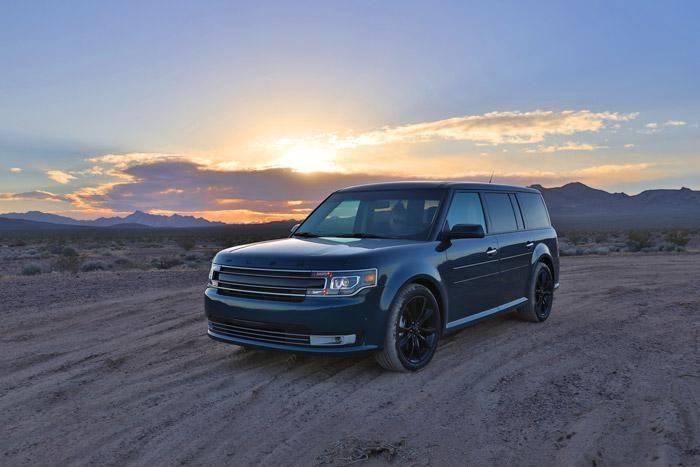 Sadly, with the sun going down and not very well lit roads I wasn't able to stop and take more photos after our stop for this sunset shot. However, as you go south of Death Valley, the terrain turns more deserty and we passed camp after camp with RV's and ATV's that were out enjoying the wide open sands. This is definitly an area that I look forward to coming back to and exploring when there is more daylight.
Once we arrived in Baker it was time to head back onto the 15 and join the traffic nightmare again but at least we avoided a good chunk of the mess - especially the life draining Primm / California State Line Backup.
While I would never advocate taking a random road in the desert, sometimes you can find exciting stuff if you take a road less traveled - just be safe and plan ahead!
Thank you Ford for loaning us the 2017 Flex Limited for this road trip!