There are a lot of trails in Southern California, but here's three of my favorites because they are scenic and have a variety of terrain but aren't too technically arduous. While the Colorado ZR2 is a phenomenal vehicle that can conquer pretty much anything that you throw at it, sometimes it's nice to know that and never test the limits. This is especially true for novice off-roaders since those limits are often YOURS, not the vehicle itself. These trails a great for exploring and having fun while getting away from civilization for a few hours.
The Chevrolet Colorado ZR2 is hands down my favorite truck. Simply put it is compact, rugged, capable and sharp looking. Right off the lot it is ready for adventure. We've covered it several times already and so I'm not going to go into depth on the specs. However, this time we're were rolling in the "Dusk Edition". This is primarily an appearance package with white paint, blacked out bowtie and wheels plus the sport bar and lights mounted on the bar. Like it's fraternal twin, the Colorado ZR2 Midnight Edition, it provides a distinct look that separates you from everyone else on the trail.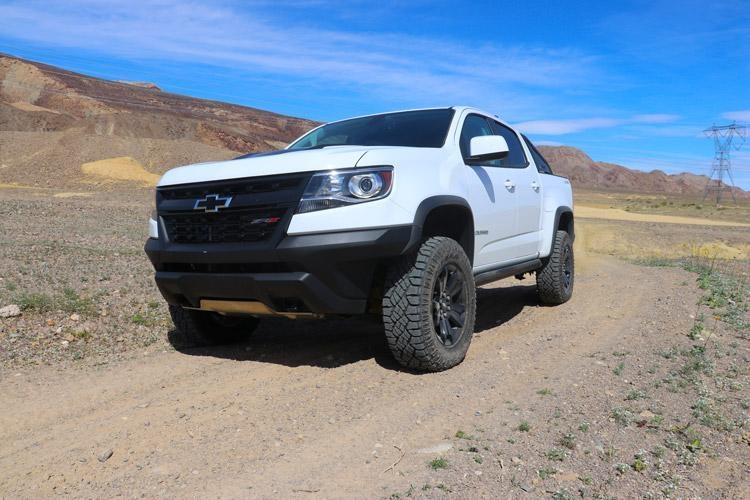 Shell Canyon - near Ocotillo, California
This is a wide-open area with a great mixture of marked trails as well as hills to climb and fast tracks to open up the truck and test the suspension at high speed. It's also a great spot for scenic photos since the windmills are in the background.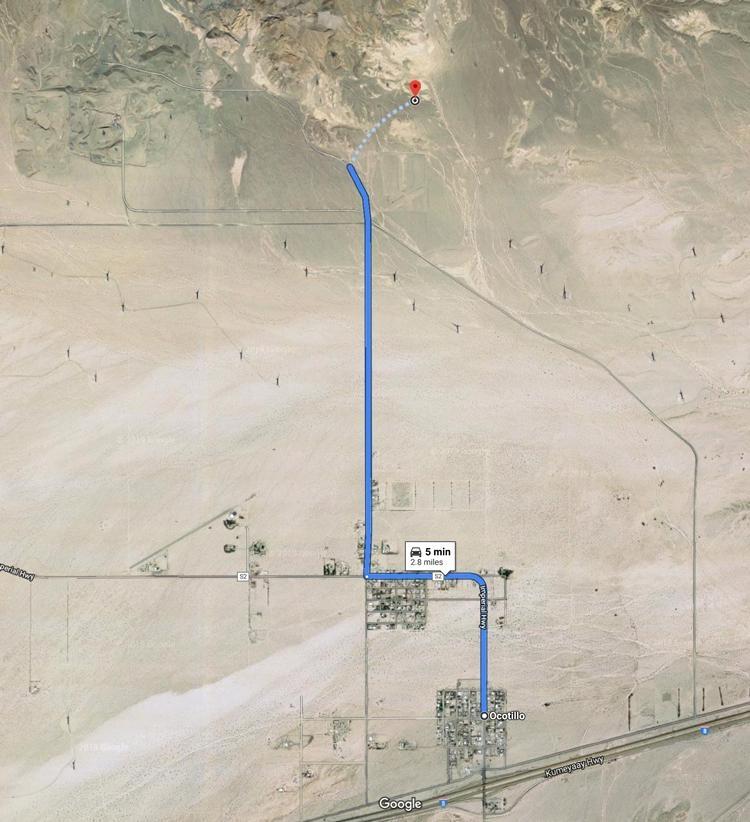 Located just five minutes north of Ocotillo, it is easy to get to though there are various entrance points off of Shell Canyon Road. Be respectful though and observe any signs indicating road closures or do-not enter signs as some of this land is likely privately owned.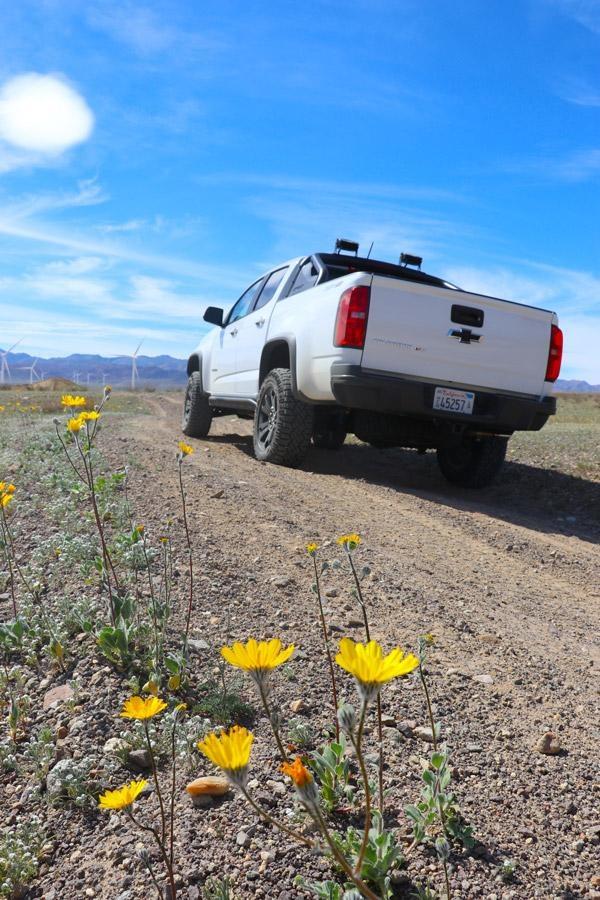 It's a relatively small area but it is a lot of fun to explore since you won't get into trouble - unless you try to. Plus, since it's wide-open space and line-of-site to Ocotillo, there's great cell phone service here too.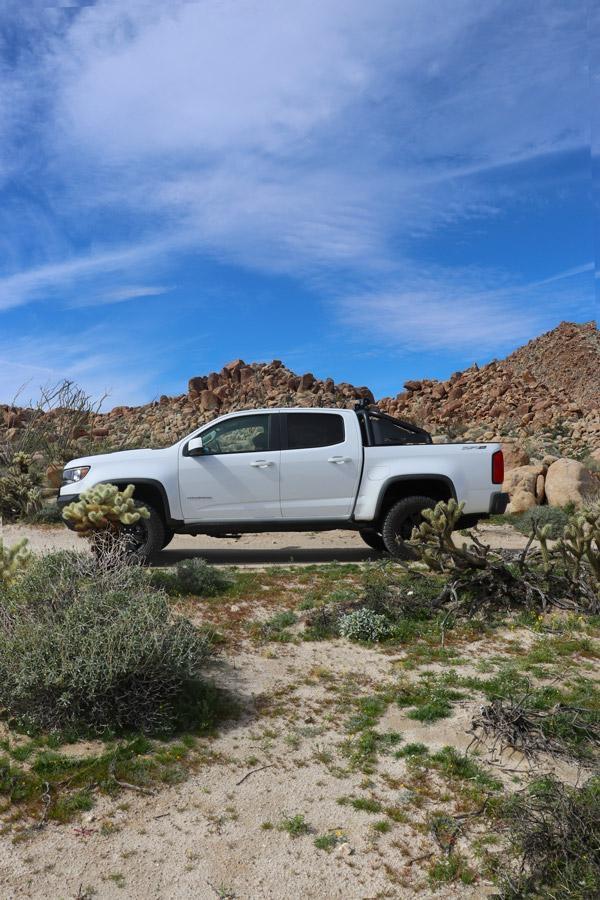 Mortero Wash, Dos Cabezas, and Mortero Palms Oasis
We covered this are in more detail in our post about the Colorado ZR2 Midnight Edition, but this is just down the road from Shell Reef. I love this spot because it is a bit more technically advanced than the open trails down the road. It is also more scenic since you have various terrain.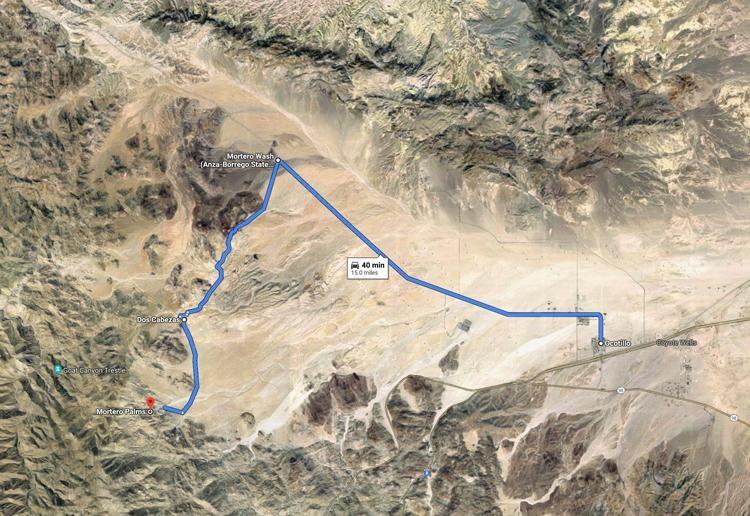 As you explore the area though, make sure to follow marked paths. There are some areas here with very deep sand where an OEM stock truck like the ZR2 will have trouble without airing down ... and be challenging even then. However, if you are safe there's some great spots here including an abandoned train station at Dos Cabezas and a couple small oasis spots along the foot of the mountains. Make sure to check the map on the sign board when you enter the trail. Even better, take a photo of it so you have it with you.
Phone reception here is generally good but there may be parts where service is sketchy.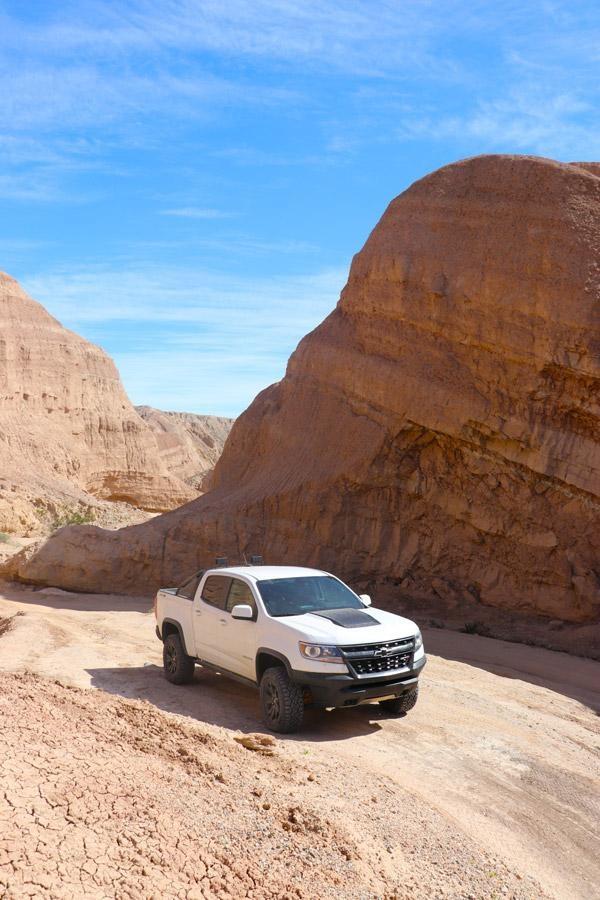 Tectonic Trail and Truck Haven 4x4 Training Area
The Ocotillo Wells SVRA is my absolute FAVORITE spot in the desert near San Diego. It's a huge, wide-open area that has been designated specifically for off road vehicle use. There's a great 4x4 training area where you can test your skills ... or just have fun. However, just west of there is a trail that I always love to explore.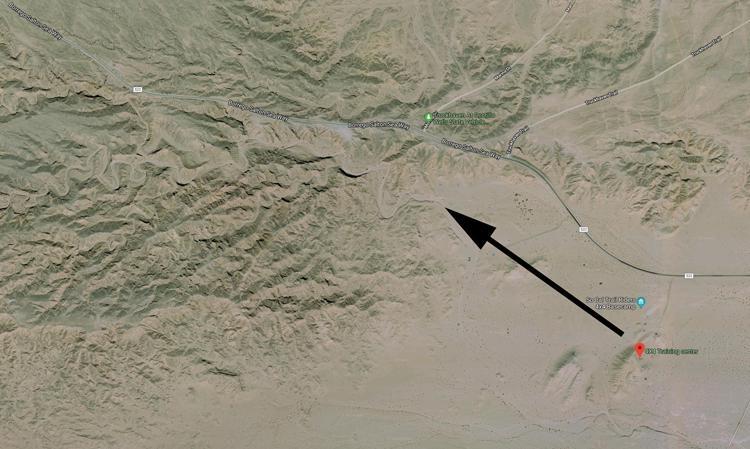 Tectonic Gorge or Tectonic Trail is a fairly narrow canyon that winds its way through the badlands. This trail is plenty wide for even a full-sized truck but it is even more fun for the ZR2 since it is nimble enough to explore side paths too.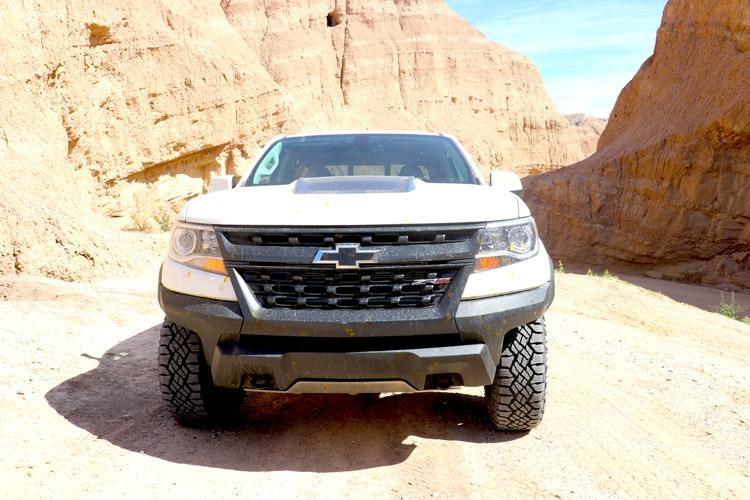 The added bit of special interest here is that the beginning of the trail was featured in the finale of X-Files when the government helicopters blew up the Anasazi cliff dwellings. The film set debris has been all cleaned up by now, but it's still fun to drive through an area so prominently featured in a show like that.
While the trail does wind around and join others, you can also follow this trail right out to the highway as well.