While the design world is obsessed with digital screens today, there was once a time when knobs and dials were chic. Whether we look at those products as being fashionably retro or legitimately practical it almost doesn't matter. There's a simple elegance of physical hardware that feels great to the touch and when the quality, style, and sound produced by the device is spectacular. That's pretty much my review for the Tivoli Audio Model One BT and you could just stop here and visit their website to buy one, or you can continue reading to see how much I love this radio.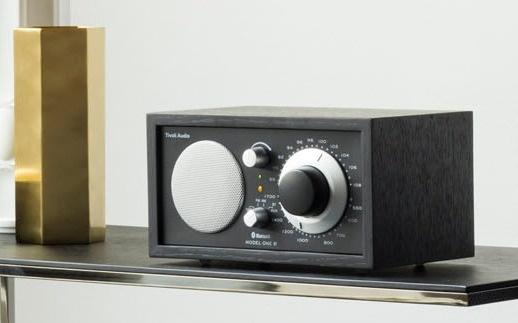 The Tivoli Model One BT comes in a few different variations but all retain the same retro-modern look with a wood veneer housing and big knobs.
While I have a ton of Bluetooth speakers in my house, what I don't have is a traditional / terrestrial radio and so that's one thing that made me excited to check this product out. Despite the fact that I have Spotify and a library of mp3s on my computer, phone, Xbox etc. there are times when it's nice to be able to just turn on the radio and listen to a game, talk radio, or a DJ's choice of music.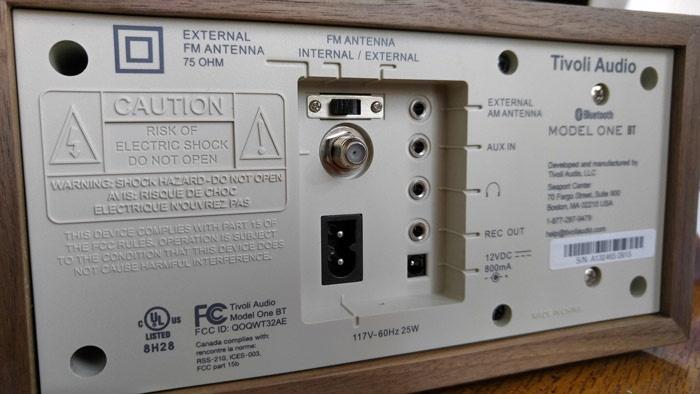 Around the back, you'll notice that it has plenty of plugs, including some - Rec Out, Aux Antenna, and a 12VDC input - that were unexpected.
However, these features just make the radio that much more valuable, especially if you are traveling in an RV or want to use it in a cabin in the woods vs my loft in downtown San Diego where there's plenty of signal without needing anything extra.
Finally, the most impressive thing about this was the sound. Again, I have experienced dozens of Bluetooth speakers this year ranging from generic brands to premier brands that command high prices. Yet this competes at the top of the list despite its relatively low price and the fact that it is a radio in a super stylish cabinet vs a plastic shell.
The audio quality was both loud and clear as I turned up the volume and despite the fact that it pumped out an impressive amount of base it didn't rattle or distort the sound at the upper volume levels.
There aren't that many products that I would consider gifting to a family member but this is absolutely one of my favorite products that I've reviewed this year. This is absolutely a fantastic gift idea for any guy that loves music and is a welcome addition to my home.
The Tivoli Model One BT is currently $179.99 on the Tivoli Audio website and includes free shipping.