I've tested more than my share of Bluetooth speakers over the years of various sizes from pocket-sized portable units to shelf speakers designed to fill a room with high-quality audio. However, I've never experienced something quite like Soundboks. It has excellent sound quality with big bass and good fidelity at the high notes but it is also somehow surprisingly light and wireless. While this makes it perfect for backyard BBQs and tailgates ... it also works great for Halloween displays and Christmas decorations after that!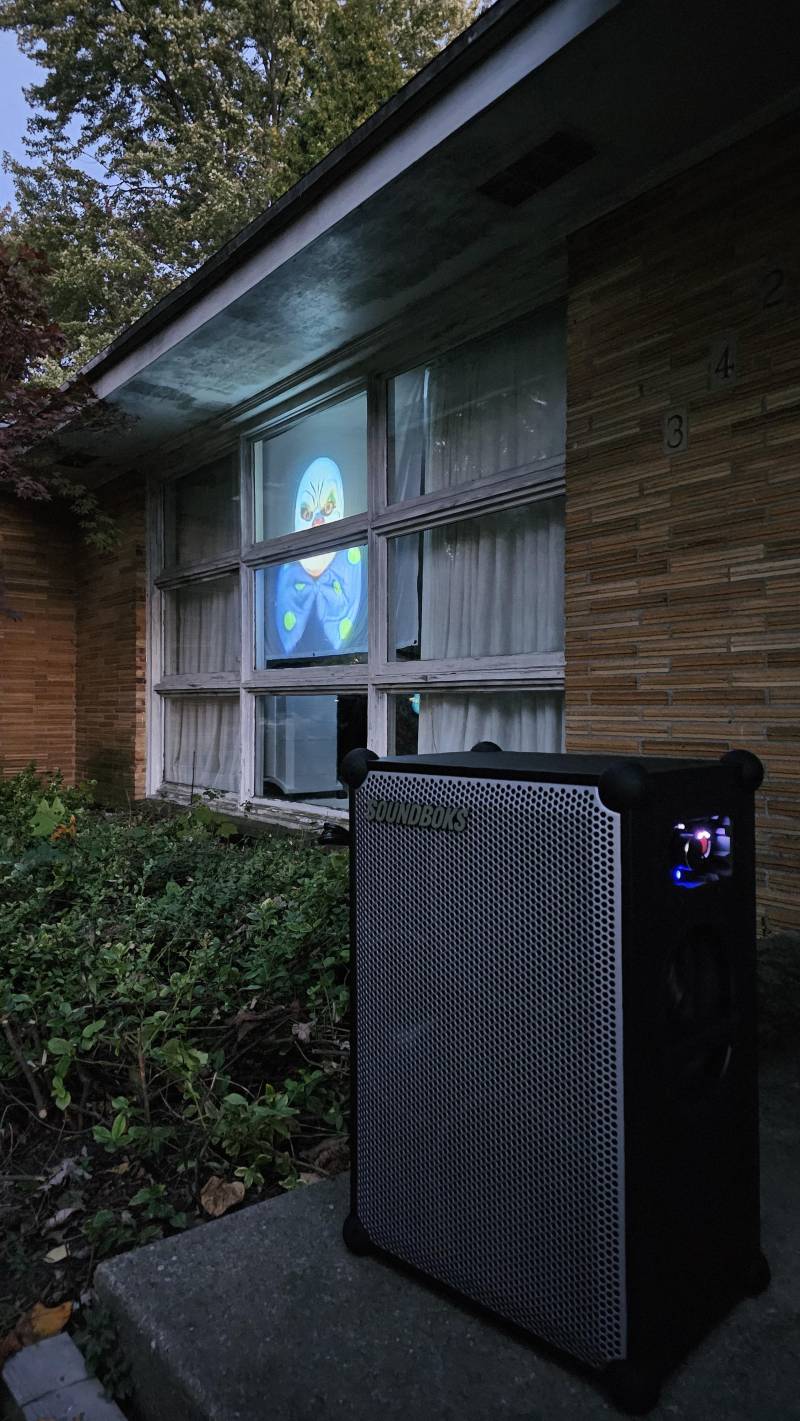 This is the first time in 10 years where I have a house to decorate and so I'm pretty excited to do something special. After opening the box and testing it out, I was pretty impressed to the point where I can see this being far more than a review product I got to test out but then would be relegated to the back of my storage locker. Instead, I can see this being an all-year item that I can break out to enjoy while doing yard work - as well as block parties and tailgates.
Since it is so light and portable, I can also see this being perfect next summer for boat parties!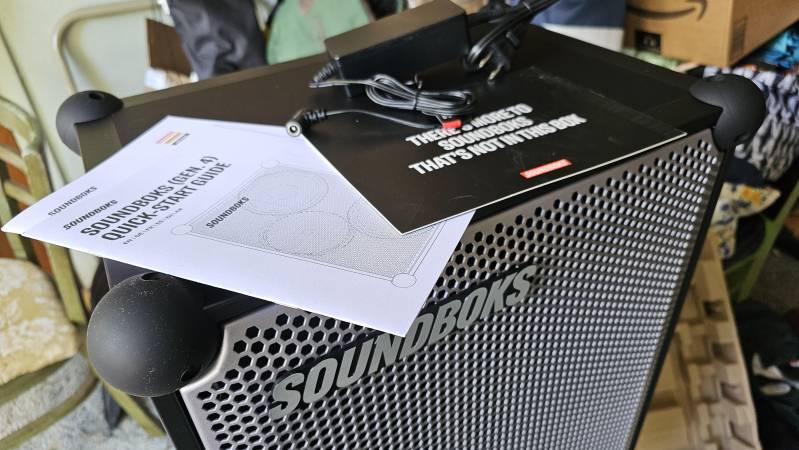 Let's Meet Soundboks 4
Soundboks is now in it's 4th generation and at its core is simply a really big, really powerful Bluetooth speaker that offers a similar level of sound that you would normally need a professional PA system to deliver. At mid-volume, a fully charged battery pack will last about 40 hours and at full blast, about 6 hours (20% longer than Soundboks 3).
Audio Details:
3 × 72W RMS Infineon MERUS Audio eximo® class D amplifiers
Next generation adaptive DSP with proprietary Bass Enhancer
Effective frequency range: 40 Hz - 20 kHz
126 dB max volume
Pulse Reflex port
2 × 10" 96 dB / 1W / 1m woofers and 1 × 1" 104 dB / 1W / 1m compression driver tweeter
Speaker Cabinet Details:
Soundbox features a detachable, snap-off grill so that you can customize the look easily by painting or even hydro dipping your speaker grill to make it more personal.
Construction is designed to be rugged and is made from poplar plywood coated in a thin layer of plastic along with powder-coated aluminum angles and soft silicone ball corners so that it avoids sliding around - but also doesn't scratch surfaces like hardwood floors or marble tiles.
While the cabinet is designed to be rugged enough to resist basic environmental such as spilled beer, dust, or light moisture from rain or snow that might collect on the surface, it is not waterproof and you should avoid leaving it outside overnight. However, it will perform great during that boat party without having to worry about the occasional splash or spilled drink.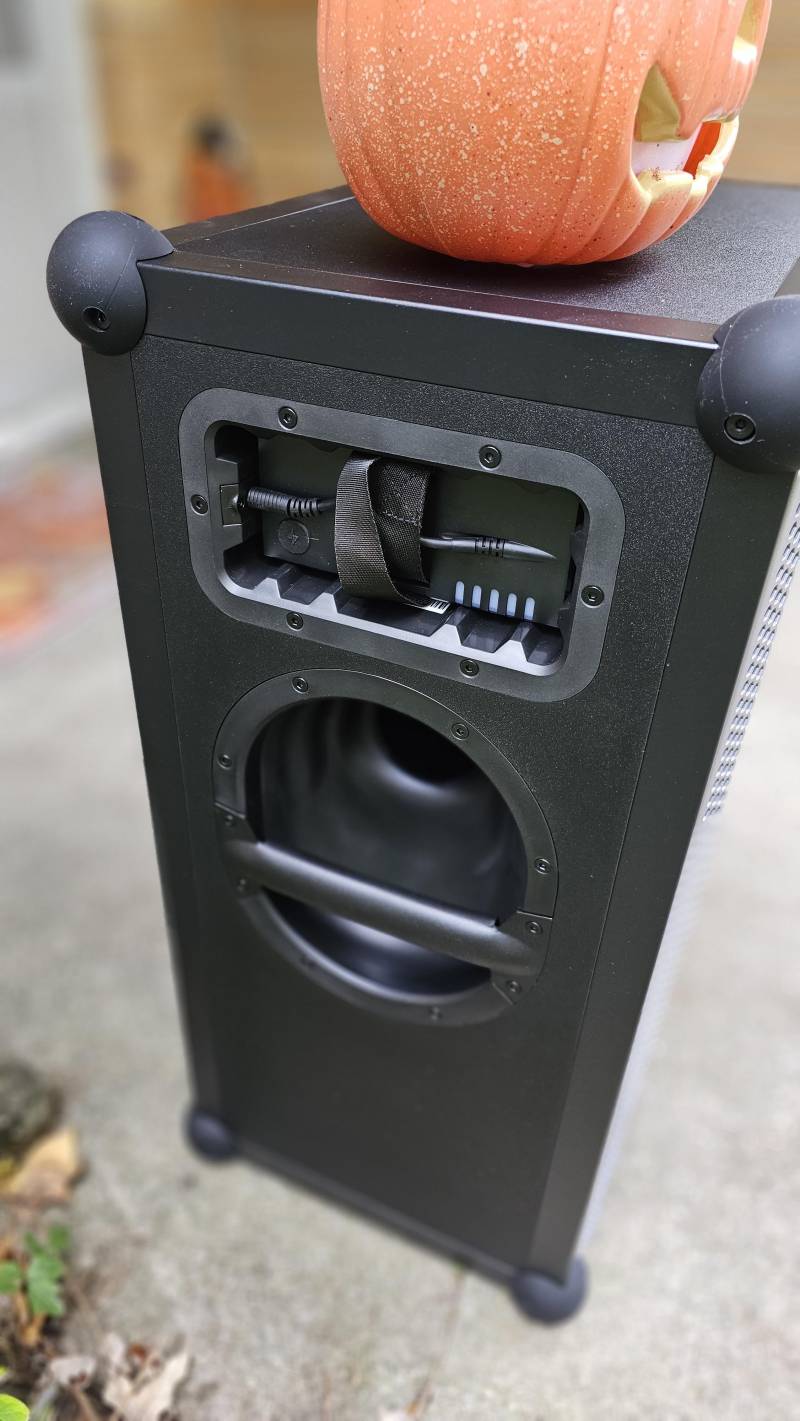 Setup Is Simple
Setup of the Soundboks 4 is very simple - it is set to be discovered for pairing and I was up and running in just a few minutes streaming music from my phone (it also supports wired connection in the Pro Panel - 2x XLR/6.35mm, 1x 3.5mm output and 1x 3.5mm input). While I will probably exclusively use it in SOLO Mode, you can also connect it to four other Soundboks speakers for even bigger sound.
There is also an app that you can use on your phone to tweak the sound and other features.
Picking it up and moving around was easier than expected too since it is surprisingly light and the handles make it easy to move even for older guys that might be past their prime in terms of strength.
I really liked the little touches here. For instance, it would have been easy to just have a plain black knob for the volume but this one features a bright series of LEDs that indicate the volume level as you turn it. Along with that, it has a easy to press power button that you don't even have to lean over to use.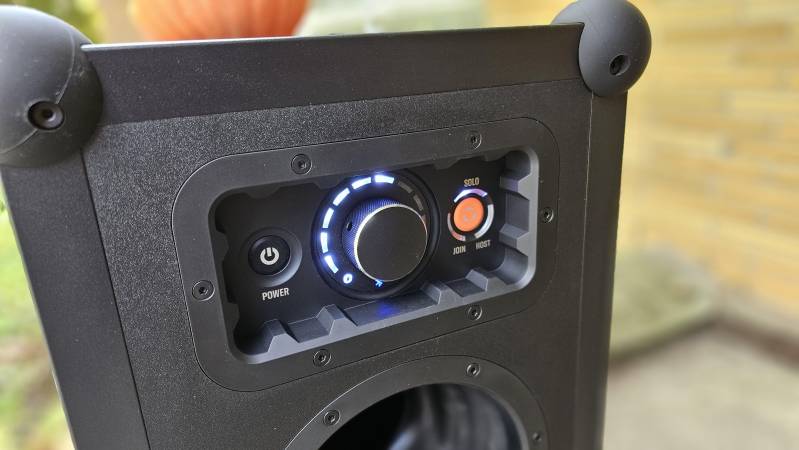 This Soundboks really was a surprising product review for me since I went into it thinking "what do I need a speaker like this for?" but as I used it more and began to discover just how well designed it was, tons of ideas began to flood my brain.
You can pick up your own Soundboks 4 over on their website, prices start at $999 and they also have previous generation models in for a discount, along with accessories such as extra battery packs and even a backpack brace so you can walk around with this thing on your back.