A trip to a salon might seem like a strange idea for a guys weekend activity but that's just what we did recently at the newly opened 18/8 Fine Men's Salon in North County San Diego and it was a blast! If the idea of doing something to make yourself look and feel good seems like something more for the girls than the guys, you should think again.
Years ago, the concept of the "metrosexual" was talked about, but today it's just something that a lot of guys enjoy without worrying about labels. As such, entrepreneurs are starting to create specific locations that cater to guys with an environment that is for the average guy. While there are GREAT places like Grooming Lounge in DC and SIR Spa in Chicago, I haven't found a mass-market product with locations across the country that was designed to pamper guys with not just a great haircut, shave, or facial but a chance to relax before hand while sipping a beer and watching the game.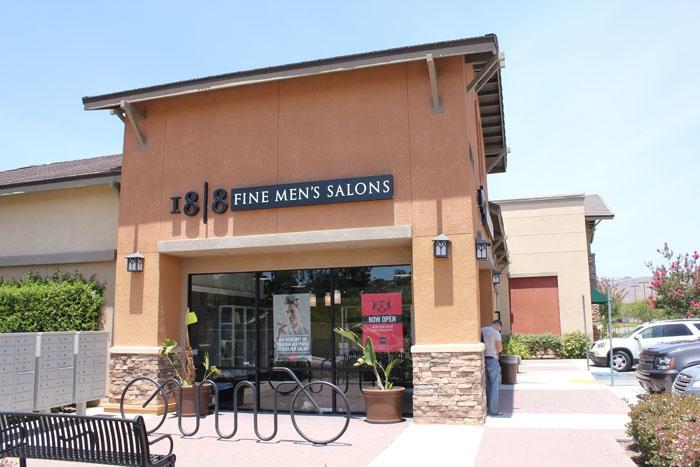 The guys from 18/8 Salon contacted us and invited me and some of my friends up to check out their newest location in North County San Diego.
Each of us had a chance to pick services from their menu that includes Haircuts, Face Treatments, Scalp Treatments, Hand Treatments, Shaves (with a professionally trained barber offering straight razor shaves!), Waxing, and Coloring. It isn't exactly a full "day spa" though our Face and Scalp Treatments did include massages and robes to wear while being taken care of.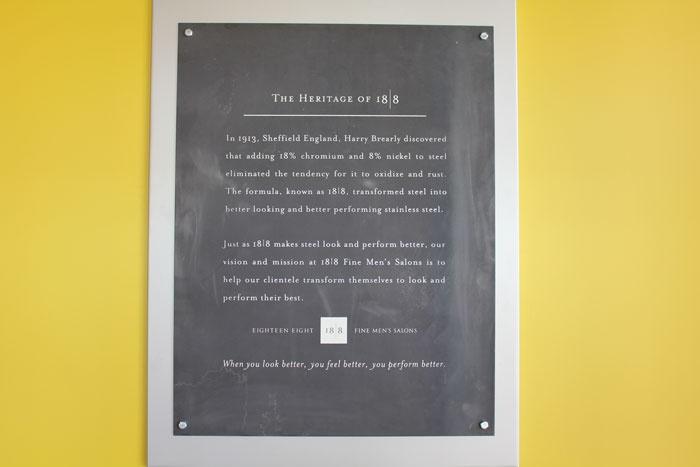 One of our first questions was "What does 18/8 Stand For?" Our host shared with us that it is actually the formula for stainless steel - 18% chromium and 8% nickel.
That stainless steel design element was carried through the salon, making for a very manly but not cliched environment.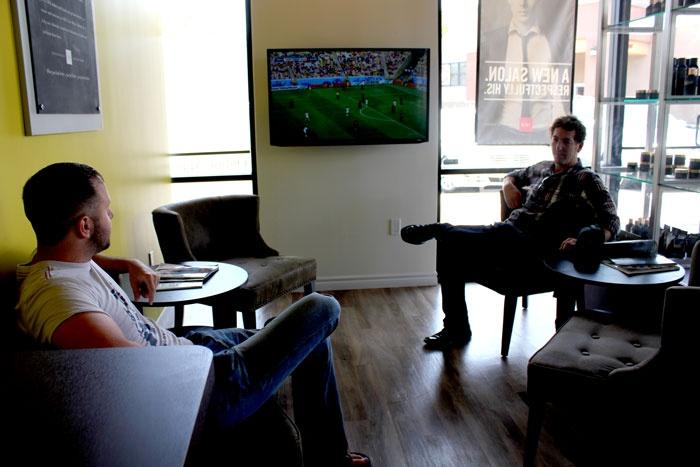 The difference between a visit to 18/8 and your typical hair salon became obvious when we were offered a beer or soda to drink while in the waiting room (and then take back with us during the treatment).
While free beer is always great and I do enjoy Shocktop, I was disappointed that a San Diego men's salon wouldn't have a great San Diego craft brew on tap instead of something so mass market. Regardless though, it was tasty and Steve, Patrick and I enjoyed it while watching some of the World Cup.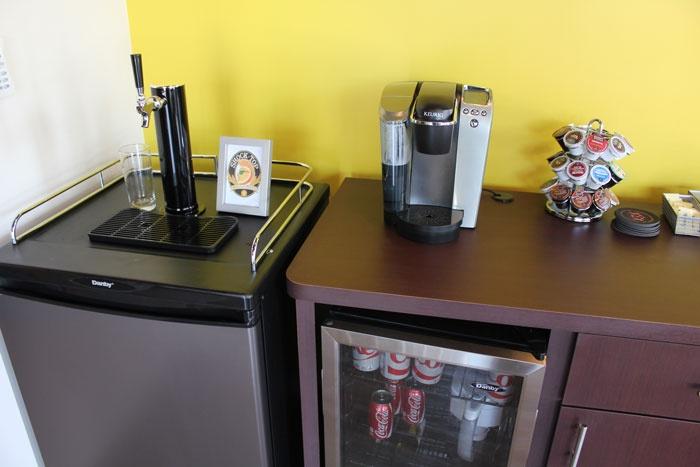 The next step was to head back to the changing room where we each donned robes like at a spa and then went to what is probably the most bad-ass barber chair I have ever seen. I am a big guy and so some of the chairs I have sat in at different salons sort of wobble when I sit down, but this was rock solid and made me feel more that I was in command of the Starship Enterprise than about to be pampered :)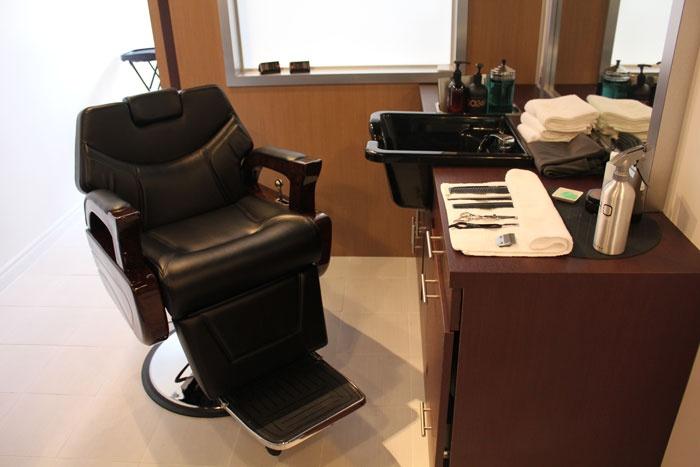 Each of us started with a haircut and then I had a scalp treatment while the other guys enjoyed facials. The package for each of us was about $85 (plus tip).
My ScalpMetics Package featured an "Executive" Haircut, hot towel treatment, neck and shoulder massage and a ScalpMetics Treatment that included a scalp massage.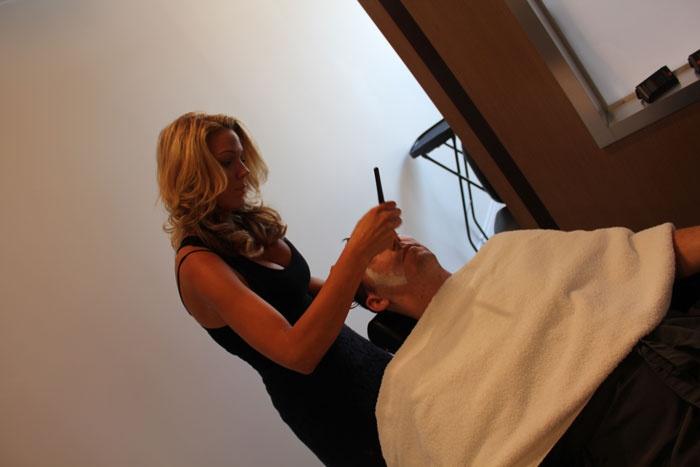 Patrick and Steve both chose the face treatment package that also started with the "Executive" haircut, hot towel, Scalp, neck, and shoulder massage but then the SkinMetics Facial treatment.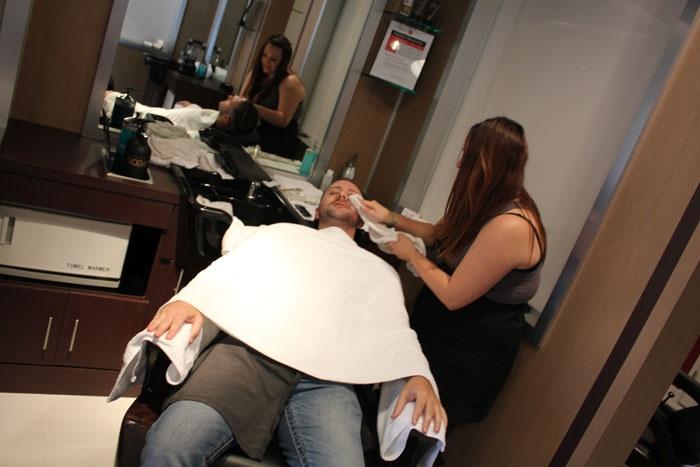 The three of us spanned the gamut of "Spa Regular" (Patrick) "Familiar with Spas but not a Regular" (Me) and then "Not a Spa Guy" (Steve). Though we spanned the gamut, each of us had a blast being treated special and we all felt great after our treatments. However, for someone looking for a more "serious" spa experience I'd look for a "men's spa" vs a "men's salon".
Also, one of the quirks was that they pride themselves on is that they do haircuts using an electric razor but don't use a guard (presumably because that is too "barber-like". However, my feeling is that sometimes this is something that should be considered. Specifically, I always use a #2 guard all around and that makes things very easy. To do a short cut like this by hand is fairly difficult and made unnecessarily so by not using the guard. As a result my cut was not as good as I have come to expect from my normal salon. However, Patrick who has longer hair had a great experience.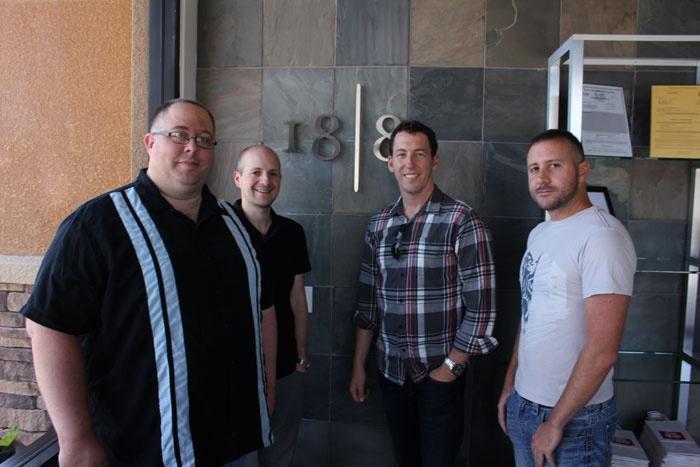 At the end of the day, this was a fun experience that is approachable for the guy who might be looking for an opportunity to start exploring the world of spas and treatments beyond what the local barber can offer but is good enough that the veteran also felt satisfied. This isn't a day spa though, so if you are looking for a massage or a facial as the core treatments vs part of a package that is built off a haircut then you should maybe look somewhere else.
However, for those of us looking for a fun way to spend an afternoon with the guys as the prelude to going out to a concert or maybe after a round of golf this is a great idea that should be considered as part of your plans since it is fun, affordable and approachable across a variety of different comfort and experience levels. It would also be a great way to bond with the guys as part of a bachelor party as well!
While each location is independently owned and operated as a franchise, the company has locations across the country including California, Colorado, Georgia, Minnesota, Missouri, Nebraska, New Mexico, New York, and Texas so it is likely there is a location near you.
For more information about the location we visited, click here.