While most first time dads are in their 20's and 30's - I find that many of my older friends are becoming dads for the first time well into their 40's and even 50's. While these guys need the same help and inspiration as younger fathers, often they are out of place in new dad communities and forums. One topic that is very important is what clothing to pick out for their baby boys, so with some help from a couple of readers, we've put this guide together to help you new dads out there!
Parents of baby boys have an incredible range of models, colors, and fabrics to choose from. Designers of baby clothes are coming up with fresh looks all the time. However, style is not the only factor that determines the most suitable clothing for young gentlemen. The outfit should also be comfortable to wear and change. Here several crucial criteria to remember.
There are shark hoodies, jazz hats, dino sets, and even windbreaker jackets. Just look at the choice of boys toddlers clothes on https://thetrendytoddlers.com/pages/toddler-boy-clothes, which is guaranteed to impress. The range of accessories is also broad. Hence, you can mix and match the items according to your taste. Just be sure to follow these tips.
Baby's Have Unique Needs Beyond Just "Kids Clothes"
A first-time dad might simply think that anything that fits is a good choice and the cuter the better. However, baby clothes aren't just clothes for small kids. There are a lot of factors that need to be taken into consideration.
Baby-friendly Fabrics
Any synthetic fabrics, especially those which have been heavily dyed, should be avoided. Unnatural materials may not only irritate sensitive baby skin. They are also known to cause or worsen allergy reactions.
Organic cotton is still the ultimate favorite due to its softness and absorbent properties. It is grown without chemicals and does not cause skin irritation. Other approved materials include Bamboo Rayon, Jersey Knit, Argyle Block, and Minky. Fleece is a wonderful choice for outdoor garments, as it is soft and water-resistant. If your boy gets dirty while playing outside, washing is no challenge.
Make Sure It Fits
When it comes to size charts, make choices based on the actual dimensions. Parents who pick outfits based on age risk buying unwearable items. It is vital to remember that different manufacturers follow different sizing systems. Another reliable measure is the weight or your little gentleman.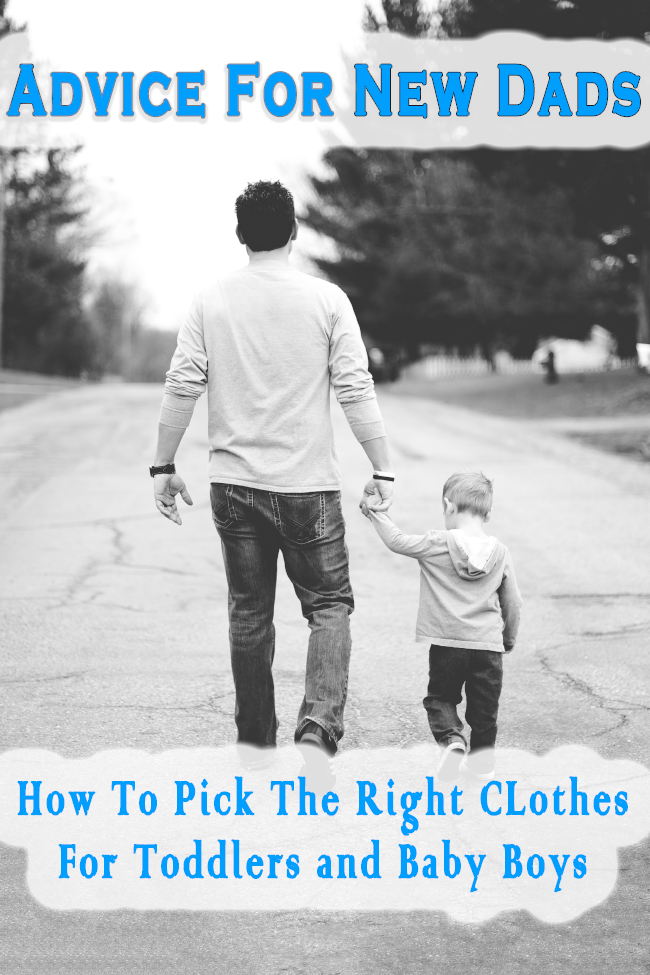 It's Always Fun To Dress Like Dad - But Don't Over Do It
While we can all agree that kids that are dressed like dad are adorable, the concept gets old fast. Reserve this for the occasional family outing, family photo time, and holidays where you want to attract every bit of love and attention that you can for your new baby boy.
Dressing Should Be Easy
Some elements facilitate dressing. These include snaps at the neck, zippers, and snaps at the front, loose sleeves, and any easy openings in the crotch area. Make sure diaper changing will not be hindered by the clothes.
Avoid Risky Decoration
Boys' clothes usually have fewer decorative elements than an outfit for girls, but you may still see buttons or ties. Any small pieces, such as decorative bows, are a choking hazard. It is also recommended you steer clear of any models with long ties. Any decorations must be sewn tightly.
Fire Safety is No Joke
Pick fire-retardant outfits for sleep. Check the labels for washing instructions. There may be specific guidelines to avoid washing away of the retardant. This means any used items are unreliable, as you can never be sure they have been washed properly.
Looking for a Bargain?
There are many ways to dress up your boy less expensively. From seasonal retail discounts to old-school yard sales, the opportunities are real. Brand-new items cost at least 30% less at the end of each season, so keep a close eye on your favorite stores' markdown schedules. As long as you make sure the clothing is comfortable and safe to wear, saving a few dollars is reasonable. If items are used, make sure there are no holes or stains.