All too often we don't think about the importance of proper footwear until our feet hurt. Otherwise, our concern typically revolves around fashion. As we get older though, we start to realize that it is better to keep our feet in good condition rather than going with shoes that might look great … but lack stability, comfort, and quality. That's what I love about OrthoFeet and why I'm excited to continue working with them to share my experience wearing their shoes - including during our adventure last month while moving boxes into our new condo.
At this point, I have almost as many shoes and flip flops as Imelda Marcos and quite frankly - most of them are pretty good quality. However, one thing they almost all miss for me is stability. OrthoFeet shoes come with inserts to help customize the fit and they also feature sizes other than the standard medium that you'll find from most sneaker companies.
For me, since my left foot tends to swell to the point where I generally need a size larger, this means that I can buy the proper length and just tighten my right foot a bit more. The result is that unlike with other shoes, I'm not sliding around. This is extremely important while walking across an uneven surface carrying heavy boxes!
That's just one example though, OrthoFeet shoes are designed to help alleviate and support 20+ mobility and foot conditions including Plantar Fasciitis, Heel and Foot pain, bunions, corns, calluses, and neuroma, and products for individuals with diabetes, arthritis, and Neuropathy.
The brand is also doctor recommended with 125k 5-star reviews.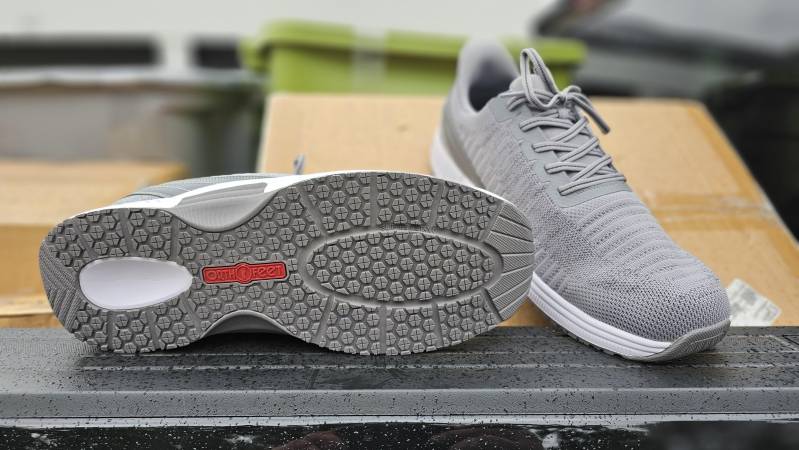 What Makes OrthoFeet Hands-Free Shoes Special?
There are three main things that make me love these shoes: the Premium Orthotic Insoles, Slip Resistant Sole, and the Wide Variety of Sizes.
Premium Orthotic Insoles:
Great shoes start with a solid foundation and in this case there's the inside and the outside. While you can buy orthotic insoles to add to most shoes, these come specially designed to offer a perfect fit and include an anti-microbial fabric and foam base as well as soft heel to offer pain relief and a very supportive arch as well.
Slip Resistant Sole:
It is hard to describe the sole here since there are so many different designs out there and each one is made for a different purpose. The reality for me though is that cross trainers, tennis shoes, and other sport shoes are made for more athletic pursuits and generally I feel like hands-free "slip ons" look at the tread as an afterthought … OrthoFeet truly delivers a great sole for walking.
The sole is not too stiff to be uncomfortable but also not overly soft to be sloppy. It just works well for casual walking whether that's carrying boxes or making trips to the store or traveling.
Sizes:
With sizes in the Yari Hands-Free sneaker that I tested out this time that range from 7 to 14 and Standard D (medium) to Wide (2E) and even Extra Wide (4E), the vast majority of men are guaranteed to find a pair that will fit them perfectly.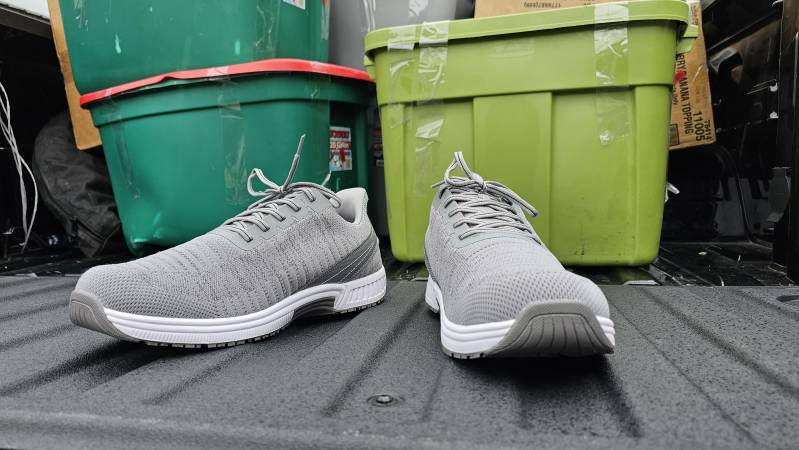 They Also Just Look Great!
This category of "Slip On" shoes have somewhat of a bad reputation in terms of look too but this is not true with OrthoFeet either. For instance, I have a generic pair of black slip-ons that I bought earlier this year as a temporary solution since I traveled unexpectedly from a conference to take care of Jim and I needed something other than my leather deck shoes. What I got though from a mass retailer was cheaply made and completely lacking in style.
Here though, you'll notice touches like laces that look "real" and ribbed as well as stitched accents that add visual flair to the shoes while I suspect (at least in the case of the heel band), also offer extra support when walking.
I appreciate that since I don't want to look like I'm wearing a pair of cheap shoes. Thankfully, at $134.95 (MSRP $155.00) the look, feel, and quality come together at a perfect point to offer buyers a great value for their money.
The only thing I don't like about OrthoFeet is the name, they sound like boring orthotic shoes made for old people but thankfully that's not true. If you were standing next to me and glanced at my shoes, you'd never notice that they were something special. They simply look like very attractive sneakers or cross trainers.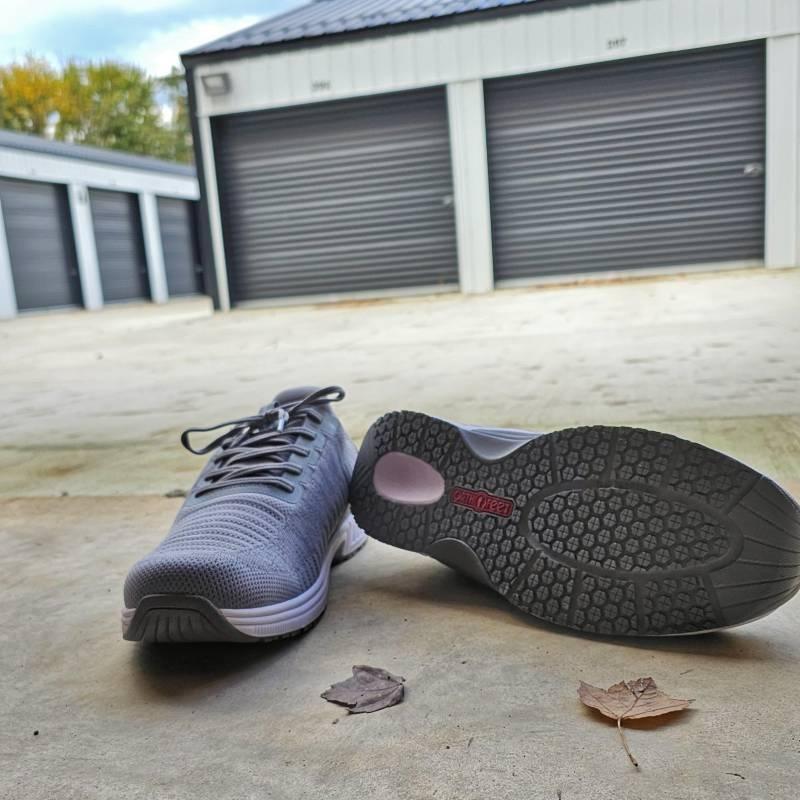 Everyone needs to make their own decisions but if you are looking for a great looking pair of comfortable, well-made, great fitting shoes is important to you then you gotta check out these Yari Hands-Free shoes from OrthoFeet. They were truly and "ankle saver" during our move since I didn't have any problems walking across a variety of terrain with the boxes and then slipping them on and off once inside.
You can find more information about them on the OrthoFeet website by clicking here.