A great pair of winter boots is about more than simply keeping your feet warm. With the exception of purely utilitarian work boots, footwear in winter is essential for maintaining traction and stability while also looking good. Those aren't always compatible objectives but we've taken a look at five different pairs of winter boots and put together our advice so that you can pick the perfect pair of boots this year.
Legendary Shoe Designer Javier Suarez Shares His Thoughts on Chill Boots For Men
While attending college in New York City, my cold-weather footwear didn't muster Park Avenue, much less Avenue C where I lived. As long as my unwieldy construction gear kept my feet warm and dry during winter, my extremities found contentment. However, my schoolmates squished through our school's storied halls in their fashion-forward tennis shoes on the way to class. I shivered at the thought of their Puma-clad tootsies falling off with every soggy, frostbitten step.
Once I graduated, the need to find a job even in below freezing temps outweighed wingtips. I trudged in the Timberlands, changing to dry and respectable in the lobby carried in my backpack. Even during the iciest part of the cold season, you want to put your best foot forward without skimping on great looks. What do you wear jumping over tundra-like, salt-infested puddles on every Manhattan corner? What type of sole provides the best non-slip resistance on a veil of thin ice, so you aren't part of the sidewalk? In an ideal world, the perfect pair of boots combines waterproofing, warmth, and hold-me-up soles. Although we are still homebound by the pandemic, sartorial men still want beautiful design while offering seasonal comfort, even to walk Fido or get a breath of Arctic air.
We reached out to Javier Suarez, the former head of footwear design at Salvatore Ferragamo, now the creative director of footwear at Paul Stuart, about what to look for in cold weather trotters. He suggests, "Any rubber material with sufficient grip design is a must. Beware of too lightweight rubber materials with low treads. (These) can be slippery on wet surfaces. Go for a thicker sole and higher off the ground profile that is appropriate for the occasion." From the man who clearly knows a guy and his shoe, excellent advice, but will I still look good is the question.
"Never wear your trousers tucked into the shaft of the boot unless you are going for some kind of fashion statement or a getup look," says the legendary designer, "and you will be great."
He also mentioned that top-quality leather and suede stand-up to a fair amount of moisture. These materials get treated for water resistance during the manufacturing process. However, the veteran craftsman states that all good footwear needs care from being winter-soaked. He recommends letting your hoof covers naturally air dry with shoe trees inserted. In other words, don't use the blower dryer or put the oven on low. "It will crack animal hide skin," he says. "Just like your epidermis."
With all these tips, you're primed to go trekking the blustery avenues of Denver or hike the frostbitten urban canyons of Toronto while feeling like a million.
Our Picks For Best Winter Boots For Men
Winter boots are footwear with purpose, so here are our picks for different kinds of needs ...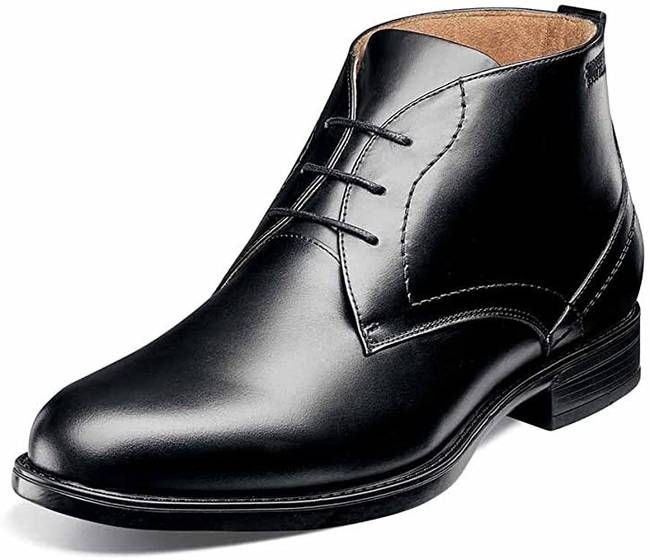 The Wall Street-er: Midtown Plain Toe Chukka Boot by Florsheim
Since 1892, Chicago-born Florsheim has long been one of the best quality shoemakers ranging from dress to rugged footwear. Their Waterproof Midtown Plain Toe Chukka Boot showcases an excellent combination of both. The review pair we received allowed us to jump a couple of puddles while landing in some as well. (We would never make the Olympics.) We tested them for twelve hours walking through waterlogged parking lots, alleys, and city landscapes. The gusseted tongues kept our feet dry without letting in any moisture. The profile offers a race-car shape, sleek and modern, while the interior features cushioned foam insoles. The rubber soles and waterproof leather can take a gentleman from the day's business meetings to whatever the evening's nightlife brings. No guy can go wrong wearing this boot. It's perfect for the cosmopolitan dresser. Retail: $125. Two colors: Black and cognac.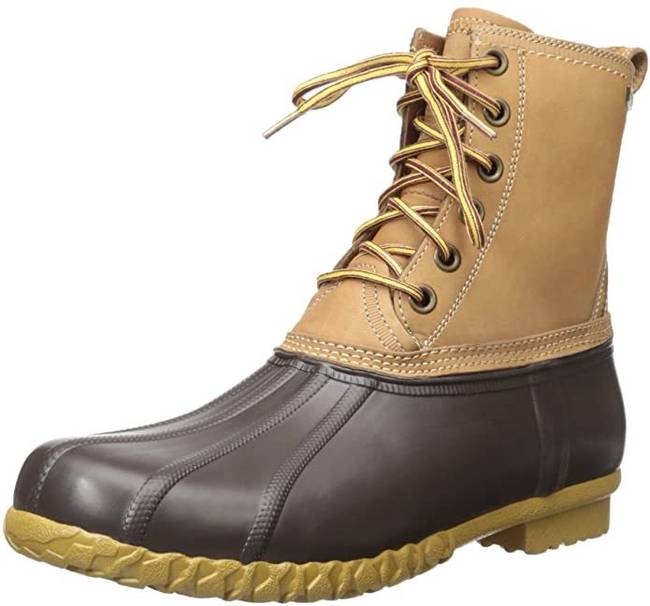 Martini-Hunting Boots: Bass "Duck Boots"
G.H. Bass & Company, known for their penny loafers and prep school looks, did not originate the duck boot also known as the "bean boot." It started with their Maine competitor L.L. Bean. As the story goes, founder Leon Leonwood Bean returned from a hunting trip with soggy feet. He married the sturdy materials of leather and rubber in a boot. However, G.H. Bass delights customers' piggly-wigglys with awesome luxury products and has for the past century, and we decided to try a pair of these reliable mixed material wearables instead of the creator. Truthfully, these Bass "Duck Boots" have quickly become one of our favorite pieces of gear. We found these to be indispensable for the onslaught of freezing temperatures. The thick, gusseted tongue runs from the toe cap to the end of the top eyelet. Twelve inches of snow isn't penetrating your rubberized foot-ress. Pair these puppies with Harris tweed slacks or heavy woolen black pants, and someone might mistake you for Sean Connery, all debonair and shit. The retail price for classic duck boots starts at $84.99. Five colors, including black and brown.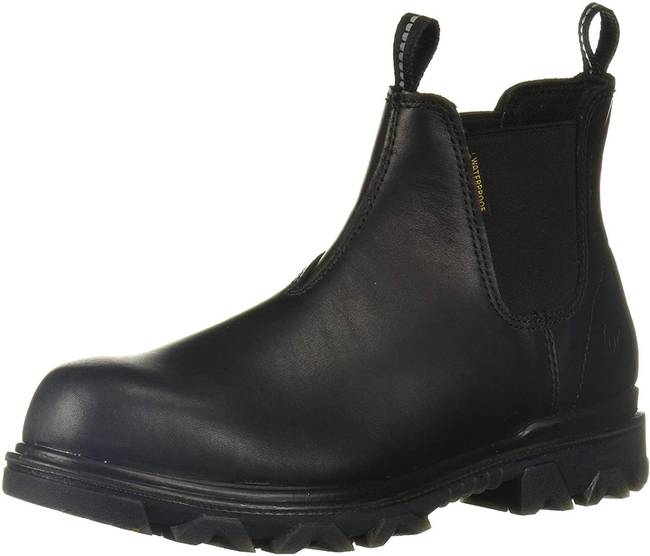 Boardroom Rough and Street Ready: I-90 EPX Romeo Carbonmax Boot by Wolverine
Beatles boots, Australian workboots, and side-gusset shoes are all a form of the Chelsea boot. And Wolverine, the Michigan-based construction work shoe company, laid down the I-90 EPX Romeo Carbonmax Boot, their American version, named after the longest highway in the United States. The aptly named foot cover shows a masculine yet fashion-forward exterior with side panels to grip the ankles. A sturdy, waterproofed specimen features a lug sole that the manufacturer says is three times more resistant to sharp debris and rocks. It also has a removable, anti-fatigue footbed. The full-grain leather upper creates a luxurious look for heading from the office to an upscale steakhouse or downtown brewhouse. Don these babies, and people will dance from the beginning of the Interstate 90 in Boston to the Seattle-located end. Retail: $130. Available in black and brown.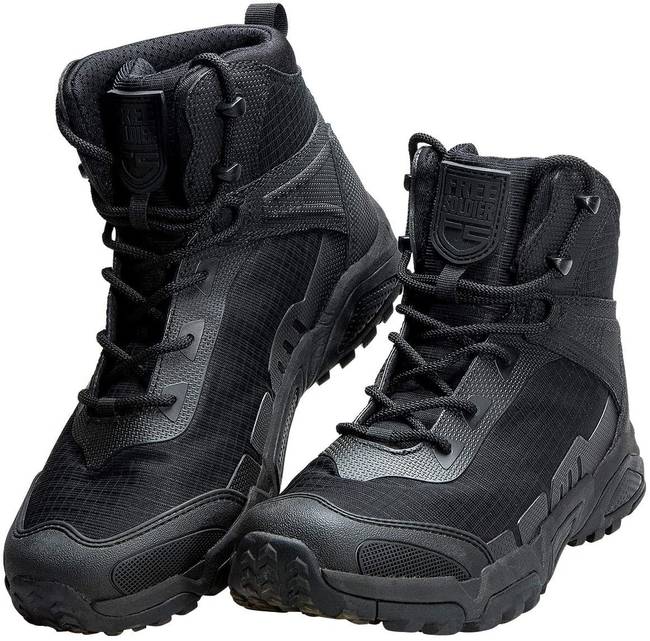 Practical and Tactical: Free Soldier's Combat Boots
Every guy harbors a small desire to be the flannel-wearing lumberjack chopping down the massive tree or the soldier trotting off on a rescue mission. After all, we all want to save the world. Free Soldier's Combat Boots may not have us trudging through bullet-torn countries on humanitarian missions, but they will save our feet from certain frostbite even if it's walking to the mailbox and back. Waterproofed and with the all-important gusseted tongue, the toe cap and heel provide against outer shock, such as stubbing your toe. The boots collar offers support with a soft, breathable Lycra material and durable lacing for quick removal. The all-weather purpose item provides a lightweight style to the bulky hiking, walking and sports shoes we've grown accustomed to wearing. Pair up with a heavyweight khaki pant or a suit and you will be looking fashion-forward. Retail: $63.99. Available in sand and black.

Rapper's Delight Root Rest: Timberland's Earthkeepers Original 6" Boot
According to the Timberland website, the Abington Show Company in New Hampshire crafted their legendary paw products in 1973 using an "innovative injection molding technique." Importantly, the "yellow" boots presented a waterproofing against the elements not previously found in the industry. They called Timberland's Earthkeepers Original 6" Boot the "Timberland." Quickly, these iconic kickers became synonymous with cold-weather gear in rural and urban settings representing the working-class. From construction workers to rappers, these tread-makers defined the company so much that they changed the name to Timberland in 1978. Their brand, Earthkeepers, features fabric linings made from recycled plastic bottles as well as lug soles made from 15% recycled rubber. These pups make saving the world high-fashion while keeping out the snow. Retail: $160.00. Available in burnished brown or wheat lite.
Whichever of our top winter boots for men that you pick to keep your feet looking good this year, just remember Javier's timeless advice ...
"Never wear your trousers tucked into the shaft of the boot unless you are going for some kind of fashion statement or a getup look!"