As you drive on I-15 from Las Vegas to Southern California, you will find a cluster of hotels, a "fashion outlet" and a California Lottery store. Each time I drive by, I've wondered what they were like but I've never actually stopped till this past weekend. Frankly, I'm still not sure why people would stop there instead of going all the way into Vegas or back home to Los Angles, Orange County, or San Diego. Despite that, here's what we found inside :)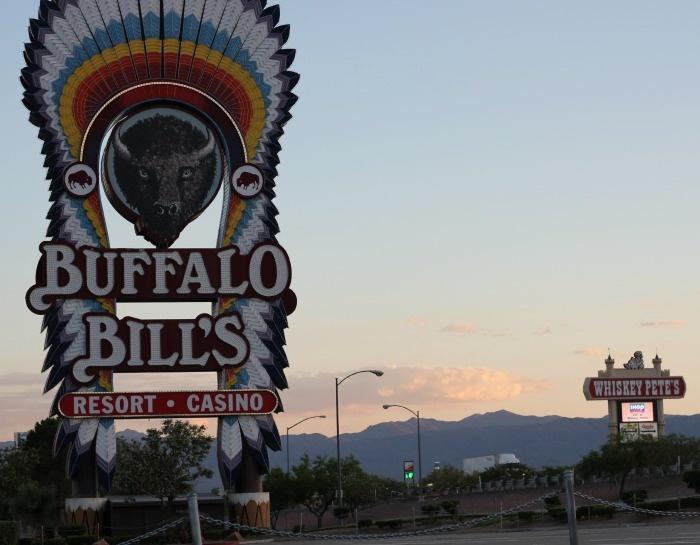 Buffalo Bill's is actually one of three casino resorts found in Primm Valley Resorts. The other two are Whiskey Pete's and Primm Valley Resort (you can see it below with the red roof).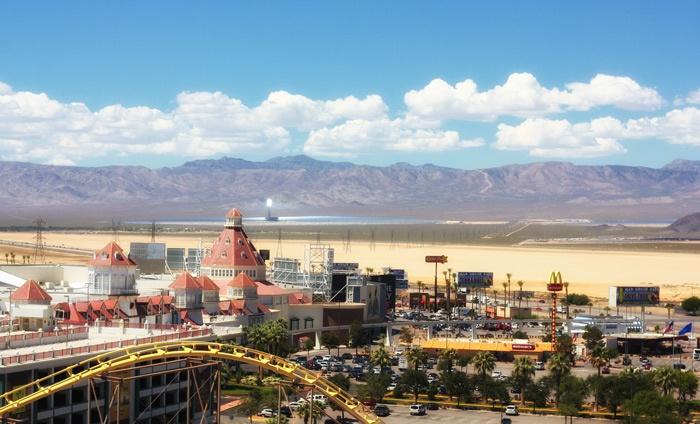 These three resorts, plus the Fashion Outlets are located just over the Nevada border and it makes a great stop if you need gas or a bio break as there is a Carl's Jr, McDonald's, Mad Greek, Taco Bell, KFC, Subway, and Dairy Queen available between the two sides of the road. If you have kids, I suppose this might be a good place to stop as well since there is a roller coaster and flume ride at Buffalo Bills (both were off when we visited though).
Also, if you are a fan of solar energy, it is located right next to the Ivanpah Solar Energy Farm, the world's largest solar energy plant.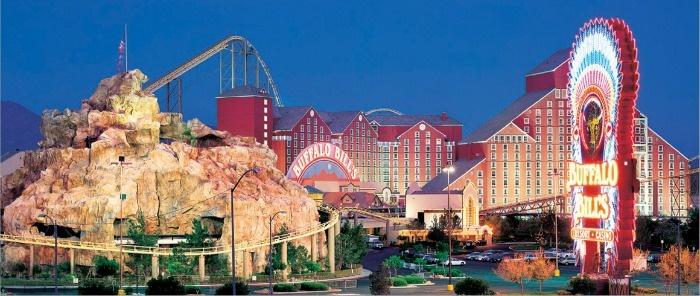 Buffalo Bill's Resort is probably the most active of the properties and features a giant roller coaster as well as two mine-shaft shaped hotel towers.
Of the three properties, it is the only one that is pet friendly.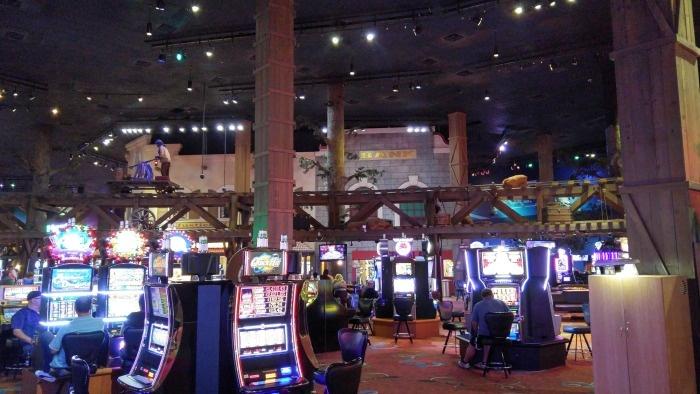 Inside, the western theme continues, but a thursday night in the summer is NOT the time to visit here as it was completely dead inside but it did feature a cool western theme and a fair number of slot machines and tables.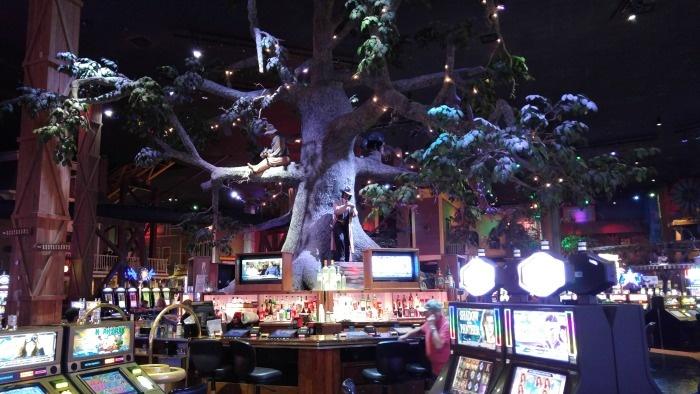 One of the centerpieces was the "Hanging Tree" Bar where presumably you can find Buffalo Bill and various criminals he hung up for cheating, stealing, and other offenses.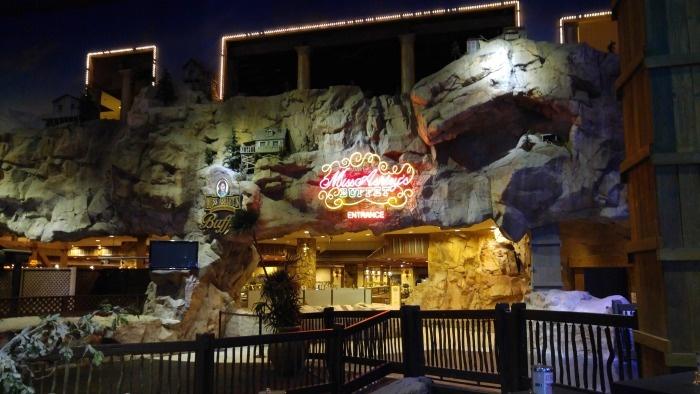 In a rock cave over to one side is Miss Ashley's Buffet, which focuses on home-style cooking and American favorites.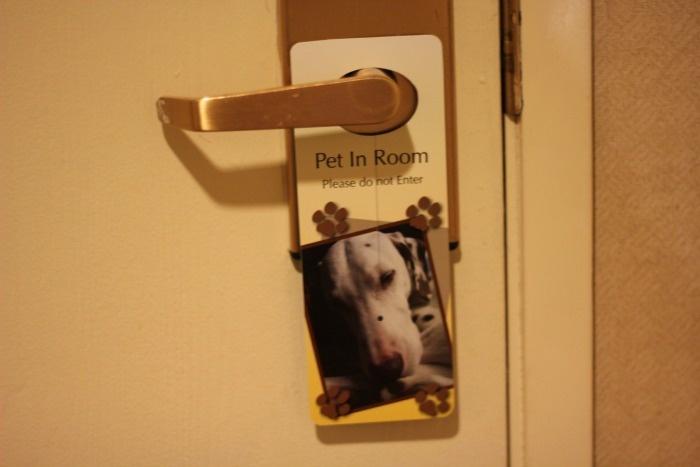 When you make your reservation, you'll need to have a few things in mind ...
1. You can make your reservation online, but you will not be able to if you want a dog friendly room. Instead, you need to call the resort directly to confirm that there are rooms available.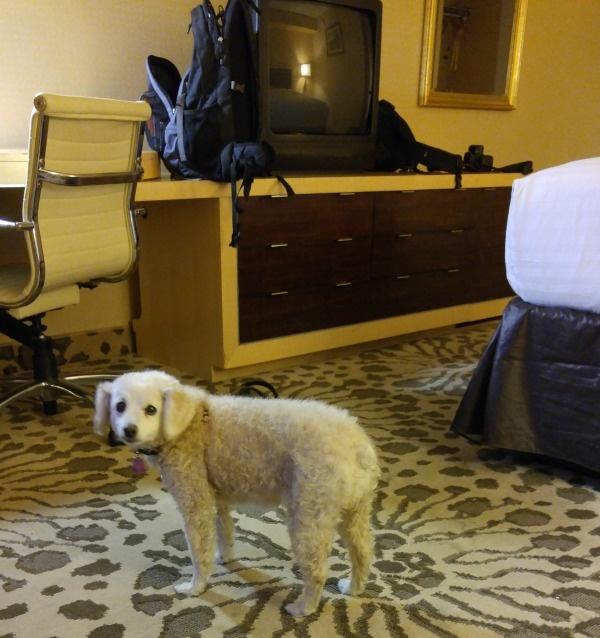 2. Dog friendly rooms are available on the first floor of building "B" (that's the big one in front). These rooms are extremely basic with almost zero amenities (probably the smallest tablet of soap I have ever seen in a hotel ... it wasn't even a mini bar sized). Additionally, I found light bulbs burned out and my desk lamp (flourescent) was about to go out so it flickered pretty badly.
However! The bed was clean, the room smelled fine, and it was safe with convenient access to a grassy area outside. For $50 total (including pet fee, resort fee, and room) that's not a bad option if you want to do a weekend at a casino without having to leave the dog at home.
I would like to think that during a more prime season that things like lightbulbs would have been checked as well.
3. That being said - I did some secret squirrel detective work and snuck into one of the new rooms while the maid wasn't looking. They look GREAT! The CRT television that I had in my room was gone and in its place was a modern HDTV flat panel. Similarly, other amenities had been updated as well, so if you aren't traveling with your dog you will want to make sure you ask for one of the new rooms.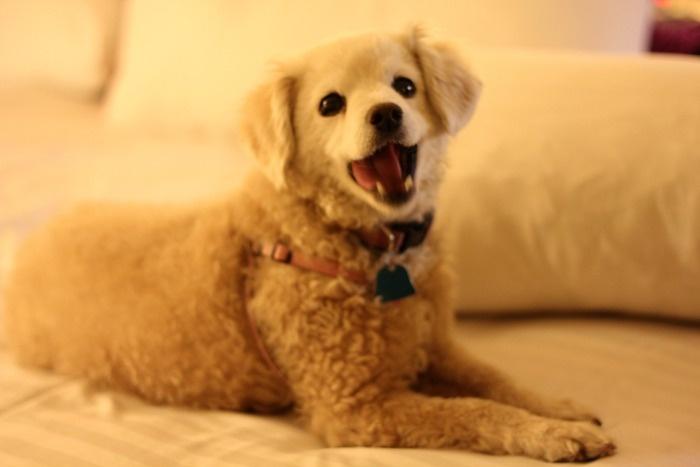 Overall, this was a good stop and a great pet friendly option if you partied too hard in Vegas and just don't want to face the traffic heading home on a Sunday afternoon. It's Niki Belle approved and while it isn't as fancy as the hotels on the strip it probably makes a great choice for families traveling with kids as well.