Prior to last week I hadn't really thought about visiting Temecula - but after two nights at Carter Estate Winery and Resort, I can't wait to go back. Temecula is one of the many wine California wine regions and is located about an hour north of San Diego and two hours south of Los Angeles. It's nestled right in a fabulous part of California that is similar to the Rhone Valley and the Mediterranean. That means you're in for a treat here since it's more than just grapes. You've got olives and a big chef's garden used to prepare meals from over at the Vineyard Rose restaurant at their sister property, South Coast Winery Resort & Spa.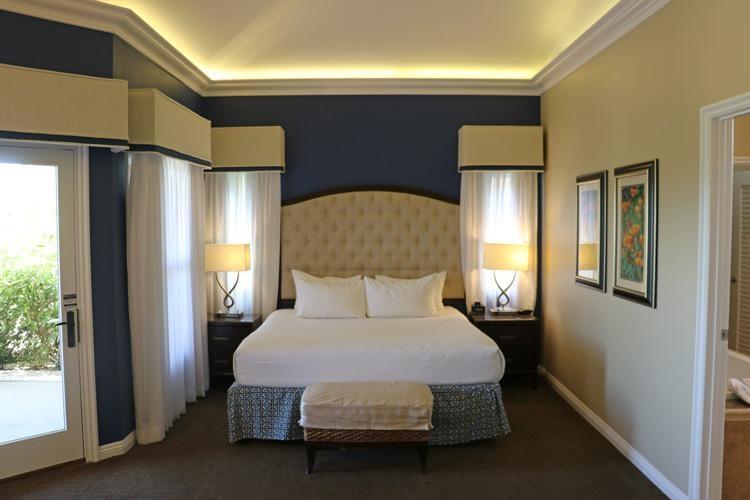 Our room for this stay was a spacious Vineyard Bungalow that included a soaking tub and a giant shower. However, the best feature of the room was right outside our door.
Between LA, OC, Palm Springs, and San Diego there are THOUSANDS of luxury hotels and inns. What makes this special though is that each morning I could step outside my door and feel lie I was looking out over my private vineyard. Actually, each night as well since the stars are so bright here and the air was nice and clean too. It is the perfect spot to sit on the patio with a glass of wine and just enjoy life.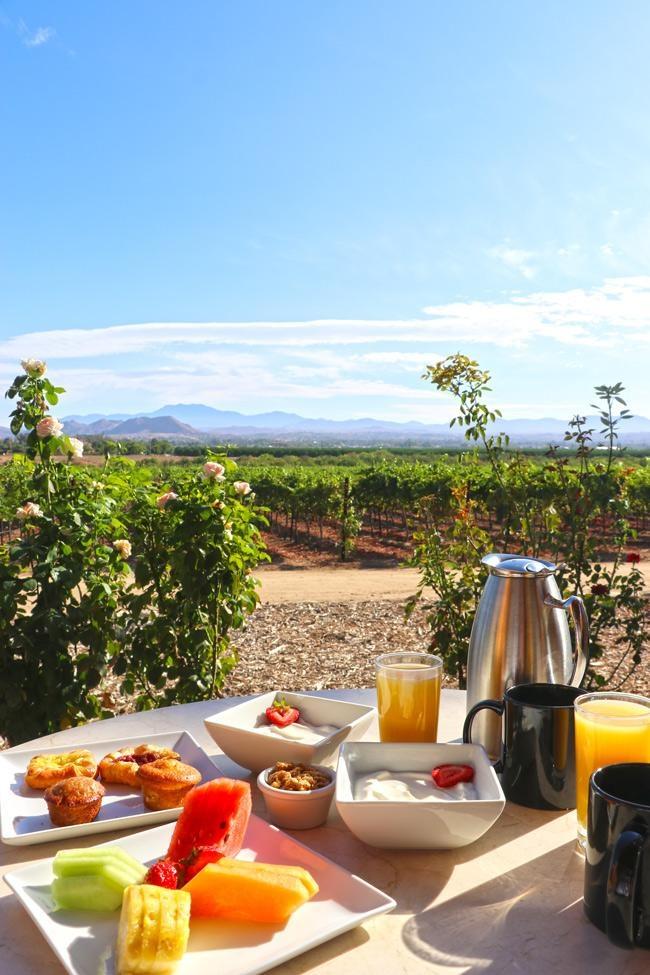 Each morning, room service can deliver a complimentary continental breakfast that includes a selection of fruit, pastries, yogurt, coffee, and juice. It is basic, but the perfect thing to start the day while sitting on your patio.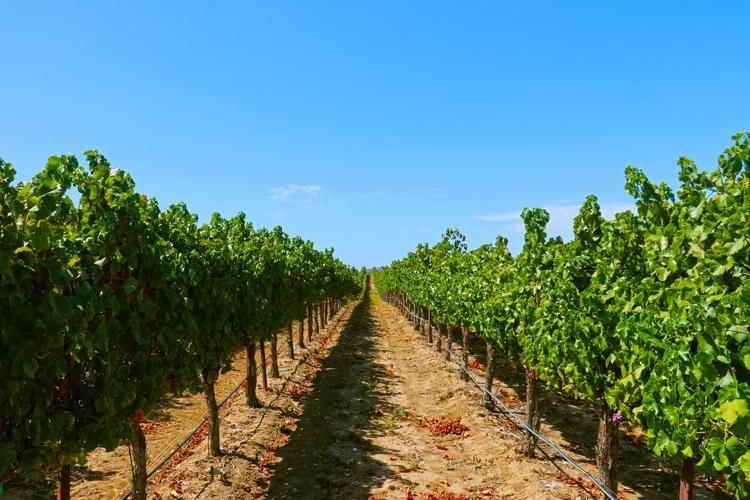 While some "vineyard resorts" I've visited plant the grapes more for show than actual production, here you are genuinely staying in the middle of a real vineyard.
Our stay was entirely focused on wine tasting but there's so much more you can do here including hiking, biking, hot air balloon rides, and there are some off-road trails nearby as well. For those who want to explore but don't want to drive, Carter Estate even rents bikes at the front desk though I'd think the rules for biking under the influence would be the same as driving so watch out on that and be safe!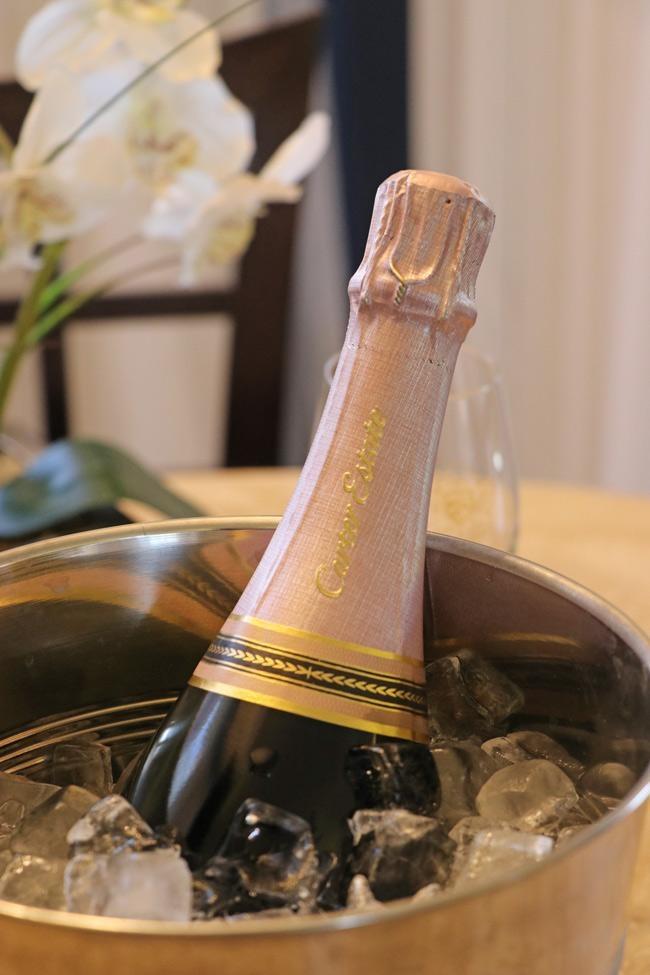 Carter Estate Winery and their sister property, South Coast Winery might share the same owners and management but each one is unique in style and approach to winemaking. For instance, Carter Estate focuses on a more premium and technical process with a focus on "Methode Champenoise" in producing sparkling wine. True Champagne can only be produced in the Champagne region of France but they are using the same bottle fermented process as you'd find there. In fact, Carter Estate is the only winery in Temecula that uses this authentic method.
While most Americans only consider sparkling wine to be Brut or maybe Demi-sec, virtually any wine can be made into a sparkling wine. I found that refreshing because honestly I don't like Brut and generally I don't enjoy champagne or sparkling wines at all since they are too dry.
However, Carter Estate's winemaker introduced me to their Blanc De Noir that is made from Pinot Noir and it is fabulous.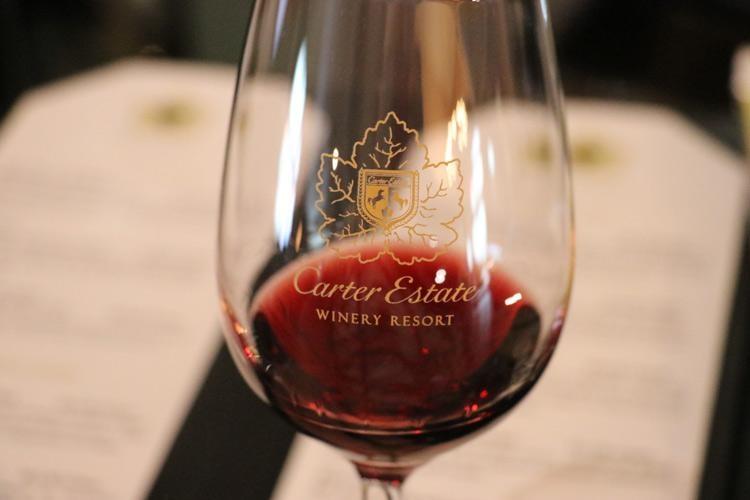 Not everything here is sparkling though. Another highlight from our tasting was Penrose - a red blend named after the famous mathematician and is a blend of Portuguese and French influences that brings together Cabernet Sauvignon and Petite Verdot with 18 months of aging in French oak. It's got a great balance of tannins and acidity and the big bold fruit flavor that I love.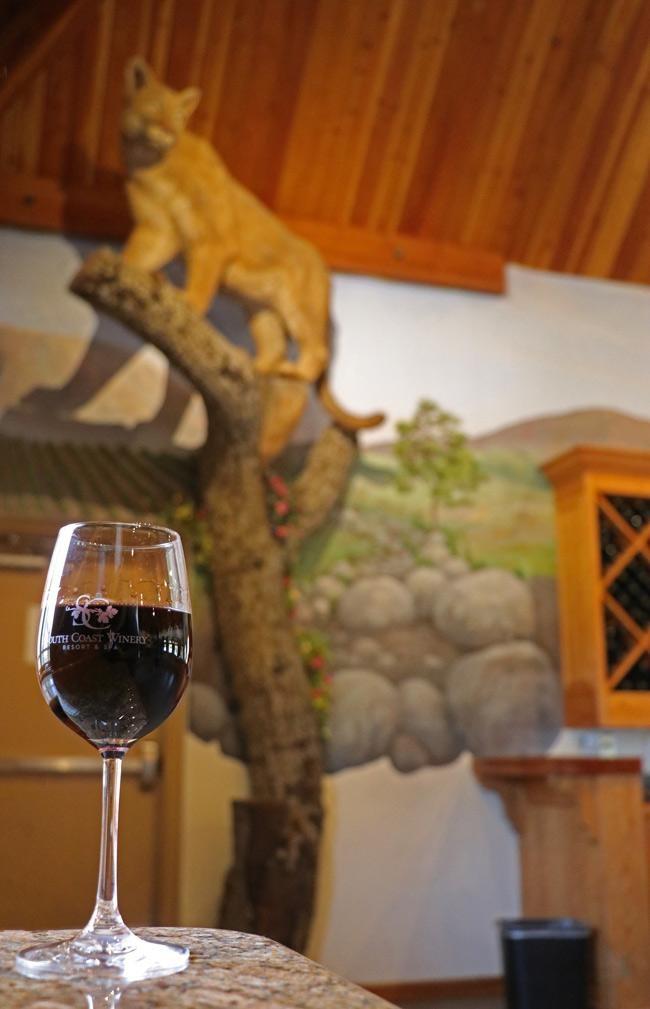 Our next stop was down the road to sample more wine at South Coast Winery. Guests at both resorts can use the complimentary shuttle system so you can avoid driving.
Here, the winemaking theory is completely different. While still focused on delivery exceptional wines - their goal is to keep things accessible and affordable. If you are looking for a place to start your winetasting experience, this is a great place to go. I found the tasting room staff extremely friendly and the wines were very approachable. In fact, this is where I found my new favorite blend - Group Therapy. It's just a great easy drinking wine that at only $25 per bottle you can simply enjoy without a second thought.
That being said, I also absolutely loved their Wild Horse Peak Meritage here but that might have been because I had so much fun drinking it under the watchful eyes of the California Panther that was guarding the room.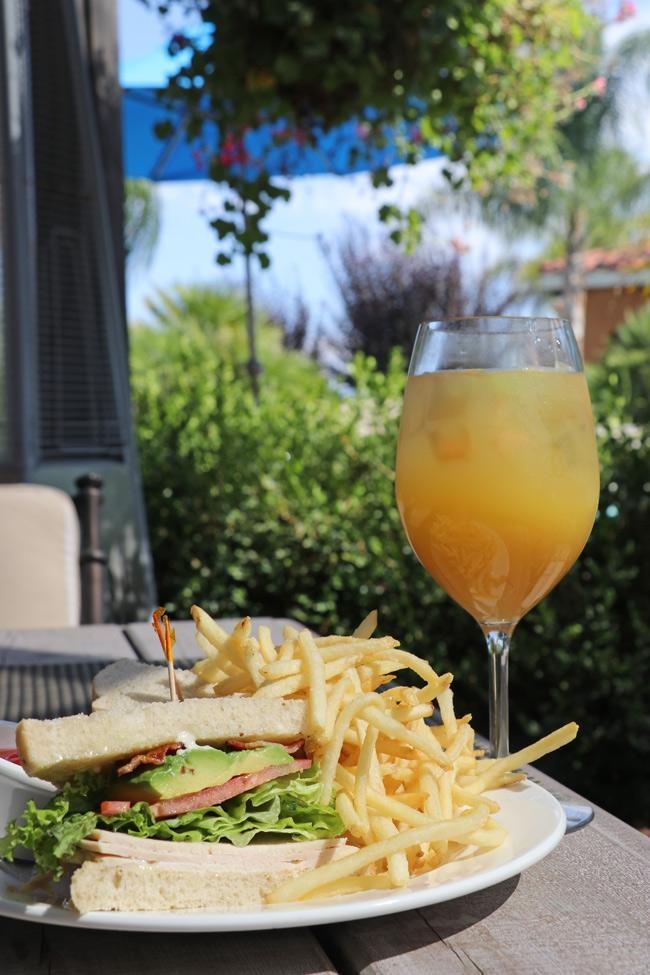 After a long day of wine tasting it was time to get some food and take a rest. So we headed to the pool back at Carter Estate.
The restaurant here is also the same kitchen used for room service so based on our food here and the breakfast each morning, I'd say you'd be able to safely order anything on the menu and enjoy a great lunch or dinner on your patio.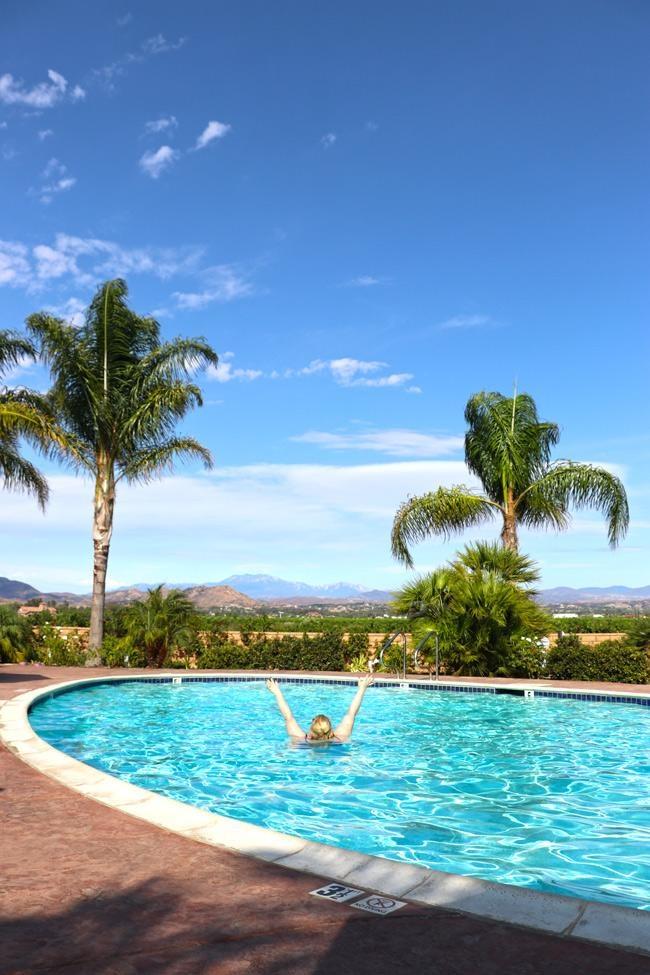 The pool is a relatively small simple round pool but it was the perfect size for the resort and there was plenty of seating as well as several cabanas that you could reserve.
This resort was a perfect romantic getaway for Heather and I. It was partially a "beat the heat" getaway since we have no AC at home but it was also a "take a break and be together" time that we both needed.
Now that I have a better understanding of Temecula and both the wide variety of activities available here as well as frankly the high-quality of wines being produced, I can't wait to go back again soon.