Buellton, California is better known as a wine destination but the more I explore, the more I discover that (unsurprisingly) motorsports and wine go hand in hand. While there are some amazing car collections on estates up and down the California coast, Jack Mendenhall's story is a bit different. Instead of being wealthy gentry, a tech billionaire, or a movie star, he was the owner of Richfield Service Station. After selling the station in the late 70's, he began life as a traveling salesman selling signs, and later began collecting them. Now his incredible collection of signs, cars, automotive artifacts and memorabilia is open to the public to enjoy.
As guests discover while exploring the various garages on the property, Jack - and later his son Mark and his daughter as well - has a passion for not just signs but also all things speed-related. This includes having offered his home as the location for the Land Speed Racing Hall of Fame Ceremonies and in 1991 Mark became a Lifetime Member of the 200 mph club and in 1993 Jack was inducted into the Land Speed Hall of Fame. Not surprisingly, some of the most prominent items you'll find here are related their efforts to achieve those accomplishments.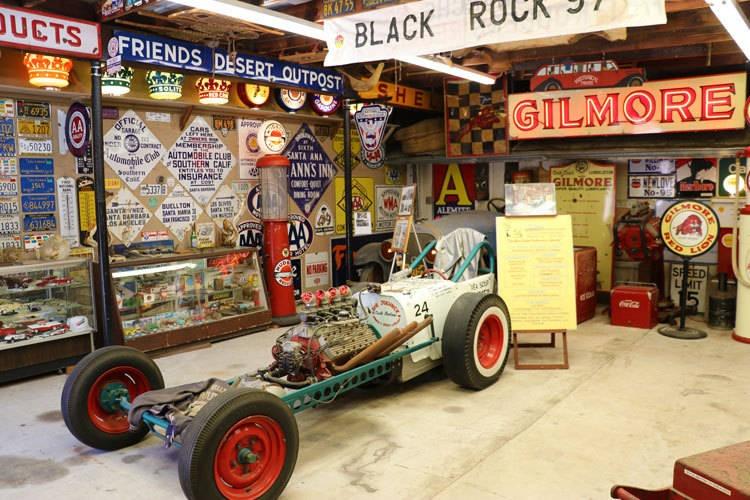 While hard-core racing fans will enjoy a stroll through Mendenhall's Museum, even casual enthusiasts will have a blast here looking at vintage gas pumps, signs, marketing posters, and tons of other items related to an industry that sadly has become all too sanitized today.
Tours are available by appointment only and there is a charge of $15 per person for parties of less than 20 people. To reserve a date and time please contact the museum directly.
Photos of Mendenhall's Museum of Gasoline Pumps and Memorabelia:
{lightgallery type=local path=images/stories/mendenhall-museum/photos previewWidth=160}Mendenhall's Museum Photo Gallery{/lightgallery}