American Cruise Lines Music Cities Cruise is For Guys Who Love BBQ, Whiskey, and Music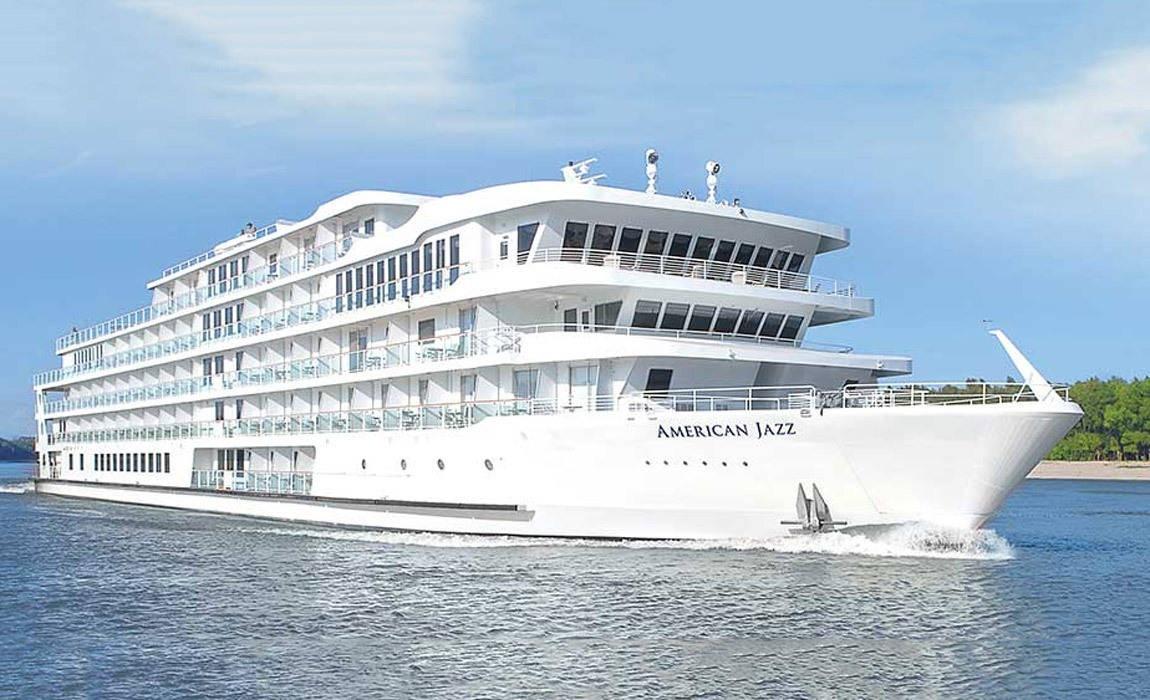 We make money from support by sponsors, advertisers, and affiliate partners. As an Amazon Associate I earn from qualifying purchases.
Few places on earth can lay claim to being the birthplace of some of the most influential music on the globe, but the Mississippi, Columbia and Ohio rivers takes all of the bragging rights when it comes to being the home of some of the most iconic music in history. From Tennessee southern gospel and soul to Kentucky bluegrass, the American Cruise Line Music Cities Cruise is a taste of everything legendary.
While we can't think of any better way to celebrate the musical heart of American Music, the destination, however, is only part of the appeal.
American Cruise Lines is not as well known as the European riverboat companies such as Viking or AmaWaterways but we're impressed by the modern ship design and innovative itineraries designed to showcase the best parts of the United States. For this cruise, your home for the week is the American Jazz. This is the latest in American Cruise Lines' "modern riverboat series" and she launched with an inaugural season in March of 2021 exploring the Lower Mississippi and includes 99 rooms with a guest capacity of 190.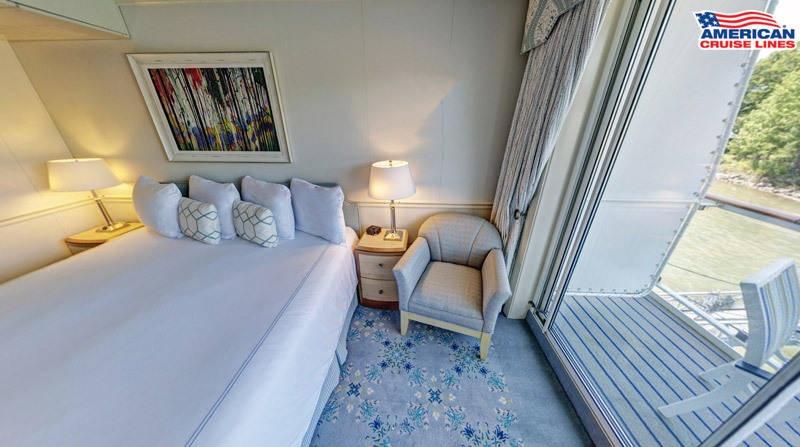 Unlike ocean-going mega cruise ships, American Jazz is decidedly chic and comfortable, appointed similarly to what you'd expect from an upscale small-ship cruise. Spacious and well-appointed staterooms offer full-sized bathrooms, spa toiletries and flat screen televisions for your enjoyment and relaxation. Watch the wonders of the Mississippi river from your private balcony where you can have your breakfast delivered to enjoy al fresco. Public lounges offer panoramic views, comfortable seating and well-stocked food and beverage areas nearby. Curl up with a good book in the reading nook or simply enjoy some social time with your newfound friends planning your adventure in the ports coming up next.

The deck areas offer unobstructed views of the rivers and ports, and you can enjoy an afternoon siesta with the sun on your face and the wind in your hair. If a more active vacation is your thing, a putting green and fully-equipped fitness center make keeping busy a breeze.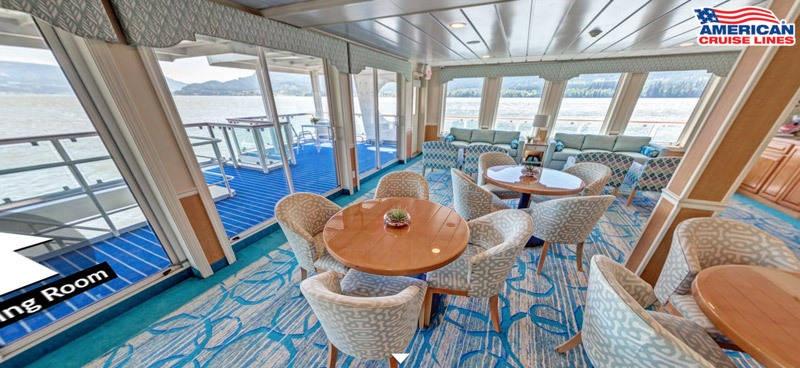 Dining onboard the American Cruise Lines Music Cities cruise is an event unto itself. Afternoon tea, breakfast room service and complimentary cocktails each evening are standard across the fleet. Beer, wine, and soft drinks are also complimentary during lunch and dinner. American Cruise Lines ships, are built in the USA, feature American staff and crew and use locally sourced ingredients in their dining venues where available.
Entertainment aboard American Jazz during your Music Cities Cruise from Memphis to Nashville will also reflect the area with a mixture of Jazz, Blues, Country, and Rock from individual performers and live bands.
As you would expect, American Cruise Lines cruises operate the same itinerary below and in reverse. There may be seasonal deviations due to weather, water levels, currents etc. Contact your travel advisor for questions that you might have about specific dates, pricing etc. We recommend our partner, Heather at Flow Voyages. You can contact her at: 630-779-9302 or email [email protected]

Your Cruise Starts In Memphis, Home Of Elvis Presley
The journey begins with a pre-cruise hotel stay in Memphis where you can kick off this music cities cruise with one of the most legendary music makers, Elvis Presley. The Guest House At Graceland includes a VIP Tour of Elvis' mansion and grounds including a welcome reception in the Jungle Room Bar at the Graceland Exhibition Center and other opportunities to explore his heritage and contributions to both music as well as Tennessee's culture.
American Cruise Lines also offer a complementary shuttle to downtown Memphis. From world-famous Memphis barbeque to vibrant clubs, the "Birthplace of Rock and Roll," has much to see, do and enjoy. The cruise starts in Memphis, home of Elvis Presley, Beale Street and the House of Blues. Guests can elect to enjoy an optional excursion to Sun Studios, the most famous recording studio in the world. This famous studio is where music greats Elvis Presley, Johnny Cash, B.B. King and Jerry Lee Lewis got their start.
The one-night pre-cruise stay in Memphis is complementary with your cruise fare but the two-day package is available for an additional fee. Make sure to contact your travel advisor for full details.
Day Two - Cruising The Mississippi and Ohio Rivers

The excitement continues onboard as guests spend a day relaxing and enjoying a lazy cruise down the Ohio river, and take in the sights and sounds of the Mississippi that inspired literary great Mark Twain. The Ohio river was instrumental in the early settlers' westward expansion, and is a pivotal part of the story of America.
Day Three - Paducah, Kentucky
The third day of the trip lands you in "Quilt City," for an afternoon of exploration in Paducah, Kentucky. The city, which is dotted by local art galleries, museums and craft shops but it is also the birthplace of Early Times Bourbon.
The city is a major junction that aided in the transport of goods from south to north, Paducah lies at the confluence of the Tennessee and Ohio rivers. A day excursion to the River Discovery Center gives an eye-opening look at the inland waterways and how their unique geography made interstate commerce possible, even before the national highway system was formed.

You can also opt for the Paducah City Tour and Quilt Museum where a knowledgeable guide will take you on a trek through the city, featuring a waterfront scenic stroll and ending up at the Quilt Museum where you can enjoy interactive exhibits and historic artifacts.
While there isn't an official tour offered, Paducah Kentucky is also the home of Dippin Dots Ice Cream and on the other side of the river is Metropolis, said to be the home of Superman. Local residents have erected a two-ton painted bronze statue in his honor.
Day Four - Cruising Lake Barkley and The Cumberland River
Day four of your cruise features a scenic cruising of Lake Barkley and the Cumberland River. Enjoy a slow cruise that allows you to take in all of the sights and sounds of the Cumberland River, Kentucky lakes and more than 140,000 acres of protected forest. This relaxing day on the river is one of the highlights of the voyage and is often described as a feast for the senses.
Day Five - Dover, Tennessee & Fort Donelson Civil War Site
History buffs will get excited at Day five's stop in Dover, Tennessee, an historic treasure and a location of true scenic beauty. The town of Dover played a key role in the Civil War, and was the sight of a major battle won by the Union army. Here you can visit the Cross Creeks National Wildlife Refuge, an 8,000-acre habitat of native birds, plants and waterfowl. Here you can also enjoy the Land Between Lakes National Recreation Area.
Day Six - Clarksville, Tennessee
On Day 6, discover Clarksville, Tennessee, named for frontiersman General George Rogers Clark, brother of William Clark or the famous "Lewis and Clark." Clarksville was a major tobacco port in the early 1800s, making it an integral part of the state's history. Here in Clarkville you can also explore Dunbar Cave, one of the largest caves in the state.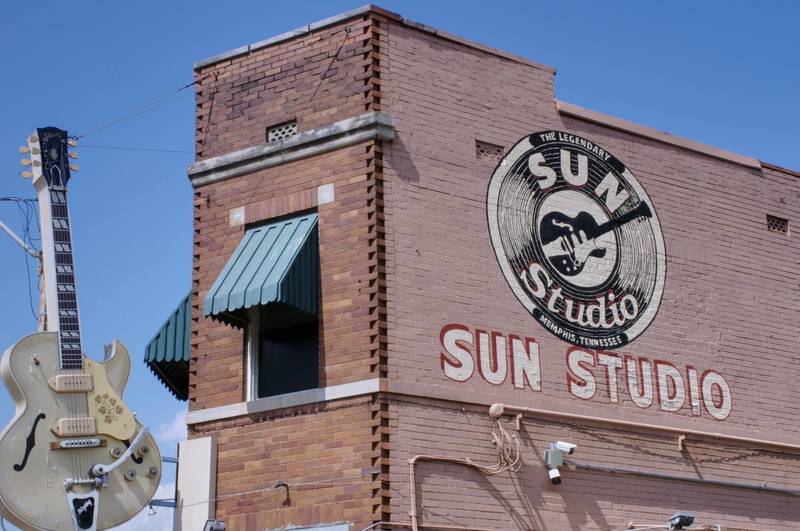 Day Seven and Eight - Nashville, Tennessee
On the last two days of your journey, excitement heats up with an overnight stop in Nashville, Tennessee. The official birthplace and headquarters of country music, this stop in Nashville features excursions to the Grand Ole Opry and the Country Music Hall of Fame. Guests can also tour the Hermitage, the birthplace of Andrew Jackson, Gaylord Opry, and Cheekwood, where more than 50,000 tulips bloom each spring. Gospel lovers will enjoy an excursion to the Ryman auditorium, originally named the Union Gospel Tabernacle, Ryman auditorium is now a music venue whose mission it is to inspire the next generation of artists.

The complimentary Nashville Experience tour takes you through downtown Nashville, exploring Honky Tonk Row, Bicentennial Park, The Country Music Hall of Fame and the state capitol. View the only full-sized replica of the Greek Parthenon, nicknamed, "Athens of the South."

The last night of the cruise includes an overnight in Nashville, giving you plenty of time to enjoy all of the nightlife and excitement that this city has to offer.

The American Cruise Lines Music Cities cruise offers everything from breathtaking scenery, fine cuisine, history, and of course, music. One of our favorite cruises, it's a not-to-miss for any music lover.
Written by

James Hills

Page Views: 3381