Picking the right resort for your Vegas mancation or guys getaway is essential. At first glance, you might think that it's "just a hotel" but the more trips here that you make, the more you realized that the choice of resorts truely sets the tone for your whole trip. In the case of Bellagio, that tone is one of more reserved fun and luxury including innovative restaurants, art galleries, and entertainment ranging from the fountains out front to one of the best Cirque Du Soleil shows in town!
Let's just get this out of the way - no, I haven't lost my mind. While the archetypal "Vegas Mancation" is one filled with drinking too much, partying hard, rock and roll, and ridiculous foods - it doesn't have to be. Sometimes it's OK to try something different. Whether that's for older friends who are past that stage in life - or maybe you simply want to party on YOUR terms, not 24-hours-a-day. While Bellagio Las Vegas is absolutely a quieter and more reserved resort, that doesn't mean you can't have fun still. In fact, it's only a few min tram ride from the T-Mobile Arena and since it is centrally located on the strip you can get to any bar, club, or restaurant in town in minutes.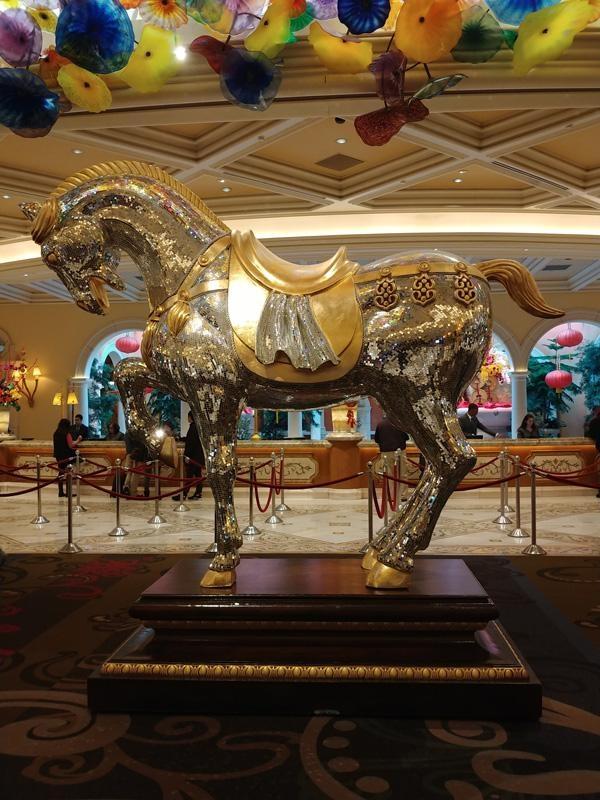 Art and Culture
From the moment you set foot in the lobby, you realize this is a different sort of Las Vegas resort. While the art installations do rotate, you'll consistently find a variety of world-class sculptures in the lobby here as well as throughout the resort. The current installation here is Tang Dynasty Horse: A 12' tall hand-sculpted horse finished in and applied gold leaf and mirrors. There's also another amazing horse by the shops area, and other artwork is found around nearly every corner.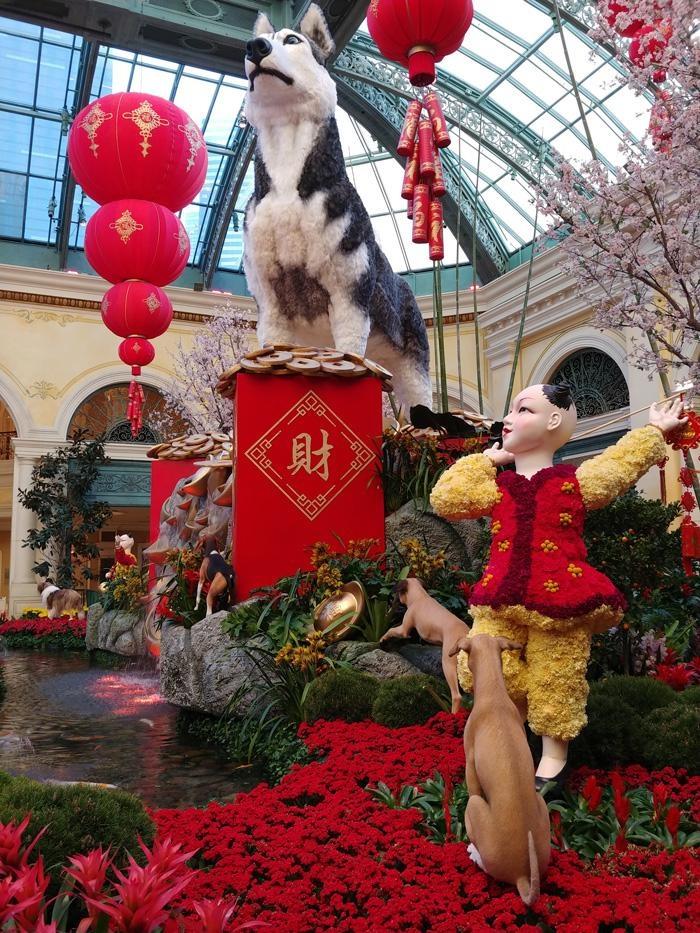 Perhaps my favorite part of Bellagio though is the Conservator. Displays here rotate based on the season and is currently celebrating Chinese Lunar New Year and the arival of "Year of the Dog".
The Bellagio Gallery of Fine Art is another not-to-be-missed attraction for fans of art from around the world. They currently have an awesome exhibit of anciet Samurai armor and artifacts, but past exhibuts have featured installations of works from Picasso, Warhol, and even Faberge items.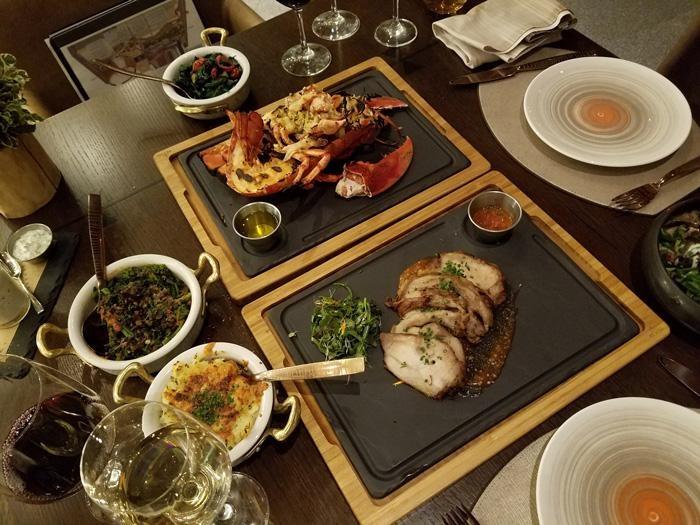 Some of Best Restaurants in Vegas
Bellagio like virtually all of the luxury resorts on the Las Vegas strip has a fabulous collectionof restaurants including one of my favorites - Harvest. Harvest by Roy Ellamar is described as a, "thoroughly modern dining experience where market-fresh dishes are paired with innovative preparation". In my mind, meals should always be fun. I suppose there's times when it's ok to simply have a delicious meal in a conservative setting but Chef Ellamar understand that food is art and presentation is a performance that makes the food even more exciting. From the fact that the kitchen is set in the middle of the restaurant and surrounded by a glass wall so you can watch as meals are prepared, to the Snack Wagon that makes its way through the restaurant with delectable treats that change almost daily, it is always a thrill to dine here.
Make sure you check the Snack Wagon calendar for celebrity chef takeovers too such as the one Chef Michael Mina is doing on March 28! They also offer Harvest Hour with $7 Harvest Signature Cocktails, Wine selections, and Snack Wagon selections. If you are planng dinner at one of the other restaurants here, this is a fabulous way to get a taste of what Harvest is all about.
Bellagio also hosts other fantastic restaurants as well, including Lago by Chef Julian Serrano, Spago (Wolfgan Puck), Le Cirque, Picasso, and Prime Steakhouse with a front row view to the famous Bellagio fountains from their patio dining area.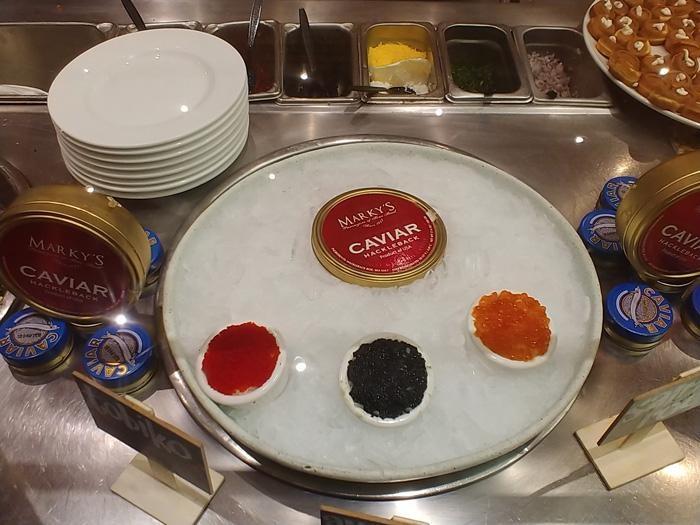 Bellagio Buffet - Caviar Station and Taste of Bellagio
Typically buffets don't factor into a "Luxury Mancation" experience and frankly, if you are looking for a fine dining experience - stick to the recomendations above. However, the Buffet at Bellagio has added a few features that make it a great choice for a guys getaway where you can live the luxe life.
The first is that they have a Caviar Station at dinner with three different types of caviar thta you can sample as much as you'd care for. While it is a buffet, they present it with the traditional accompanyments including seperately chopped egg yolks and whites, red onion, and creme fraiche as well as blintz and pastry breads. It's far from served on a bone spoon but for anyone who's ever dreamed of living like the folks featured in Rob Report this is your chance to do it on the cheap. Plus, you could splurge for the unlimited drinks package and sit there for hours talking about your golf game while sipping champaign and eating caviar - that's pretty cool.
However, they have a way to take the experience to the next level with the Chef's Table Experience. This was sort of a shocking discovery since buffets are generally sort of industrial so how could there be a Chef's Table at a buffet? The answer is that it provides guests with a prime table a an elevated level of service as well as table-side meet carving as well as a chance to meet the Executive Chef. You needa minimum of 8 guests but it's actually a really cool option if you want the ultimate buffet experience. Cost is an additional $68.99 pp on top of $27.99-$48.99 for lunch/brunch/dinner prices.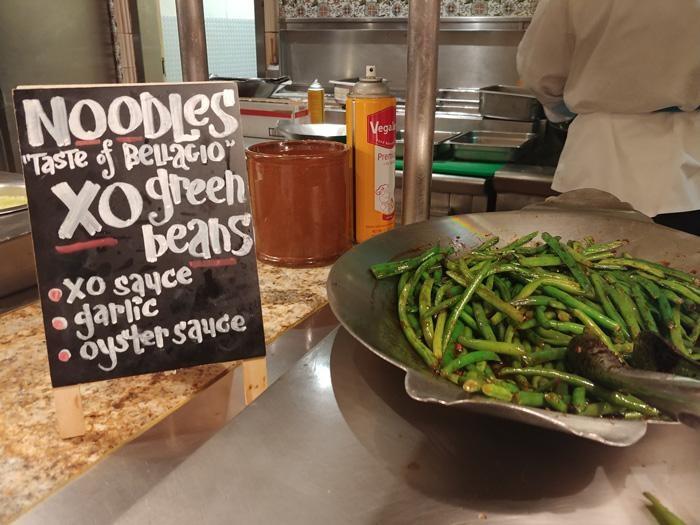 Finally, The Buffet offers a Taste of Bellagio giving guests an opportunity to sample specialties from othe restaurants throughout the resort and they rotate on a regular basis.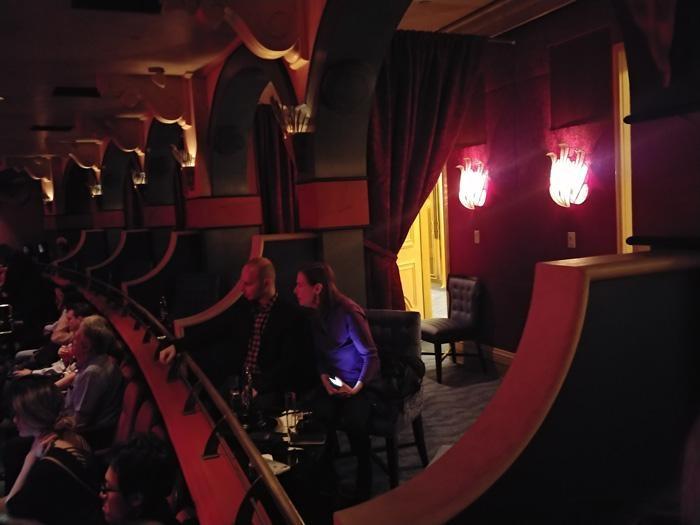 Living Like a VIP - La Grand Experience at "O" By Cirque Du Soleil
I've been to more than my fair share of Cirque Du Soliel experiences over the past 30 years and every one of them is awesome (if a little weird sometimes). However, "O" was by far the most exciting from the sheer scale of the stage experience, with performers diving into the water, and actual above, beside, infront, in back and litterally all over the stage. It's an experience that you simply need to experience to understand.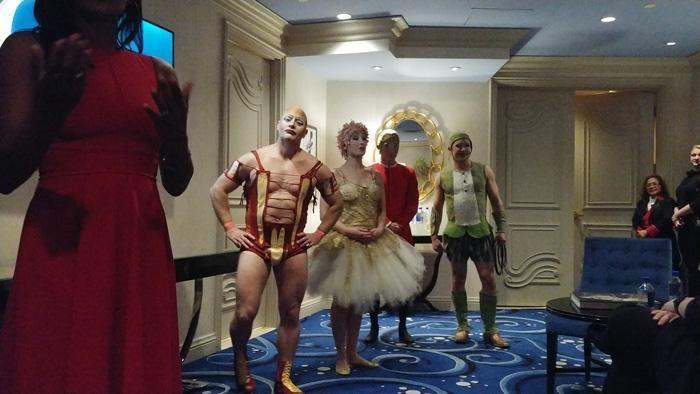 Part of my enthusiasm though may have been from the fact that we experienced it like royalty through their La Grande Experience VIP package. This included a private box in a prime position to see all of the action that sits up to four guests, a pre-show reseption with performer meet-and-greet, as well as champagne and hours-d'oeuvres. It's a totally first class experience.