When planning your next mancation, you may consider places where you can drink beer, watch sports, and generally hang out with the guys. What if I told you there was a hidden gem located in the middle of the United States that is just PERFECT for a mancation?
Would you guess that I am talking about St. Louis? With more than 20 breweries in town, professional sports teams, casinos, and great BBQ, St. Louis should be at the top of your list this year!
Our trip started out as I wanted to organize a trip to see a Cubs vs Cardinals game earlier this year and I thought while in town I might check out some of the breweries too.
Despite the great things that our friends at Visit Missouri (who hosted many aspects of our trip) had said about the city, to be honest I wasn't expecting much besides a great baseball game. St Louis had never really been high on my list of places to visit. So to ensure we had a great time I "grabbed some buds" and we all traveled to St. Louis from different parts of the country - Tom from Evansville, IN, Gerard from Florida, and Jason from Atlanta. Each of us is a blogger and while none of us writes about the same thing, we all want to present our unique perspective on this great American city.
Budweiser Brewery Tour!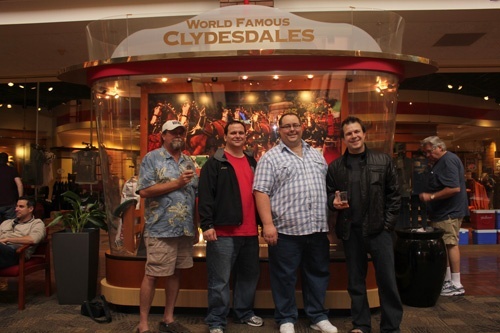 Our trip started with a visit and tour of the Budweiser Brewery - considered by some (outside of Chicago and Milwaukee anyhow!) to be "mecca" for beer fans. While I personally am not a huge fan of Bud, the tour was actually pretty good and frankly the Budweiser at the brewery's sample room tasted much better than what I have sampled in the past. Our hosts suggested that it was because it is fresher - I attribute it to the fact that it was shared with good friends!
Busch Stadium - Cardinals v Cubs Game!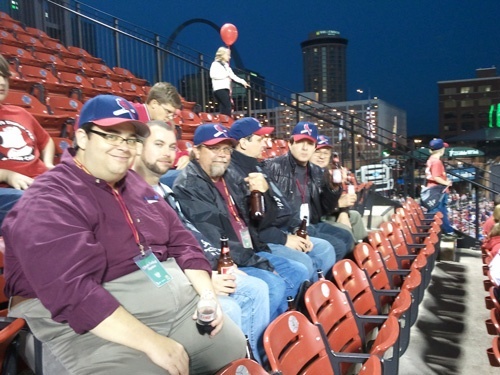 Busch Stadium was another great surprise, not only is is conveniently located downtown, the stadium was one of the finest ball parks that I have had a chance to watch a game at. While I LOVE the old parks like Wrigley and Fenway, the newer ones like Busch Stadium and Progressive Field offer a fantastic experience that makes watching games something special.
As you might notice, our group picked up a few other guys who joined our party. We also made friends with a guy in the row behind us who said he was a Monopoly $1,000,000 winner last year - who knows what the truth is, but great stories are an important part of any mancation and so we had a great time discussing his great fortune - and bragging that while he might have won, we were "McDonald's VIPs" (that's what the green cards we are wearing say anyhow)!
The Cardinals were nice enough to let the Cubs win during this game, but somehow went on to win the World Series a few weeks later.
Alcohol Tasting in our Hotel Suite!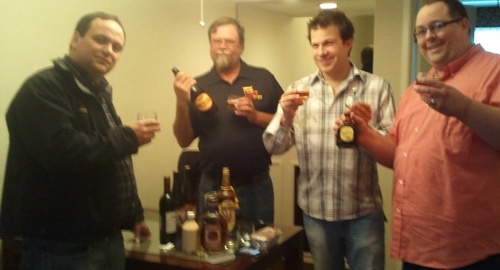 As I stated above, sharing stories is a key part of any mancation and this was no exception - though we took it a step further and exchanged alcohol too - each of us brought something from their home town or at least something that they enjoyed. Our table included some delicious Cigar City brews, Don Julio Tequila, Four Roses Bourbon, Missouri wine, Rum Cream that I found in St. Lucia, and a variety of other beverages too.
Our Room: Lumiere Place Hotel & Casino!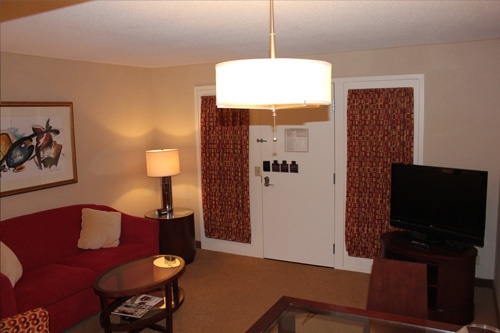 Having a space to gather is one very nice part of the Lumiere Place Hotel. All of the rooms are suites and are perfect for entertaining a group of guys. Plus, it is attached to the casino so you don't have to worry about weather. Unlike some "river boat" casinos in Illinois, Lumiere Place is actually pretty fantastic - the casino floor was "typical", but the buffet was one of the nicest casino buffets I have ever seen - including in Vegas itself.
Plus, they also have the Stadium sports bar that features iPads so you can look up different beers to decide what to try. Along with their extensive beer selection the food is pretty terrific there as well.
If you are heading to a Rams game, Lumiere Place is actually connected under ground to the stadium so you can take a moving walkway over there and avoid the hassles of taking a shuttle or fighting for a parking space.
Driving in Style: Cadillac Escalade!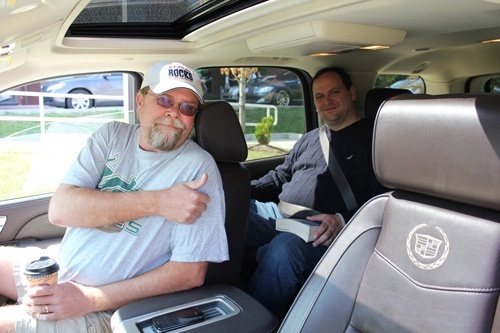 Our coach around town was the ever stylish and luxurious Cadillac Escalade provided to us by Chevy. With 3 video screens in the back, a great stereo, heated and cooled cup holders, leather seats it was a dream to dive - even in an urban environment. Possibly even more important was the fact that OnStar helped us avoid getting lost since all we needed to do was press the OnStar button and the helpful attendant downloaded directions directly to the car, or provided helpful suggestions ranging from the best donut shops to breweries like the Schlafly Brewing Company!
Dinner and Drinks: Schlafly Tap Room!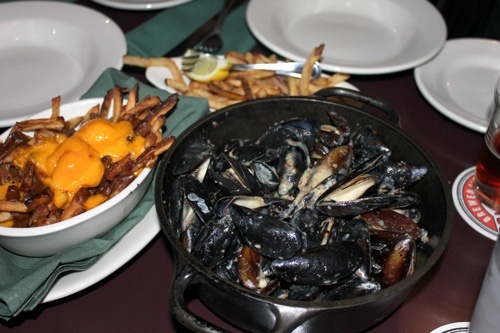 Often times I find that "brew pubs" have either great food or great beer - it seems very difficult to do both well. Schlafly Brewery somehow manages to do it superbly well and this week is celebrating its 20th Anniversary.
The meal we had started with poutine - a Canadian specialty consisting of fries covered in gravy and cheese curds. We also had the bacon and blue cheese muscles. Since we were all trying to watch our figure we stayed on the lighter side of the menu :). For a main dish I had to try a trio of pork they call the Plate of Swine: Grilled Chop, Stout Boiled Brat, Beer Battered Bacon, Kraut, Mash, Gravy.
YES! I did say BEER BATTERED BACON!
The beer was spectacular as well, with our clear favorite being the Pumpkin Ale which while we were there we learned was ranked as one of the top Pumpkin Ale's in the country - along with the one we sampled earlier from Cigar City.
The desert you see in the photo below was another winner - Sticky Toffee Pudding. It is an amazing desert that tastes as good as it sounds. I can't say any more - just go visit the Schlafly Bottle Works and try it. You will not be disappointed!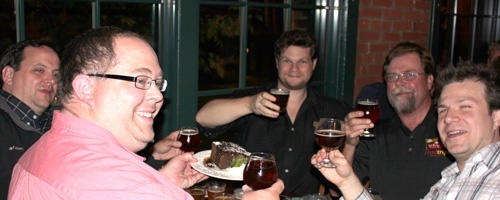 Round 2: A Visit to Urban Chestnut Brewery!
How do you top a great dinner of wonderful food, fantastic beer, and extraordinary company of new and old friends?
Head down the street to another craft brewery of course! Urban Chestnut Brewery had just opened a few weeks prior and the Social Media / PR guy for Schlafly insisted that we check it out.
With a recommendation like that, how could we resist.
While Schlafly has a wide variety of beers and many of them are sold only at their restaurants, Urban Chestnut is working hard to place its beers on taps around the city and region. They have fewer varieties, but they are absolutely worth visiting and the master brewer is very passionate about his craft and we enjoyed his product as well!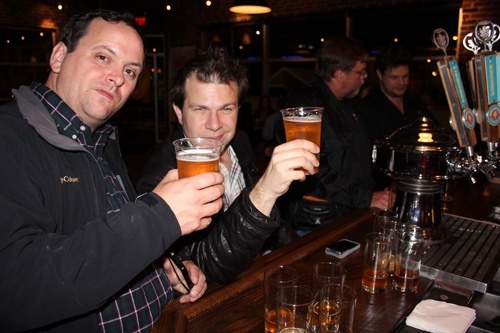 St. Louis Style Ribs at Pappy's Smokehouse!
The next day, it was time to head off to try the LEGENDARY Pappy's Smokehouse - home to St. Louis Style Ribs.
Like many legendary smokehouses though, the lines can be similarly epic, and you need to show up early because when they run out, that's it - no more.
Was the wait worth it? I think we can all agree that it was - though I might have recommended a bigger breakfast or a shorter night. The 40-45 min line did help build the anticipation for the ribs though.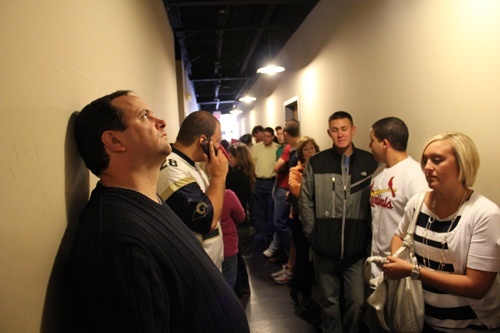 As we approached the front of the line, we were treated to the sights, smells, and off-color humor that only a smokehouse can provide.
"There's No Such Thing As Too Much Butt"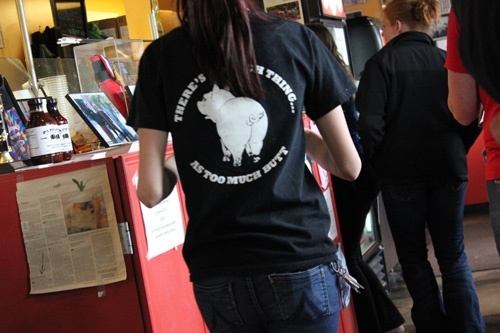 When we finally got our food, it was worth it - the ribs were delicious, the sweet potato fries were crispy, and the coleslaw was delicious. As to the question, "Is the line worth it?" my answer is YES, but grab a sandwich first :)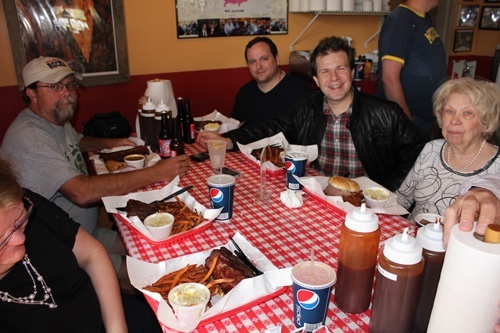 Up In The Air: St. Louis Arch!
No trip to St. Louis is complete without a visit to the St. Louis Arch of course. Our trip was no different!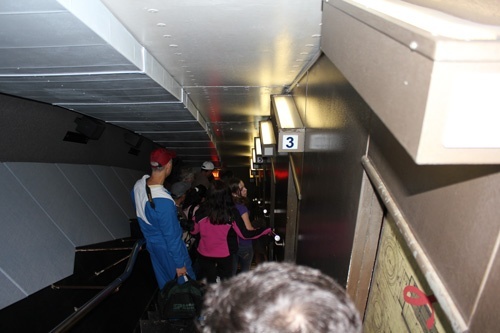 While definitely not an excursion for people with a fear of heights, crowds, or tendency towards motion sickness, it is a thrill for the rest of us.
Once you arrive at the top, your are treated to fantastic views of downtown St. Louis from 630 feet above the city.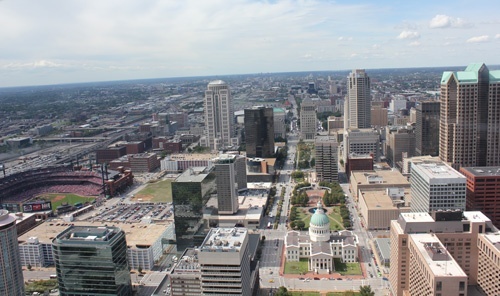 So how do you get to the top you might ask? This is a model of the trams that they pack people into for the several minute trip up and then back down. Does this look cramped to you? Each tram fits five people - and this is non-negotiable. There are four of us in this photo, but going up and down we had one additional person with us!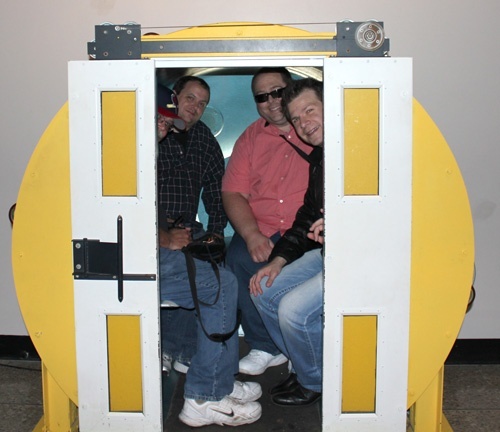 While I have had a chance to travel to some spectacular places around the country, it isn't often that I am impressed by a place that I had so little familiarity with previously.
Not only does St. Louis offer the things we took advantage of, but there are also some fantastic museums, golf, football, hockey, and nightlife outside of the craft breweries too.
Plus, with Lambert International Airport, and centrally located with excellent highways St. Louis is easily accessible for a group of guys to meet at from disparate parts of the country.
I can't wait to visit again in the future!