When most people think of Catalina Island, the bustling village of Avalon first comes to mind. That's the Mediterranean-style "city" (by Catalina standards) with shops, restaurants, boutique hotels and funky bars such as Luau Larry's with its Wiki Wacker cocktail, all of which make it a very popular tourist spot for people throughout Southern California. Well, gentlemen, there is another part of this island 26 miles across the Pacific Ocean from Los Angeles that is ideal for a men's getaway for a weekend or mid-week escape. It's Two Harbors.

About Two Harbors on Catalina Island
When you first step off the ferry, you might be tempted to question why the heck you decided to spend a men's getaway on Two Harbors. For those who expected it to be just like Avalon, you are in for a surprise. After all, other than the palm trees it's a kind of a barren landscape with hills, dirt roads and a small beach that hardly brings to mind "tropical paradise." You aren't going to find the cute shops and bed and breakfasts like you will on the "other side of Catalina".
However, as you walk along the pier toward the tiny village with the lone restaurant and bar you will begin to appreciate its charm. It won't take long for you to say, "ahh, this is the place."
Here, the only hustle and bustle is of campers piling up their stuff at the bag drop-off area. You will quickly realize you that are in a place where you probably won't be shaving for the next couple of days and all those e-mails back at the office are not really that important after all.
What Two Harbors lacks in modern touches, it makes up for in charm. That is enhanced by the overly welcoming personalities of those who work in the restaurant, the bar and at the facilities. You will instantly be on a first-name basis with them and come to the quick realization that you are not just in, but are a part of, a small town that is the modern-day equivalent of Mayberry R.F.D.
Here is all you need to know about camping in Two Harbors, as well as five things to do on a guy's trip to this beautiful area that is a true escape destination.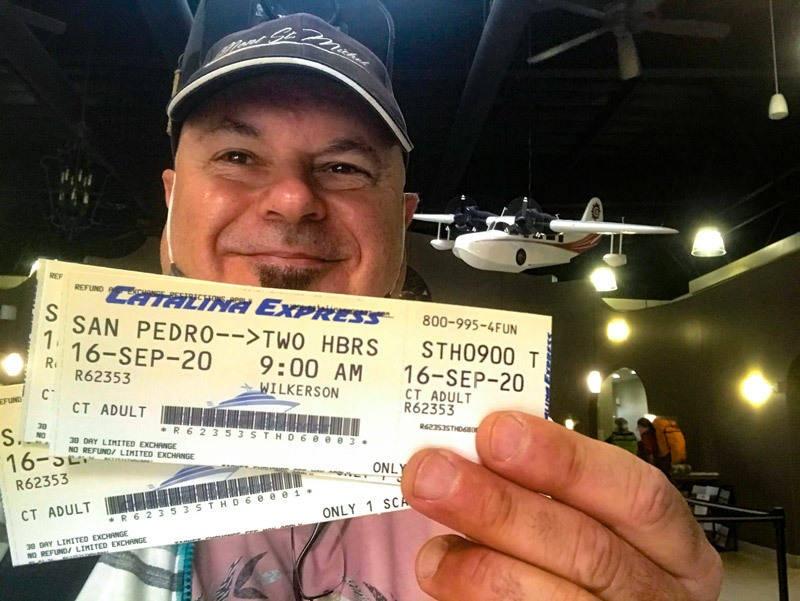 Getting To Two Harbors on Catalina Express
You get there via the Catalina Express ferry; boats leave from San Pedro, either direct or with a quick stop in Avalon.
There are also mooring balls for private boaters (reservations recommended for weekends).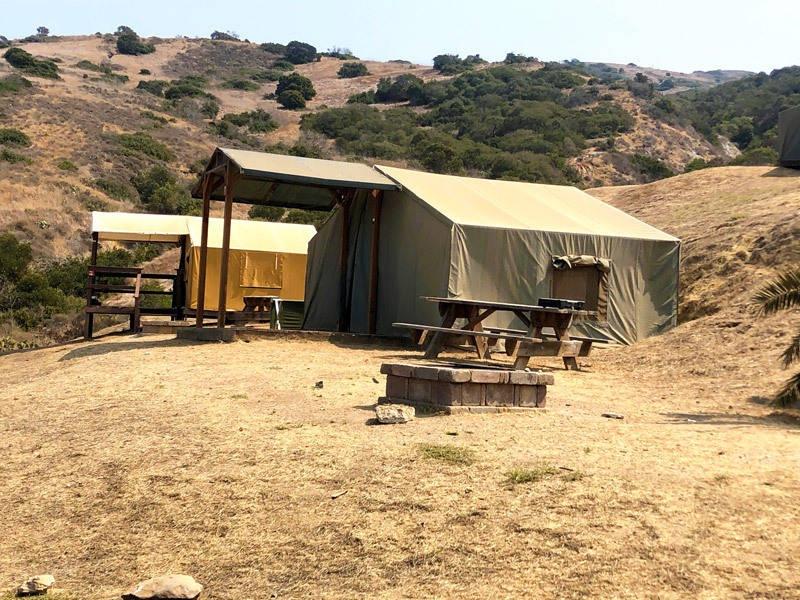 Catalina Island - Two Harbors Camping Information
Two Harbors has an extensive campground and it is a very popular destination on weekends. So popular, it is recommended to get reservations in advance. You can bring your own tent or rent one of the so-called tent cabins, which is a covered space with six cots, a porch, picnic table, and firepit. They also come with a lantern. Tents 10 and 11 have spectacular views of the water. You do need to bring a sleeping bag or bedding.
There are several conveniences in Two Harbors that brings to mind the term "glamping," even tho you are sleeping in a tent or on a cot in a tent cabin. That's because the officials really make things easy on you. For starters, there's a bag drop service, which is a 5-star amenity. Check any bag – or even a cooler full of ice, food, and beer, as well as your tent and anything else you don't want to carry – and it will be delivered to your campsite. The staff even picks it up on your return. The cost of this luxury perk? Just $5 a bag. Round trip!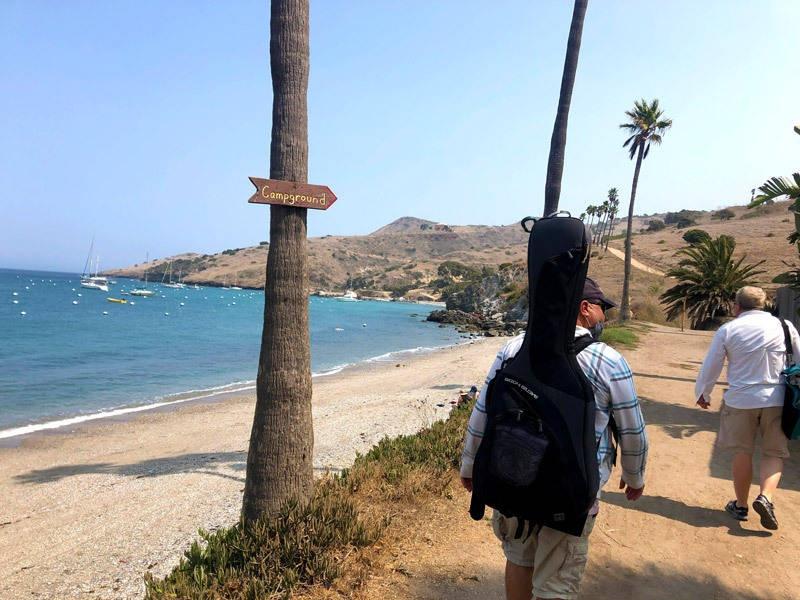 In addition to this, you can also have firewood and a small gas stove delivered to your campsite. There are showers, water spigots and port-o-lets scattered throughout the campsite.
About all that's missing in the way of camping convenience is a transportation service between the village and the campground. You're on your own in that area. It's a15-20 minute walk with one fairly steep section at the beginning of the trail. You'll need to be in at least decent shape, tho after your first time doing it, the walk becomes easier to negotiate.
The check-in for the campsites is at the Visitor's Service building on the left side of the pier.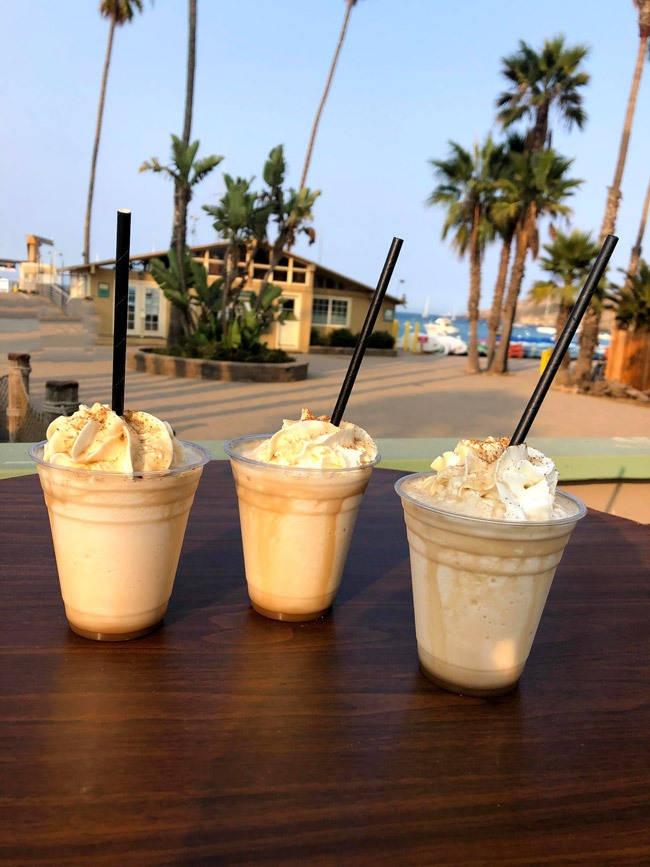 Food & Drinks
The main part of Two Harbors is the small "village" located just off the pier. It has the Harbor Reef snack bar for lunch and the Harbor Reef restaurant for dinner and drinks.
The snack bar serves salads, sandwiches, a burger and outstanding clam chowder for lunch. Breakfast is available on Fridays, Saturdays and Sundays.
For dinner, the restaurant is excellent. "It is one of the few places in Southern California that knows how to properly cook a steak," commented one regular visitor. The swordfish is freshly caught pretty much daily and the chicken dinner is so moist and juicy you will sit back in your chair after every bite saying, "oh, that is out-STANDING!"
For drinks, there's a full bar with an extensive menu of exotic cocktails, but you can't go to Two Harbors without having the island's signature Buffalo Milk cocktail. It's a frothy mix that includes Kahula, creme de cocoa and vodka with whipped cream on top. The Buffalo Milk is the "must do" drink of Catalina, and the best ones on the island are found in Two Harbors.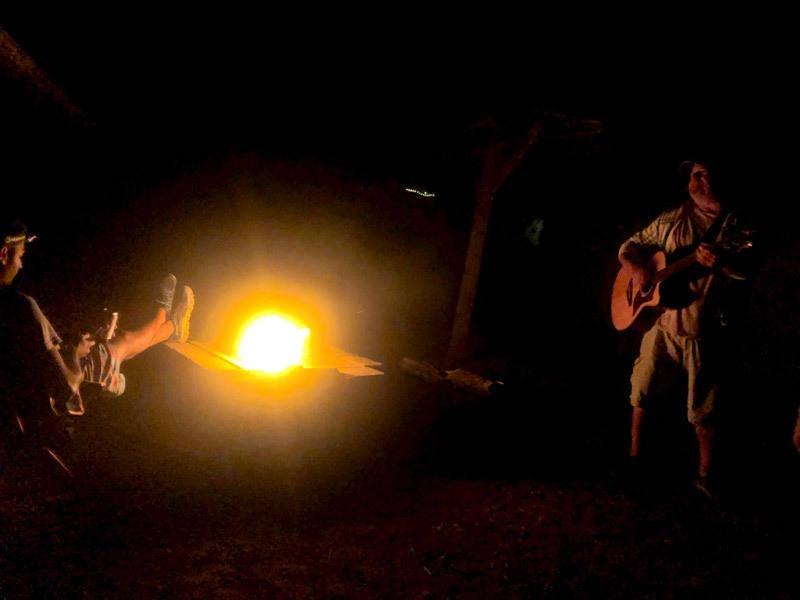 5 Recommended Things To Do In Two Harbors
Two Harbors provides an interesting dilemma for visitors. On the one hand, it tempts you to get out and explore, to see what's around the next corner and over the next hill. The clear, blue water also makes you want to get on it and in it. Then again, because of its slow-moving lifestyle and rugged beauty, it also puts you in that "no hurries, no worries" state of mind where you really don't want to move once you plop down in a seat. There are lots of things to do on Catalina Island and while it isn't the easiest thing to get from one side of the island to the other, you can still explore Avalon and the interior when staying in Two Harbors.
But while you're there, you might as well take advantage of its activities. There's plenty to keep you busy for two, three or even four days, but not so much that it will stress you out trying to fit in everything. Stress, by the way, disappears in Two Harbors as quickly as those Buffalo Milks.
You can bring your own equipment and you can also rent pretty much anything you need from Two Harbor Dive & Recreation Center. It's run by a friendly fellow named Mike, who came to the area as a visitor and then decided to stay to take over the shop.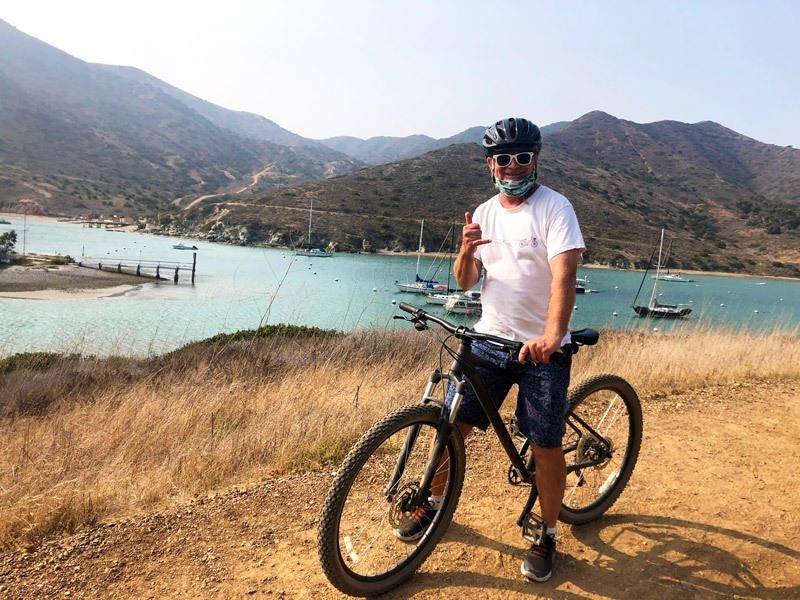 Bike Riding
Personally, I love bike riding, but that's only part of the reason I put it at No. 1 on this list. That is because it's the best and easiest way to see several other parts of the island. You can go on trails into the interior that are up and down hills on dirt roads (you may even see some buffalo grazing), but stick to the coast. Just outside of the village there is a wide and mostly flat trail that goes around the smaller harbors (Cherry Cove, Fourth of July Cove and Boy Scout's Cove) with spectacular views of the boats and cliffs plunging down to the ocean. Take half a day for this ride alone; you'll be stopping several times to gawk at the incredible scenery as you make your way along the trail. You can even get off the bike and go for short hikes to the top of cliffs or take a walking trail down to the water. This is not a strenuous activity but you will work up a good sweat. Top off the ride by going to the back harbor (one mile behind the main harbor; Two Harbors is, after all, an isthmus) for more great scenery.
Stand-up Paddleboarding
The calm and smooth harbor is an ideal place for stand-up paddleboarding. Or, in my case, sit-down paddleboarding (hey, I tried to get up on the board but wound up in the water with several spectacular splashes). It's a little less busy to the right of the pier, as you're not dodging swimmers and small boats going to and from the dingy dock.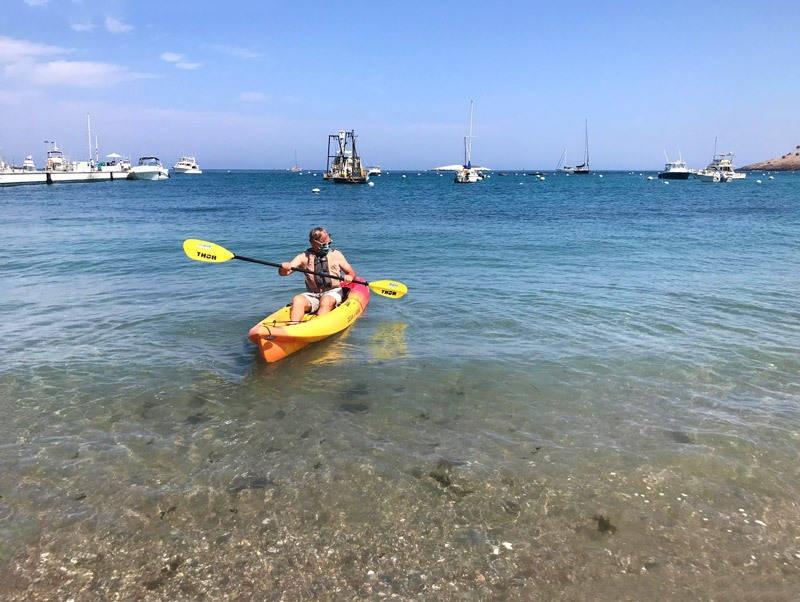 Kayaking
One of the really fun things to do in Two Harbors is to hop in a kayak and go paddling around the boats tied up to the mooring balls. It's fun because you can say hey to the people on the boats, which include small and large sailboats, luxurious powerboats and sports fishing boats. People are jumping in the water, floating on inflatables and creating the kind of scene that really lets you know you're on vacation. The people on the boats are really friendly and might even toss you a beer.
Swimming & Snorkeling
You're just got to get into the water while you're in Two Harbors and swimming and snorkeling are two easy activities that will have you kicking back and saying "ahh that was nice" while you're at the bar later in the day having a few Buffalo Milks. The harbor has a lot of kelp in it and several of the little orange Garibaldis, the official fish of the state of California. The best snorkeling spot is along the water's edge below the campground.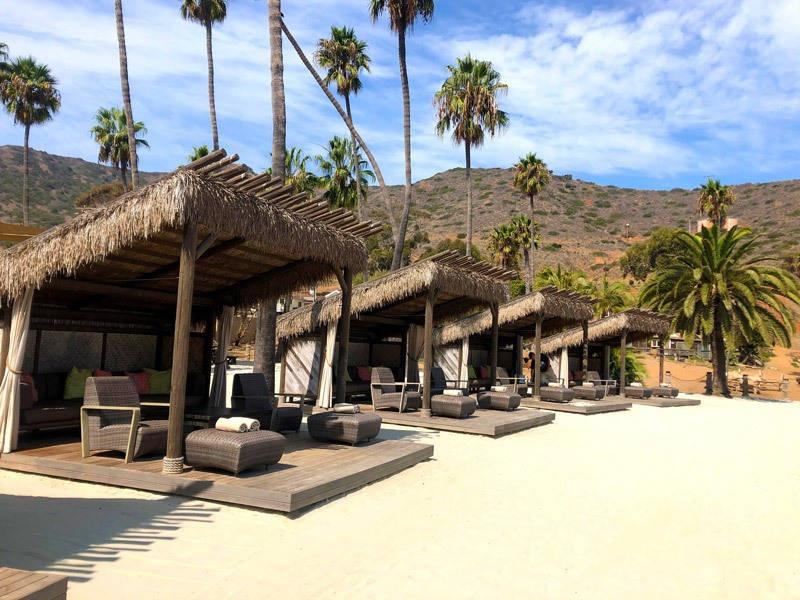 Rent A Palapa
This is what you do when you want to have a "sit on your butt" day. Because once you settle into one of the oversized chairs or onto the couch, you won't be tempted to do anything other than stay there until it's closing time. You get towels, an ice bucket with six waters, non-alcoholic slushy drinks (tho I did get shots of rum to go with mine, of course), and even popsicles. Waiters and waitresses deliver you food and drinks. The palapas are covered cabanas with two chairs, a couch and a table. Curtains can be drawn to have complete privacy. They are on a roped-off, private part of the beach called Harbor Sands. This is so relaxing it will take all the motivation you can muster to even get up and go for a refreshing swim.
Other Two Harbors activities include scuba diving, fishing and hiking. Regarding the latter, you will be doing some of that anyway going between the village and the campsite.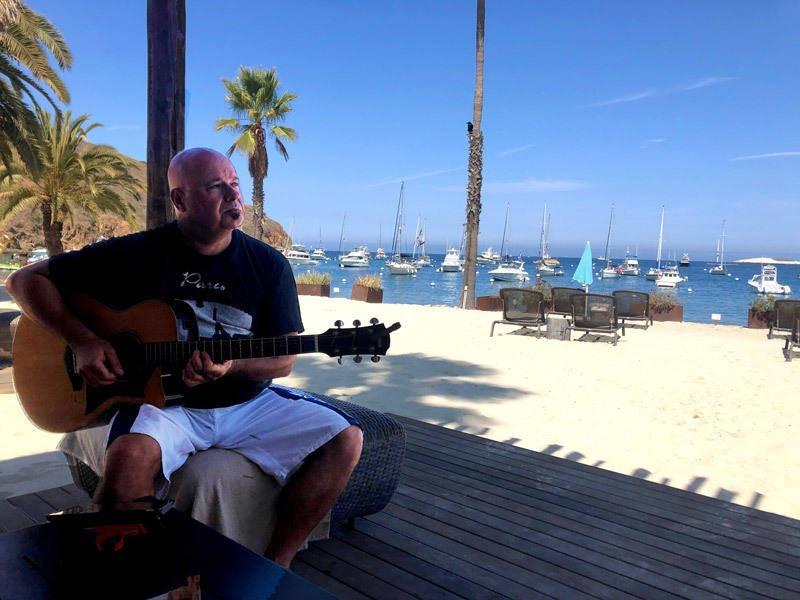 Two Harbors Camping Tips:
Secure a locker. Make this your first move after getting off the ferry. They are small but invaluable and savvy Two Harbors visitors snatch them up the way your friend goes after the appetizers when you sit down at a restaurant. Get a key from the dive & recreation center…Utilize the bag drop service. This is a no-brainer…There is free public WiFi and power outlets are located under the tent at the Harbor Reef restaurant…The showers in the village are $2 for 3 minutes, 20 seconds (quarters only and there is a change machine)…Washers and dryers are available next to the restrooms in the village.
Traveling From Two Harbors To Avalon on Catalina Island:
Catalina Island is one of our favorite places to visit and that's in part because the two parts of the island are so different. While it is possible to see both parts of the island during one weekend stay, you must plan your trip to ensure timing and reservations. It is not as easy as simply hailing a cab or opening your phone to call a Lyft driver.
For those who want to stay in Two Harbors but still visit the bars, history tours, and gardens found in Avalon, it is possible. The Catalina Island Company's Cyclone powerboat is the easiest and fastest way to go between the two parts of the island. The trip takes about 40 minutes and travels between Avalon and Two Harbors. Tickets are $15 each way and you'll get a nice tour of the island as you travel between the two towns. Other options are the Wildlands Express Airport Shuttle and Catalina Safari Bus. While taxis and golf cart rentals are available in Avalon, that is not an option for travel between the two towns.
Kevin Wilkerson is a freelance travel and lifestyle writer who publishes the nightlife blog https://www.pubclub.com/
Two Harbors Catalina Guys Weekend Photos:
We had a blast exploring Catalina Island's "Wild Side", here's more photos from our guys weekend getaway camping adventure.
{lightgallery type=local path=images/stories/camping-guys-weekend-catalina-island-california/gallery previewWidth=160}Camping At Two Harbors, Catalina Photo Gallery{/lightgallery}