As a travel advisor who has helped tons of men plan ultimate guys trips over the past decade, I've had many clients inquire about the best type of rental car for their getaway. For some the car is just a mode of transportation and so booking sometime basic from Hertz or Budget is sufficient. However, for others, the debate often revolves around choosing a convertible sports car or a luxury SUV from a more specialized rental company. When I first began to get these requests for advice I thought the concept was silly and folks just wanted to show off to high-school friends at reunions and look fancy for the weekend. However, the reality is that the right set of wheels can set the tone for your entire trip and so this is not a trivial topic to discuss!
One word of advice though is that if you want to do some fun off-roading ... get the right vehicle that is designed for off-road terrain. In that case, look for rental companies in the area that you'll be going so they can also connect you with the right maps, local rules etc. For instance, if you are looking for a desert adventure in the UAE, a rental company specializing in renting SXS's is going to offer the best dune buggy experience Dubai compared to a jeep rental agency in the airport.
The decision can significantly impact the success of your trip, as factors such as comfort, space, fuel efficiency, costs, and availability all play crucial roles. I've seen firsthand how car issues can quickly derail an adventure. Hence, I'm here to guide you on what you need to know to make an informed decision and ensure your bachelor party or guys trip goes off without a hitch.
Key Takeaways
Trip duration and destination terrain should be considered when choosing between a convertible sports car and a luxury SUV.
Comfort and space considerations, such as seating ergonomics and luggage capacity, favor luxury SUVs over sports cars for long road trips.
Fuel efficiency is an important factor to consider, with hybrid options offering performance and fuel efficiency, such as the Lexus LC 500h with 34 MPG on the highway.
Maintenance and insurance considerations should be taken into account, including checking if personal car insurance or credit card covers rental cars and being prepared for potential issues like flat tires or engine troubles.

Understanding Your Road Trip Needs
Before choosing between a convertible sports car or a luxury SUV for your guys getaway road trip, you've got to assess your specific needs for the journey. Key factors to mull over include trip duration and destination terrain.
Trip duration as well as terrain plays a crucial role in your decision. If you're planning a short, weekend getaway and it will be highways and back roads, a sports car could be your go-to ride. It's fast, thrilling and you'll feel every twist and turn of the road. You're part of the journey, not just a passenger.
On the flip side, if you're mapping out a week-long adventure or more, comfort should be your priority. That's where a luxury SUV comes in handy. More room for luggage, better fuel efficiency for long stretches, and the comfort of a smoother ride.
Destination terrain also weighs heavily. Are you heading to a beach house down Florida's A1A coast highway, or a cabin in the rocky mountains? A convertible sports car is perfect for paved, scenic routes, while a luxury SUV offers superior handling and safety on rough, uneven terrains. Depending on what vehicle you select, it can also mean you have the freedom to go exploring dirt roads the trails.
One word of caution here regarding off-roading with a rental - driving off-road is inherently dangerous and so most insurance companies will not provide coverage for damages sustained doing this. Similarly, if you get stuck, most roadside services such as AAA will not be there to help you get the car back to safety.
In the end, it's about understanding your road trip needs and choosing a car that fits.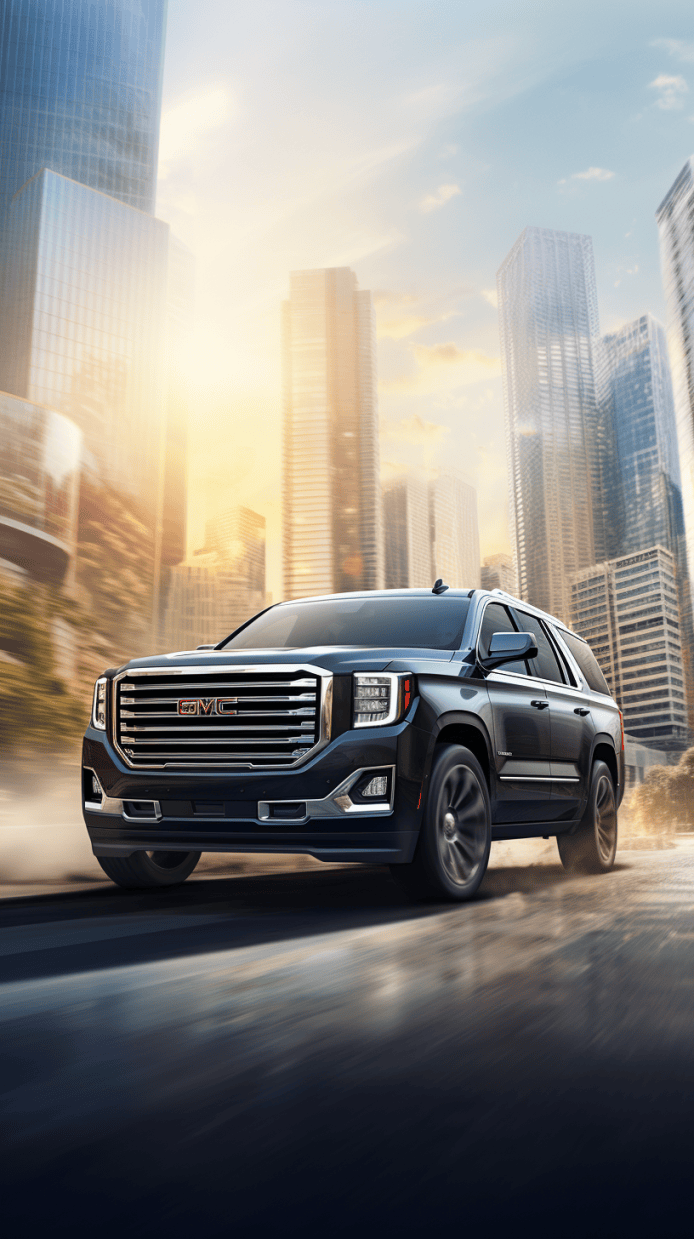 Evaluating Comfort and Space
Consider the comfort and space you'll need when choosing between a convertible sports car and a luxury SUV for your road trip. The seating ergonomics of both vehicles should be top of mind. The sports car, with its lower, snug seating may feel sporty and exhilarating, but it might not be the most comfortable for long drives. On the other hand, a luxury SUV, with its elevated, spacious seating, can provide superior comfort, especially for larger individuals or those with back issues.
Now, let's talk about luggage capacity. When you're hitting the road with your buddies, you'll have more than just a few bags. You'll need space for your gear, snacks, and maybe even a cooler. A sports car, with its limited trunk space, could prove to be a challenge. The luxury SUV, however, can easily handle your luggage needs, with room to spare.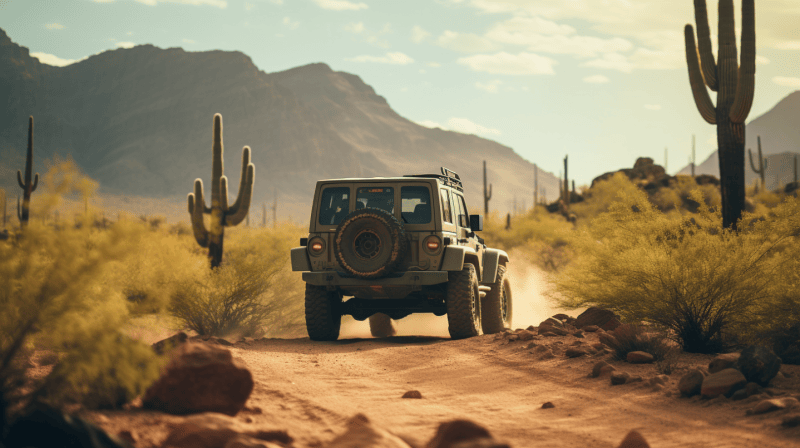 Fuel Efficiency Considerations
Now, let's tackle another crucial factor you've got to weigh in - fuel efficiency. When planning for a guys getaway, the car's fuel consumption can significantly impact your budget and, not to mention, the emission impacts on the environment.
Both of these vehicle choices are gas guzzlers. While they might be fun to drive and are great for making a statement, convertibles and luxury SUVs can hit your wallet hard at the pump as well as being far from environmentally sensitive. For longer road trips, this burden can add up quickly so you should make sure to factor fuel economy into your budget rather than getting a nasty surprise later when you fill up the 28-gallon fuel tank on that Yukon Denali that your group looks so sharp driving around town!
Have you considered hybrid options? They're a great compromise that offer both performance and fuel efficiency. Take for instance, the Lexus LC 500h, a hybrid sports car. It combines the thrill of a convertible with the economy of a hybrid, boasting an impressive 34 MPG on the highway. There are also EV convertibles that you can rent as well though that brings with it all sorts of other issues like finding charging stations and waiting for the battery pack to fill back up again.
Supplemental Waivers and Insurance Factors
Switching gears from fuel efficiency, let's dive into the next critical factor - maintenance and insurance considerations when renting a car for your road trip. It's vital to understand who holds the maintenance responsibility and what your insurance coverage entails.
Supplemental Waivers: Typically, basic car maintenance is the rental company's responsibility. However, you're expected to treat the car with care. Damage caused by neglect or misuse could result in hefty charges. For higher end exotics there may also be restrictions such as where you can park it as well as other fees and deposits required before you can take the car off the lot.
Insurance Coverage: Rental companies usually offer their own insurance, but it can be pricey. Check if your personal car insurance or credit card provides rental car coverage.
Potential Issues: Be aware of possible problems such as flat tires or engine troubles. Knowing who to call and what steps to follow can save you lots of stress.
Understanding these factors guarantees you're well-prepared for the journey ahead. It offers the peace of mind to fully enjoy your getaway, knowing you're covered should anything go awry. Remember, the goal is to create lasting memories with your friends, not to worry about car troubles or insurance mishaps. Make sure you're clear on maintenance responsibility and insurance coverage before hitting the road.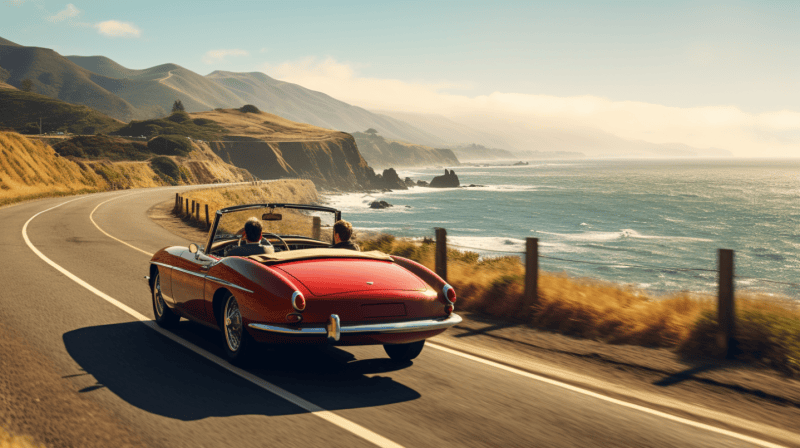 Assessing Rental Costs and Availability
Having sorted out the maintenance and insurance factors, it's time to delve into assessing rental costs and availability for your choice of vehicle. Don't be surprised if the rental cost of a convertible sports car is significantly higher than a luxury SUV, the market demand and cost of upkeep drive these prices. This can be especially true if you are comparing something like a Yukon or Mercedes G wagon to a Lamborghini or vintage Shelby Cobra.
To get the best deal, explore discount options. Many rental agencies offer discounts for early reservations, long-term rentals, or loyalty programs. These rebates can significantly cut down the rental cost, making that dream ride more affordable.
There are two groups of rental agencies that you'll be looking at here - the first is places like Enterprise where depending on the market you can find luxury vehicles ranging from a Maserati Quattroporte for about $1,000 / week and go up from there including options like the Lamborghini Urus and Aston Martin DBX for $6,000+ in Los Angeles.
Then there are the specialty performance rental companies where you can sometimes find great deals if you just need the car for a day.
The reservation policies of these agencies also play a crucial role in your planning. You don't want to find your preferred convertible booked out on your travel dates. Check the availability well in advance and book your car as soon as your dates are confirmed. Remember, some vehicles, particularly high-demand models like sports cars or luxury SUVs, might require earlier reservations.
Conclusion
In conclusion, picking between a convertible sports car or a luxury SUV for your guys' getaway hinges on your road trip needs, comfort, space, fuel efficiency, maintenance, insurance, and rental costs. It's essential to weigh all these factors carefully to find the perfect ride. Remember, the ultimate goal is to ensure your trip is memorable, exciting, and worry-free. Make a smart choice and hit the road in style!