When thinking about places for the ultimate mancation most of us men think of places that are easy to get to, has guy-friendly activities and especially today is affordable. Daytona, located on the east coast of Florida certainly exceeds those requirements with plenty of fishing, nice sandy beaches, cigar bars, poker rooms, man-friendly spas, great restaurants, bars, the largest Harley dealership in the country, and of course the Daytona International Raceway is located there too!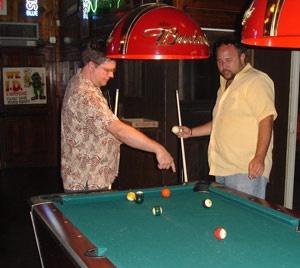 If you great up in the 80's and 90's, chances are your first impression of Daytona beach was the LEGENDARY spring break parties we watched on MTV. Thankfully, those days are long gone - and most of us are past that phase anyhow. What remains though is an incredible destination for guys that want a motor-fuel-filled beach break with all the awesome stuff you'd find along the entire Florida coast including: Fishing, Seafood, Beaches, Golf, and plenty of sun! Plus, while you might think about "biker bars" in Daytona, the city also boasts one of the top "motorsports bars" anywhere out there.
Daytona Florida was actually one of the first press trips that ManTripping was invited to attend, almost a decade ago. However, every year about this time my eyes get wider and my muscles tighter as my excitement for NASCAR's return grows. The same happened last night while watching the Can-Am Duel and cheering on Chase Elliott who won the race again - this time driving the 9 car, his father's number, so that was pretty special.

Fishing:
Whether surf fishing or taking a trip with one of the many fishing charters available at Ponce Inlet, you have tons of options for great fishing in Daytona.
Our experience on the Critter Fleet was second to none. The staff were fantastic and knew exactly where to find the fish. Our mate, Zach, even helped us reel the fish in, bait the hooks, and take the fish off the hook too. Critter Fleet has larger boats than what you may expect when thinking about a charter fishing expedition. However, because of the size of their boat, we were able to go further out than many of the other fishing boats that were clustered together. Instead, we went about 40 miles out and on the way we passed by a number of dolphins who followed the boat.
During the full day fishing charter, I caught two fish that were keepers - a red snapper and a bonito (type of Tuna), my friends on the trip caught several fish and sharks as well and everyone had a great time.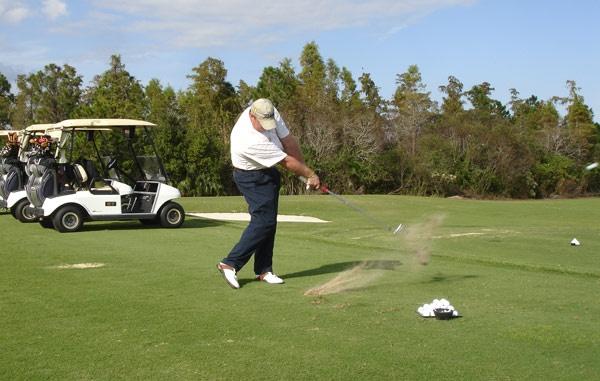 Golf:
Like many other communities in the South Eastern United States, the Daytona area offers a variety of golfing options including the LPGA International and more than a dozen other world-class courses. Plus, Daytona is not far from Orlando with tons more fantastic courses there as well.
Our trip included a visit to the LPGA International and surprisingly the majority of golfers there were men, so don't be afraid to go there!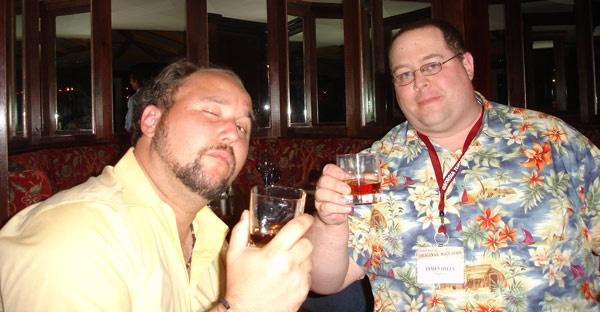 Bars and Restaurants
Everyone reading this knows that food, drinking, and night-time activities are just as important as what is enjoyed during the day. Luckily Daytona has a lot available in this area as well. There are a good mixture of beach bars, biker bars, and even Fletcher's Cigar Bar where you can go, buy some cigars, grab a beer and relax in fine leather couches while watching a game. Fletcher's also has very good exposure throughout the area so getting your hands on a mancation cigar is never a problem here.
As for restaurants while there are certainly a number of fine dining restaurants. Though with the exception of Stonewood Grille, I recommend that you focus on the less expensive local options. It wasn't that the high-end places were bad, there were just things that I would expect to be a bit better for the price compared to what can be experienced in cities like Chicago and NYC. It was sometimes disappointing because restaurants like Martini's Chop House had fantastic ambiance and fantastic service, but the food fell short of the expectations set by the other elements of the restaurant.
Luckily, restaurants like the Dancing Avocado take up the slack with fantastic quality, fun atmosphere, and reasonable prices and if you are luckily you can even get a massage from the owner while waiting for your breakfast to be prepared. I absolutely recommend trying their shrimp, avocado, and onion omelet. Make sure you ask for some of the poblano catsup too - VERY tasty!
If you are looking to spend an evening sipping a fine bourbon or a scotch, then head on over to The Shores. Their selection of top shelf scotches and bourbons really impressed me and I had the opportunity to introduce my companions to a new favorite bourbon, Booker's, a small batch bourbon from the Jim Beam company. However, it was interesting that they listed several whiskey's under "bourbon" on the menu, but hey, I am just happy to see that they had a great selection and if you are savvy enough to know Bookers from Knob Creek then you probably also know what Gentleman Jack is too.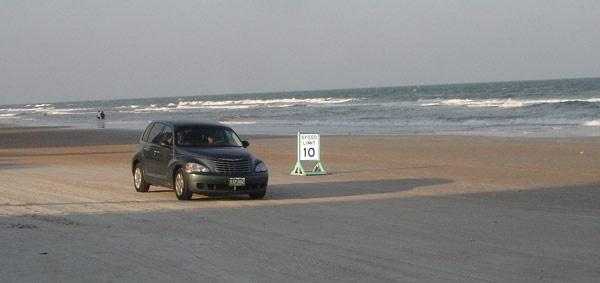 The Beach:
Daytona is of course world famous for their gorgeous beach and it didn't disappoint either. The sand was smooth and the slope was perfect too, allowing for nice waves for body surfing or just standing in the water while hanging out with the guys. Also, if you have ever wanted to drive on a beach then this is your chance!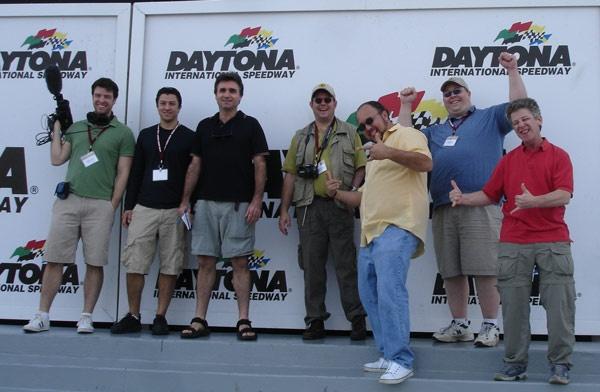 Daytona International Speedway and NASCAR:
No Daytona mancation would be complete without a visit to Daytona International Speedway and the various touristy places around town like the Daytona Speedpark where you can race dragsters and go karts. At the speedway they offer tours by tram that take you around the facility, on the track, and past places like the garages, infield, and even a stop at the Winners Circle where you can pretend you just won the race.
In addition to the tour of the track, there is also a Speedway museum with a chance to race in a Daytona 500 simulator, and an opportunity to practice changing a stock car tire - complete with air wrenches and jack. Our team set the record for that day and beat the 16 second goal. Go Team!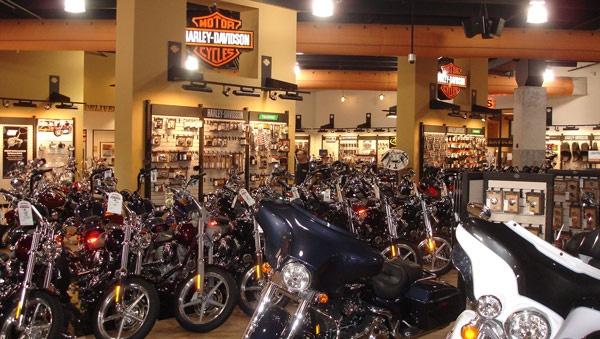 Bikers and Bike Culture:
No discussion of Daytona would be complete without a nod to its position as one of the prime spots for bikers. No, I don't mean pedal power, I am talking about raw American horsepower (ok, so Euro and Asian bikes are welcome too - but to get the full experience, nothing quite beats a Harley!).
Whether you are visiting during Bike Week, Biketoberfest, or anytime of the year, there is something here for bike lovers. From the 100k+ square foot Daytona Harley-Davidson (largest in the world!) to the row of biker bars on main street, or even a tour through one of the top motorcycle repair and maintenance schools in the country, this might as well be mecca to bikers and bike lovers.
Not a biker yet? You can take lessons while on your Daytona mancation so you are all set to return for Daytona Bike Week!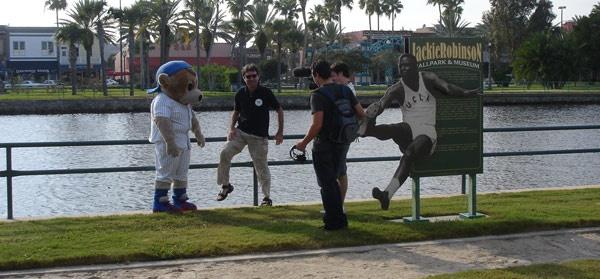 Sports History:
The beaches, speedway, and bikes aren't the only sporting options available in Daytona. Daytona even has its place in sports history as the place where Jackie Robinson broke the color barrier in professional baseball. The team is now the Florida league affiliate of the Chicago Cubs, but it also features stations around the outside of the ballpark where you can see how your athletic ability compares to Jackie Robinson.
So is Daytona the Ultimate Mancation Destination?
I suppose it all depends on what time of year and what you are looking for, but regardless of the fact that our trip was paid for, Daytona certainly ranks high on my list of places that I would love to return to with a group of friends!
What are your favorite places to visit in Daytona? Did I miss anything?