We love tequila and whether you are sipping, shooting, or enjoying it in a cocktail it's always a spirit to enjoy with friends. While there are plenty of bars where you can celebrate we wanted to create a list of some of our favorite recipes provided by friends at our favorite Tequila brands including: CRUZ, el Jimador, Partida, Herradura, and others.
The margarita originated at the Rancho La Gloria Hotel located between Tijuana and Rosarito in Baja California however the "classic" margarita as we know it today was created and popularized by Hussong's Cantina in Ensenada Mexico in 1941 by Don Carlos Orozco when he mixed equal parts of tequila, Damiana and lime then served the drink over ice in a salt-rimmed glass. The name came from the fact that the person he was serving was Margarita Henkle - daughter of the German Ambassador to Mexico.
While there are numerous other accounts for the the origination of the margarita, the important thing is that over the past 70 years it has evolved into a drink that has been interpreted by a variety of bartenders around the world and remains one of the most popular cocktails ever created.
The here are a few of our favorite margarita recipes ...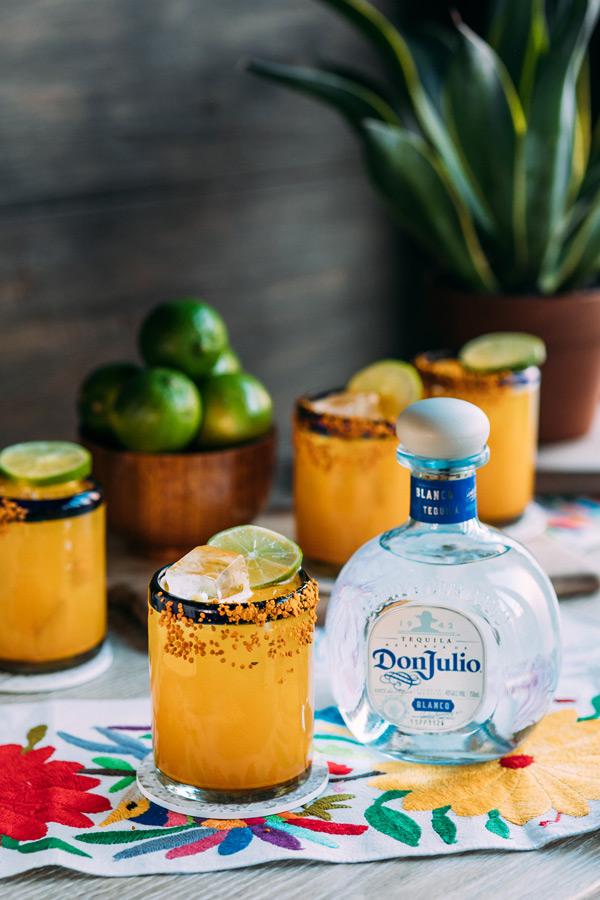 Turmericana
Created by mixologist Eric Ribeiro
Ingredients:
1 1/2 oz. Tequila Don Julio Blanco
1/2 tbsp. Turmeric
1 chunk of Ginger
3/4 oz. Lime Juice
1/2 oz. Honey
1/4 oz. Hot Water
Bee pollen
Preparation:
In a shaker, muddle ginger, turmeric, hot water and honey.
Add Tequila Don Julio Blanco, lime juice and ice. Shake well.
Strain contents into a rocks glass rimmed with bee pollen over fresh ice.
Glass: Rocks rimmed with bee pollen
Garnish: Bee Pollen on drink surface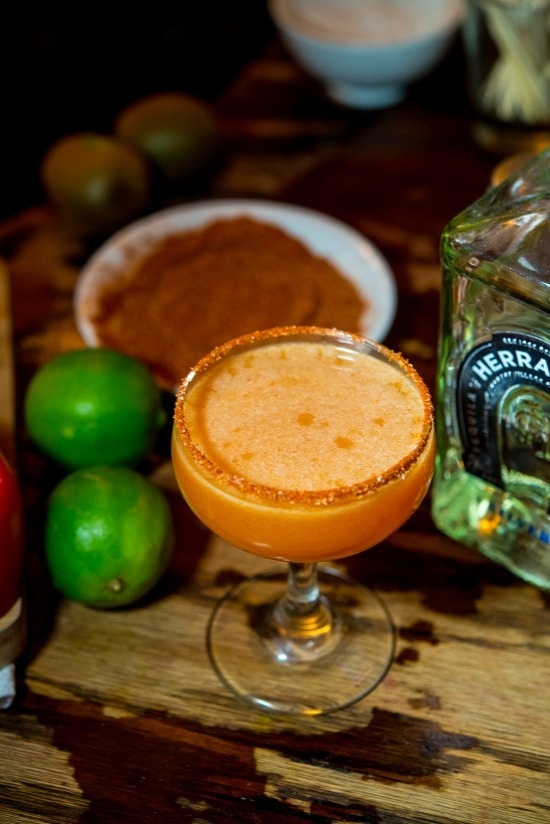 Herradura Vesuvio
Ingredients
2oz Herradura Silver
¾oz Red pepper juice
½oz Lime Juice
¼ oz Cholula hot sauce
¼ oz Agave nectar

Directions
Rim a coupe glass with cayenne pepper and salt mix Shake all ingredients in a cocktail shaker, shake hard and pour into the chilled coupe glass.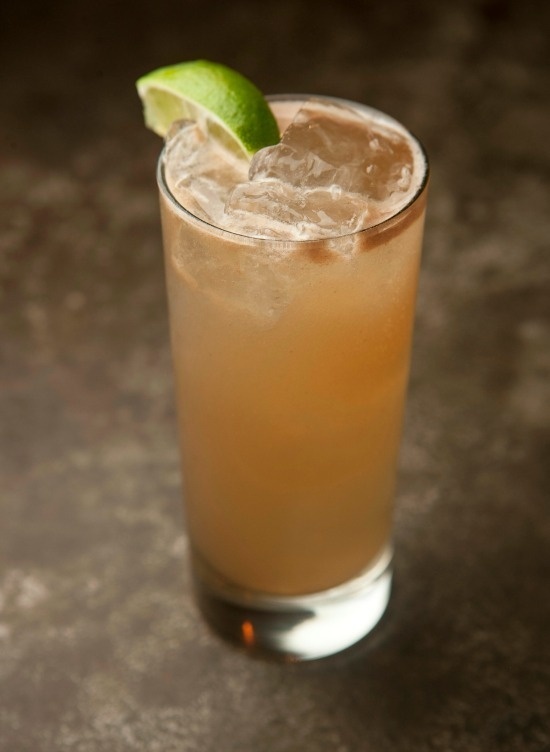 Tamarind Paloma
Ingredients:
1.5 oz of el Jimador blanco
1.5 oz Bohemia
5 oz of fresh lemon juice
5 oz of tamarind syrup
2 Dashes of orange bitters.
Directions:
Shake all ingredients except the Bohemia beer with ice and pour over ice. Fill rest of glass with Bohemia beer. Served in a Collins glass.

Mojita-rita - 195 Calories
This hybrid combines the best of two faves!
Small bunch fresh mint leaves
2 parts fresh lime juice
1 part Tres Agaves Agave Nectar
1 part Tres Agaves Blanco Tequila
½ part orange liqueur
Fresh mint and lime for garnish
Muddle mint lime and agave in a cocktail shaker. Add the tequila, orange liqueur and about a cup of ice. Shake vigorously and strain into a rocks glass over fresh ice; garnish with fresh mint spring and lime wheel.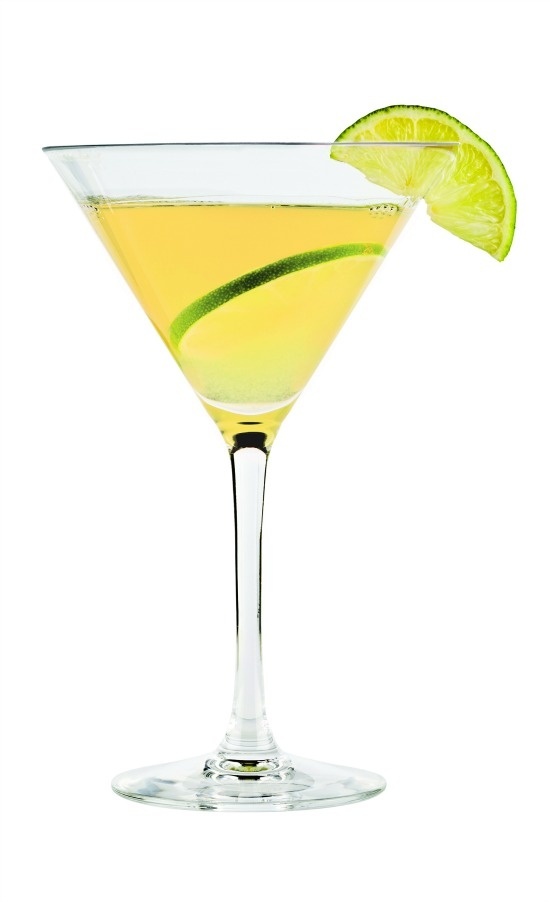 Sweet Heat Margarita – 206 Calories
The perfect hot and sweet happy-hour treat!
1 part CRUZ Reposado Tequila
1 part Tres Agaves Agave Nectar
1 part Licor 43
1 part fresh-squeezed lime juice
½ fresh jalapeño pepper, seeds removed
Lime wheel and/or thin jalapeño strips, for garnish (optional)
Muddle jalapeño in lime and agave nectar in a shaker. Add ice and Tequila, shake well and strain over into a chilled martini glass. Garnish with lime wheel and/or thin jalapeño strips.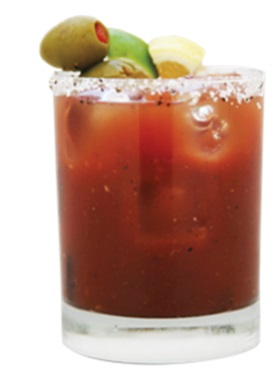 Bloody-Rita – 208 Calories
Margaritas for breakfast…yes please!
This 100% certified organic mix is cocktail ready and ideal for easy at-home entertaining!
2 parts Tres Agaves Bloody Mary Mix
1 parts Tres Agaves Blanco Tequila
½ part fresh squeezed lime juice
Olives and lime wedge stalk for garnish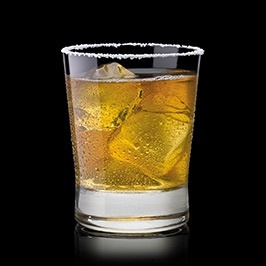 Makerita – 220 Calories
Sweet, sour and absolutely delicious. An old favorite gets kicked up a notch with Maker's Mark® Bourbon in the mix.
1 part Maker's Mark® Bourbon
1 part fresh squeezed lime juice
1 part JDK & Sons™ O3 Premium Orange Liqueur
3/4 part Tres Agaves Agave Nectar
Fill tall glass with all ingredients. Shake and strain over ice in highball glass. Salted rim is optional.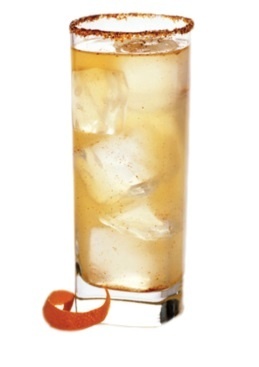 Sriracharita – 170 Calories
Very on trend and VERY delicious
1 part CRUZ Silver Tequila
2 Parts Tres Agaves Margarita Mix
3 dashes Sriracha
Orange peel for garnish
Combine all ingredients in a cocktail shaker with ice, shake and strain in to a rocks glass over ice, garnish with large orange peel.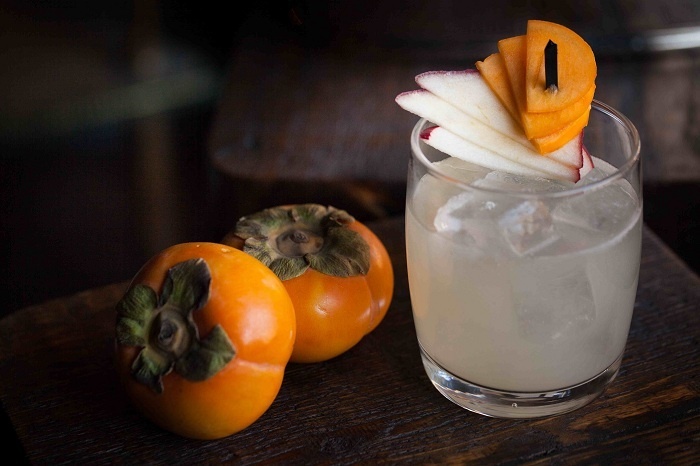 Seven Peaks Margarita
Ingredients:
1 1/4 oz Tequila Don Julio Añejo
1/4 oz Grand Marnier
1 oz Fresh Lime Juice
1 oz Simple Syrup
1 Ginger Slice
1 Apple Wedge
1 Persimmon Wedge
Apple and Persimmon Fan for Garnish
Preparation:
Muddle ginger, apple and persimmon with the lime and simple syrup in a cocktail shaker.
Add Tequila Don Julio Añejo and Grand Marnier to the shaker with ice and shake well.
Double strain into double rocks glass filled with ice.
Garnish with an apple and persimmon fan.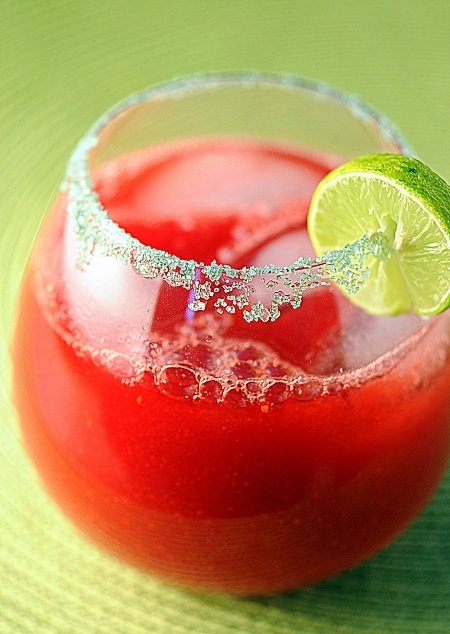 Key Lime Raspberry Margarita
1 cup Laughing Glass Cocktails Margarita
1½ cup orange liquor
½ cup frozen raspberries
1 cup key lime juice
1/3 cup superfine sugar
Blend until raspberry seeds have disappeared, pour into a chilled, salt rimmed glass.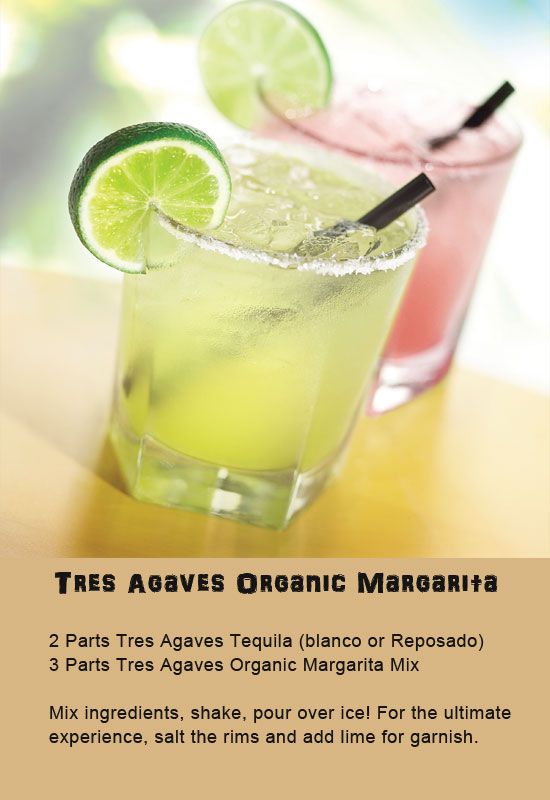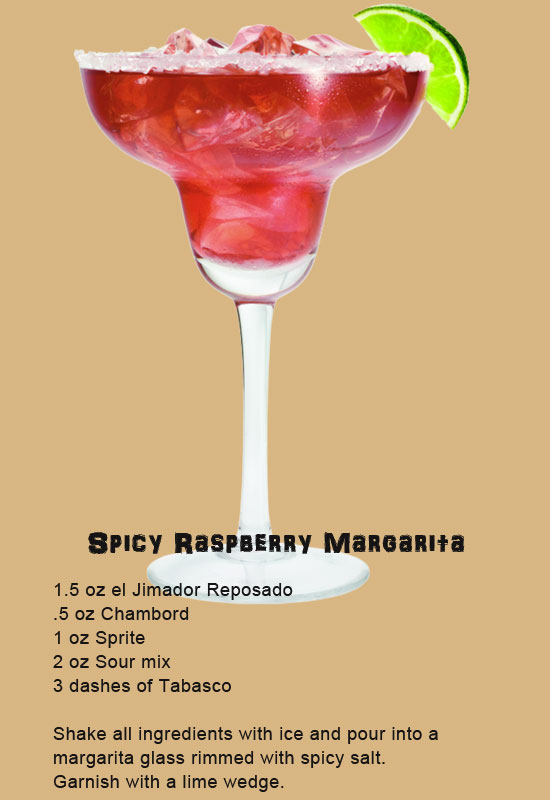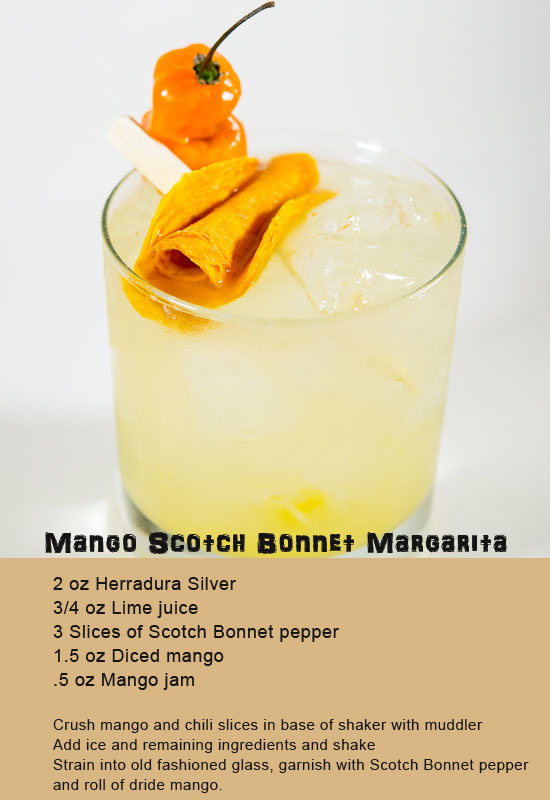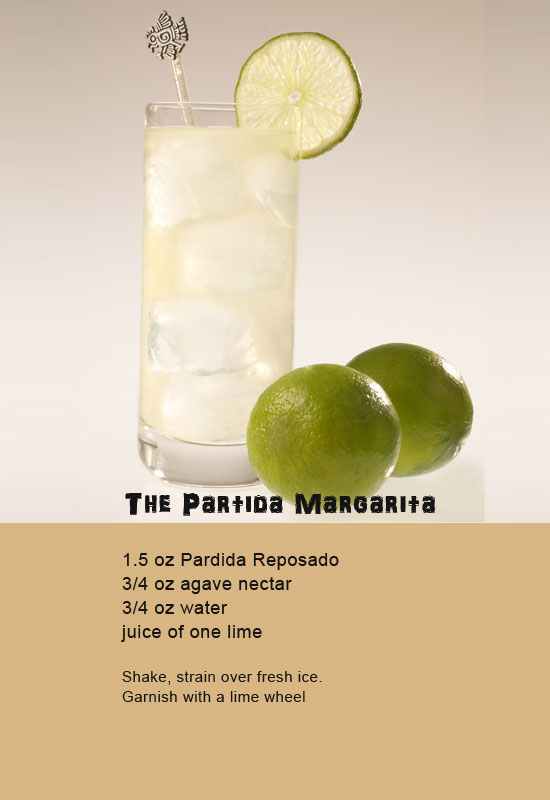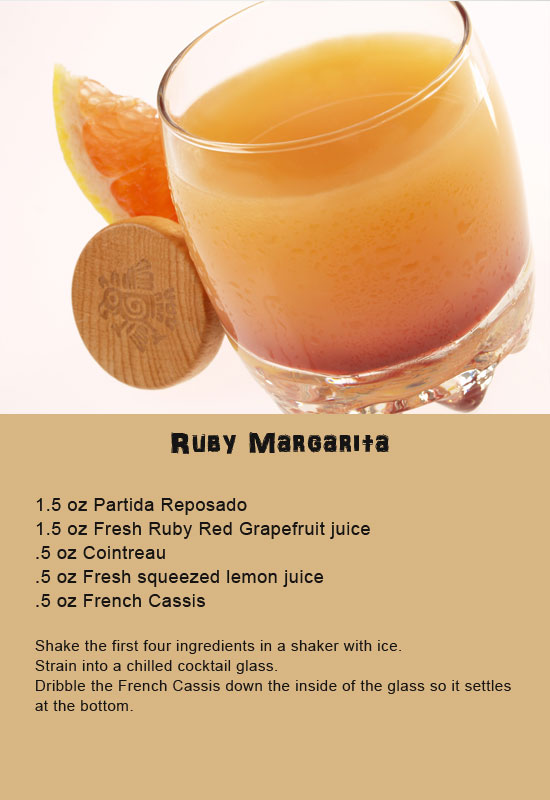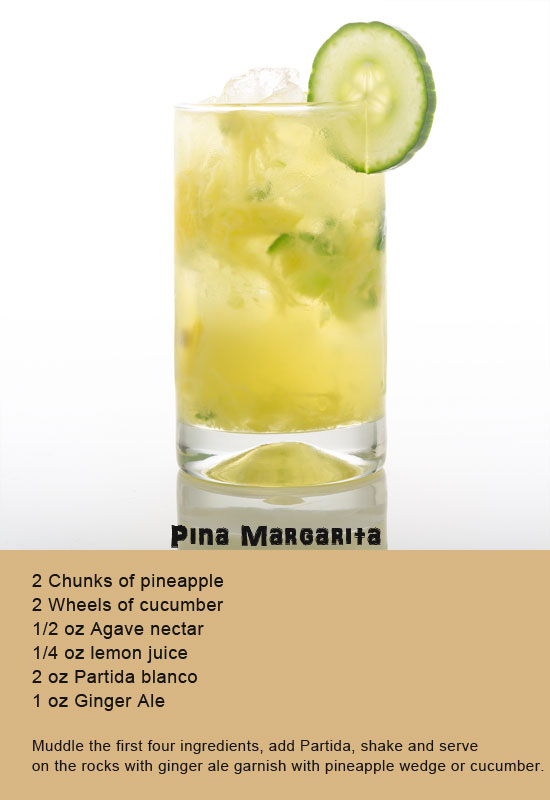 More recipes will be added over the next few day!