I think most guys have thought about taking a trip to the Smokies at some point - whether it is that epic motorcycle trip or chasing rainbow trout, this is a destination that guys are instinctively drawn to. While there are a wide variety of accommodations that you can stay at in the area - from luxury hotels to rustic camping spots - our pick would be to find a glamping spot where you can have modern amenities but enjoy the back to nature experience too.
Imagine you're nestled in the heart of the majestic Smoky Mountains, swapping stories around a roaring fire. Picture luxurious yurts, hearty meals, and a cold regional beer in hand. It's not just camping, it's glamping, and it's about to become your favorite way to bond with the boys.
Key Takeaways
Glamping in the Great Smoky Mountains offers a unique blend of comfort and adventure for a guys trip
It allows you to experience nature without sacrificing comfort, providing a luxury camping experience
The Great Smoky Mountains offer a variety of glamping accommodations, including fancy tents and rustic cabins with plush bedding and scenic views
Choosing a secluded glamping spot in the Great Smoky Mountains can provide the privacy needed for a tight-knit guys trip.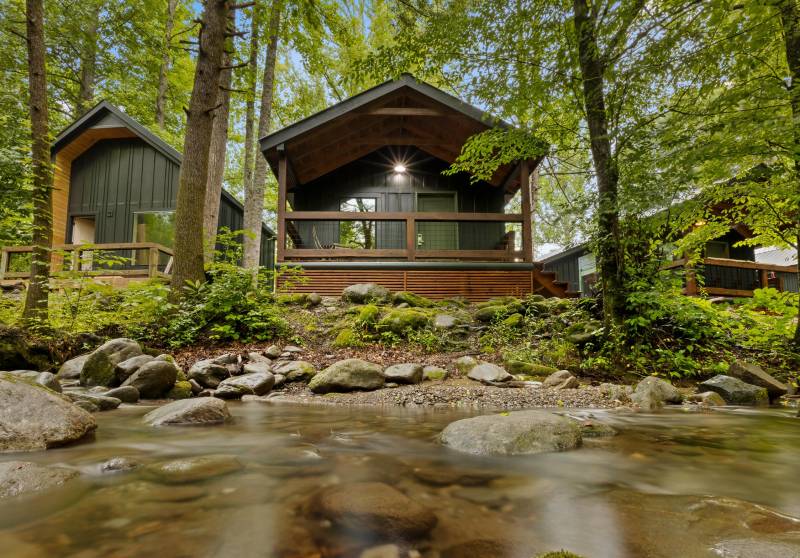 Why Glamping Can Be A Great Option For A Guys Trip
So, you're planning your next guys' trip and someone throws out the term 'glamping'. You're intrigued but a little unsure; what is glamping anyhow?
Let's delve into the world of luxury camping, exploring options from opulent tents to rustic cabins.
What Is Glamping Anyhow?
You're probably wondering what glamping is, aren't you? Well, the term glamping is a mix of glamour and camping. It's a way to experience the untamed and completely unique parts of the world — without having to sacrifice comfort. Glamping is eco-friendly vacationing at its finest, giving you a luxury camping experience while also teaching you outdoor survival skills. While this is more traditionally associated with romantic getaways and girls weekends since folks assume men want to "rough it" ... that's just not always true.
I know personally, I'm past the days when I want to sleep on the ground or tucked into a sleeping back on an army cot. While I enjoy connecting with the "great outdoors" I also appreciate my back and neck feeling great the next morning after waking up in a comfortable bed with good linens and a firm pillow.
Now, let's compare traditional camping with glamping:
| | Traditional Camping | Glamping |
| --- | --- | --- |
| Comfort | Limited | High |
| Eco-Friendly | Yes | Yes |
| Survival Skills | Necessary | Optional |

Picking The Right Glamping Style - Fancy Tents Or Rustic Cabins?
When it comes to choosing your glamping accommodations, we've got plenty of options, from fancy tents to rustic cabins?
For luxury camping, the tents typically come loaded with amenities that give a whole new meaning to 'roughing it'. Picture an expansive canvas tent with plush bedding, a cozy fireplace, and occasionally even a private bathroom.
But maybe you're drawn to the sturdy charm of a rustic cabin. While Smoky Mountain cabins are a very popular category of accommodations in the region, they range from mansions perched on the side of the mountain where comfort is second to none and include well-appointed interiors, hot tubs, and breathtaking views of the Smoky Mountains to more rustic cabins that while comfortable, connect you with the natural surroundings more closely.
Often times these rustic cabin options will feature one big room with multiple beds and sometimes instead of the wood-frame traditional style, it will be a big round framed tent called a yurt where everything from sink and toilet to bed and sitting area are in one space.
While the wilderness beckons, safety is paramount. Rest assured, both accommodations ensure your group's safety, allowing you to focus on what really matters - group bonding.
Selecting The Right Spot - How Much Privacy Does Your Group Need?
It's important to consider how much privacy your group will need when selecting the right spot for your Smoky Mountains outdoor adventure. Group dynamics play a key role here. If you're a tight-knit crew planning on late-night shenanigans, you'll want a secluded spot so as to not disturb other folks. If you're more of a social butterfly group, a camp near others may suit you better.
The privacy levels in the Smokies range from remote backcountry sites to bustling campgrounds. Factor in spot accessibility and terrain considerations. Are you up for a challenging hike, or do you prefer a drive-up site? Now, don't forget about area attractions. Proximity to epic trails or fishing hotspots might tip the scale in favor of a less private but more conveniently located site.
Choose wisely, fellas!
Does Your Group Of Guys Need Individual Spaces Or Can They Share An Open Cabin?
Deciding whether your crew can bunk up in a larger cabin or needs individual accommodations isn't always easy, but consider everyone's needs for space and privacy. You've got budget considerations to think about. Do the math. Sometimes, sharing a larger cabin is sensible for your wallet but could mean sacrificing personal space.
Bed arrangements are important too. Some guys don't mind bunking together, while others might prefer a solo spot to unwind. Noise levels can be high when everyone's together, so weigh that in.
Luggage storage won't be a problem in a spacious cabin, but remember, personal space can quickly shrink with more gear. It's a balancing act between cost, comfort, and camaraderie. So, think it through, because the Smoky Mountains are waiting for your epic guys trip.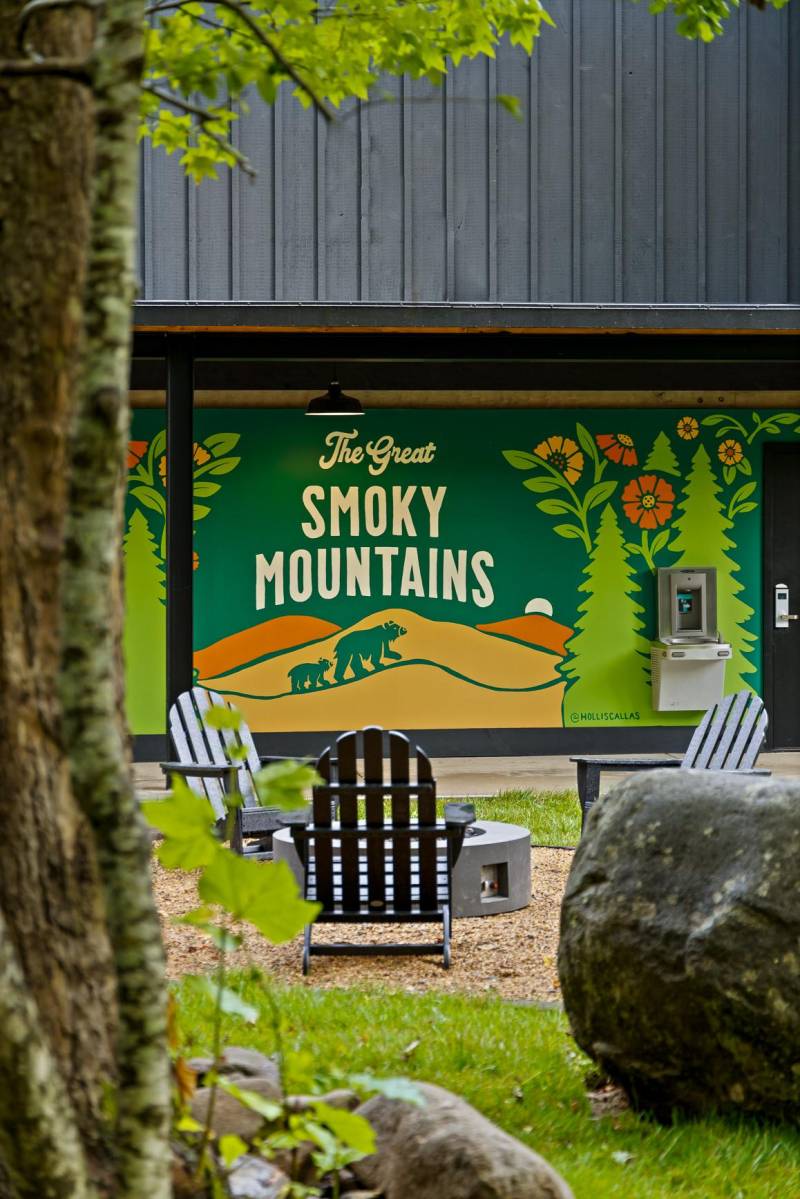 Roamstead Offers A Variety Of Accommodations From Yurts To Cabins
One newer Smoky Mountains area glamping facility that we found out about recently is Roamstead. Located directly between the two main entrances to the park, you'll find a variety of accommodations here from cozy cabins to unique yurts.
Picture this: you and your friends, after a day of adventuring, kick back in a yurt, experiencing firsthand the benefits of this ancient, yet modernized, dwelling. The circular design promotes camaraderie, the dome lets in natural light, and the comfort? Unbeatable.
If your group prefers more privacy, Roamstead offers cabins with up to five different floor plans. The largest can welcome up to seven guests, making it a versatile group accommodation option. And doesn't an evening spent swapping stories around an open fire sound appealing?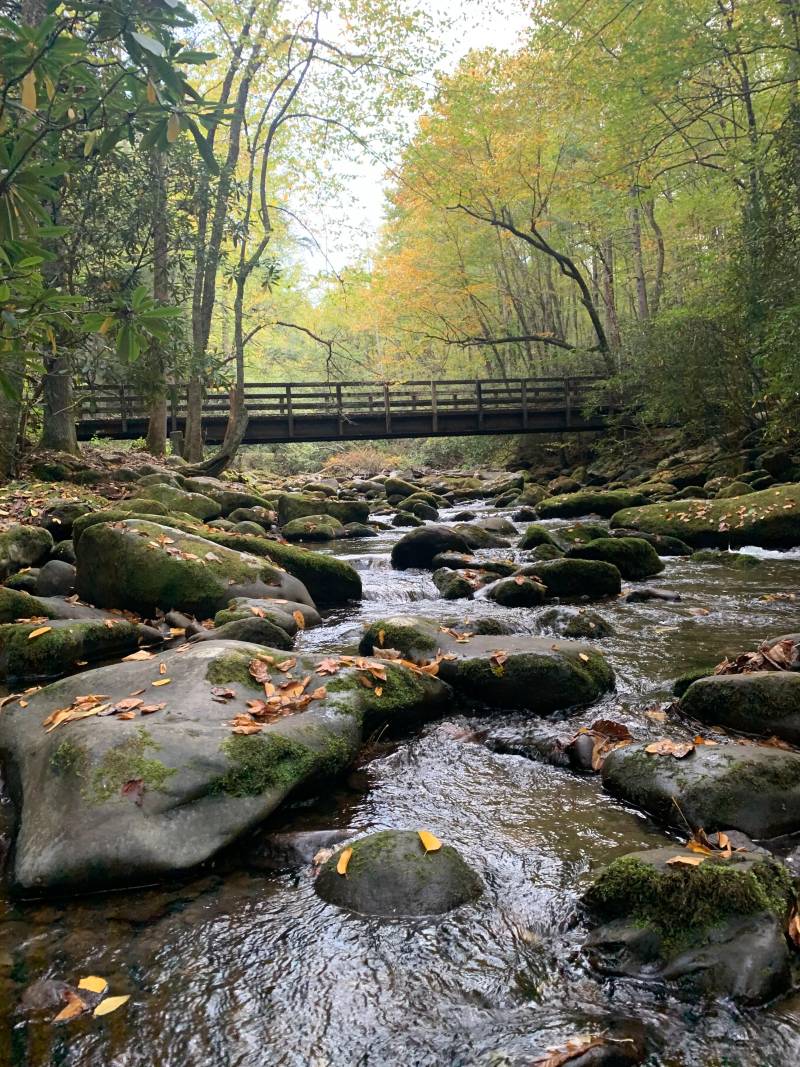 Back To Nature Smoky Mountains Guys Trip Things To Do
You're about to embark on a thrilling adventure in the heart of the Smoky Mountains. Nature's playground unfurls with activities that will satisfy your craving for the outdoors and local culture.
Imagine yourself casting a line into a tranquil mountain stream and feeling the thrill of the catch as a trout bites. Or hiking through the lush forest trails, breathing in the crisp mountain air and celebrating at the summit with a can of cold Shiva IPA from Asheville Brewing.
Trout Fishing
Trout fishing's a highlight of any trip to the Great Smoky Mountains, boasting some of the last wild trout habitats in the eastern United States. Perfect your fly fishing techniques in the park's 2,900 miles of streams, where about 20% are teeming with trout.
The best fishing spots? Try the remote trout streams for a real adventure. Don't forget your trout fishing gear, especially the right rod and artificial flies. Remember, fishing regulations and permits are crucial; obtain a valid license from Tennessee or North Carolina.
And remember, practice catch and release to help preserve these beautiful creatures for future generations.
| Best Fishing Spots | Gear Needed |
| --- | --- |
| Remote Trout Streams | Hand-held Rod |
| Coolwater Smallmouth Bass Streams | Artificial Flies |
Experience the thrill of trout fishing in the Smoky Mountains.
Hiking
After you've hung up your fishing rods, it's time to lace up your hiking boots. The Great Smoky Mountains are a hiker's paradise, filled with trails that offer breathtaking views and wildlife spotting opportunities. Whether you're an experienced hiker or a novice, you'll find a trail that suits your level.
Here are four hiking adventures you won't want to miss:
Cades Cove Loop: Perfect for mountain biking and wildlife spotting, it's an 11-mile loop filled with historic sites.
Alum Cave Trail: Offers breathtaking views and photography tips for capturing the tranquil cascades and bluffs.
Mount Cammerer: A top hike in the park, where survival skills are tested with the rewarding payoff of stunning views from a lookout tower.
Appalachian Trail: The 8-mile round trip from Newfound Gap to Charlies Bunion ends the day with campfire stories, creating a sense of belonging among your crew.
Distilleries and Craft Beer Drinking
Once you've wrapped up your hiking adventures, it's time to explore the local distilleries and craft beer scene in Gatlinburg and Pigeon Forge. Be part of local brewery tours at Gatlinburg Brewing Company and Smoky Mountain Brewery. Sample their original beers and pair them with delicious appetizers.
Here are some places to consider:
| Location | Highlights | Specialties |
| --- | --- | --- |
| Gatlinburg Brewing Company | Live music, comedy acts | Original beers, tasty appetizers |
| Smoky Mountain Brewery | Trivia, live music, singo | Six flagship brews, Four seasonal beers |
| Yee Haw Brewing | Riffs on classic beers | Oktoberfest, Kolsch, Dunkel |
| Old Forge Distillery | Vapor infusion | Whiskeys, moonshines |
| Ole Smoky Moonshine Distillery | $5 samples, history lessons | Over 20 moonshine flavors |
Don't forget to pick up beer tasting tips, learn homebrewing basics, and enjoy beer and food pairings at the area's craft beer festivals.
Enjoy Some Hearty Regional Food
You're going to love the unique culinary experiences that the region offers. From the Italian cuisine at Emilia's in downtown Knoxville to the barbecue delights at Five Oaks Farm Kitchen in Sevierville.
Your culinary adventures wouldn't be complete without a taste of the Smoky Mountains at Applewood Farmhouse Restaurant, known for its regional delicacies.
Pigeon Forge offers a huge selection of southern food spots ranging from Huck Finn's for all-you-can-eat fried catfish and The Old Mill Restaurant for family-style southern eats.
Finally, get a dose of North Carolina flavor with a barbecue feast at Haywood Smokehouse.
White Water Rafting
There's no shortage of adrenaline-pumping white water rafting adventures waiting for you in Tennessee, with everything from thrilling class III and IV rapids to more serene scenic float trips. Here's a snapshot of what you could experience:
Smoky Mountain Outdoors: With their attention to detail and strong safety measures, their experienced guides will lead you through a 6.5-mile trip of class III and IV rapids. It's an adrenaline-pumping adventure you won't forget.
Rafting in the Smokies: Offers two different rafting trips. The Upper White Water Section features 12 Class III and 3 Class IV rapids, while the Lower Family Float Section provides a more tranquil experience with scenic views.
River Rat: Specializes in tubing and whitewater rafting. Choose the upper section for more rapids or the lower section for family-friendly fun and scenic views. Safety is their priority too.
Golf
If you're a golf enthusiast, you'll appreciate the variety and challenge of courses available, from those owned by Native American tribes to those nestled in lush forests. Sequoyah National Golf Club, owned by the Eastern Band of Cherokee Indians, offers a Par 72 championship course. Sky Valley Country Club in Georgia boasts a perfectly maintained course with bent grass on greens and fairways.
Five Top Golf Courses in the Smoky Mountains
From competitive play to simply whacking some balls, golf is absolutely a top reason why guys flock to the Smoky Mountains for a guys getaway.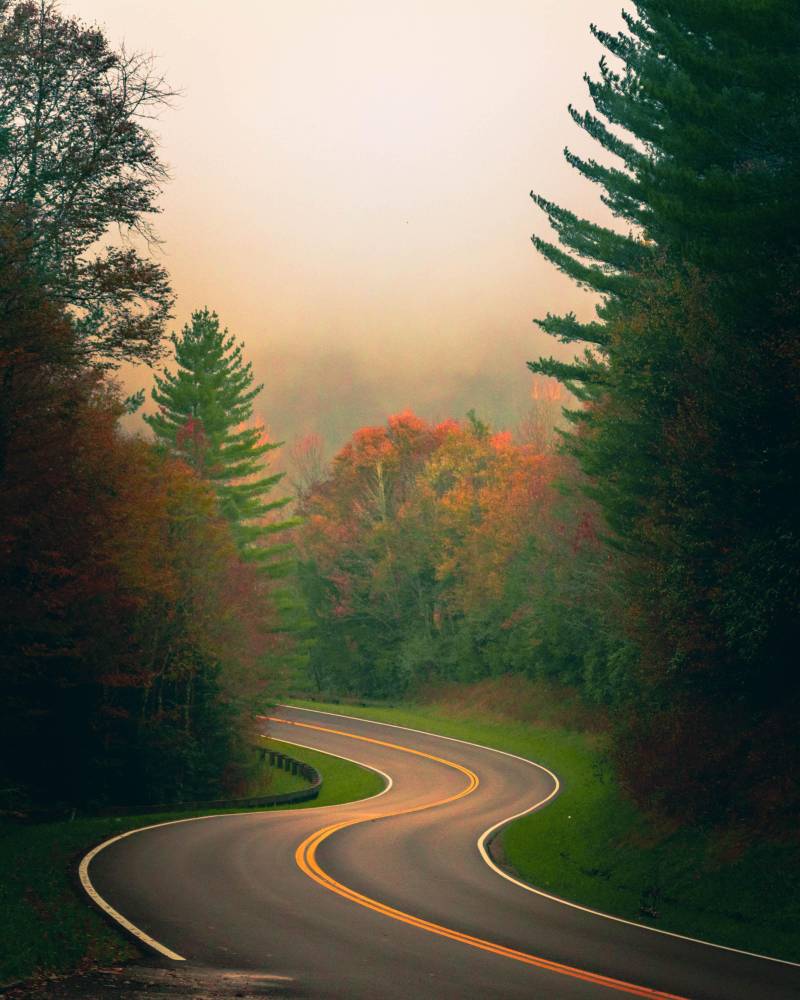 Scenic Driving and Motorcycle Trips
It's truly a must-see experience to embark on scenic drives and motorcycle trips across these captivating routes. Picture yourself cruising down Newfound Gap Road, the wind in your hair, breathtaking views unfolding around you.
Better yet, imagine the thrill of reaching Clingmans Dome, the tallest peak in the park, after a seven-mile scenic drive.
While it's a bit farther south than most of the other attractions - Deals Gap is the home of the legendary road "Tail of the Dragon" between Tennessee and North Carolina. This is an absolute bucketlist road for bikers and sports car enthusiasts as it offers extraordinary curves, amazing views, and there are some cook biker bars in the area too!
Whether you're exploring the historic structures of Roaring Fork Nature Trail or taking the less-traveled Mount Sterling Road, every day brings new adventures.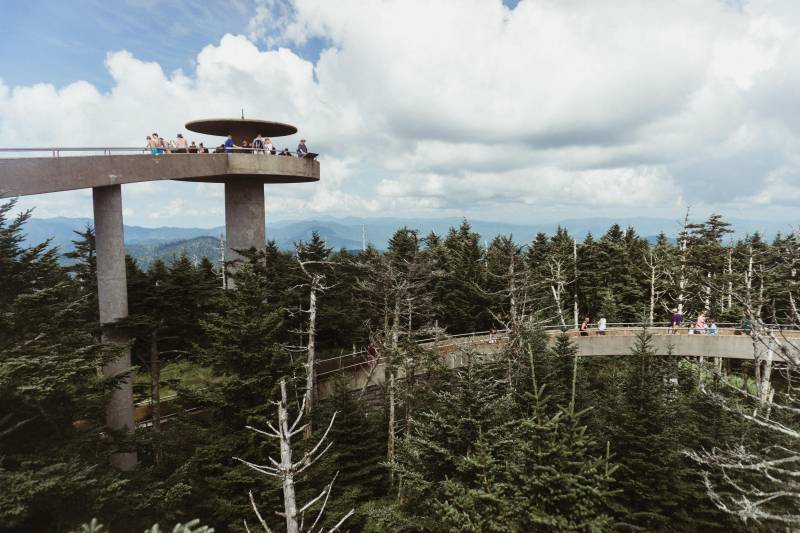 Best Time Of Year To Visit The Smoky Mountains
You're probably wondering when the best time to visit the Smoky Mountains is for your glamping trip. Well, each season offers a unique experience, so it depends on what you're hoping to enjoy.
| Season | Activity |
| --- | --- |
| Fall | The fall foliage in The Smokies is breathtaking. The trees explode in a riot of red, orange, and gold, making it the perfect backdrop for those Instagram-worthy shots. |
| Winter | Winter activities abound! From snowball fights to roasting hotdogs and marshmallows up by the fire, you'll find plenty to do. |
| Spring | Spring hiking and rafting is a must-do. The trails come alive with blooming wildflowers and the chirping of birds returning from their winter migration. |
| Summer | Summer fishing can be quite the experience. The cold mountain waters teem with trout and other freshwater fish. |
| Year-Round | Regardless of the season, exploring the Great Smoky Mountains offers a year-round adventure. From camping to glamping, there's always something exciting to do. |
In the fall, you'll be mesmerized by the breathtaking Fall Foliage. The mountains burst into a vibrant palette of reds, oranges, and golds, painting a picture that's hard to forget. You can gather around a bonfire, sharing stories, and feeling a sense of belonging in the great outdoors.
As winter rolls in, the mountains become a playground for Winter Wildlife. You might be fortunate enough to spot a black bear or a herd of elk. It's a serene, snowy wonderland where you can truly disconnect and reconnect with your buddies.
Spring Blossoms bring a fresh breath of air. The mountains awaken from their winter sleep, adorned with wildflowers and blooming trees. It's a season of renewal and the perfect time to explore hiking trails.
Lastly, Summer Festivals and Annual Events offer an exciting mix of music, culture, and outdoor activities. From bluegrass festivals to fishing competitions, you'll find something that suits your group's vibe.
Ultimately, there's never a wrong time to visit the Smoky Mountains for your glamping trip.
Conclusion
So fellas, are you ready to embrace the wilderness without sacrificing comfort? The Smoky Mountains are filled with masculine adventure opportunities just waiting for you. With over 10 million visitors each year, the Great Smoky Mountains is a must-visit.
So pack your bags, gather your crew and plan your next guys trip to the Smokies. You're in for an unforgettable experience.