I've been privileged to visit a lot of ports during my cruises but I love Grand Turk! Developed a few years ago as a port for Carnival, the port is probably the perfect "beach day" port and my favorite in all of the Caribbean!
It's Close to The Ship!
This element simply can't be understated. Two of my other favorite ports for beach days are Cozumel (I LOOOOVE Nachi Cocum!) and Mahogany Bay (also a Carnival owned port). However, both of these locations require you to travel a fair distance to the beach but at Grand Turk you are RIGHT THERE. You could probably even swim over to the ship from the beach and climb up the rope, but I really wouldn't recommend that.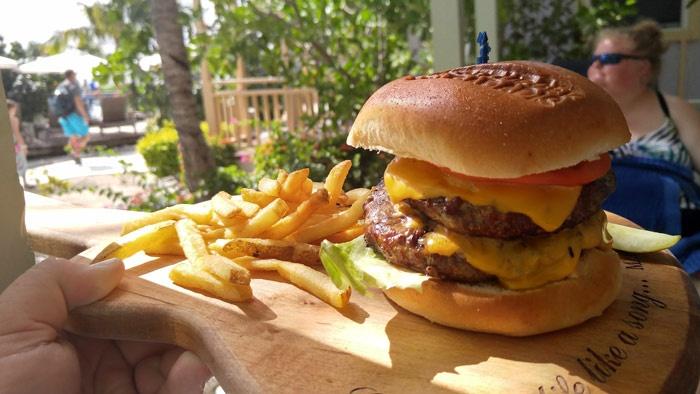 Margaritaville Has Awesome Food and Drinks
Or maybe it's that the drinks are just really strong ... so the food tastes good. Either way, you have your choice of a great menu at Margaritaville delivered by your cabana attendant, or just a short walk down the beach is a jerk shack. I'm told they have 52 margaritas on the menu here but I threw the dice and just asked for the strongest drink they had - it came served to me in a clock. That clock literally measured the minutes till I was gone for the rest of the day ...
If that happens to you though, make sure to order a Cheeseburger In Paradise ... you won't be sorry!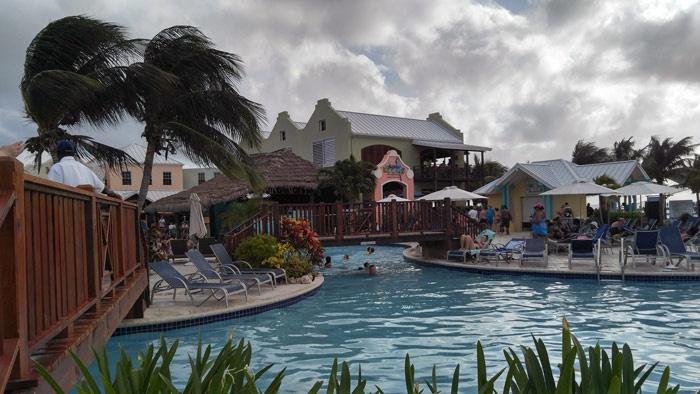 Great Pool With a Flow Rider, Swim-Up Bars, And Great DJs
This is one of the most awesome parties you can get - with hip deep water that is perfect for standing in while sipping on that clock drink or a blender-shaped margarita glass with friends. Don't want to get out of the water to get your next drink? Don't worry - just hobble over to one of the swim up bars or flag down one of the roaming waiters and you are good to go!
For those of you who want some added excitement, there is a Flow Rider and DJs leading all sorts of debauchery from twerking contests to stuff I can't even repeat.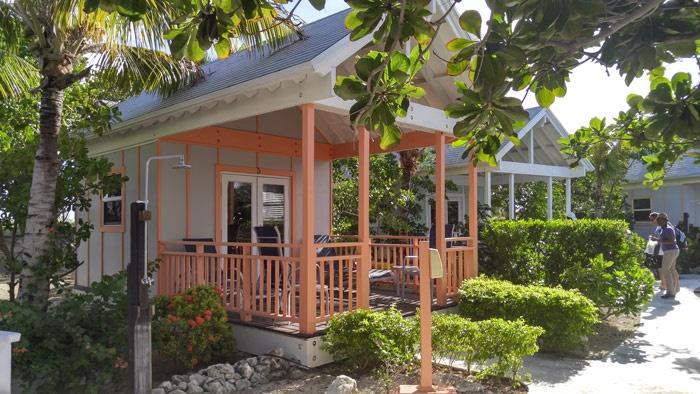 Great Private Cabanas
They only have a handful of cabanas and they can go quickly. On the date we visited, there were two ships in port - Carnival Sunshine and Carnival Glory. The excursion person on the ship informed us that they had actually been booked for MONTHS in advance.
Inside, you'll find comfy couches, air conditioning, and a door that locks so you can keep your stuff safe if you decide to to explore for a bit.
Pro Tip: If you run into the same situation that we did initially, simply email shoreexcursions@carnival.com and ask to be placed on the wait list. You never know who might cancel and they also reserve a certain number of cabanas for each ship in port. So if you are in a situation like ours, the allotment for your ship might be taken but possibly there is an opening on the other ship that you can take if you are lucky!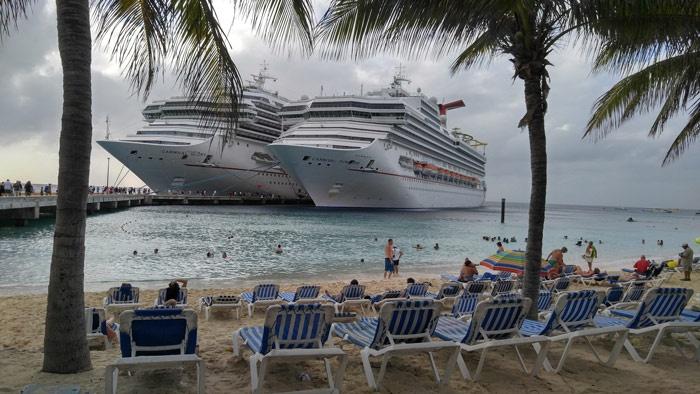 Oh Yeah and it Has a Great Beach Too!
I can't really underestimate the importance of having a great beach for a beach day ... that seems like an obvious fact, but with an amazing Margaritaville pool right here the beach was almost an afterthought initially. However it is long, shallow, clean, and crystal clear water.
There are plenty of chairs for you to relax in and shade from the palm trees too.
Looking for more about Carnival Sunshine? Visit the Carnival Cruise Review page on #MenWhoBlog.