For many of you, summer is synonymous with road trip season and under normal circumstances that can be a challenge to stay cool. However, I love adventure and sometimes that takes me on some pretty extreme trips as far as temperature goes. If you are like me then it makes sense to do what you can to keep your car in the best shape possible so it does what it is supposed to do for you. Just as important as a great road trip destination is ensuring that you stay cool and comfortable inside - even when temperatures outside might soar well above 100 degrees!
Unfortunately, as cars get older, things stop working the way they once did - raise your hand if this sounds familiar. One of the easier situations to remedy though, is your car's air conditioner. If you feel like it's just not cooling off like it once did, then chances are you are correct. I always encourage people to give their car a thorough check before taking off on a long trip since there are many things that need to be monitored. However, passenger comfort is a big one to take care of, after vehicle safety. Whether you are aware of the issue, or your mechanic discovers it during his check, there are typically two solutions to a weak A/C system. The first is to let your local auto shop take care of it - a potentially expensive repair. The other is to try A/C Pro Recharge and recharge your air conditioner yourself. For a cost of only $38 at my local Walmart, this is one of those easy DIY choices and you can even just bring it in your car as a backup.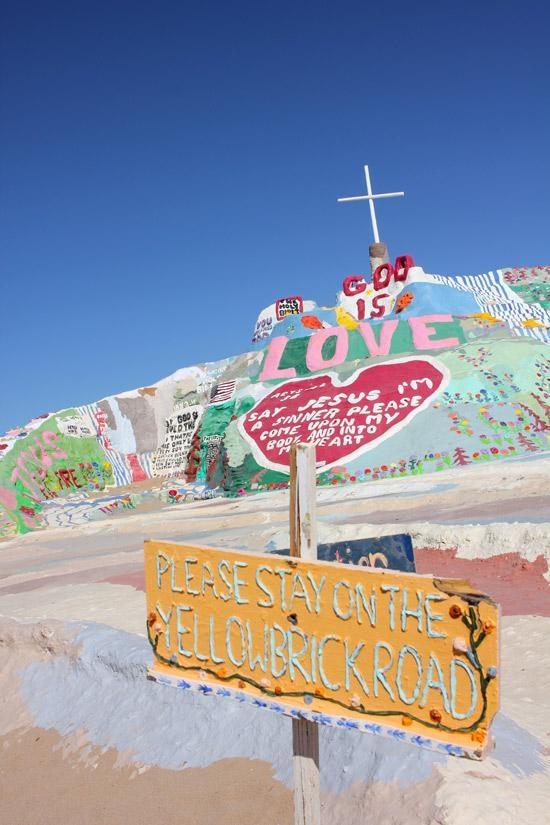 Oddly Wonderful Salton Sea and Borrego Springs California
With temperatures regularly exceeding 110 degrees during the summer, the California desert around Salton Sea is one hot place to visit. This heat combined with the sense of desolation that the desert creates has left a bizarre landscape of post apocalyptic ghost towns caused when the lake started drying up, and also the influx of artists and other unique personalities. While extreme heat may be destructive in other cases - here it has resulted in some fantastic art colonies and monuments such as Salvation Mountain, East Jesus, and Galetta Meadows where you will find hundreds of sculptures planted in the desert across miles of otherwise barren terrain.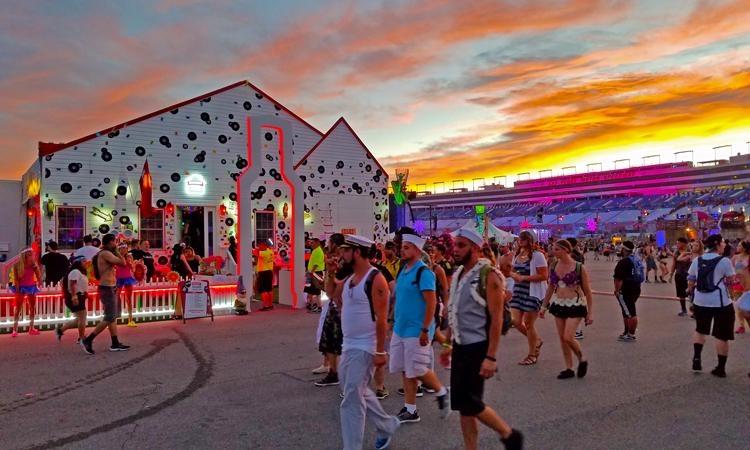 Electric Daisy Carnival in Las Vegas
No matter which direction you travel to the annual Electric Daisy Carnival held in Las Vegas each June, you are certain to be thankful for your cool comfortable air-conditioned car! At least until you get to the festival grounds. On the concrete of the Las Vegas Speedway, even at almost midnight the temperatures are in excess of 90 degrees and it feels even hotter. That doesn't stop people from partying until dawn though. So, make sure to drink plenty of water. You can get dehydrated quickly here, so please be safe!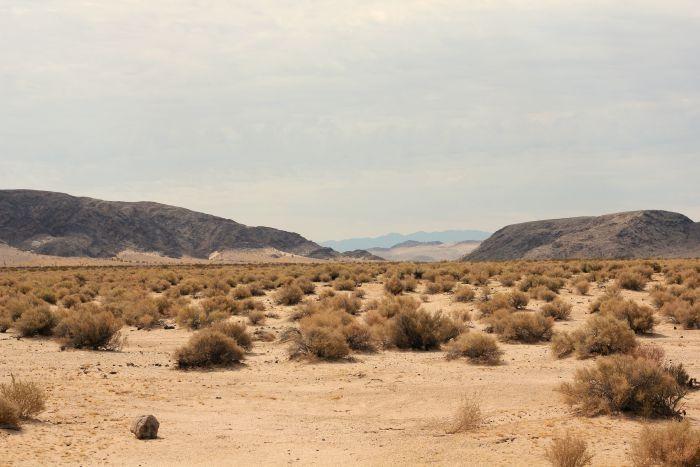 Hitting new Highs and Lows in Death Valley
Death Valley is the site of both the lowest spot ( -282' ) in the United States as well as the hottest temperatures ever recorded in the United States - a scorching 134 degrees in 1913! That's not an isolated occurrence though, on typical summer days the temperature is above a 110 degree and there are five months of the year where high temperatures will register in the 100's. Don't fret though, while this is a great place to go camping and hiking in the winter, you can still see the natural wonders by car and jump out for short periods of time to explore. Don't even consider this journey if your car isn't in tip top shape though - I drive the route between Vegas and Los Angeles regularly and have seen multiple car fires and even more motorists stranded on the side because their cars simply gave up due to the extreme heat.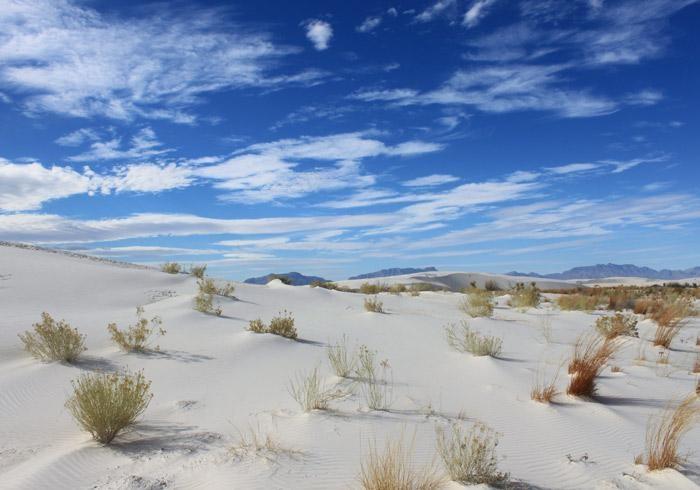 Exploring Aliens and Nuclear Bombs in New Mexico
While not as hot as Death Valley, the deserts of southern New Mexico is a hot spot for UFO hunters around the world. Roswell is the sight of one of the best documented UFO crashes in history though it hasn't been confirmed what landed here there was absolutely something unidentified. While looking for aliens, make sure to drive over to White Sands National Monument and Trinity Test Site where you can learn more about the history of nuclear testing and imagine the 10 million degree temperature blast given off by the world's first nuclear explosion on July 16, 1945. That's so hot that the blast melted the otherwise white sand around the blast site creating a green glassy material now known as Trinitite.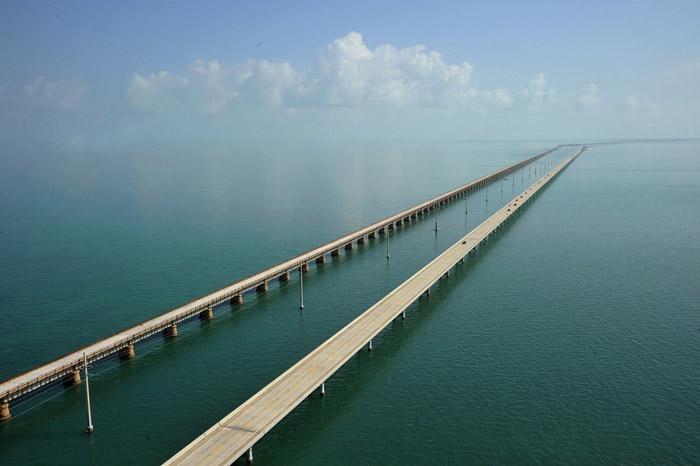 Fun in the Sun from Miami to Key West
While we've focused on super hot places in the desert, Florida is a whole different sort of hot. Frankly, I'd rather have 110 degrees with low humidity in Nevada than 90 degrees and 90% humidity in Miami. That's pretty much what you are looking at here during the summer though and it's worth it if you are looking for lush tropical beaches, fantastic fishing, and incredible food. While it gets a bit more comfortable in Key West, it's still hot, wet, and sticky so you'll be thankful for the AC blowing through your vents to cool and dehumidify your vehicle!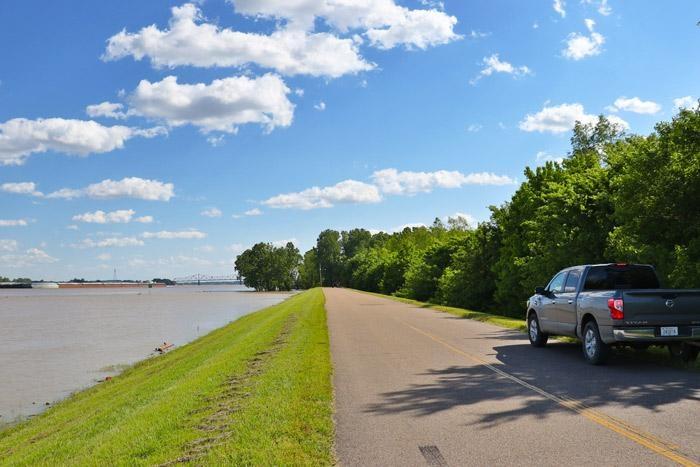 Driving on a levee outside of Helena, Arkansas watching the Mississippi River go by.
BBQ and Blues from Memphis to New Orleans
We just came back from one part of this road trip but it's a dream I have of one day returning and doing the complete journey from Memphis to New Orleans. In the summer though, you're going to find high temperatures reaching 100 degrees in New Orleans during the summer with extreme humidity. Along the route though, you'll be able to cool off at night in blues clubs along the route, sipping cans of ice cold beer and dreaming of those ice cold daiquiris waiting for you on Bourbon Street!