Traveling to Asia has an almost magical quality to it for most Americans and I think much of that is a combination of being primarily a European-descent country as well as frankly the Pacific Ocean is a lot bigger than the Atlantic. Modern air travel and incredible deals though have made traveling to Asia something that is accessible to most travelers now and that includes the rich cultural adventures awaiting guys who explore Indonesia.
What to Know About Travel to Indonesia:
Indonesia is a huge series of more than 17,000 islands. So, when planning your vacation in Indonesia, the first thing you need to do is decide where you are going to visit. Luckily, US Citizens do not need a tourist visa to enter the country, however you should always check the State Department website for updates. Part of what makes travel to Indonesia exciting is it's location and rich history of being central to international trade. The Indonesian archipelago sits right above Australia and just below the Philippines, Singapore, Vietnam etc. This means that for more than 1,500 various cultures have interacted here and that has resulted in a unique culture that retails it's own identity - yet also has influences from Dutch, Portuguese, French, British, Arabian, Persian, Indian, Japanese, and Chinese cultures too. Despite this, Indonesia still retains hundreds of distinct native ethnic groups with Javanese being the largest.
While the country is dominantly Islamic, other religions thrive here too including Christianity and Buddhism providing a great opportunity to explore these religious centers.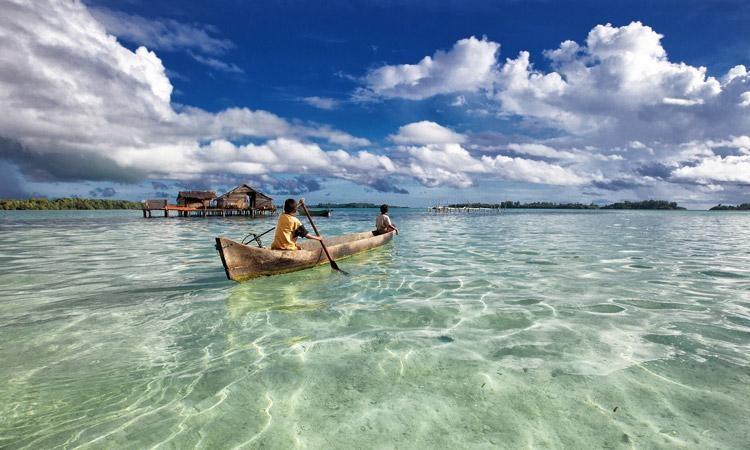 Beaches, Surfing and Diving In Indonesia
With thousands of islands comprising the Indonesian Archipelago, it's no surprise that there will be some beautiful beaches, excellent swells, and exotic underwater area to explore here. This alone makes it an awesome lads holiday destination. Many consider Indonesia one of the top places in the world to surf since you have smooth, white sand beaches, warm water, and swells that come from the south and southwest across the Indian Ocean. Islands of Bali, Lombok, Java, Sumatra, Flores, Sumbawa, Sumba, and Timor are among the top surfing destinations.
Divers love visiting Indonesia too because the area is rich in coral as well as colorful fish. Bali is one of the top spots here including Pulau Menjangan where divers will find a well-preserved reef with drop-off and plenty of aquatic diversity. Across the archipelago there are more than 3,000 species of fish and the area includes a whopping 30% of all the world's coral reefs!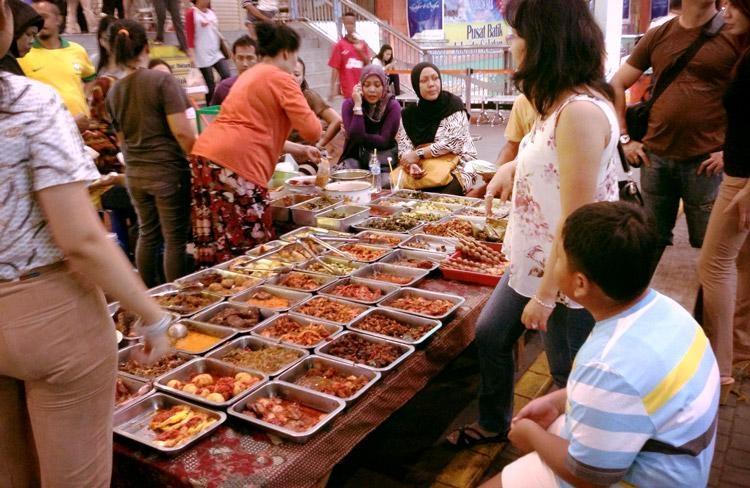 Sample Indonesian Street Food in Jakarta
One of the best parts about exploring Indonesia is the street food. As a result if it's colonial history, you will see an eclectic mixture of indigenous favorites as well as those with Chinese and Dutch influences. One of the best places to visit to sample street food is Jakarta where there are more than 56,000 street vendors. These street food vendors can be found in specific spaces similar to Portland's food cart pods as well as simply lining pedestrian sidewalks. Jakarta is a city of nearly 10 million people and it is also a popular tourist destination so that means a lot of food to try here!
Generally, visitors will find that Indonesian street food has strong flavors and can be quite spicy. Much of it is fried, but fritters, and soups are also very popular here.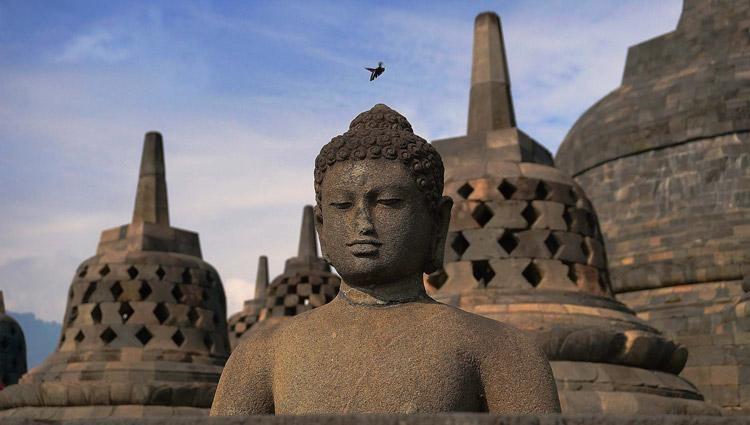 Explore Ancient Temples
You don't have to be religious to enjoy the outstanding beauty and architectural achievemten exhibited in the ancient predominantly Hindu and Buddhist temples found across Indonesia. These include the ornate carvings at Goa Gajah on Bali featuring a cave adorned with grotesk and menacing figures carved into the walls and the entrance to the cave as well as more serene temples such as Borobudur in Java, which is the world's largest Buddhist temple.
Guys will also love visiting the Monkey Temple in Ubud's Monkey Forest. There are three temples here that were built in the middle of the 14th century and it is a great place to see the monkeys while learning about Bali's history.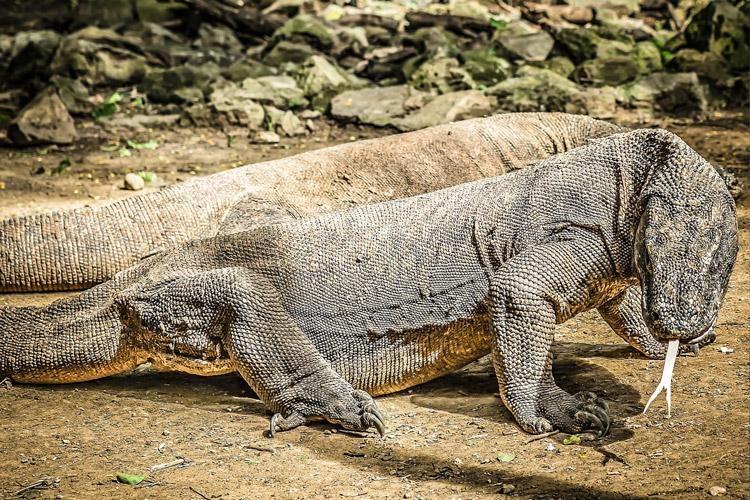 Visit With Komodo Dragons
These giant monitor lizards are native to Indonesia and can be found on the islands of Komodo, Rinca, Flores, Gili Motang, and Padar. One of the best places to see them of course is at Komodo National Park, which serves as a natural preserve for these animals. Unfortunately with Indonesia's rapid economic growth and global environmental trends the habitat has shrunk dramatically but you can still see them here along with more than 1,000 species of fish, reef-building corals, sponges, sharks, rays, whales, dolphins and sea turtles that all live here too.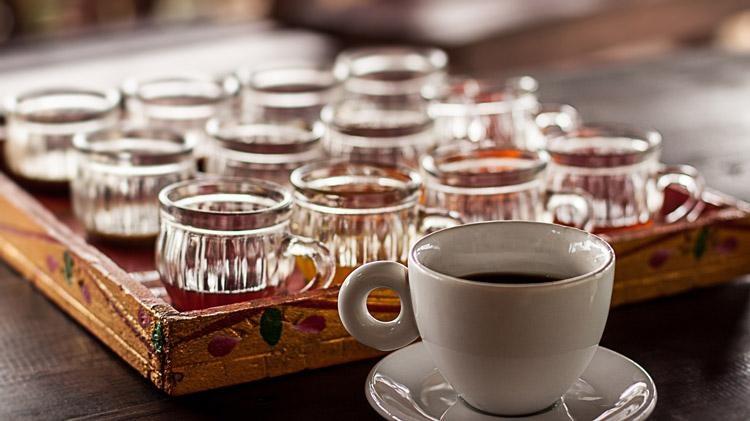 Sampling Indonesian Coffee
In 2014, Indonesia was the world's fourth largest producer of coffee and this product is closely tied with the country's colonial history. While you may not be familiar with the phase "Indonesian Coffee" any coffee lover certainly knows the term Java and seen a Sumatran Blend on the menu at their favorite shop.
Indonesia's coffee history began in the late 17th century as the Dutch begin to plant arabica coffee seedlings from their Indian colonies here and it quickly became a profitable export for the Dutch East Indian Company to bring back to Europe. Today, there are several coffee plantations that are open for tours including the Satria Coffee Plnatation in Bali where you can tour as well as sample the products.
If you are looking for something a bit "different", Indonesia is home to Kopi Luwak ... better known as "cat poo coffee". The concept is simple - the civet cat eats coffee berries and then the resulting droppeings are washed, cleaned and dried, then ultimately roasted and brewed like any other. What a perfect way to cap off your mancation adventure than a cup of cat poo coffee?
Or if you simply want to have a nice cup of "java" there are of course many fantastic coffee shops catering to International travelers throughout the major cities!