Italian Wine Food and History On a Tuscany Mancation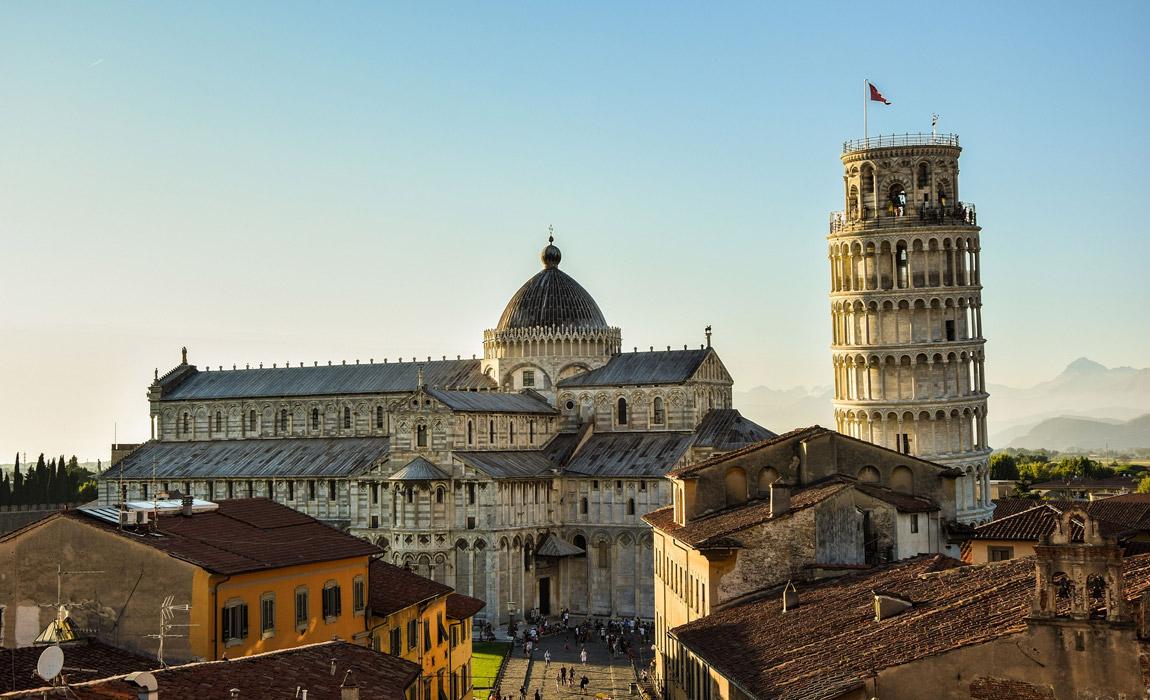 We make money from support by sponsors, advertisers, and affiliate partners. As an Amazon Associate I earn from qualifying purchases.
Tuscany is an incredible, life-changing experience and a great place for guys seeking an amazing mancation experience. There's so much to do and see in this region that it can feel impossible to do it all on your first visit. Your capacity for adventure will depend on how much time you have in the area and the pace of your trip.
Tuscany is an awesome place for guys looking for the ultimate Italian mancation. Wine, food, history, and the opportunity to follow in some of history's greatest men - it's all here in Tuscany. Here are some of the places you won't want to miss during your visit.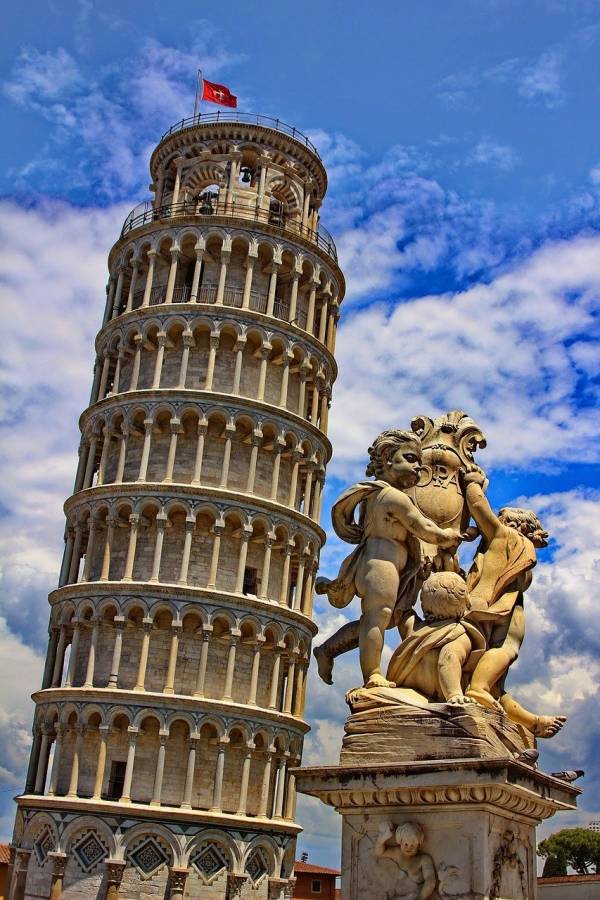 Pisa
The leaning tower of Pisa is one of the world's most renowned architectural wonders. Few first-time visitors realize this spectacle is located in the heart of Tuscany. The best part about this attraction is that it's easily accessible, and the focal point of the town of Pisa, so you can do it all in a day trip.
If you can make it work with your itinerary, consider viewing the tower at night. After dark, the tower is lit up and looks stunning against the evening sky.
Florence
In Florence, you'll find beautiful Tuscany homes to rent if you prefer an urban setting for your home base. First-time visitors need to note that Florence is often called Firenze in Italy. The different names have to do with linguistics and can be the subject of controversy with the locals. So if you hear Florence referred to as Firenze, go with the flow.
While in Florence, you must visit the Uffizi Gallery, which is home to some of the world's best art from the Renaissance era. Hike to the top of Piazza Michaelangelo and watch the sunset over the city for a breathtaking experience. You can spend days wandering around Florence, enjoying the atmosphere, and sampling the fine Tuscan dining.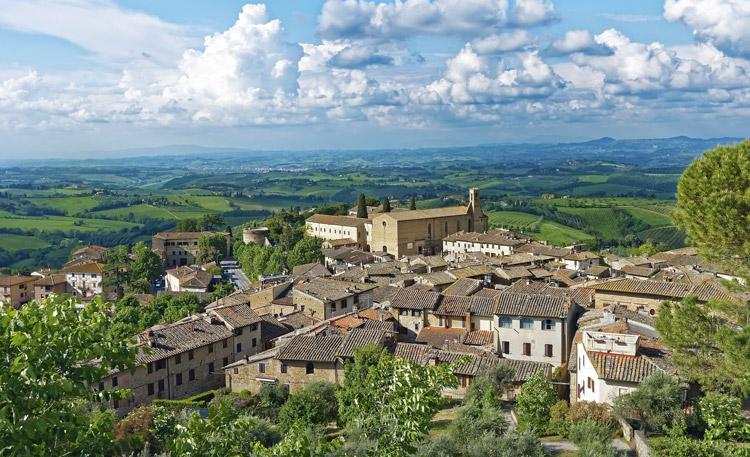 San Gimignano
Sam Gimignano is a picturesque hill town in Tuscany and often labeled the most beautiful. Known by the locals as the Medieval Manhattan, Sam Gimignano has narrow, cobblestone streets and stunning gothic architecture, encompassed by lush vineyards.
Plan on spending the day touring Sam Gimignano, and climb to the top of Torre Grossa and tour the Duomo di San Gimignano, a 12th-century church.
Cinque Terre
Cinque Terre is just on the border of Tuscany. While the name indicates one location, it's actually five small towns grouped together along the coast. If time permits, it's well worth taking a train from Florence or Pisa to spend a day or two in this scenic region.
The five villages include Manarola, Riomaggiore, Monterosso, Vernazza, and Corniglia. Unlike many areas of Tuscany, this region is mostly untouched by tourism development and gives an authentic taste of Italian life. Spend a day hiking from town to town, take in the colorful buildings, or spend the day relaxing on the beach. For those with an adventurous spirit, you can rent paddleboards or boats to spend the day exploring off the coast.
Val d'Orcia
Val d'Orcia is the quintessential Tuscan area, featuring the iconic rolling hills and vineyards than many people imagine when traveling to this part of Italy. Val d'Orcia is the ideal area for a Tuscan road trip. Travel through scenic roads where you'll find groves of Cypress trees and ancient castles.
Venture into Le Crete Senesi, a remote area that's dramatically different from the surrounding hills. Here you'll find a lunar-esque landscape and the Monte Oliveto Maggiore monastery, which is still lively today.
Also, in Val d'Orcia, you can't miss Bagno Vignoni. This moody, oft-forgotten village is home to natural hot springs. Dine in this atmospheric settlement and venture into the nearby springs for a free spa experience.
Arezzo
Arezzo is a town of ancient splendor that will have you feeling as though you stepped back in time. With buildings dating back to the 15th century, and art dating back to the 13th century, this area is perfect for history buffs.
While in Arezzo, visit the intimate choir of San Francesco, which only allows 25 people in at a time. The Museum of Medieval and Modern Art is a lovely place to spend a rainy afternoon. Take photos in the Piazza Grande, the scenic town center, and favored meeting spot.
While in Arezzo, try to see a show at Teatro Petrarca. While this theater looks unassuming from the outside, the interior is lavish and ornate, presenting like a classic opera house. Finally, spend the next day relaxing at Parco Sandro Pertini or Parco Passeggio del Prato, one of the area's two beautiful parks.
Chianti
Partake in some agrotourism in the Chianti countryside, where the grapes that make the world's supply of Chianti wine are grown and processed. If you got at the right time of year, you could even partake in the grape harvesting process. These country roads are perfect for a Vespa trip, stopping at the small towns to explore along the way.
While wine tasting is one of the best activities in Chianti, there are many other experiences to try out. Visit the Chianti Sculpture Park and take in the contemporary art in this beautiful forested grove. Shop for gourmet bread and cheeses to take home with you at the end of the day or have a picnic in the countryside.
Enjoy Tuscany
Tuscany is one of the most beautiful, culturally engaging regions in Europe. Don't feel bad if you miss out on some of the experiences during your first trip. Give yourself some time to relax and discover the serendipitous surprises of this area.
Written by

James Hills

Page Views: 1594