As a travel advisor who's helped organize some amazing guys trips and destination bachelor parties, I've had numerous inquiries over the years about how to elevate these experiences. Many gents, just like you, are seeking more than just a standard hotel suite for their celebrations. Whether they are interested in doing a balls to the wall exclusive luxury experience or just want a more affordable taste of the good life - there are some add-ons that can truly elevate their trip. These top-tier experiences can range from hiring a personal chef to cater a dinner, engaging a professional bartender to craft the perfect drinks for the party, or even organizing private helicopter tours for an incredible view of the destination. Another popular request is securing a private chauffeur for convenient city cruising since that alone can save on stress as well as elevate the experience when you roll up to the club and step out of a fancy car instead of some janky uber rideshare. If you're aiming to create unforgettable memories, these are some premium ideas you might want to consider. Let's dive in!
Key Takeaways
Hiring a personal chef and professional bartender can elevate the dining and drinking experience during the bachelor party trip.
Helicopter tours and airport transfers provide a luxurious and convenient way to travel to and explore the destination.
Renting a house boat or chartering a private yacht offers unique and unforgettable accommodation options for the bachelor party.
Beachfront villas provide top-notch amenities, stunning ocean views, and vibrant nightlife options for a memorable bachelor party experience.
Skip The Hotel Suite - Do Something Cooler
Don't limit yourself to the typical hotel suite for your bachelor party. Imagine the fun and luxury of renting a house boat or a private yacht charter, or even a beachfront villa. These are the kind of next-level experiences that will make your guys trip unforgettable.
House Boat Rental
If you're looking for a unique and memorable experience, consider skipping the typical hotel suite and rent a luxury house boat instead. Boat customization offers a personalized experience, tailored to your party's preferences. Whether you're into fishing or simply cruising, the boat can be equipped with state-of-the-art fishing gear and an expert guide to help with route planning. Safety protocols are paramount, ensuring a worry-free adventure. When the sun sets, your floating party palace comes alive with entertainment features like a surround sound system and outdoor cinema. Enjoy the camaraderie of your mates and the tranquility of the water. This isn't just a bachelor party; it's an experience of a lifetime.
Private Yacht Charter
For an unparalleled experience, charter a private yacht and take your bachelor party to the high seas. You'll have access to a range of yacht amenities, luxury services, and the freedom to explore exciting sailing destinations.
Yacht Amenities: These floating mansions are equipped with everything from private chefs to hot tubs.
Sailing Destinations: Choose your own adventure, whether it's island hopping, or exploring hidden coves.
Yacht Party Themes: Go all out with a themed party or keep it classy with a black-tie event.
Sea Exploration: Charter companies often offer equipment for sea exploration like scuba diving or jet skiing.
Beachfront Villa
While a private yacht offers an unrivaled experience, renting a beachfront villa can take your bachelor party to another level of cool. Imagine lounging in style with top-notch villa amenities at your disposal. Picture enjoying a game of beach volleyball by day and a beach bonfire by night, all the while taking in the breathtaking ocean views. The nightlife nearby is sure to keep the party going with pulsating clubs and bars. For a change of pace, explore local attractions, offering a taste of the culture and history of the destination. And let's not forget the villa services offering everything from private chefs to concierge services, ensuring your stay is as comfortable and lavish as possible. This is the ultimate bachelor party you and your guys deserve.
Hire A Personal Chef
One fantastic way to elevate your bachelor party trip is by hiring a personal chef, ensuring you and your group enjoy top-notch meals without lifting a finger. You'll marvel at the convenience of having someone else manage meal planning, allergies, and budget considerations.
Chef Selection: This is a crucial step. Research, interview, and select a chef who resonates with your group's vibe. You'll want someone who can deliver on taste, presentation, and service.
Meal Planning: Collaborate with your chosen chef to design a menu that's a perfect fit for your party. From breakfast to late-night snacks, your personal chef will take care of it all.
Allergies Management: Got a buddy with a gluten intolerance or a nut allergy? No worries. Your personal chef will be able to accommodate all dietary needs and restrictions.
Cultural Cuisine: Make your meals more exciting by exploring different cultural cuisines. Whether it's Italian, Mexican, or Japanese, your chef can whip up a feast that you'll remember long after the trip.
With a personal chef, you're not just getting delicious food—you're getting an experience. So go ahead, add that extra touch of luxury to your bachelor party. You won't regret it.
Professional Bartender
To keep the luxury flowing after your gourmet meals, consider hiring a professional bartender to serve up handcrafted cocktails and premium drinks. This isn't just about having someone to pour your drinks; it's about bringing the cocktail masterclass right to your party. You'll get to learn mixology techniques from a pro, enhancing the experience for everyone.
Bartender essentials go beyond the shaker and stirrer. These pros bring a wealth of knowledge about the drinks they serve. Ever wanted to know the distinction between Scotch and Bourbon? A whiskey tasting can be part of your night. You'll learn to appreciate the nuances of each drink, not just consume them.
And if whiskey isn't your thing, why not delve into a craft beer exploration? Discover the rich, complex flavors that are often overlooked in mass-produced beer. Your bartender can guide you through a tasting, explaining the brewing process and what makes each beer unique.
Hiring a professional bartender doesn't just elevate your party; it turns it into an exclusive club where you're all members. You're not just drinking; you're appreciating, learning, and bonding over high-quality drinks. This is the ultimate bachelor party.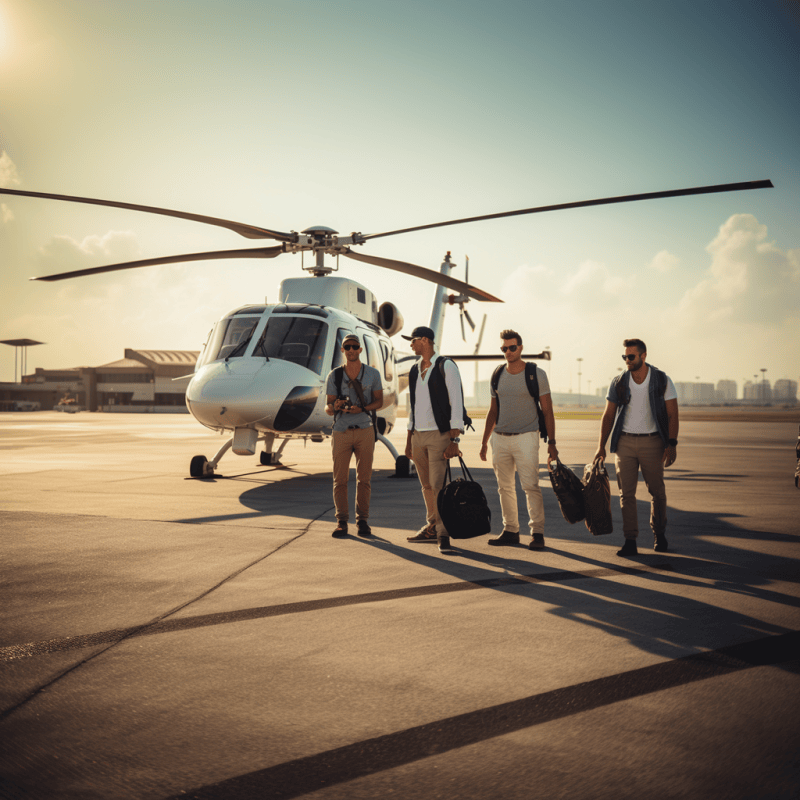 Helicopter Tours and Airport Transfer
In the spirit of ultimate luxury, imagine starting your bachelor party with a thrilling helicopter tour or a stylish airport transfer. Here's how it could go:
Sky high Sightseeing: Kick off your party with a sky-high sightseeing adventure. Soar above the cityscape, taking in the breathtaking panoramas from a vantage point most people only dream of experiencing. The tour highlights include famous landmarks, stunning vistas, and maybe even a sunset if you time it right!
VIP Transportation: After your aerial tour, continue the high life with VIP transportation. Whether it's a sleek limo or a private shuttle, you'll be transferred to your party venue in style. No need to worry about navigating traffic or finding parking – you've got professionals handling that.
Safety Precautions: Don't forget that enjoyment comes with responsibility. Safety precautions are essential, so ensure everyone in your entourage knows the helicopter etiquette. Respect the rules, follow the safety instructions, and ensure everyone has a memorable time without any mishaps.
Tour Highlights: Your helicopter tour and airport transfer aren't just about convenience – they're experiences in themselves. They're not just part of the journey but the tour highlights that'll make your bachelor party unforgettable.
Take your bachelor party to the next level, leaving your guests in awe of the extraordinary experience.
Hire A Chauffer To Drive Your Group Around Instead of Uber
Switching gears from aerial tours to ground transportation for a moment ... you want this to be just as luxurious and memorable! With the help of a professional chauffeur instead of relying on Uber you and the bros can ride in style. Chauffeur benefits extend beyond mere transportation, they are about creating an experience. This isn't just about getting from point A to point B, it's about journeying in style.
Driver etiquette is a key component of this service. Your chauffeur is trained to provide a courteous, professional service, treating you and your party like VIPs. Plus, luxury vehicles offer a far more comfortable and upscale ride, setting the perfect mood for your trip. You may even find that you can get access to clubs that you wouldn't otherwise without the chauffer's influence.
Lastly, in terms of cost comparison, while chauffeur services may initially seem pricier, the added value in terms of convenience, luxury, and safety can make it a more cost-effective choice for your ultimate bachelor party. So, why not splurge a little and make your guys trip one to remember?