Lafayette, Lousiana is a different sort of part of this great country. While it's "south" ... it's not entirely "The South". It marches to a different drummer with unapologetically male food and rugged adventure ranging from airboat tours through the swamp to exploring the cultural heritage of the Cajun people and of course enjoying some delicious Cajun food ranging from boudin to crawfish and cracklins!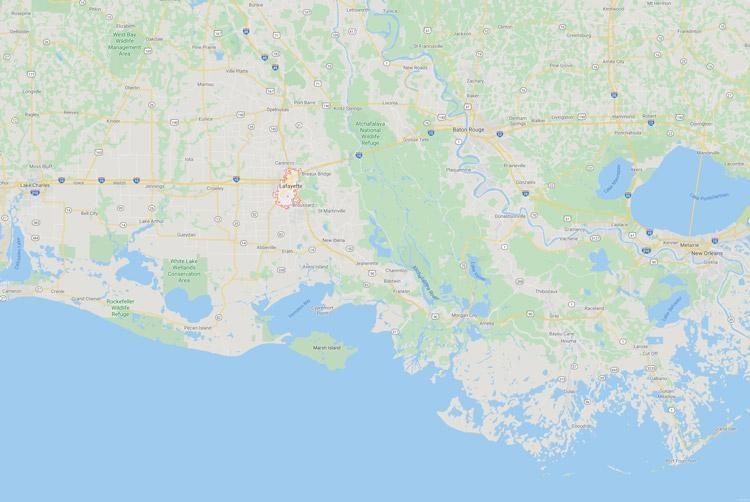 While most of you know where Louisiana is, typically your first thought is New Orleans. As a legendary and cosmopolitan city, that's not surprising but Lafayette, located just a couple hours west of there has its own unique culture. It is also cheaper and the surrounding areas offer a wide amount of adventure options to explore than an urban destination simply can't.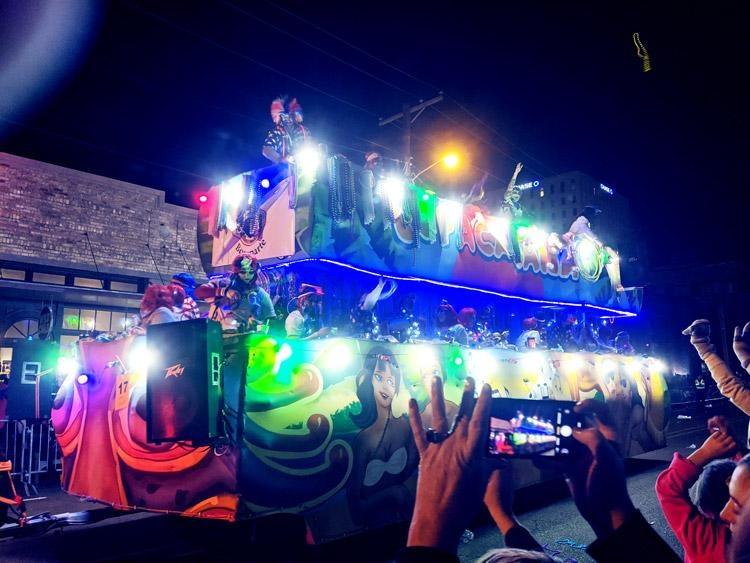 Mardi Gras in Lafayette, Louisiana
While Mardi Gras is only part of the year - a celebration just before Lent every spring, if you can make it here during that season I highly recommend it. This is especially true for the time they call, "Deep Gras" or Thursday-Tuesday before Ash Wednesday. This is when parades and other activities are in full swing but I don't want you guys to think that this is the only reason to head down to Cajun country. However, if you've been to New Orleans and looking for something more relaxed, less stressful, cleaner, more family-friendly, and less expensive.
Then this is a great time to visit.
Compared to New Orleans, the Mardi Gras parades here are smaller ... but so are the crowds. You aren't going to have the massive floats with celebrities but you can still enjoy a drink on the street, whoop, and holler while shaking your hands up in the air hoping for some plastic trinkets. Someone explained it to be towards the end of our visit that in New Orleans, you go to Mardi Gras. In Lafayette - you are part of Mardi Gras.
It's a bit challenging to articulate but Mardi Gras is a community celebration here, not something you go to just observe as a tourist. That means that when you go out for dinner and drinks, you're going to be out there with real people and you're going to have real conversations. Most of the restaurants here aren't for "tourists" if there's a lot of cars in the parking lot ... that's probably because locals know where to go.
The downside is that if you want a King Cake on Mardi Gras ... forget it, they're all sold out and the shop is closed because everyone's out celebrating with their friends!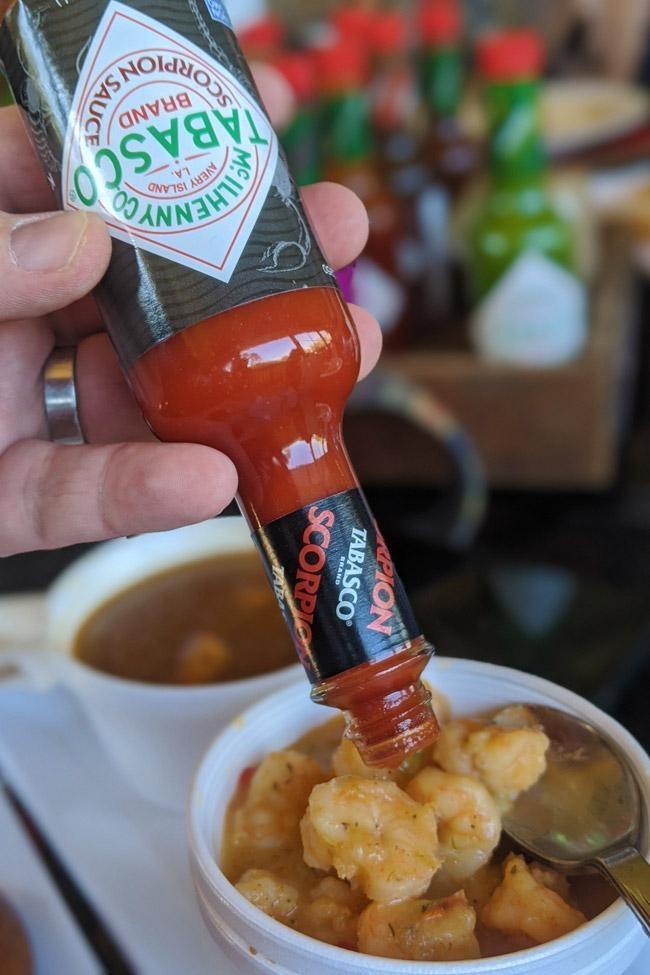 Visit Avery Island - Home of Tabasco
There are many pepper sauces but Tabasco reigns supreme among all others as far as I'm concerned. Here on Avery Island, you'll get a chance to explore the history and heritage of five generations of men who built this brand, see how Tabasco is made, even learn about the salt mind below the surface, and then, of course, taste a few different sauce flavors that you might not be able to find at home. This includes the Scorpion flavor that I first tried at the 1868 restaurant and is no my absolutely favorite flavor ... so I bought several bottles to take home since it isn't sold in stores!
Watch out though, if you do try it ... use in moderation, while I love the smoky, savory heat from classic Tabasco - Scorpion takes it to 11! While I love the flavor it is VERY HOT. Unlike other "challenge" pepper sauces though, this one still tasted good.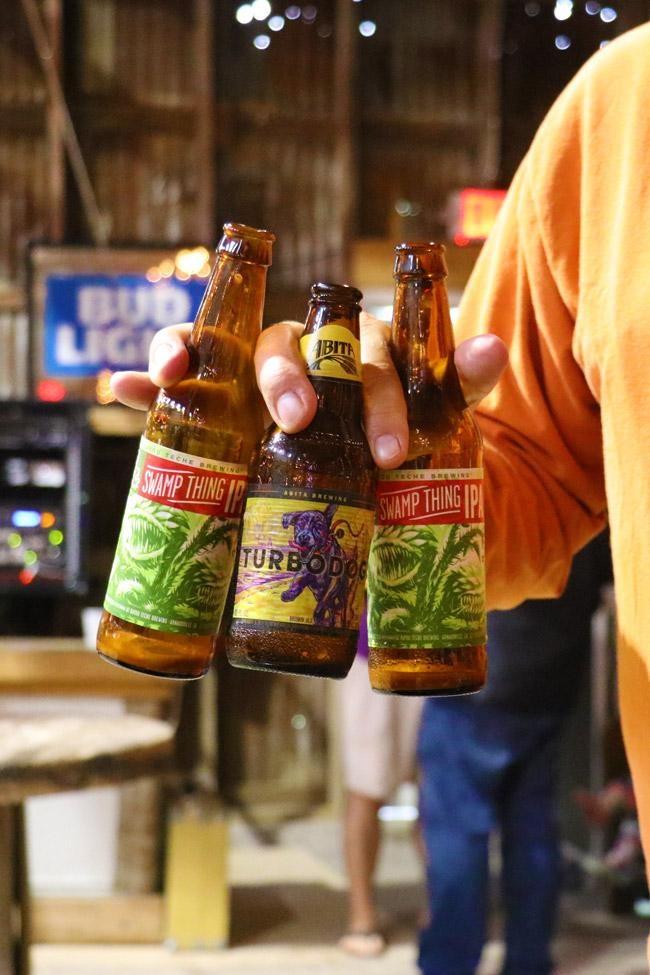 Craft Beer
Despite a culinary culture seemingly devoted to creating fabulous food and celebrations revolving around alcohol, South Louisiana hasn't been a leader in craft beer and spirits the way you'd think. However, that's rapidly changing. While New Orlean's Abita has been one of the top craft brewers in the world for decades other brewers and distillers are starting to pop up in the bayous as well. Two of the better-known breweries in the area include Bayou Teche Brewing and Parish Brewing, both of whom offer tours. While we need to do more in-depth research, our initial findings suggest that you can't go wrong with any of the beers from either brewery and they have relatively good retail distribution locally. However, I especially liked Canebrake from Parish Brewing, an American wheat ale with remnants of Louisiana sugarcane and notes of citrus from the Cascade hops.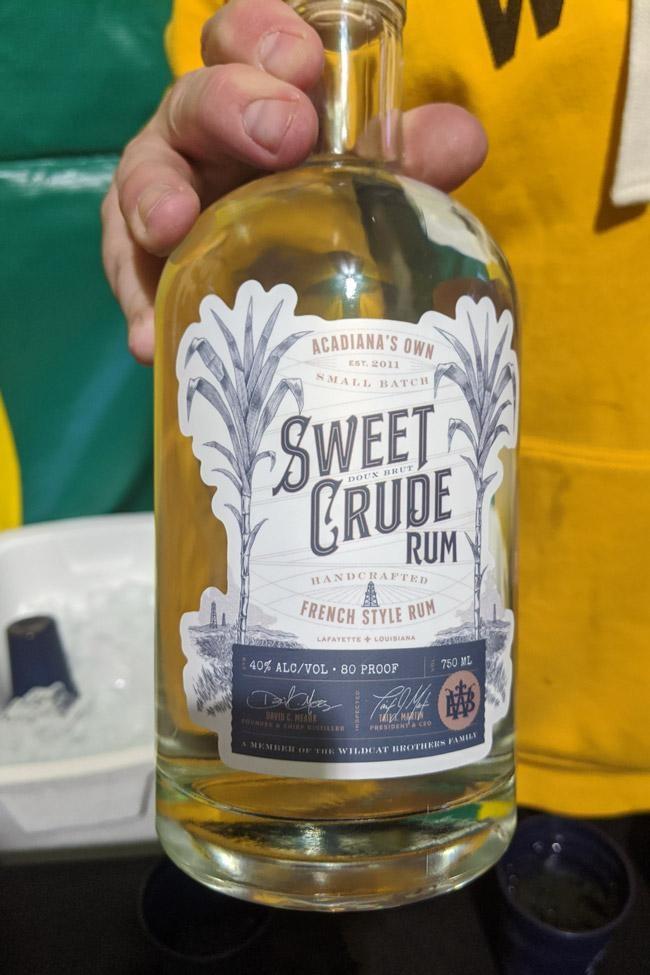 Craft Rum!
This is sugarcane country and so you'd expect there to be a lot of distilleries. Unfortunately, that just isn't the case but one of the distillers I spoke with is working hard to build a new reputation for high-quality rum from the region. Personally, this is a passion of mine as well, since rum has a bad rep as being a cheap spirit to produce that nobody cares about since you just mix with juices to make a cocktail. These guys at Wildcat Brothers are changing that. They currently have two products - a white Sweet Crude Rum and Fine Rum that is aged in a stave-and-barrel maturation process.
We'll have more stuff coming from these guys but the team here is going places. Their tasting room will be open later this spring (estimated March 27, 2020).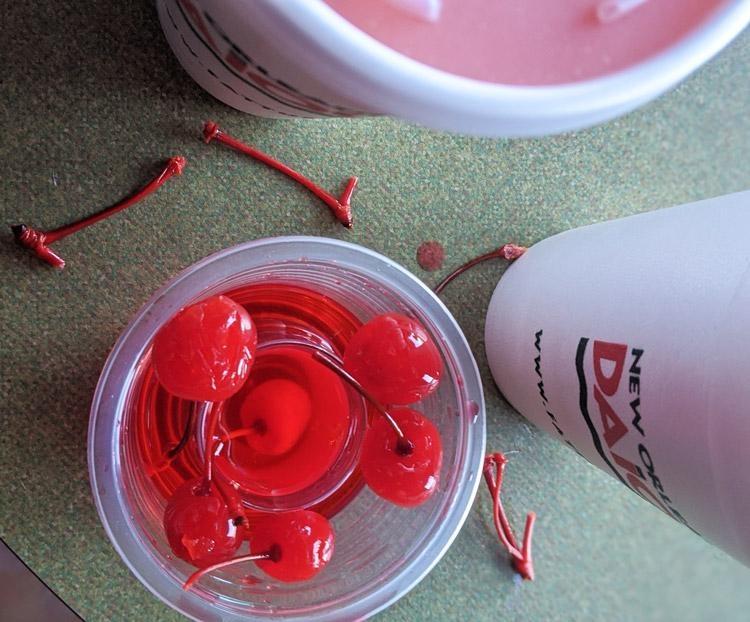 Drive-Thru Daiquiris ... and sides of Everclear Cherries!
Cajun's love their booze. If one of the most bizarre and wonderful parts of Louisiana is the concept of drive-thru daiquiri restaurants. If there was a state drink here it would certainly be the frozen daiquiri and while these concoctions of sugar, colorings, flavors, and rot-gut-spirits are 100% guaranteed to give you a wicked hangover I'm sorta ok with that since for $7 I can get a 20oz "190" That will make you forget the cognitive dissonance of drinking an ice-cold slush drink in winter when it is 40 degrees and drizzling. I can only imagine how good it tastes during the summer!
While the novelty of being able to get your booze through the drive-thru window is something that is required to be on every cajun guys weekend, you can also go inside to many of these joints.
When you do, you'll also find cheap canned beer and weird upsell specials like these "Everclear Cherries" that were only a buck or two.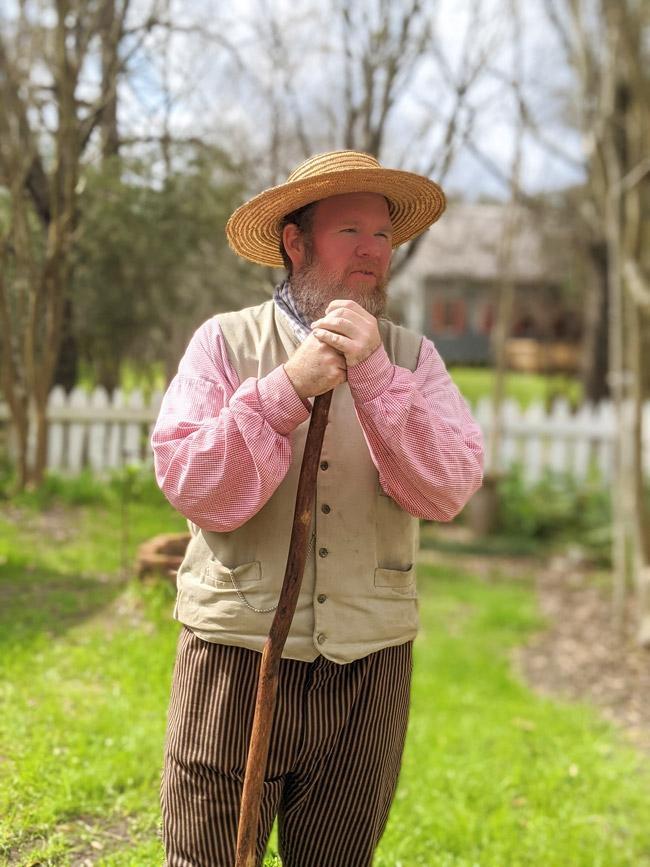 Vermilionville Historic Village
Few places in the United States truly have unique cultures that are distinct from their regional neighbors. Cajun culture, however, is exactly that. It's a group of French, Canadian, Catholic settlers that was forced out of Eastern Canada and found themselves in the Louisiana bayou where they have thrived and created a unique culture that I didn't quite understand till I visited Lafayette and explored this historic village a bit. The Vermilionville park features more than 10 historic buildings where you can learn about different eras from 1790-1860's and the struggles to integrate a French culture into an English speaking one.
While our guide who is a Food Historian did an amazing job exploring the history of food, music, art, and building processes, you can also come here for some authentic Cajun music and dancing.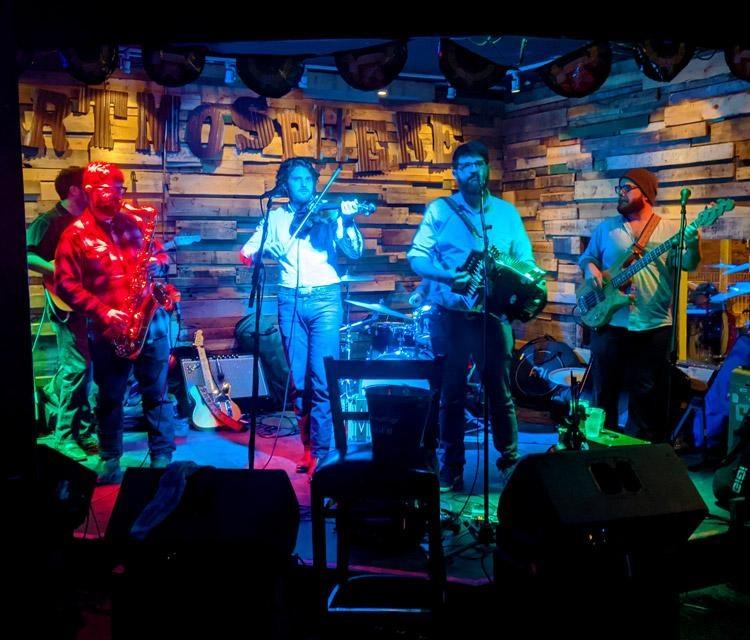 Music and Dancing
The Cajun culture is seemingly built on simple pleasures and making use of what you have. You see this sense of celebration with the food and you certainly see it with dancing and live music. Virtually every restaurant, bar, and nightclub we went to had a fantastic live band and dacing wasn't limited to just romantic couples. While dancing might not be on your guys weekend agenda, it might be an inevitable consequence of grooving to the music. Just be careful, declining an invitation to dance can be considered rude and unlike in other areas where dancing and drinking are one in the same, hand your beer to a buddy to hold since it's generally frowned upon to be drinking while you are on the dance floor.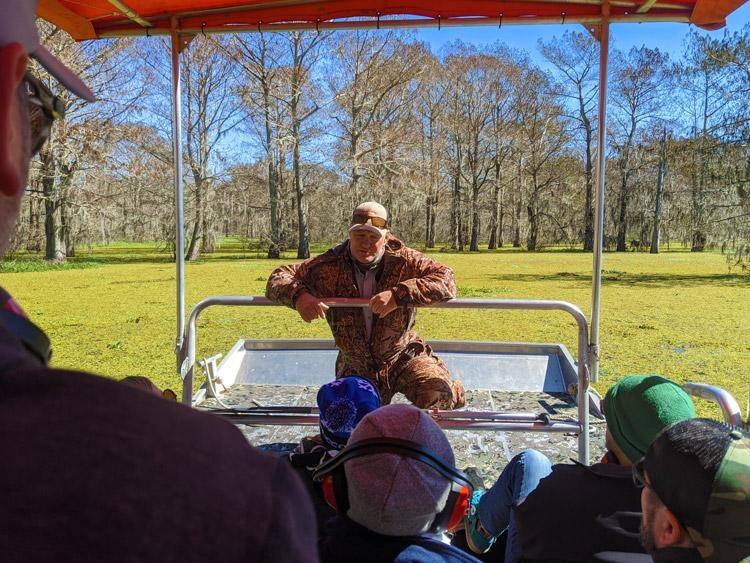 Swamp Tour on a Air Boat
There's many options here but we had a great experience with Atchafalaya Basin Landing and Marina. The guide was super nice, knowledgeable, and the equipment was in great shape. Despite declining the blanket, I had a fantastic time - don't decline the blanket. It will get cold during the winter when the boat gets going over the open water! If you want to get a taste of what the bayou is really like, see alligators up close and maybe even an Albatros or other animals, this is a great way to do it.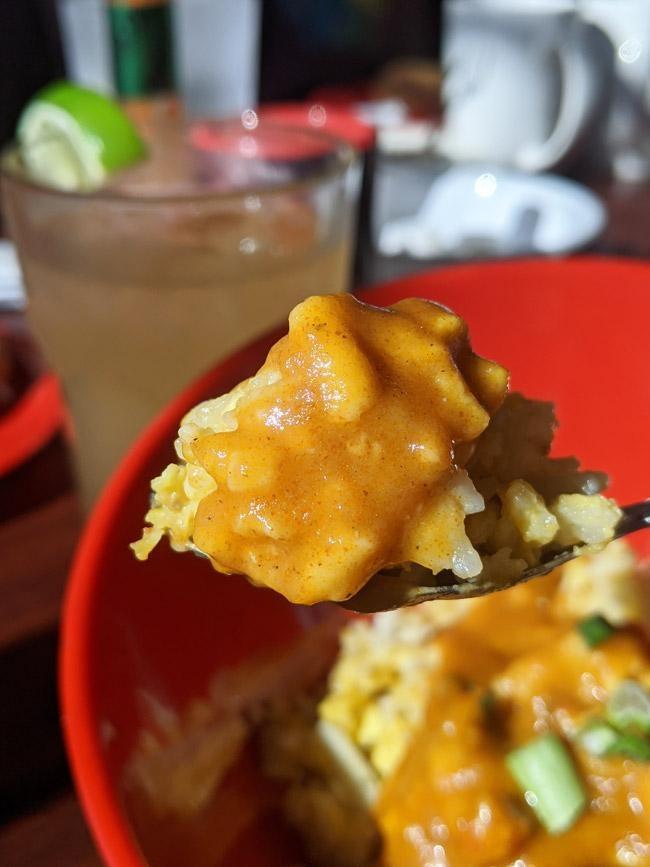 Cajun Food ... and Lots of It!
I met a group of guys in the airport headed to Lafayette on the same plane as myself. I asked them what they were most looking forward to. With hesitation, the guys all said, "The Food!" Cajun food is the real star here and while I had to stop eating or risk personal comfort and health issues, I can't wait to go back when I've got a better crew of guys to share this particular aspect of Cajun culture with. There are so many ways to do this from going deep on the seeking out the best Boudin, Crawfish, Cracklins, Gumbo - or seeking out the most unique dishes available.
For instance, the dish above is one of my favorites - Swamp Rice from Buck and Johnny's Zydaco Brunch. It's simply but gloriously tasty. Rice mixed with scrambled eggs, topped with crawfish etouffee and I put a generous few shakes of Cajun flair and tabasco to kick it up a bit. At Dwyer's Cafe I had a boudin omelet with the eggs wrapped around a large serving of boudin with casing removed, at Blue Dog Cafe I had crawfish enchiladas, and at Agave I had an incredible crawfish stuffed chimichanga with seafood sauce and then topped with fresh Louisiana crab meat. With the exception of the Swamp Rice maybe, none of those would ever be featured in a Cajun grandma's book of recipes ... but that's ok.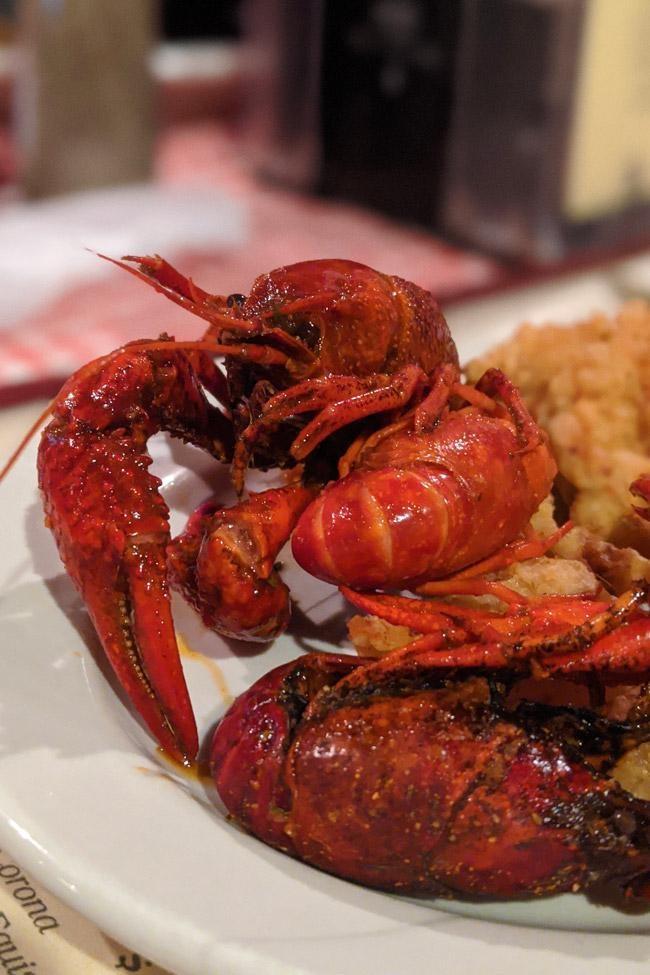 Mix and match your food choices with creative non-traditional options as well as staples like classic boudin and cracklins from Don's Specialty Meats, crawfish boil from Randol's, and if you can ... try to find a community festival where they offer a Boucherie.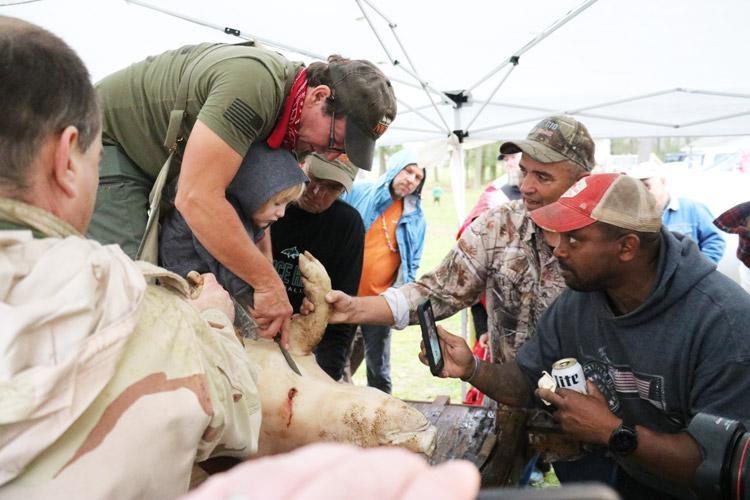 A Boucherie is a Cajun celebration of food where they slaughter a hog and then use virtually every piece of the animal for food. It's a very masculine ritual and an opportunity for men to pass skills and traditions to the next generation. While you could look at it simply as a chance to eat a lot of great food, if you have the chance to attend one ... talk with the chefs and butchers, ask about the pig and how these guys learned to cook. These are stories and traditions passed down for generations and it was a very special opportunity to join them for the experience.
Generally, though, a Boucherie is something reserved for community events and neighborhood celebrations. However, the folks at Wildcat Brothers tell me they are considering doing one that will open to the public. Featuring some local chefs who will walk guests through what they are doing and talk about the different parts of the pig being used, this would be an incredible opportunity for any guys who love food.
Clearly this isn't for everyone but everyone deserves to know where their food comes from and respect the animal that gave it's life for yours to continue.
While we might talk about heading to Chicago to experience their "pizza culture" or New York for "bagels" ... here in Cajun country, the food and culture are one. That's something special and I can't wait to go back and visit again sometime soon.