Imagine swapping your daily grind for a sun-soaked adventure in the heart of the Florida Keys. Welcome to Marathon, Florida - a paradise where pristine beaches meet adrenaline-fueled activities. This tropical haven is your perfect playground for a guys' trip. So, pack your bags, call your buddies, and head to Marathon, Florida, where your ultimate guys' trip awaits. Let the adventure begin!
Key Takeaways
Marathon, FL offers a perfect spot for a guys trip in the Florida Keys.
The area is known for its pristine beaches, warm weather, and a variety of activities including fishing, snorkeling, and scuba diving.
There are plenty of attractions to explore in Marathon, such as museums, restaurants, art galleries, and outdoor parks. Plus with its location right in the middle of the Florida Keys it is close to things to see and do in Key West as well as the Upper Keys.
Getting To Marathon Florida
Most people will drive to Marathon from South Florida - about a how 113 miles or 2-4 hour drive depending on traffic. However, you can also boat down the keys or even take a plane to Florida Keys Marathon Airport. Connections can be made easily from Miami and Fort Lauderdale. Or you can fly to Key West on American, Delta, and United and grab a car to drive up to Marathon.
Places To Stay In Marathon
Marathon has a wide variety of lodging options for such a relatively small island. While there are corporate chains such as Courtyard by Marriott and Hampton Inn, there are also high-end luxury resorts and beach cottages that you can rent as well.
One option that might be just perfect for a guys trip though is the Blackfin Resort and Marina in Marathon FL, where you can dock your boat if you brought one with you. It also has a private beach and a fish cleaning station as well as BBQ grills so you can enjoy your literal fresh catch of the day just hours after it was swimming in the crystal clear waters that the key are known for.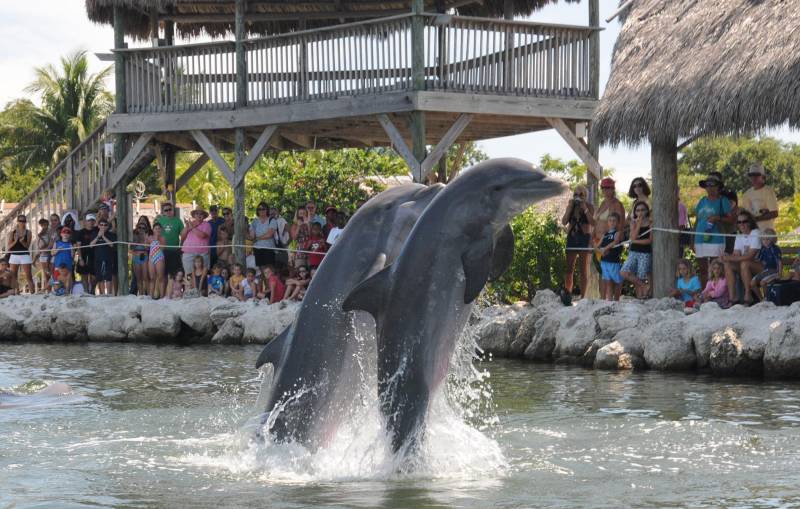 What To Do And See On Your Marathon Florida Guys Trip
There's no shortage of things to do on Marathon and since it is located directly between Key Largo and Key West, you have easy access to the entire Florida Keys from doing a brewery tour road trip or seeing some of the most famous sites like eating conch fritters and feeding the tarpon off the dock at Robbie's of Islamorada or The History of Diving Museum.
Beaches
You're in for a real treat if you're a beach enthusiast. Marathon, FL boasts some of the most pristine beaches in the Florida Keys. One of the best beaches on Marathon is Sombrero Beach, which has shallow waters and weak currents. It's perfect for a chill day of sun and sand. Imagine playing intense beach volleyball tournaments under the radiant Florida sun or throwing epic beach bonfire parties as the day turns to night.
Sport Fishing
Whether you're a seasoned angler or a beginner, sport fishing in this tropical paradise won't disappoint. There is a breathtaking array of sea life just waiting to be caught just off the coast of the Florida Keys as well as in the shallow wetlands just at the edge of land.
Deep sea fishing in Marathon offers an adrenaline-filled experience that's hard to match. Imagine the thrill of offshore angling, battling marlin, sailfish, or tuna in the crystal-clear waters of the Florida Keys.
Or perhaps fly fishing for tarpon and bonefish in the shallows is more your speed. Charter boats are readily available, with experienced crews to guide you.
Plus, there are numerous fishing tournaments throughout the year, offering a competitive edge to your trip. Marathon, Florida, is a fisherman's dream, ensuring your guys' trip will be chock-full of unforgettable adventures.
Marathon Air Museum
Don't miss the chance to peek into aviation history at the local Air Museum run by a chapter of the Experimental Aircraft Association, where the relics of past flights whisper tales of daring adventures and sky-high aspirations.
Here, you'll get up close and personal with historical aircraft such as a DC-3 that has been restored to its former glory. The Marathon Air Museum offers an engaging journey through the annals of flight. Its interactive exhibits make the experience both fun and educational.
Helicopter Tour Of The Florida Keys
If you're looking for a real thrill, then taking a helicopter tour of the Keys is an absolute must! This aerial adventure provides panoramic views of Marathon and its surroundings, giving you a unique perspective that's hard to beat.
During this thrilling experience, you'll enjoy:
Bird's eye sightseeing of iconic landmarks like Bahia Honda State Park, Hawks Cay, and Seven Mile Bridges.
The opportunity to spot sea life like dolphins, sharks, and stingrays from above.
Seeing the breathtaking landscapes of Pigeon Cay and Sombrero Beach.
The excitement of hovering above the ocean, experiencing the Florida Keys like never before.
There are a few different vendors that offer these tours so make sure to ask your hotel concierge for recommendations.
Scuba Diving and Snorkeling
Ready to plunge into an underwater adventure? Deep Blue Dive Center is the place to be for some top-notch scuba diving and snorkeling experiences.
Get ready for a thrilling underwater exploration as you immerse yourself in the clear blue waters of the Florida Keys. Encounter exotic marine life, explore stunning coral reef adventures, and discover snorkeling hotspots teeming with vibrant aquatic species.
The dive center offers a variety of unique dive sites and wrecks, each promising an unparalleled underwater adventure. Whether you're a seasoned diver or trying it for the first time, Deep Blue Dive Center ensures a safe and exhilarating experience.
Visit The Dolphin Research Center
At the Dolphin Research Center, you'll step into the shoes of a dolphin researcher. Unlike dolphin encounter tours that you may have have seen in other parts of the world, this is a true research center that exists to provide sanctuary and learn from these majestic creatures.
You'll immerse yourself in a world where playful dolphins leap and frolic in their natural habitat. With the wind in your hair and the salty sea air filling your lungs, you'll have the opportunity to connect with these intelligent creatures. You'll learn about their behaviors and even swim alongside them. It's an adventure that'll truly make a splash in your vacation memories.
You'll appreciate the center's dedication to marine conservation through their educational programs and marine mammal research. Your dolphin encounters will be interactive experiences, offering a fun and enlightening perspective on these captivating creatures.
Florida Keys Turtle Hospital
Don't miss out on the chance to visit the Turtle Hospital, where you'll witness the incredible work being done to rescue, rehabilitate, and release injured sea turtles back into the wild. This Florida Keys turtle hospital is a haven for sea turtle conservation and marine animal rehabilitation.
Here are three things that make this place unique:
Turtle Rescue Efforts: You'll be inspired by the tireless efforts to save endangered sea turtles and reintroduce them to their natural habitat.
Education Programs: The turtle hospital education programs provide insights into the crucial role these creatures play in our ecosystem.
Interactive Tours: Lastly, get up close and personal with the turtles during the interactive tours, making your trip both fun and educational. You'll leave with a newfound respect for these fascinating marine creatures.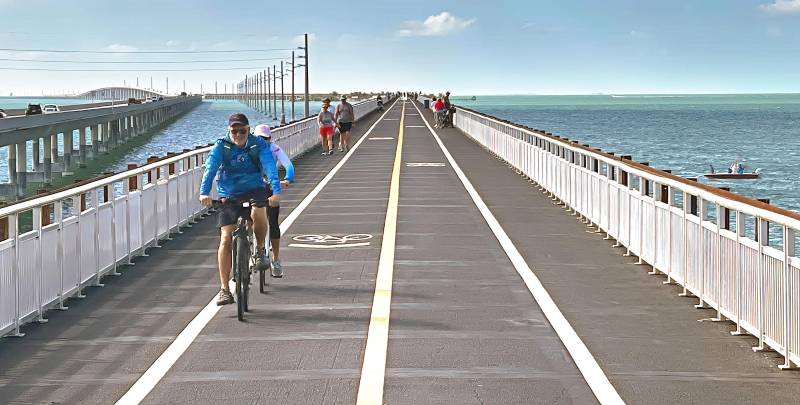 Marathon Is The Perfect Spot For A Guys Trip!
Marathon, Florida is the perfect spot for a Florida Keys guys trip since it has the ideal combination of factors including it's location nearly perfectly located between Key Largo and Key West and the actual island is big enough to host a wide variety of things to do and places to stay. In fact, Marathon is known as "The Heart of the Florida Keys" exactly because of these factors.
Some Photos courtesy of Visit Florida Keys