I absolutely love Alaska Airlines. They somehow have managed to maintain the small town friendly attitude that has made them an essential part of life for thousands of people on the west coast. They have now started expanding service at Sonoma County / Santa Rosa airport to and from a variety of west coast destinations and a huge perk about flying with Alaska is that wine flies free! That's right, you can check a full case of wine like you would any other bag - except there's no fee if you are a Mileage Plan member (free signup).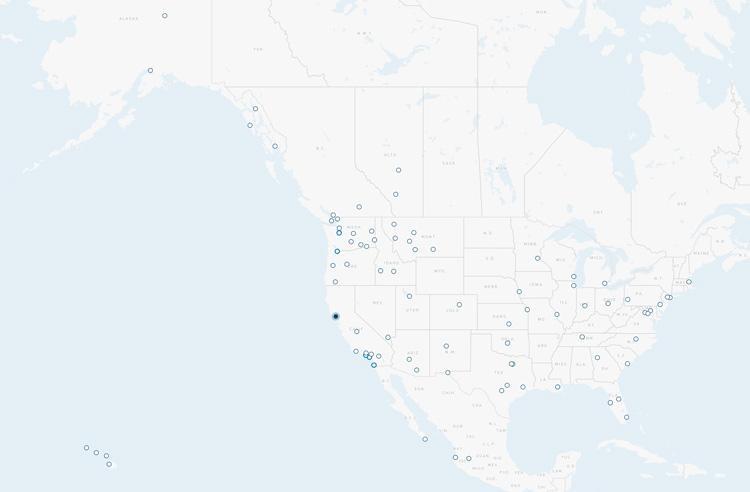 At the time of writing, Alaska Airlines services 85 cities from Santa Rosa / Sonoma County Airport with 1 or fewer stops. Luckily, I was from San Diego and so there were direct flights and it was only a 70-minute flight! Other direct flight cities include: Orange County (SNA), Portland, OR (PDX), Seattle (SEA), and Los Angeles (LAX).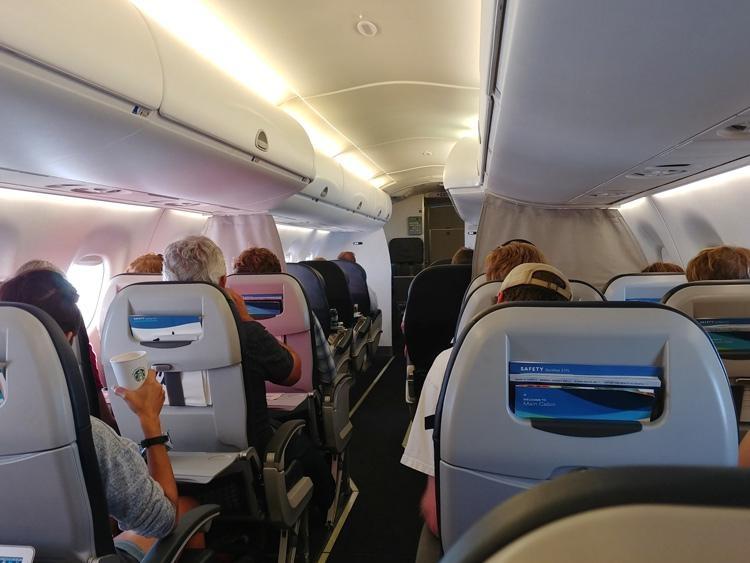 These routes are mostly serviced by Alaska Airlines's E-175 aircraft which are regional jets but substantially more comfortable than similar aircraft that you might have experienced. For instance, a grown man can stand up in the aisle and legroom is better than most other economy flights.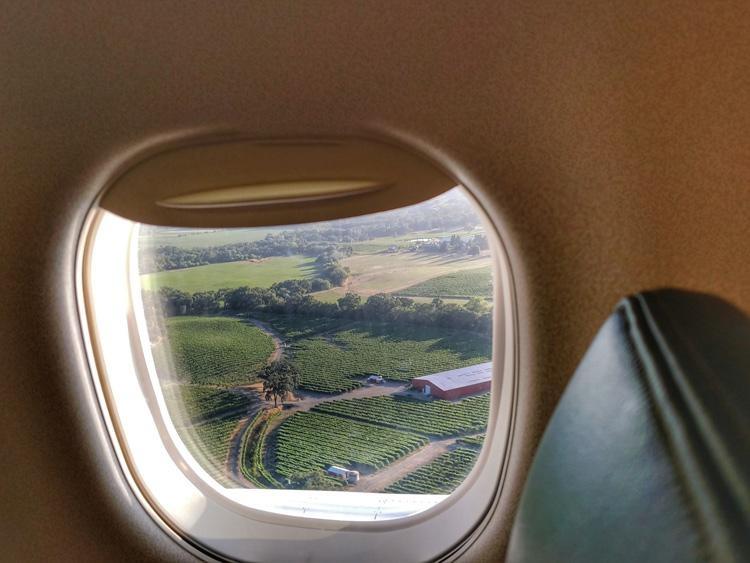 Upon approach to Sonoma County, you can't help but get excited as you fly over hundreds of acres of vineyards as far as the eye can see. It's honestly one of the most fun approaches I've had since it totally gets you in the mood to go taste and explore!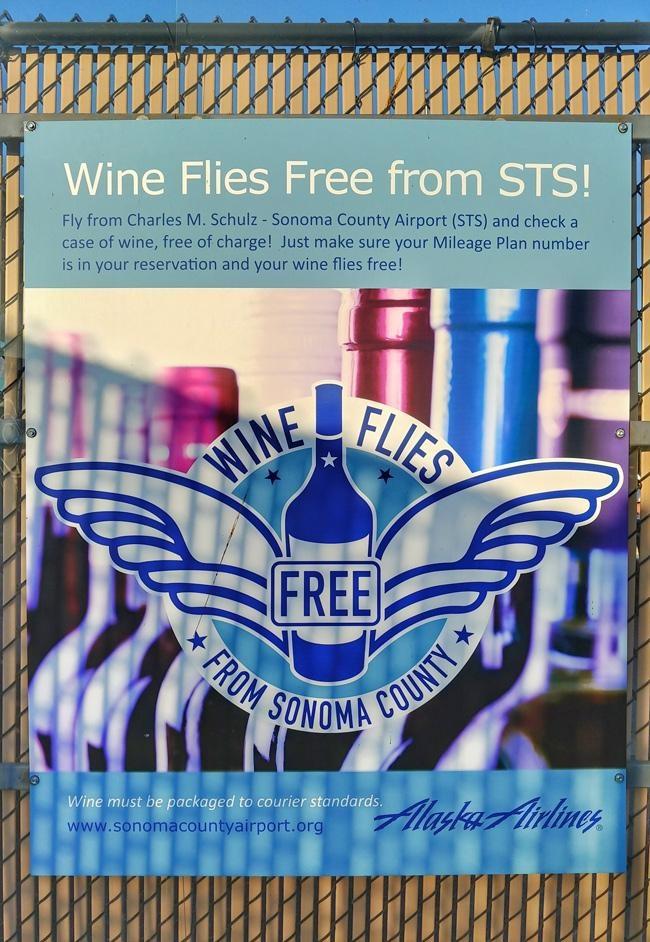 Once you are on the ground, Sonoma welcomes you with a reminder that Wine Flies Free from Sonoma County on Alaska Airlines.
The instructions aren't consistent between the county website and Alaska Airlines but here's the basics that you'll need to understand and take advantage of this offer:
1) Purchase a Shipping Safe Box. Most wineries will be able to sell you one or if you buy a few bottles they might even include it free. When picking the suitcase to take with you, I'd consider one with a large enough handle to help hold the case on top. Alternatively, purchasing a folding luggage trolley or dedicated wine carrier with wheels, since the box can get heavy very quickly.
2) Become a Mileage Plan Member. This is Alaska Airlines's frequent flyer program and signup is free.
3) Pack Your Box and Bring It To The Airport. Depending on what resources you read, the box should be able to be inspected. However, the Alaska Airlines desk agent said she couldn't accept the box without it being sealed for shipment. Luckily she had a big roll of tape for us to seal it before checking the box for shipment home to San Diego.
4) Pickup Your Case of Wine at Oversized Bags Carousel. Since they've marked your box as fragile, they won't send it with the rest of the luggage. Instead, you'll be able to pick it up where the airport holds specialty luggage i.e. skis and golf clubs.
The Wine Road has another blog post with more tips on how to ship wine home from Sonoma as well.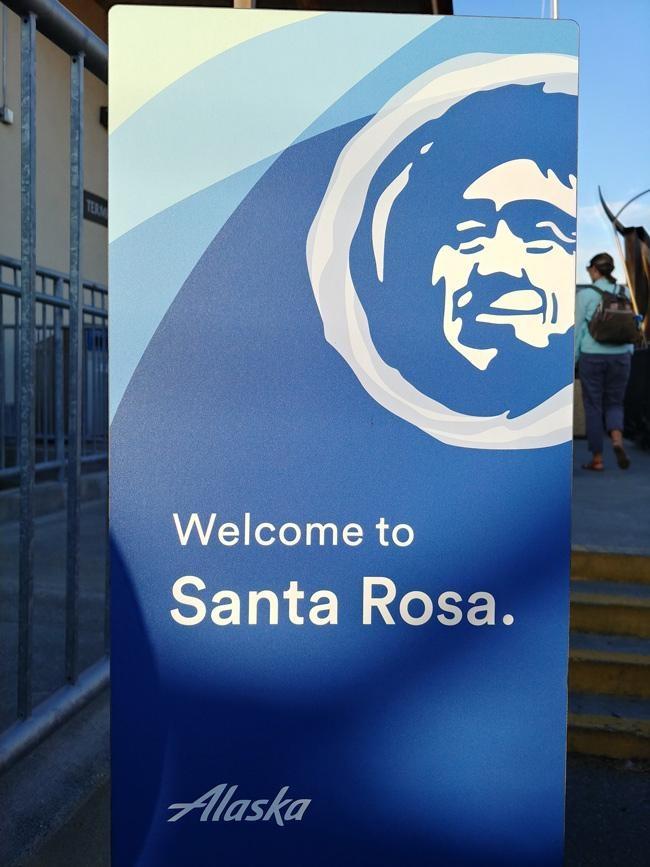 Our entire experience flying to Santa Rosa / Sonoma County on Alaska was seamless and enjoyable. The destination is shockingly easy to get to from anywhere on the west coast since it is nearly halfway between Seattle and San Diego. Checkin and bag pickup were a breeze here too. It's a small airport with that home town feel and like everyone else we met on our visit, the staff here were super chill as well.
I can't wait to fly Alaska again soon on my next trip to explore more of Sonoma County's wineries!