There are two things in life that I love the most (outside of my wife of course!) - Traveling and Food. That's really one bigger thing: exploring new cultures. That's why I love trying new restaurants that work hard to transport you to new times and places like Havana 1920 does. Havana 1920 is a new Cuban-themed cafe and bar in the heart of San Diego's Gaslamp Quarter - very close to the convention center as well as most of the bigger hotels. Here's what we loved about it!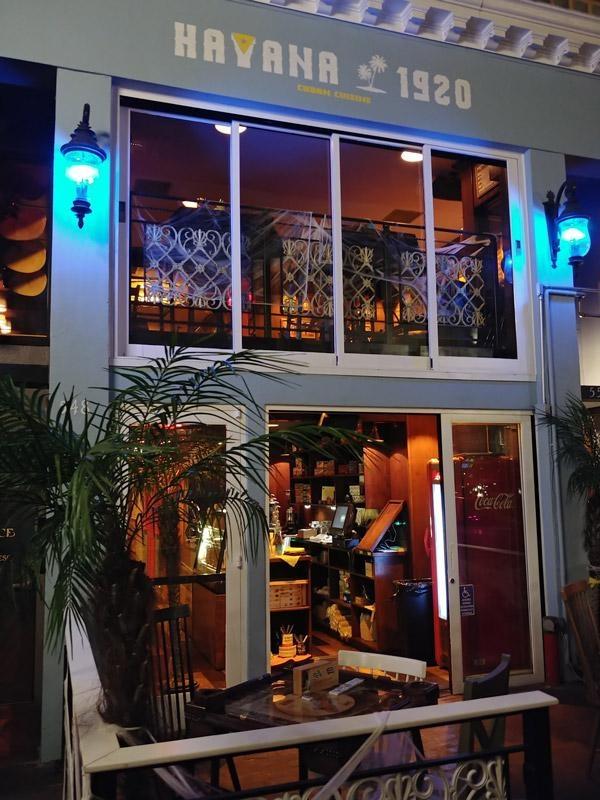 There are many many bars and restaurants in San Diego, and so it's challenging sometimes to stand out. However, from the moment you arrive at the patio, it is clear that Havana 1920 is something different. On the first level, you'll find patio tables for dominos where you can enjoy coffee or a cocktail in a "cafe" setting. We visited Havana 1920 for dinner, but they are also open in the mornings for coffee.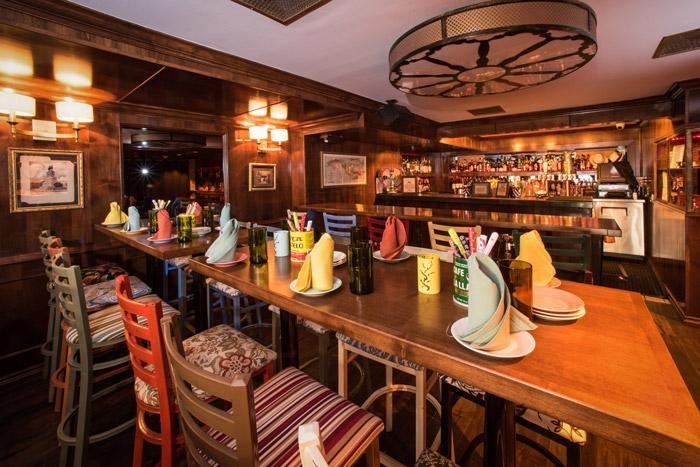 After climbing the stairs to the second level, this narrow but surprisingly deep eatery has a great menu of Cuban favorites as well as great cocktails that were honestly the highlight of our evening. That isn't to say that the food itself wasn't also very good - just that this is a tequila and whiskey town, but finally there's an island of great rum cocktails in the Gaslamp.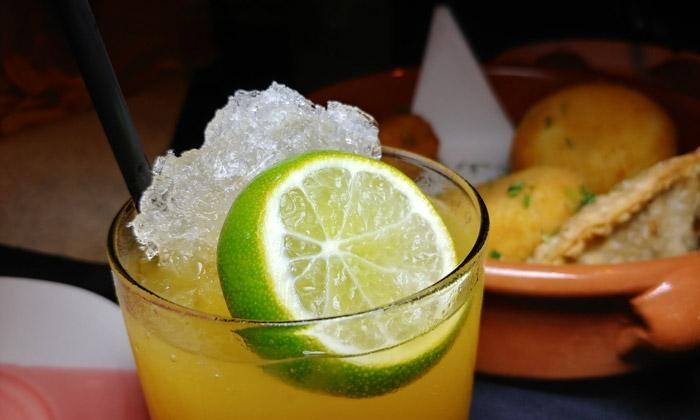 It would be easy to cheat and just have frozen daquiries whipped up in a blender but no ... they wanted to do something special and I appreciate that. While I'm sure they would make a blended drink if you asked, this mango daiquiri came with a pile of shaved ice over which they poured the cocktail and served it with a full slice of lime instead of a wedge. In addition to mango they also have other tropical flavors including: coconut, banana, guava, passion fruit, and "original" (lime).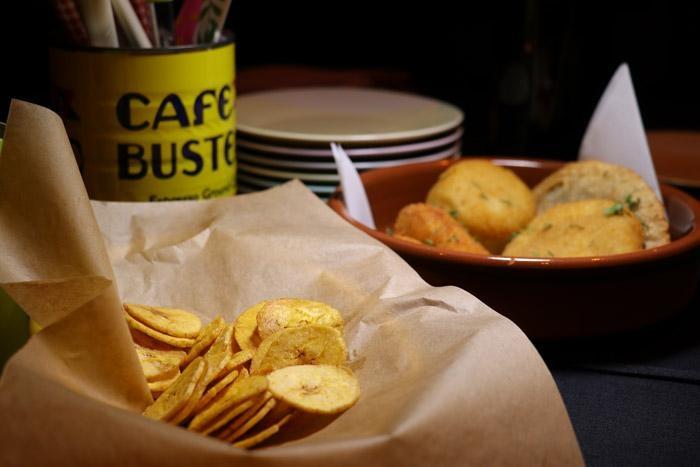 For this dinner, we wanted to sample several items and so the manager and chef prepared a tasting menu to provide us with several selections that would "bring Havana to San Diego". Our journey started with the Havana Bocaditos Platter, which included: Plantain Chips, Ham Croquettes, Picadillo Stuffed Potato, Cheese Stuffed Potato and Vegetarian Turnover, served with Mojo Crillo and Havana Royale sauces.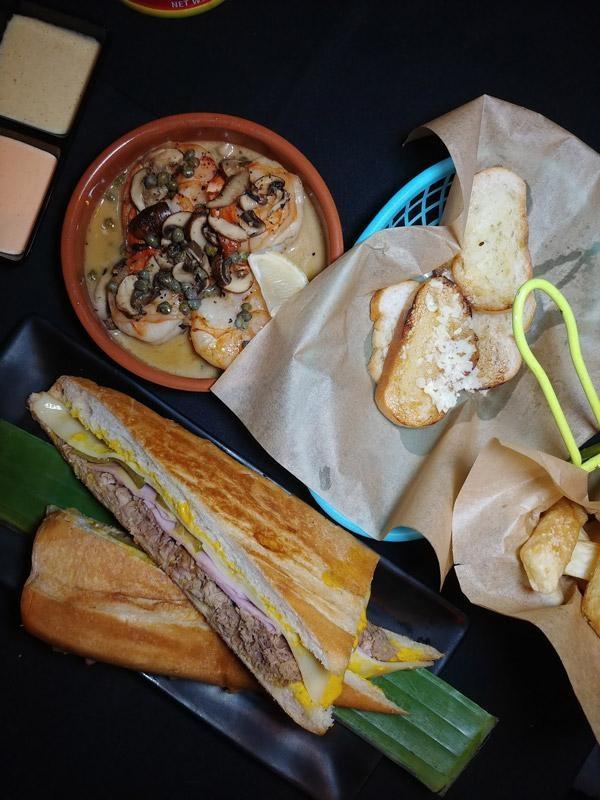 Next up was the Cuban Sandwich, along with Yuca Fries, and Camarones Al Ajillo (shrimp in a white wine and garlic sauce).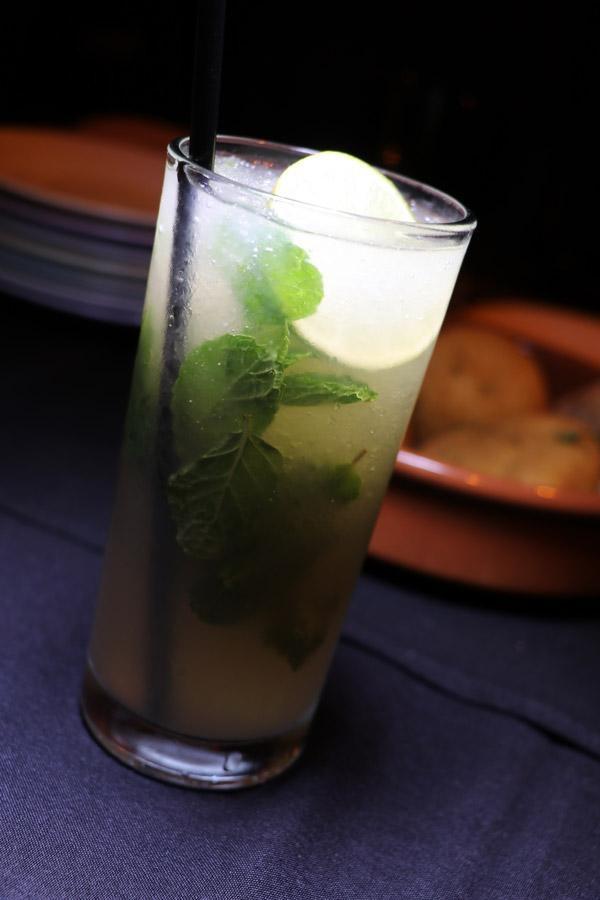 Throughout our meal, Havana 1920 kept the drinks coming and each of them was classic - but delicious. Perfectly balanced flavors and nice and reasonably strong. While most of the drinks are exactly what you'd expect to see on a Cuban menue - daiquiri, mojito, Cuba libre, painkiller etc. there were also some that you might not have tried before. This includes the Guarapo: fresh-pressed sugarcane juice made to order and served over ice. You can make it a cocktail adding some Zacapa 23 (solara) year old rum to it.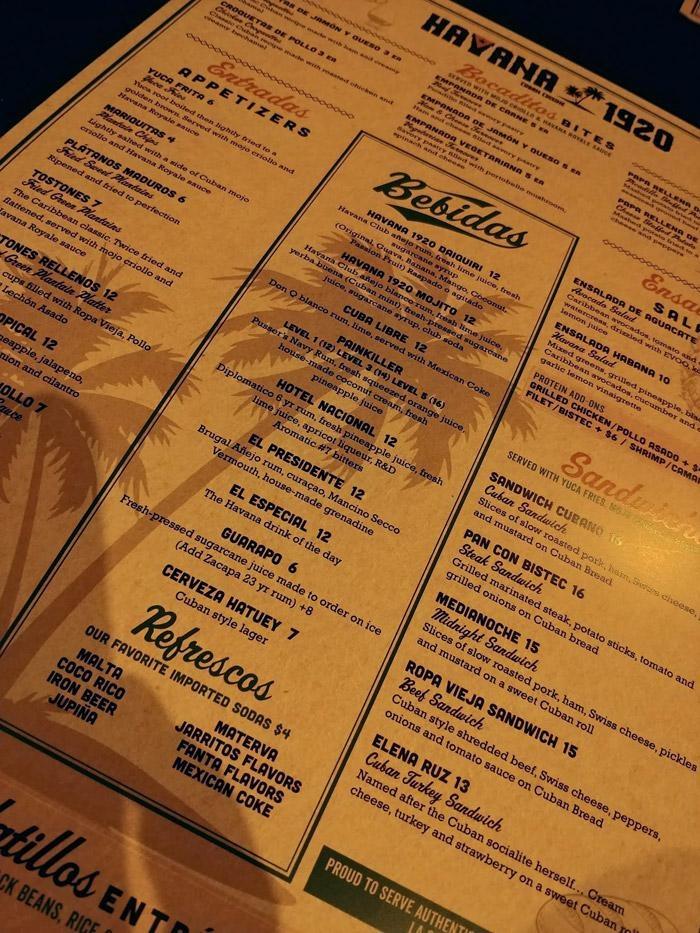 When I asked what they meant by "fresh pressed", the manager brought out a stalk of sugar cane from the kitchen to show me exactly how fresh it was. They are (one of?) the only restaurant in San Diego that actually has a sugarcane press on premisis and they use it for many of the cocktails to give that extra special flavor. While the Guarapo isn't for everyone, is a very interesting flavor since raw sugarcane is "sweet" but it is also very "earthy". It isn't at all like dumping granulated sugar or simple syrup in a glass and if you've never tasted it, I hightly recomend you try it.
In addition to cocktails, Havana 1920 also has a Cuban beer - Cerveza Hatuey as well as a wide selection of imported sodas that you might find in Cuba.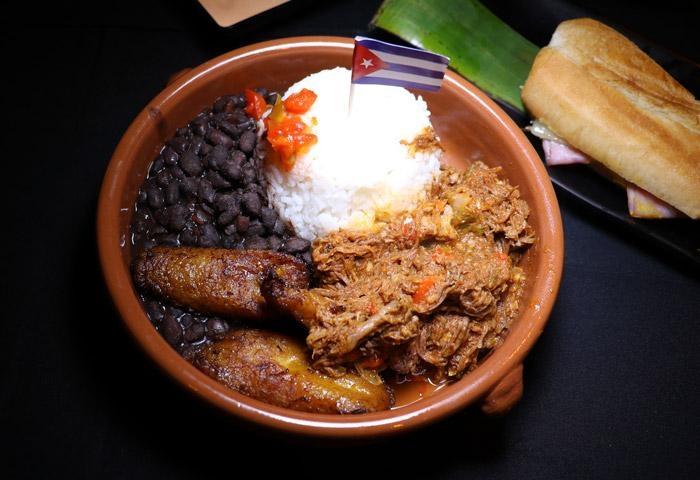 Finally, our entree arived and while it's difficult to make it look as delicious as it tasted, you'll just have to visit and try it yourself. The Ropa Vieja featured shredded beef in a light tomato sauce with peppers and onions along side black beans, plantains, and rice.
While I'm not an expert in "authentic Cuban cuisine", I can tell you that I enjoyed the dinner very much. Havana 1920 has a bright future ahead of itself, both as part of the GBOD Hospitality Group (Meze, Saganaki, El Chingon etc) as well as simply a fun and unique addition to the neighborhood!