Father's Day is coming up and I think I speak for most men and we'd love a great big hunk of meat for dinner. There's a wide spectrum of options out there today from high-end steakhouses to grabbing a steak at the diner down the street but the middle space seems filled with marginal options. Sure, these chain restaurants are good but inevitably they miss the mark when it comes to quality, preparation, and atmosphere. That's why I was truly surprised after my visit to Black Angus Steakhouse here in San Diego earlier this week. Despite being part of a chain that's operated in the western United States for more than 50 years it felt like an independent location with good quality food and a fun atmosphere that while kitschy - felt genuine.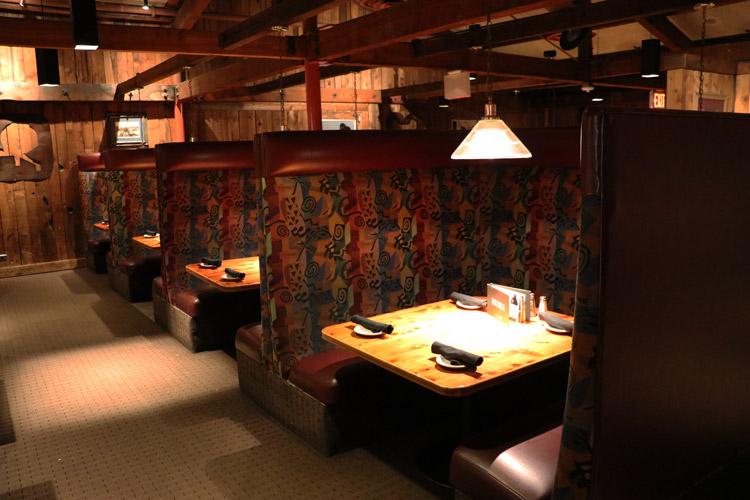 We were invited to visit the Black Angus Steakhouse Mission Valley San Diego location and truthfully, I've driven by the property several times but never even realized there was a steakhouse there. From the outside the building is relatively generic but don't let that sway you. It's what's on the plate that matters. Upon walking in, the property is huge though they keep things perfectly staged for privacy by having booths with tall backs. This also helps deaden the sound and that provided a good environment for families ... but also for a romantic getaway.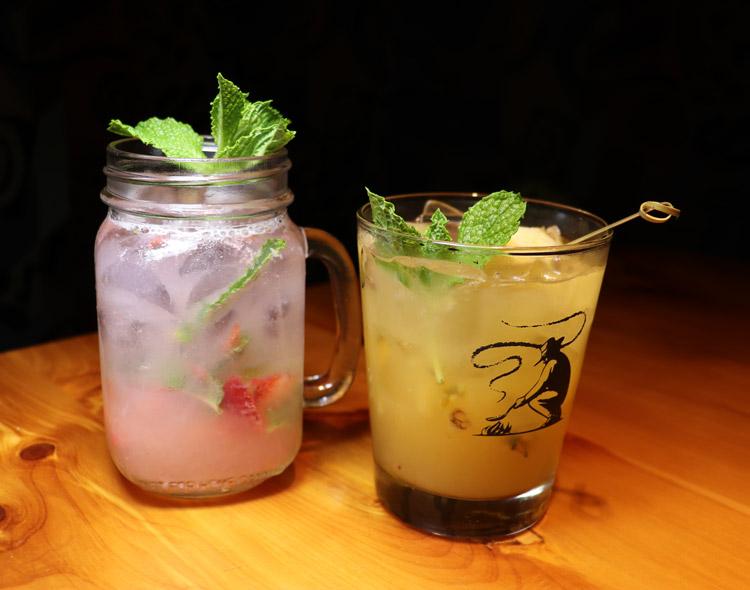 We started our dinner off with two of their special cocktails. Moonshine Lemonade and Grilled Pineapple Margarita. Both were good but the Pineapple Margarita would be the one I'd order a second one of.
In addition to these cocktails they had a deep selection of other drinks including craft beer and a very respectable wine list. They also had a whole menu section devoted to Boilermakers. These included: Saddle Up (Black Angus BullsEye Brew and House Barrel-Aged Jack), El Gaucho (Corona and Camerena Reposado Tequila), Fire Me Up (Angry Orchard Hard Cider and Fireball), and then for those looking for a classic you can go for the All-American (Bud Light and Old Crow Whiskey). Of Course they also had the Irish Up (Guinness Stout and Jameson).
Frankly with their great bar menu and happy hour specials, this would be a great place to go for drinks after work or for a guys night out when you want to do something fun but don't need a full dinner.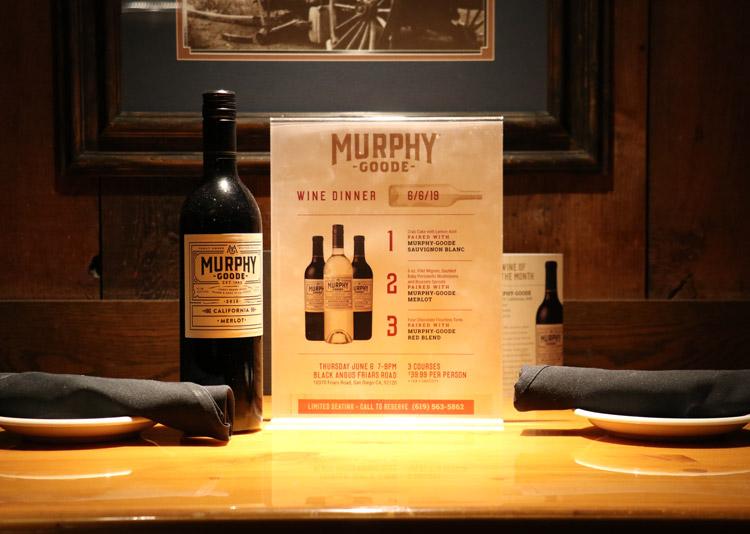 They also periodically offer craft beer dinners and wine dinners that vary by location. The next one is coming up on June 6 featuring three courses with wine pairings for $39.99 per person.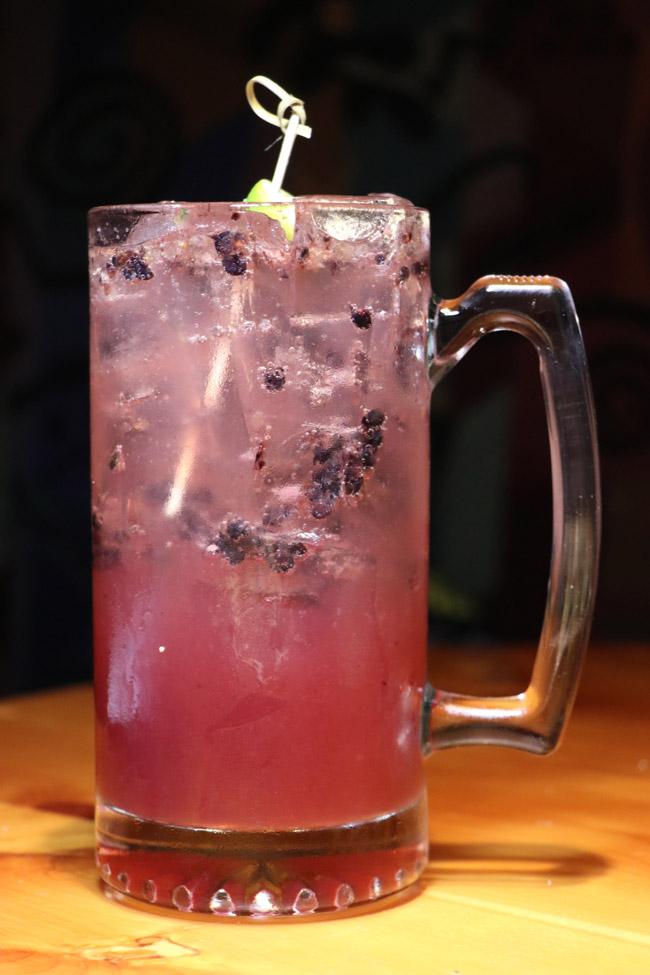 The real winner here though was something non-alcoholic - their Blackberry Ginger Ale. Canada Dry used to make a product like this and it was exceptional so all we were expecting was that. What we got though was this huge mug with not just blackberry flavoring added but real pieces of blackberry mixed in. As we looked deeper at their menu there were other similarly inventive non-alcoholic options and that's much appreciated since sometimes you don't need booze - but you want something more tasty than just water.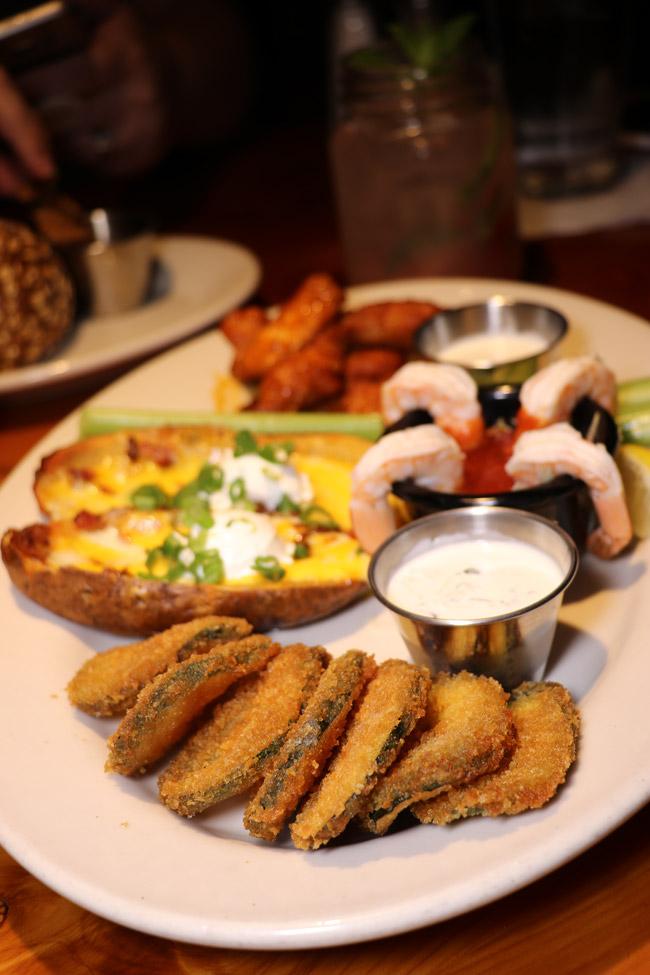 Heather and I couldn't decide on what to get since she always loves fried zucchini and I usually like wings. So we got their Wagon Wheel Appetizer Platter instead!
Normally I don't like fried zucchini because it is soggy or over fried but I was shocked that it was PERFECTLY crispy and I liked the medallion cut instead of wedges like I normally see. Similarly, the buffalo chicken tenders were also excellent so everyone was happy.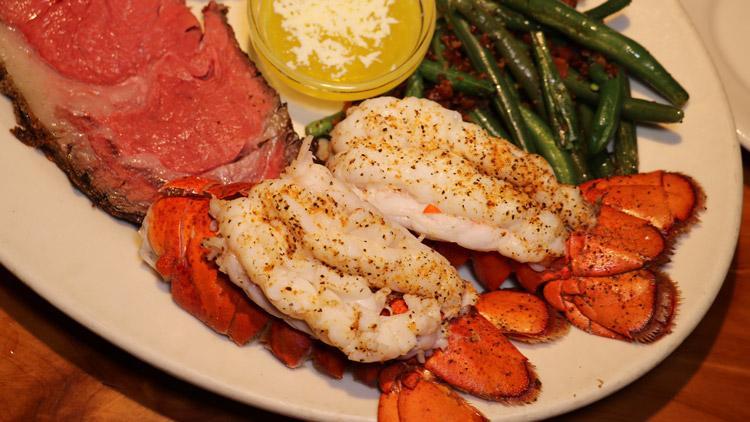 The dinner menu has all of your favorites that you'd expect from a steakhouse. However, looks can be deceiving. For instance, every steakhouse has generally the same cuts - how they are executed is where we separate the men from the boys.
On no menu item is this more true than with lobster. Having gone to high school in Massachusetts I learned what lobster should taste like. Unfortunately most Americans simply don't know what it should taste like and few chefs understand how to serve it. That's true even at high-end restaurants and I think people just accept things that way since they don't know better and lobster is expensive and fancy so they just feel happy being able to have it on their plates.
The lobster tails here at Black Angus Steakhouse were some of the best I've ever had. They were cooked perfectly and when I commented about this to the chef he shared that most places will bake the tales and that makes them rubbery and dried out. Here though they steam them and place a bit of their spice rub on top. This keeps them fresh and juicy ... the way they are meant to be.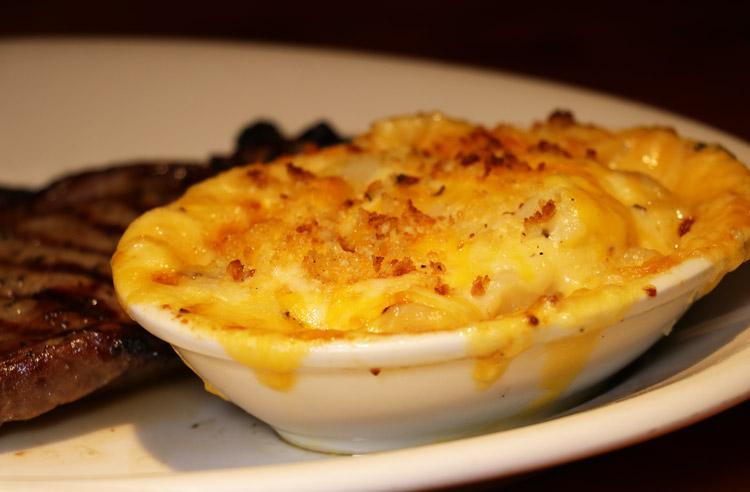 Sides were also excellent, as was Heather's ribeye though both of us prefer a thicker cut of meat.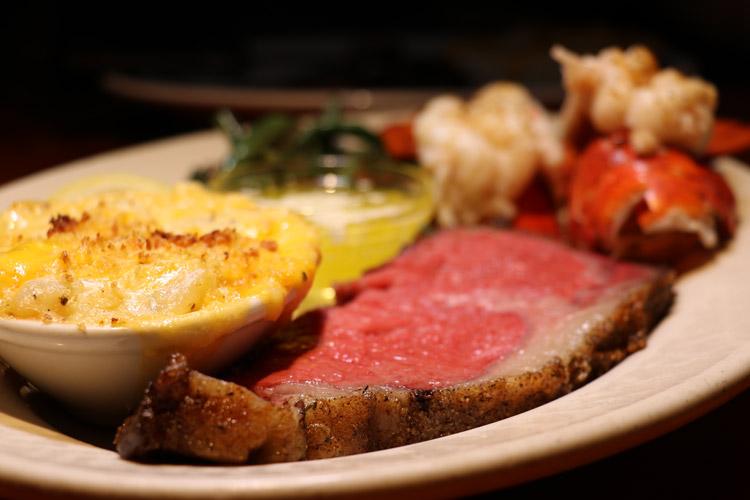 Last but certainly not least was the prime rib. This is the normal combo offered daily from their standard menu featuring an 8oz Prime Rib with twin Lobster Tail and two sides. However, the Father's Day Special features a single tail. Though if manly men with big appetites they can plus stuff up all the way to a 1.5 pound "Cowboy Prime Rib" and you can also add an extra tail. Honestly though that's a ton of food but who am I to tell you what you can eat ... it's Father's Day and that means you can do what you want. Right?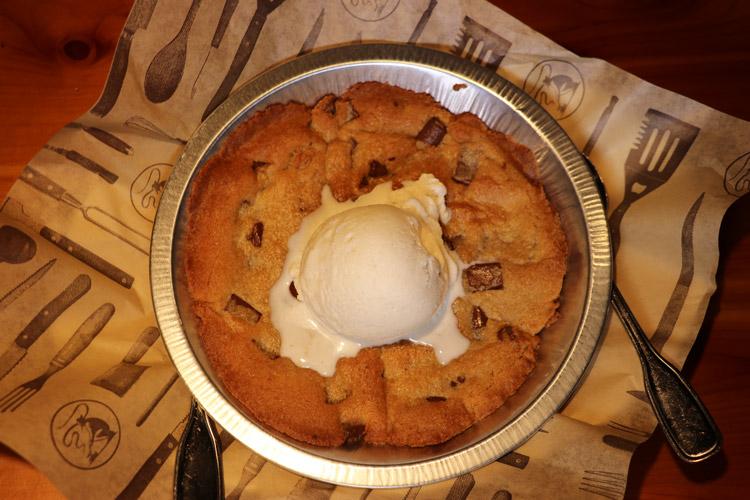 To wrap our dinner up, we chose to split a dessert. With options ranging from Spiced Carrot Cake to Sky-High Mud Pie, and a Lemon Poppyseed Cake we chose the Chocolate Chip Cowboy Cookie. It's served in a pie tin with a heaping scoop of vanilla ice cream on top.
This was the perfect way to end our meal and while the edges are nice and crispy - the center is ooey gooey with the melted ice cream.
Honestly, I'm completely impressed by the experience. While this is a restaurant with locations throughout the western US, they are doing everything right. The company has been around for 55 years and in this location the chef has been there for 27 of the 40 years that the restaurant has been open. That tells me a lot about how not only is the food consistently good but there's a management structure that works to keep staff and customers both happy.
I look forward to going back again!