Islands is one of my favorite restaurants to take my friends and that's because the food is always good and while the classics never change, they always have new offerings to switch stuff up too. On our recent guys weekend to Palm Desert, California they invited us to stop by and fuel up as well as taste their new Islands Golden Ale brewed in collaboration with Karl Strauss Brewing.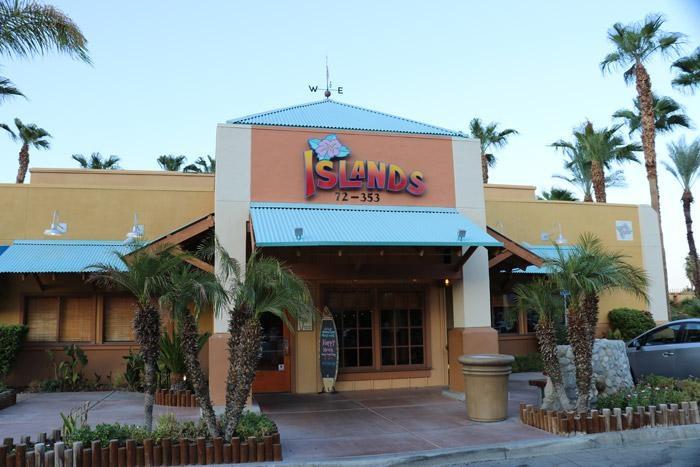 Islands Restaurants started in San Diego, 35 years ago but has no spread to other areas throughout California, Arizona, Nevada, and Hawaii. At this point, I've been fortunate to have been taken care of very well by the folks here and I love going back. This time, we visited their location in Palm Desert, California and it was the perfect spot to get last-minute supplies from Target (across the parking lot) and then enjoy a great dinner while planning our activities for the next few days.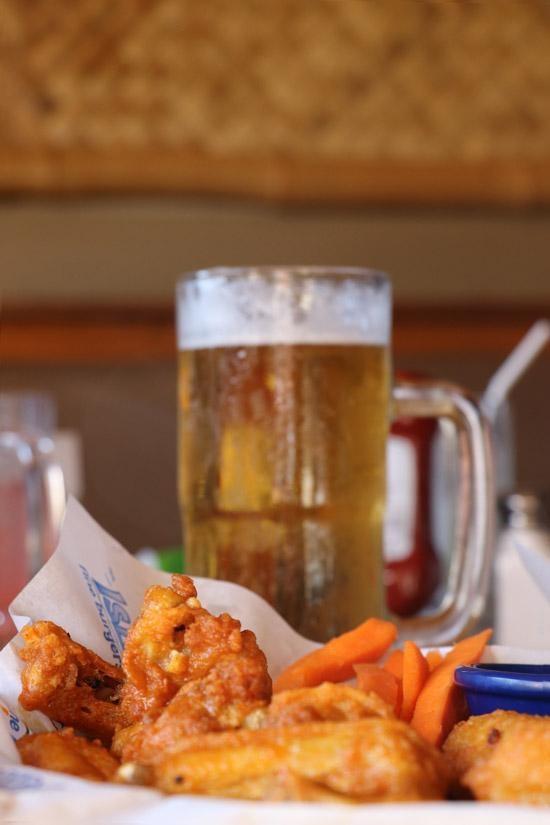 While I love their burgers, Islands is almost as good to simply visit for Happy Hour. While not a "Sports Bar" they always have a bunch of TV's with surfing and extreme sports videos but at game time, the mood shifts to football.
Our meal started out with wings and a big mug of their new Golden Ale. Islands Golden Ale is a medium-bodied beer with roasted malt flavors, floral hop aromas, and a crisp, clean finish that is handcrafted exclusively for Islands by Karl Strauss Brewing Company. While I typically prefer a more hoppy and bold beer, it works perfectly to quench your thirst and cool your mouth down after enjoying their wings!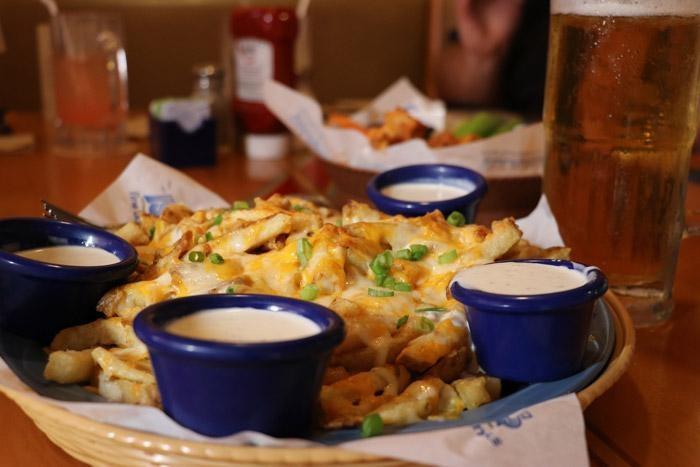 Another of my favorites here is the cheese fries. They area always simply delicious and smothered with plenty of gooey melted cheese!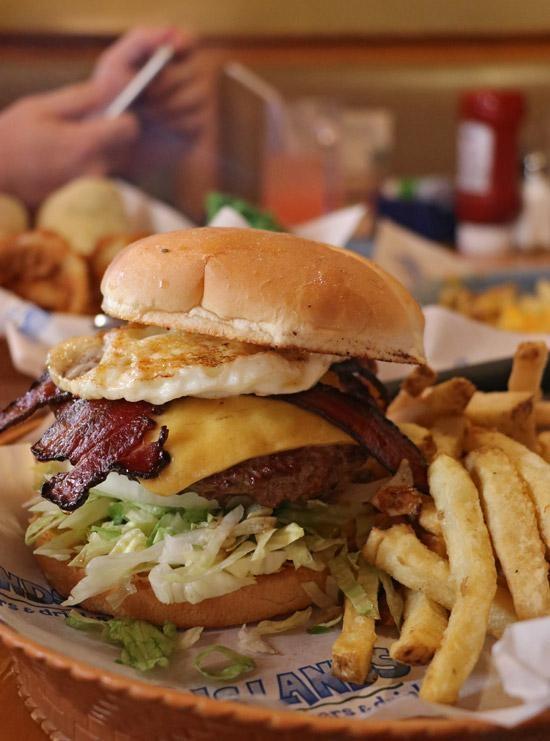 Of course, the star at Islands is always their burgers. While they have tons of variety here, including the Waimea Burger (summer menu) that's topped with Kalua pork, grilled pineapple rings, swiss cheese, and carmelized onions before being smothered in tangy teriyaki sauce, I typically go classic.
My favorite (above) is the Malibu burger and I add an egg on top. It's your classic American-style bacon cheese burger but it tastes great!
I typically don't order desert here because I'm always so stuffed from the appetizers and burgers but our server insisted that we try something. So, not to disapoint our host, we split this Chocolate Lava desert featuring a Fudge Brownie topped with vanilla ice cream, chocolate syrup, whipped cream, roasted almonds, anda cherry on top.
Islands never fails to disapoint and while they have some amazing food that's not always the most healthy, some fans of ours on social media asked if we had ever tried the other items such as salads and their chicken sandwiches. Despite the fact that I've been to Islands dozens of times, I'm almost embarrased that I haven't. In particular, this one person said that the Sandpiper was fantastic. That sandwhich features a Grilled Chicken Breast, sauteed mushrooms, swiss cheese, lettuce, tomato, and mayo. I guess we'll have to go back to Islands and try it since that does sound darn good!